Bill and Sue-On Hillman: A 50-Year Musical Odyssey
www.hillmanweb.com/book :: www.hillmanweb.com/book/travel

HILLMAN ASIA ADVENTURE 2018
www.hillmanweb.com/asia2018~
www.hillmanweb.com/asia2018/korea

KOREA
5. Dongdaemun Design Plaza DDP
www.hillmanweb.com/asia2018/korea/kor05.html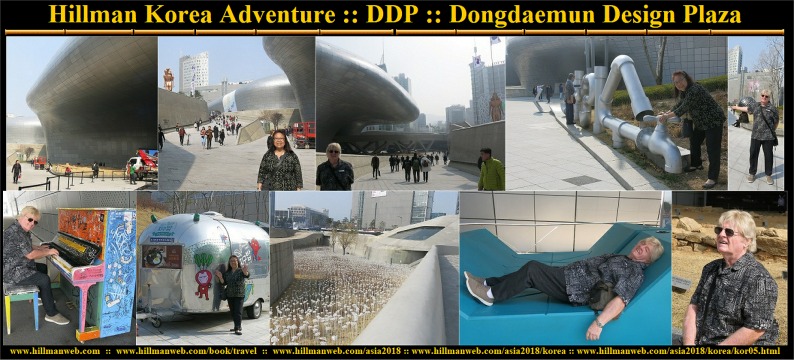 Click for full size

Dongdaemun Design Plaza is one of Seoul's most extravagant modern buildings, The structure is a major urban development landmark in Seoul. Its distinct neo-futuristic features represent power and elegance. It is home to countless art galleries and exhibitions, including the bi-annual Seoul Fashion Week.

Designed by world renowned architect, Zaha Hadid, DDP is the world's largest atypical architecture. It is comprised of five halls: Art Hall, Museum, Design Lab, Design Market, and Dongdaemun History and Culture Park.

We spent a few hours wandering around the complex - marvelling at the impressive architecture and other features on the grounds. We were there in the daytime but I'm sure that the lighting effects would transform the area into a spectacular other-worldly experience.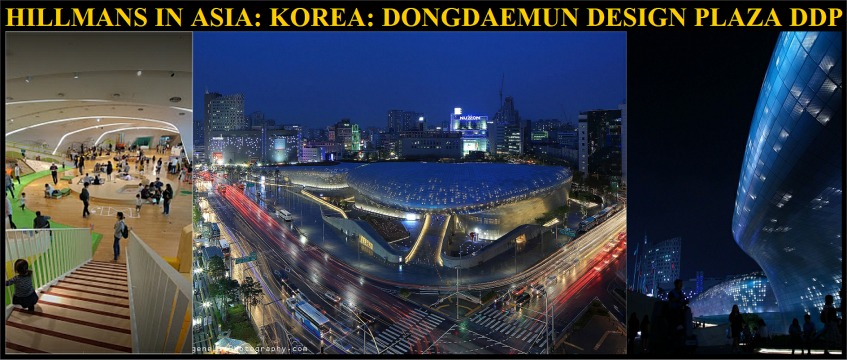 Note: These photos will be linked to giant full-size images
when we are able to obtain more server storage space

BACK TO KOREAN NAVIGATION CHART



Visit our
KOREAN ITINERARY AND RESEARCH PHOTOS GALLERY
www.hillmanweb.com/asia2018/korea/itinerary
www.hillmanweb.com/asia2018/korea/photos.html




BACK TO ASIA 2018 CONTENTS





Bill and Sue-On Hillman
www.hillmanweb.com
hillmans@wcgwave.ca