www.hillmanweb.com :: www.hillmanweb.com/book :: www.hillmanweb.com/book/travel
BILL and SUE-ON HILLMAN: A 50-YEAR MUSICAL ODYSSEY
HILLMAN TRAVEL ADVENTURES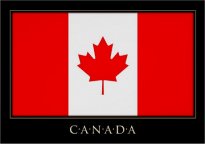 www.hillmanweb.com/book/travel/canada
.


.
Between music tours and teaching we have travelled extensively across Canada.
Many of these travels are described in our Musical Odyssey memoirs.
So many of our early travels across Canada are on album prints, slides, and in early digital formats.
Some of our Canadian destinations through the years include every province except PEI,
most of Manitoba including the North, St. John's, Halifax, Quebec City, Montreal Expo 67, Ottawa,
All of Southern Ontario, The Prairies: Diefenbaker home, PA Penitentiary, W. Edmonton Mall, Calgary Stampede,
Military Bases, Banff, Vancouver, Victoria . . . and on and on.
CANADA ROAD TALES II: Supplementary Travel Journals
www.hillmanweb.com/book/travel/roadtales2
.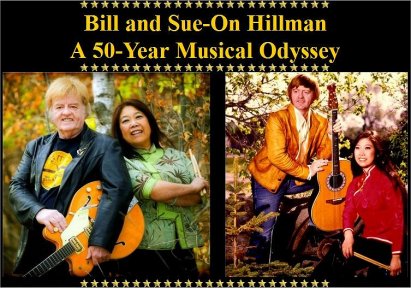 www.hillmanweb.com/book
.



.
A UNIVERSITY PROF'S TRAVELS IN NORTHERN MANITOBA



www.hillmanweb.com/puk
.


NORTHERN MANITOBA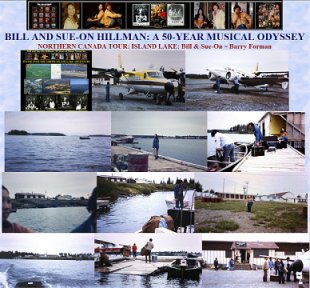 Click for full-size collage poster
www.hillmanweb.com/book/slides/lake.html

Hillman Heritage
Projects


Manitoba Photo Archives
+1500 Photos


Canada Yesteryear
3D Stereoviews
NAVIGATION MAP FOR THE HILLMAN COMPENDIUM OF HERITAGE SITES
INTRODUCTION: PORTALS TO PARTS 1-4
..


SMALL TOWN MANITOBA
| | | |
| --- | --- | --- |
| Strathclair Photo Archives | Newdale Photo Archives | CJATC Rivers |
.



.
MUSEUMS

CATP WWII Air Museum


Mental Hospital

BMHC 100 Years

Parkland Building


Manitoba Dragoons


WORK IN PROGRESS
Much more to come as soon as we process 50 years of
Photo Prints ~ Slides ~ Digital Photos ~ Clippings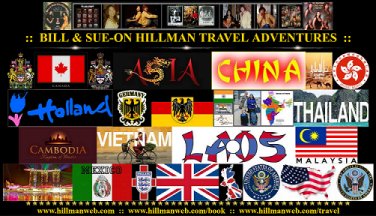 BACK TO HILLMAN TRAVEL ADVENTURES GUIDE
BACK TO MAIN HILLMAN ODYSSEY BOOK


.



.
Bill and Sue-On Hillman Eclectic Studio
Web Design: Bill Hillman
www.hillmanweb.com
Brandon, Manitoba, Canada