BOBBY CURTOLA
The Amazing Summer of 2006
www.hillmanweb.com/curtola/2006/bigtop.html
2006 FLEETWOOD COUNTRY CRUIZE IN
UNDER THE BIG TOP
Bobby's "sold out" show in London, Ontario
A 2,100-seat supper show ~ $75 a ticket
Presented in the largest tent ever built in Canada: 150' x 250' and four storeys tall
---
The 2,100 dinner guests in the tent are entertained by Canada's Rock & Roll Legend, Bobby Curtola.
Although Bobby has been leaning toward gospel music, and recently collaborated on a CD with famous
Indonesian singer Maya Rumantir, he certainly hasn't abandoned the type of music and performing
that jettisoned him to stardom in the 1960s and 1970s.
---
Some of the 2,100 persons entering Canada's largest tent for a sold-out $75 a
plate sit-down dinner, in conjunction with the George Barris car show in London, Ontario.
They were entertained by Bobby Curtola and the rock and roll band, Vintage.
The structure is four storeys high and measures 150' x 250'.
---
The Big Tent for the dinner/concert has the appearance of a major convention centre banquet room--
complete with white linen tablecloths and fine china for 2,100 persons.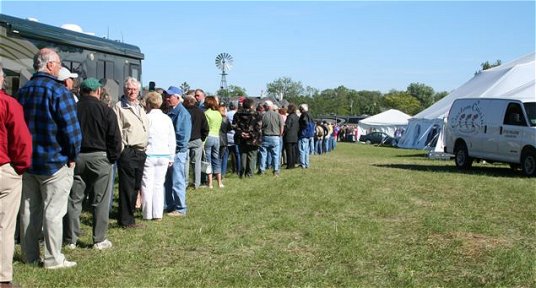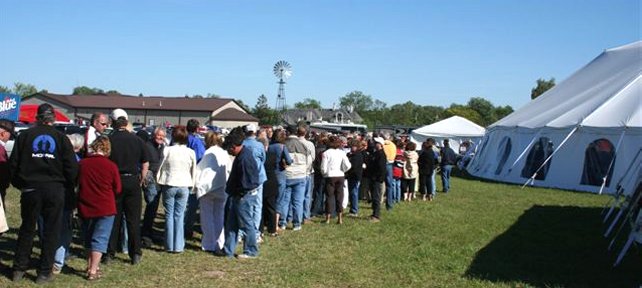 ---

Dinner In The Big Tent during the recent car show and concert
in London, Ontario.


That's "King Of Kustomizers" George Barris in
the yellow jacket with Bobby Curtola.
---
---
Photos by Robert Hubbard
BACK TO CONTENTS PAGE
BOBBY CURTOLA TRIBUTE WEBSITE