BOBBY CURTOLA
Bobby's Amazing Summer of 2006
www.hillmanweb.com/curtola/2006/carshow.html
2006 FLEETWOOD COUNTRY CRUIZE IN
Vintage and Novelty Car Show
This year's show, held in London, Ontario at the Steve Plunkett estate
featured special guest George Barris, Hollywood's Famous Car Kustomizer,
with a record number of his creations in one location.
George Barris, standing beside the Batmobile, with Bobby Curtola in the driver's seat,
brought some of his famous car designs to the three-day car show.
Known as "King Of Kustomizers", George has created many unique vehicles for Hollywood.
Through the years, movie studios have taken note of Barris kustoms on the streets and at races
and regularly come to George for cars for their films.
One of the first movies Barris made cars for was called "High School Confidential".
The success of the initial film car venture motivated George to seek business in Hollywood, and
that relationship with the industry has continued for 40 years.
---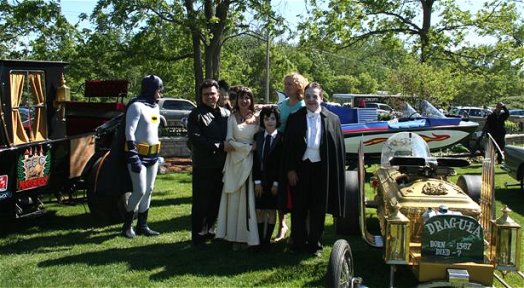 ---
Time out for a performance at Alberta's 100th Birthday Celebrations
---
Photos by Robert Hubbard
BACK TO CONTENTS PAGE
BOBBY CURTOLA TRIBUTE WEBSITE