BILL & SUE-ON HILLMAN: A 50-YEAR MUSICAL ODYSSEY


Hillman Book Project: ~ Roots Section and Gigs Section
Presents
ELVIS AND THE BLUE MOON BOYS
www.hillmanweb.com/elvis/band/bluemoon.html
With Scotty and Bill (and DJ later)


A Gig Notes Excerpt from our Musical Odyssey

---

2. Stars Behind the Sun ~ Once in a Blue Moon
We attended a special early '70s Elvis show in a much more intimate Vegas showroom setting than the one we saw over in the huge International. Instead of the King's big show band, with full orchestra and large array of backup singers, this show featured the stripped down band that had backed Elvis in the '50s: Scotty Moore, DJ Fontana and The Jordanaires.

Scotty, one of my guitar idols, played all the famous Sun records echo guitar riffs. The Jordanaires sang the backup vocals we had heard so many times on so
many hit records in their perfect gospel/pop harmonies. There was no Bill Black on doghouse bass -- he had died back in 1965 -- but original drummer DJ
Fontana and a fill-in bass player kicked out the rhythms that had supercharged Elvis on so many tours of the Southland, the Louisiana Hayride shows and his historic TV appearances all through the '50s.

There were numerous authentic costume changes, the vocals were right on for all the hits, and all the familiar moves were there. For anyone who had come under Elvis's magic in the '50s this was a dream come true -- a trip back in time to the glory days of rock 'n' roll. There was only one small problem with this show. Elvis was played by look-alike, sound-alike, move-alike tribute artist Rick Saucedo. . . but. . . "It was a night oo-oo what a night, It was it really was such a night." . . .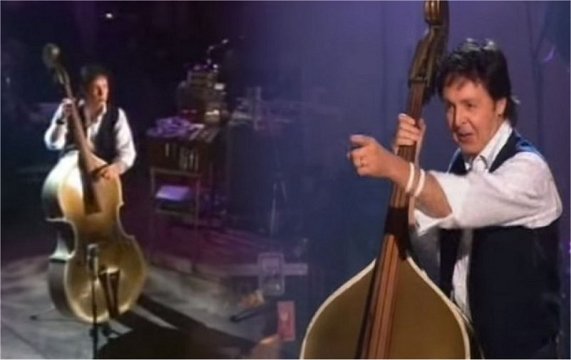 Paul McCartney plays Bill Black's doghouse bass
WATCH


Paul McCartney records "That's All Right"
with Scotty Moore and DJ Fontana
WATCH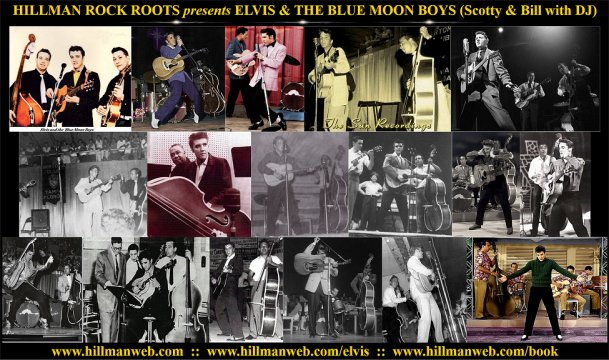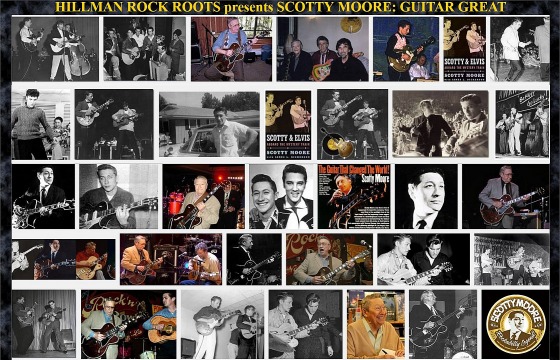 HILLMAN ECLECTIC STUDIO
www.hillmanweb.com
Copyright 2016/2021
Bill and Sue-On Hillman