ELVIS PRESLEY PHOTO MOSAIC
A Lifetime of Pictures
Part IV: Best Girls
Ref: www.life.com

Photos 1 | Photos 2 | Photos 3 | Photos 4 | Photos 5 | Tupelo Kid
Boy Elvis and His Parents

A 10-year-old Elvis Presley stands between his parents outside of their home in Tupelo, Miss., in 1945. "From the time I was a kid, I always knew something was going to happen to me. Didn't know exactly what," Elvis once said.

Grown Elvis and His Parents

Elvis Presley stands with his parents, Vernon and Gladys, in 1958 while home from Army duty in Germany. Presley adored his mother, and was grief-stricken for years after her death. Even as adults, they used baby-talk with each other.
.
Elvis' Girl

Fifteen-year-old American Priscilla Beaulieu says goodbye to her then-25-year-old boyfriend U.S. Army Sgt. Elvis Presley in Friedberg, Germany, on March 2, 1960. "The army teaches boys to think like men," he said.

Minnie Mae and Priscilla

Priscilla leads Elvis Presley's grandmother Minnie Mae Presley to her car in front of Elvis' house in Germany in 1960. Priscilly met Elvis at a party in Germany, and moved back to the U.S. to live at his father's house in 1963.
.
The Way to Elvis' Heart

Priscilla feeds Elvis a mouthful of wedding cake after their wedding at the Aladdin Hotel in Las Vegas. Naturally, Col. Tom Parker made sure there was plenty of publicity.

Elvis Has a Baby

Elvis and Priscilla Presley show their newborn daughter, Lisa Marie, to fans in 1968. Elvis named his private jet after Lisa Marie.
.
Elvis, the New Daddy

Elvis Presley, Priscilla, and their newborn baby, Lisa Marie, take an elevator at Baptist Hospital in Memphis, Tenn. Elvis bought Lisa Marie her own golf cart to get around Graceland.

Presley and His Pa

Elvis and his father, Vernon Presley, attend a party hosted by Frank Sinatra for the opening of his daughter Nancy's nightclub act. When Vernon remarried after Gladys' death, Elvis was irate and forced the new couple to move out of Graceland.
.
The Presley Family at Home

Lisa Marie, Priscilla, and Elvis Presley enjoy a quiet moment at home. Elvis once flew his daughter to Colorado so she could play in snow.

Lounging by the Pool

The family enjoys a poolside vacation. With his comeback and more touring, the relationship between Elvis and Priscilla grew distant.
.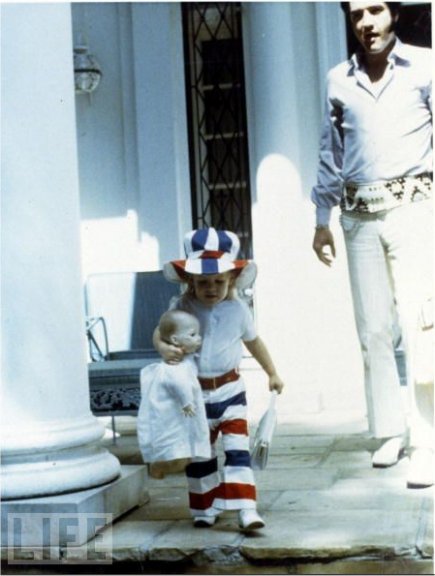 Elvis, Lisa Marie, and Her Doll
Lisa Marie and Elvis play with dolls at Graceland. Elvis and Priscilla divorced in 1973, and Lisa Marie split her time between Graceland and Beverly Hills.

Copyrights on all of the above photos are held by respective owners