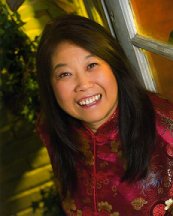 SUE-ON'S KITCHEN
November : 2011
www.hillmanweb.com/soos/food22.html
Also featured in my Facebook Album


..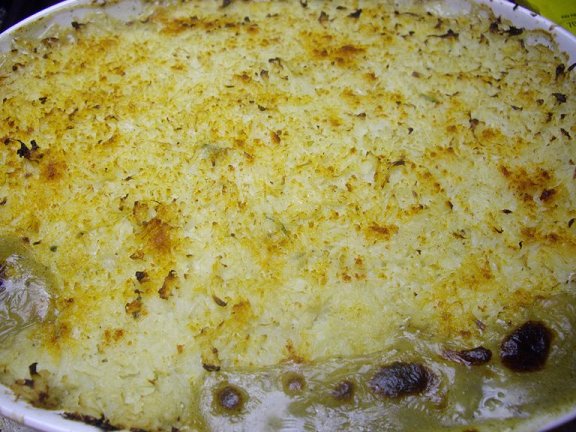 Shepherd's pie? Well...no....wait for it...follow the yellow bric...no...
.



.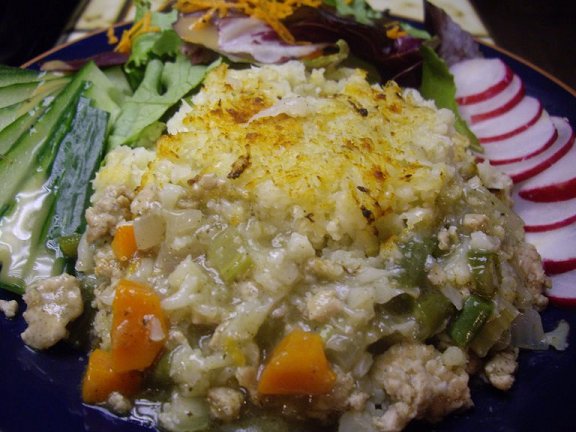 Shepherd's pie with a twist! Trying to eat healthier - fewer carbs, less fat, more vegetables (for Bill)...
.



.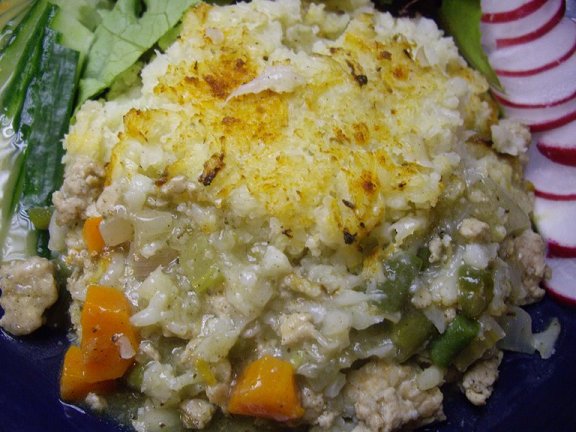 A leaner shepherd's pie: ground lean turkey breast, carrots, green beans,
onion, and celery sauteed in 2 tbsp olive oil in non-stick skillet.
There is a light "gravy" of fat-free chicken stock with 1 tbsp. cornstarch.
I added poultry dressing herbs.
The topping is not the traditional mashed potatoes
but mashed steamed cauliflower. 1 tsp butter, salt, pepper, and paprika mixed in.
This was baked in the oven for 30 minutes at 350, then broiled for 5 to add that "crust".
.



.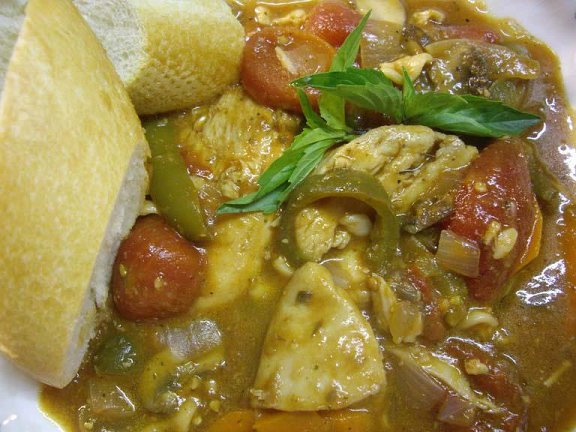 Another healthy meal?! What's with that?
Low-fat chicken cacciatore - chicken breasts, bell peppers, cremini mushrooms,
onion, garlic, canned tomatoes, fresh oregano, basil,
and bay leaf, dry red wine, and worcestershire sauce.
Lots of great vegetables and flavour.
.



.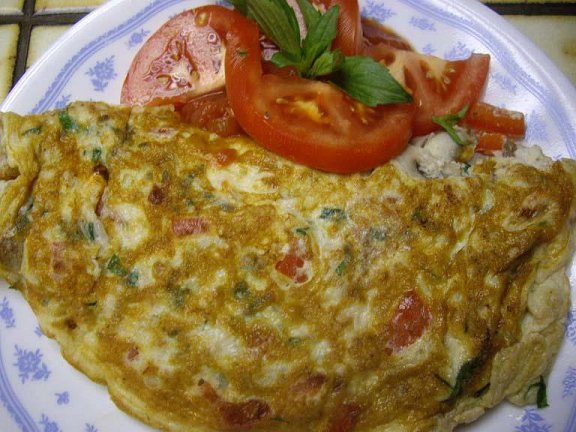 A favourite late lunch item: Omelet!
Bacon usually is featured, but it was replaced with browned lean ground turkey,
red bell pepper, flat-leaf parsley, onion, mushrooms, Hungarian hot paprika,
2 egg whites and one whole egg.
Bill had this with cumin Gouda cheese melted inside and salsa.
.



.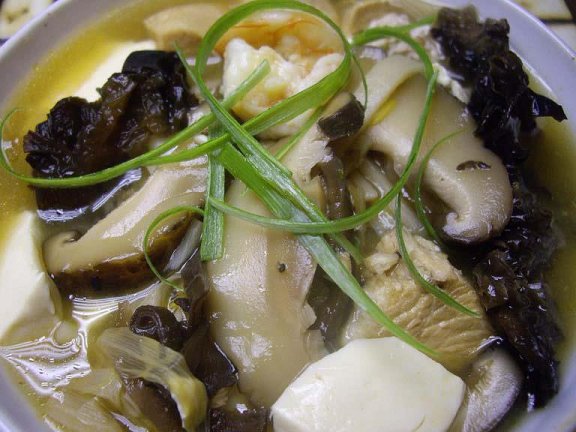 Soo's Hot 'n' Sour soup!
It's been a while since I've made this: Chinese mushrooms, wood ear, dried day lily flowers,
bamboo shoots, ginger, chicken breast, shrimp, tofu, hot chili sauce, vinegar.
As Bill said, " Sure gets the juices flowing!"
Great medicine for colds, stuffy nose...
This was a best seller at our Soo's Restaurant ;-)
.



.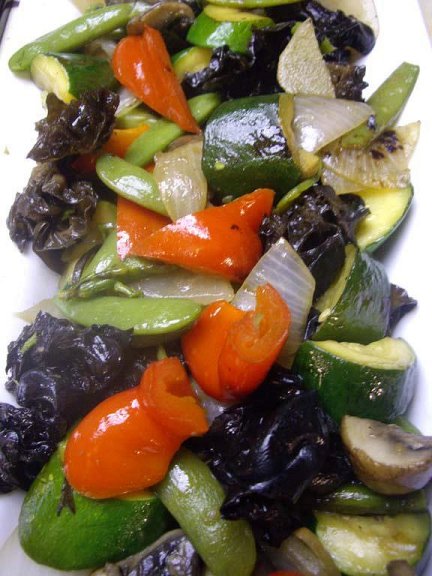 Had some re-hydrated woodear left over from the Hot 'n' Sour soup,
so made a stir-fry to go with supper: woodear, pea pods, red bell pepper,
zhuchinni, mushrooms, onion, and a clove of garlic.
.



.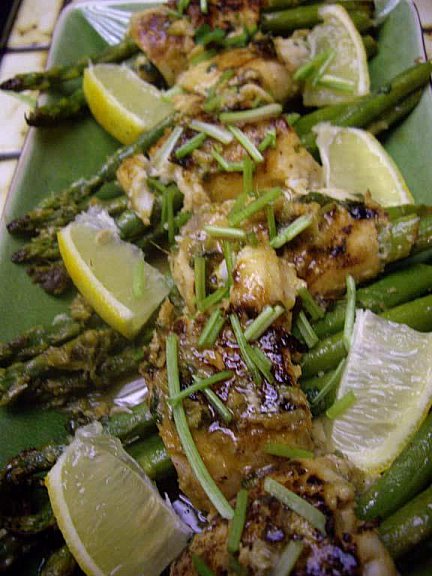 Tilapia marinated in lemongrass, olive oil, citrus pepper, cilantro, and lemon juice.
These were wrapped around spears of blanched asparagus, pan-fried and finished in the oven.
Made a sauce reduction with the leftover marinade and chicken stock.
The chopped up cilantro stems added a nice crunch.
Good combo with the mixed vegetables.
.



.
.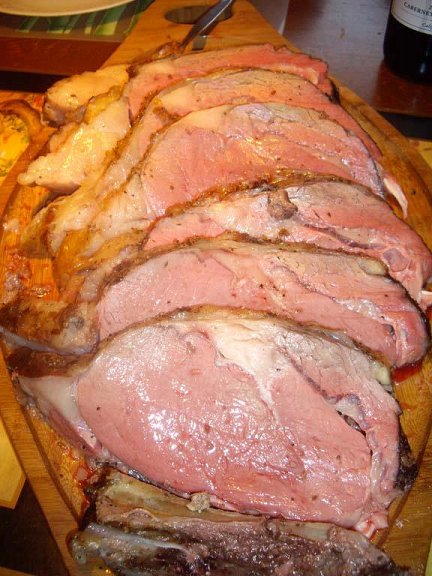 Roast prime rib!
The roast was still partially frozen when I out it in the oven at 300F
- for 30 minutes, then turned down to 250.
Started at 11:00 am, ready and pulled at 4:00 pm at internal temperature of 140F.
No Yorkies tonight tho'.
.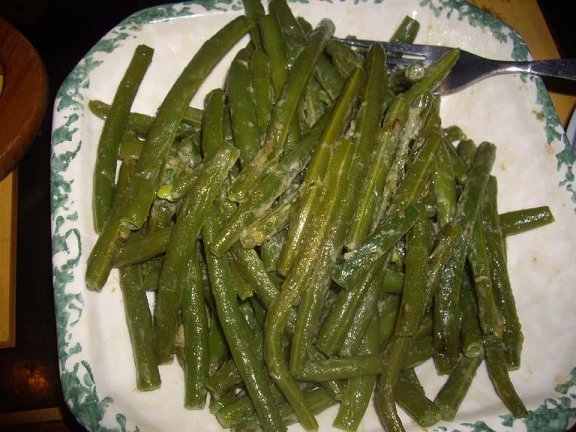 Needed something salty, so it was a favourite for China and me:
green beans stir-fried with fermented tofu aka Chinese cheese.
.



.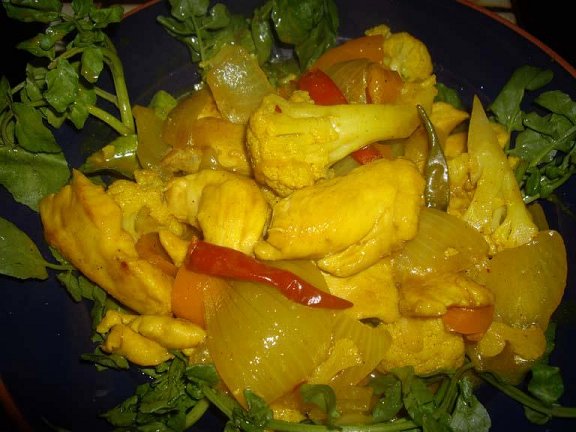 Curry chicken: Chinese curry powder, Thai chili peppers, onion chunks, orange bell pepper,
fresh watercress, pan-fried in non-stick pan with 1 tbsp. olive oil,
simmered with chicken stock, and thickened with cornstarch slurry. SPICY!
.



.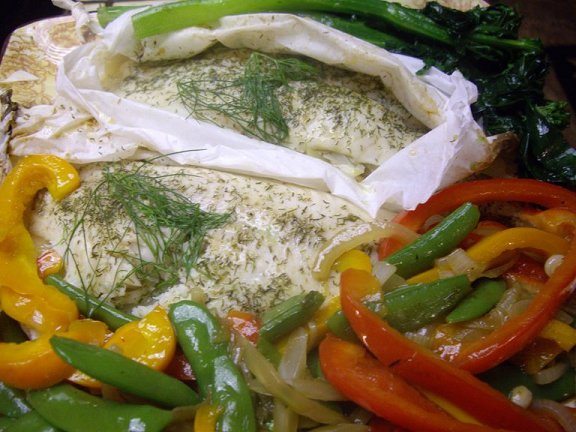 Basa filet reclining on a bed of thinly sliced fennel, dill, and shallots,
gently bathed in lemon juice and olive oil, cocooned in parchment paper hearts,
and basked in 400F oven for 15 minutes.
.


.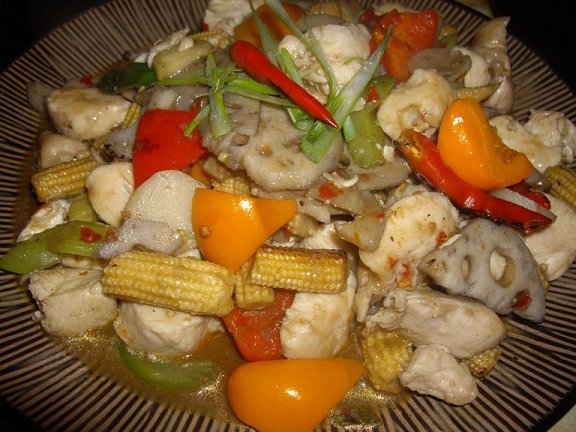 Kung Po Chicken: baby corn, waterchestnut, onion, celery, bell peppers,
lotus root (fiddle bridges), Thai peppers, Toban (chili) sauce, chicken stock.
Fires Bill up before his Thursday night jam session!
.


.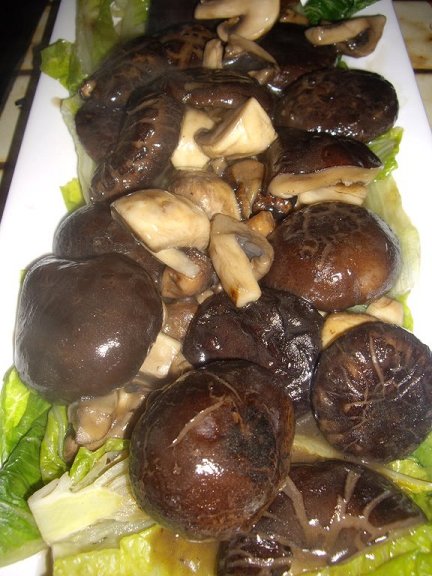 Chinese mushrooms, white mushrooms, oyster sauce on a bed of wilted Romaine lettuce.
.


.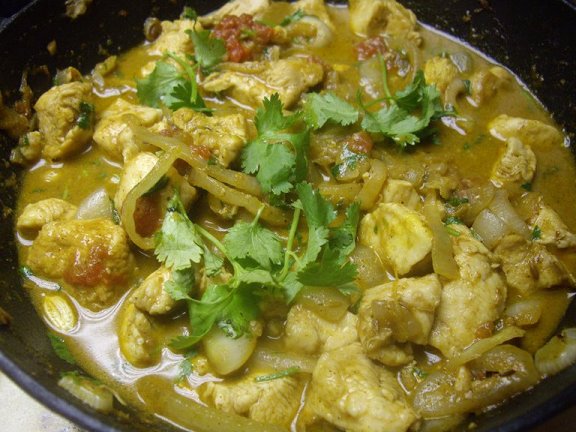 The Balti curry was invented in Birmingham (in the West Midlands region of England) in the 1970s,
by Pakistani and Kashmiri immigrants.
Aromatics: cardamon, black peppercorns, chili powder, garam masala, garlic paste, ginger paste,
cumin seeds, cinnamon stick, fresh green chili peppers, cilantro, plain yogurt.
Smelled wonderful. Tasted delicious! Usually eaten with naan.