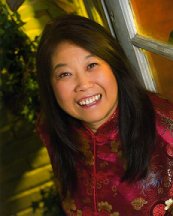 SUE-ON'S KITCHEN
October Part II : 2011
www.hillmanweb.com/soos/food21.html
Also featured in my Facebook Album


..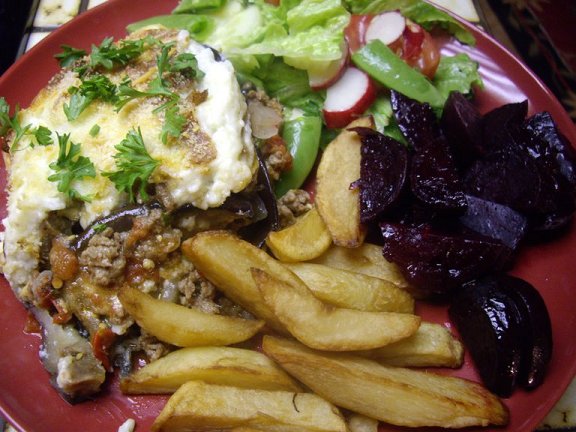 Moussaka, home-made fries, roasted beets, and salad
- the perfect meal to tuck in with hubby to accompany an evening with J. K. Rowling!
.



...


Pan-fried veal cutlets breaded with panko crumbs.
Sauce was sauteed shallots, mushrooms, bits of carrot, dry Marsala wine, and beef stock.
Sprig of fresh rosemary and a few springs of thyme rounded out the flavours.
A squeeze of lemon juice added a bit of "sparkle" to the whole dish.
.



.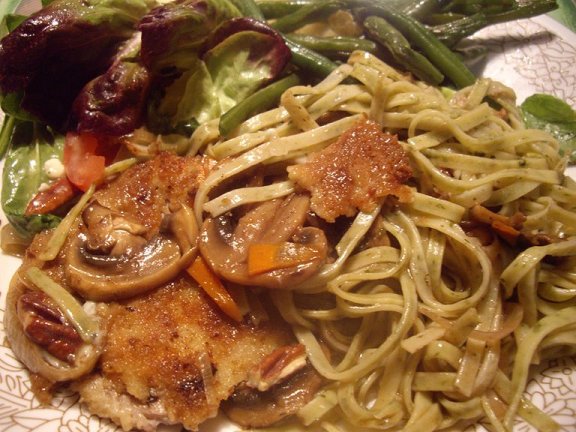 Breaded veal cutlet with mushroom Marsala wine sauce, served with wild garlic fettuccini.
Salad was tender ruby red lettuce, radishes, tomato wedges, toasted pecans, blue cheese, and mango-chipotle dressing.
— with Velda Schei, Ilym Yan and ForTune Zaria.
.



.


Shrimp roe noodles with Chinese sausage, braised beef tendons,
Romaine lettuce, and drizzles of sesame oil and chili oil. Mmmmummmm...
.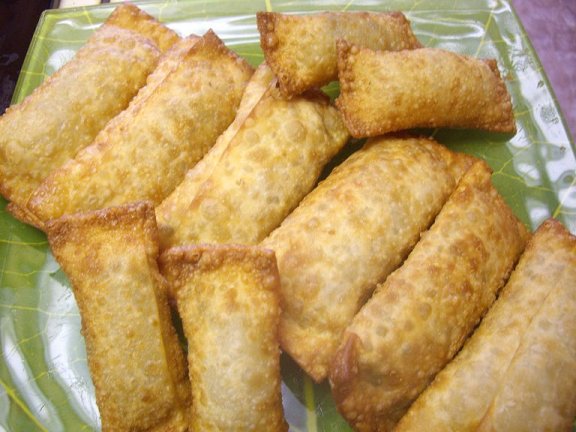 Soo's #62 :-) Eggs rolls ready to be devoured by kids for lunch!
Made some little ones with wonton wrappers for Oriyen.
.



..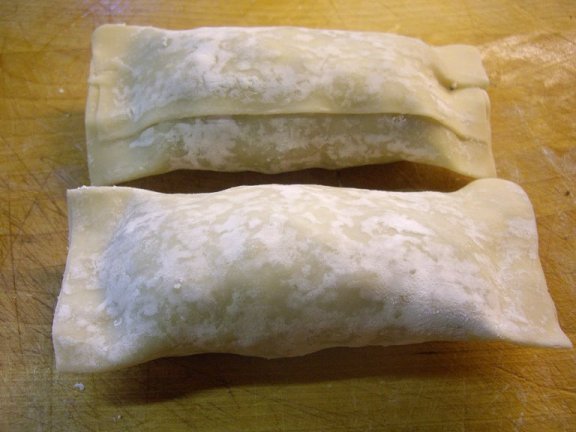 Store-bought wrappers.
Filling is shredded cabbage, celery, onion, mushrooms, and beansprouts,
thickened with concentrated cornstarch slurry.
It's been many years since I made these myself.
Son Ja always made the filling in the huge woks, and son Robin or the front-of-house girls
got to roll them and set them down for the first frying.
.



..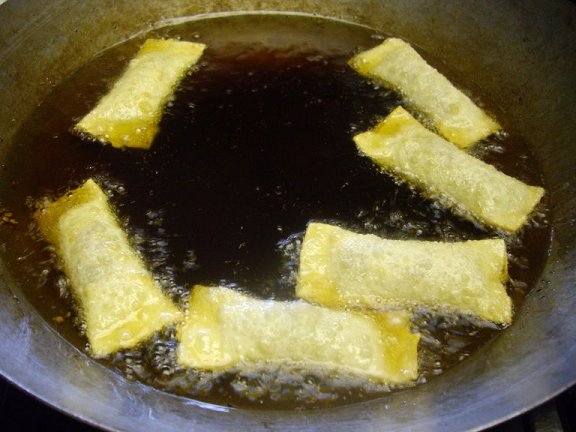 First hot oil bath.
This makes sure the skin is well blistered, set aside to cool, then deep fried again just before serving.
I think we used to make about 250 a day!
.



..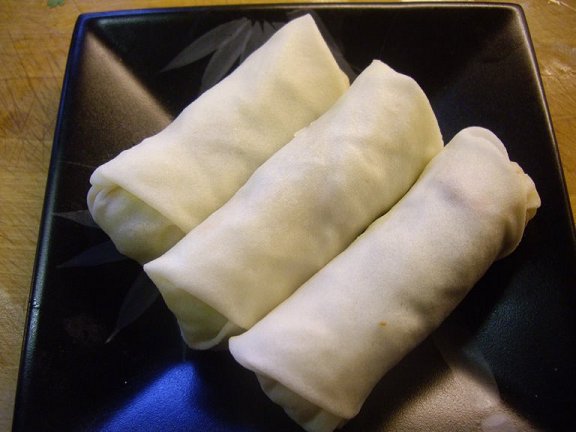 Vietnamese spring rolls - a different kind of wrapper and trickier to handle.
The filling is ground pork, onion, mung bean thread, small shred of cabbage and carrot.
.



..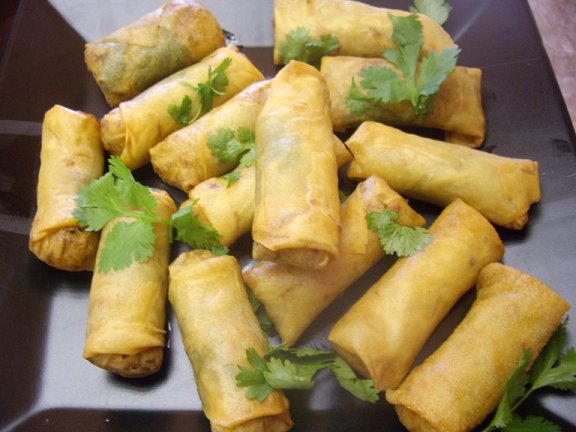 Deep fried to crispy goodness!
I made some dipping sauce with fish sauce, etc,
but prefer using my go-to sauce - mango chili chutney sauce.
.



..
.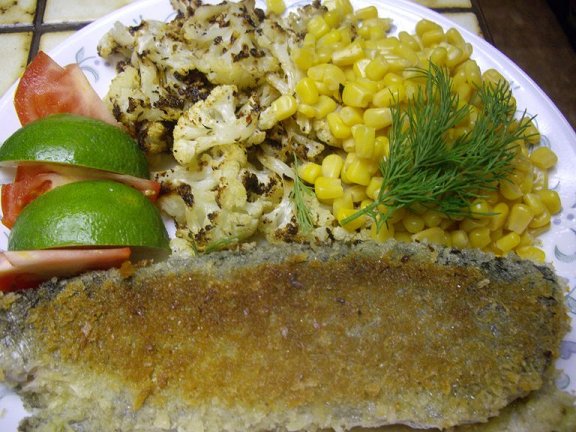 Panko crusted rainbow trout, oven roasted cauliflower
seasoned with Cajun seasoning, corn, tomato wedges, and lime for that bit of zing!
.



..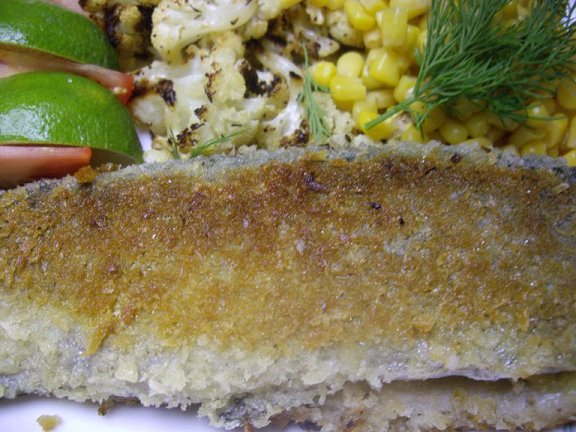 Look at those Panko crumbs! It's been a long time since we've eaten rainbow trout.
The most memorable was when we lived in Strathclair,
and friends Arnold and Annabelle Pirie raised them in their slough.
Our friends Mick (our English bass player from the band Desperado) and Marg Sandbrook were visiting from England.
He played a gig in Strathclair with us, and after the dance (at 3 am!),
the Piries brought over a couple dozen rainbow trout.
I pan fried them for a late-night meal
! It was a wonderful new experience for our English buddies.
.



..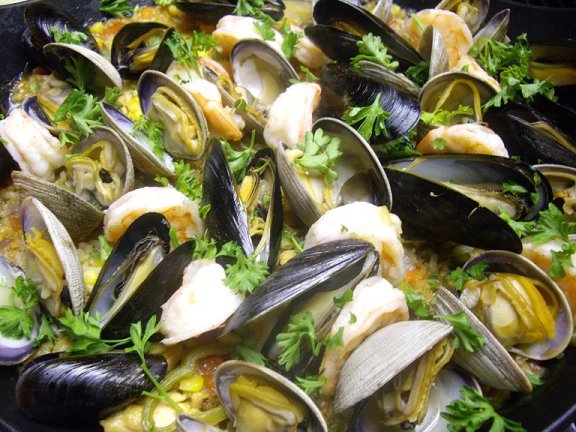 Picked up some very fresh looking Manila clams and mussels,
dug out some hot Italian sausage and chicken from the freezer,
measured out some aborio rice and saffron, and VOILA! Paella!
..



..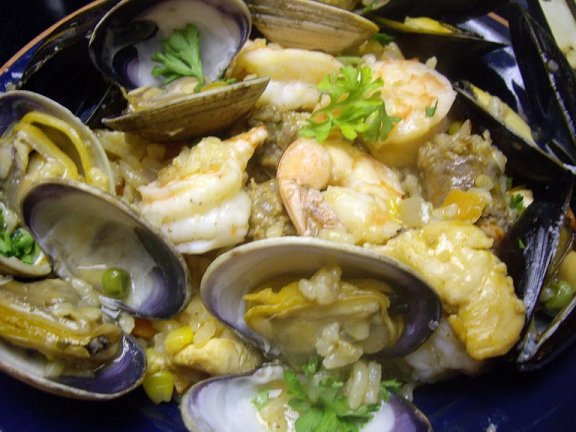 There was so much seafood we had to really dig for the rice and other goodies!
All the broth and liquid from the seafood produced a risotto-like texture to the rice.
.



..
.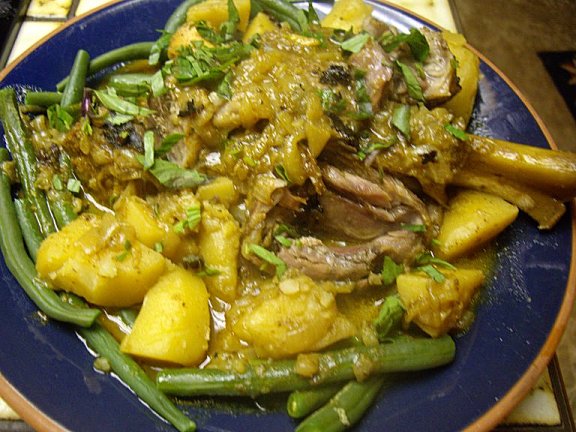 Braised curry lamb shanks with potatoes and green beans.
Whooeeee! The aroma was incredible, only to be outdone by the flavours.
Great dish for cool fall nights and definitely for winter nights:-)
.



.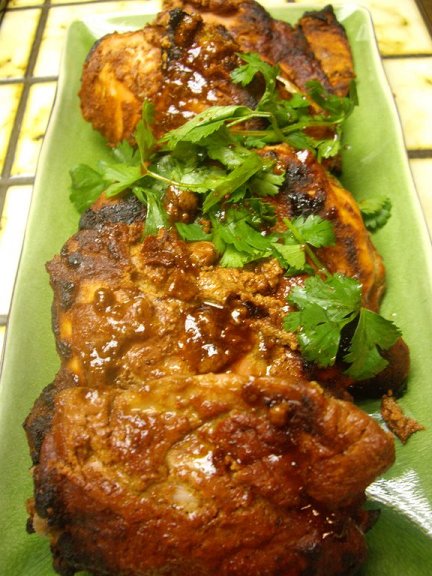 Tandoori chicken breast and thighs - done in the oven.
.



.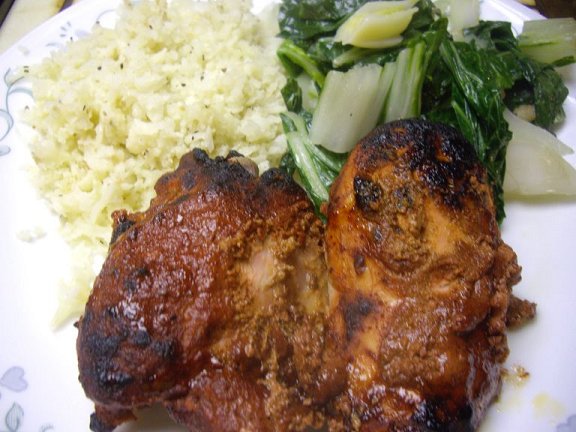 Tandoori chicken, stir-fried bok choy, cauliflower "rice" seasoned with Montreal steak spice
.



.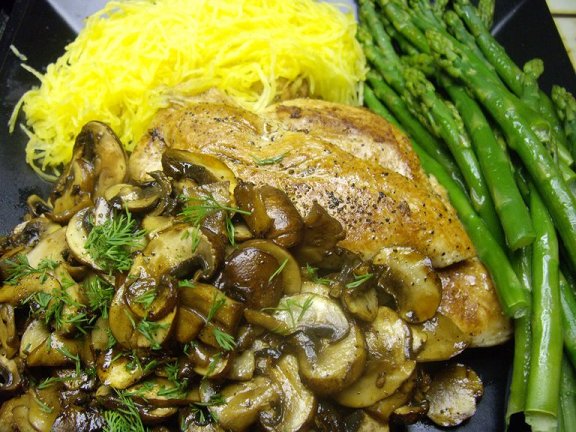 Seared and finished-in-the-oven turkey breast seasoned with citrus pepper.
Asparagus was on sale at Ss, so great time for a feed, along with sauteed cremini mushrooms and spaghetti squash.
I sauteed the mushrooms in the pan used for the turkey breast - great fond and juice!
.



.



Copyright 2011
Sue-On Hillman
Bill and Sue-On Hillman Eclectic Studio