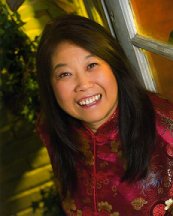 SUE-ON'S KITCHEN
December Pt. I: 2011
www.hillmanweb.com/soos/food24.html
Also featured in my Facebook Album


.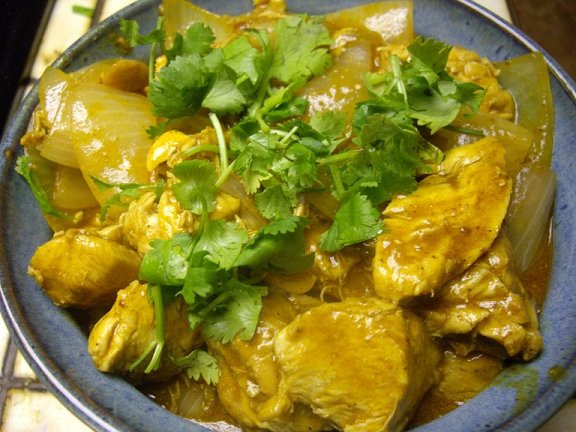 Chicken breasts, Madras curry paste, and onion seared in ghee and simmered in chicken stock.
Chicken in Patak Madras Curry paste. HOT
.


..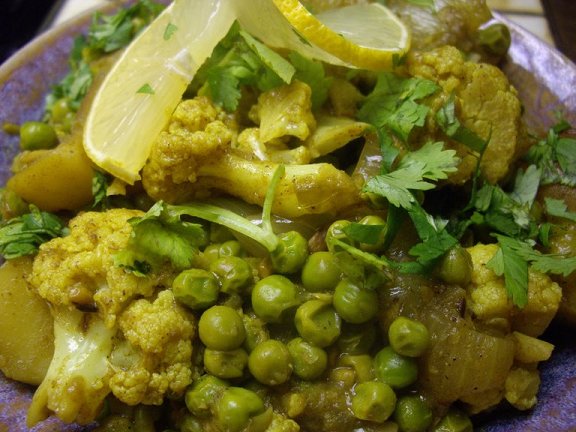 Aloo Gobi Mattar: potato, cauliflower, onion, peas simmered with garlic, ginger,
chili pepper, tumeric, garam marsala, ground coriander, fenugreek and cumin seeds,
ground cumin, and juice of 1/2 lemon.
Very flavourful without the heat. Great with the chicken curry.
.


...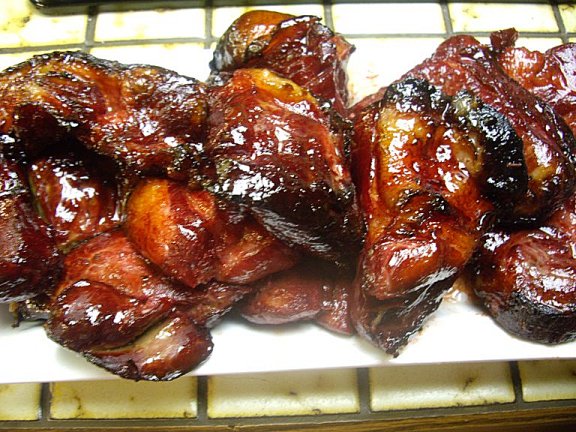 Honey glazed BBQ pork.
.


...


Pork butt strips marinaded in hoisin sauce, oyster sauce, sugar,
Chinese wine, five-spice powder, red food colouring.
Roasted in 375 F oven for 45 minutes.
Ready to be wrapped withg the nice fluffy coat of steamed baos!
.


...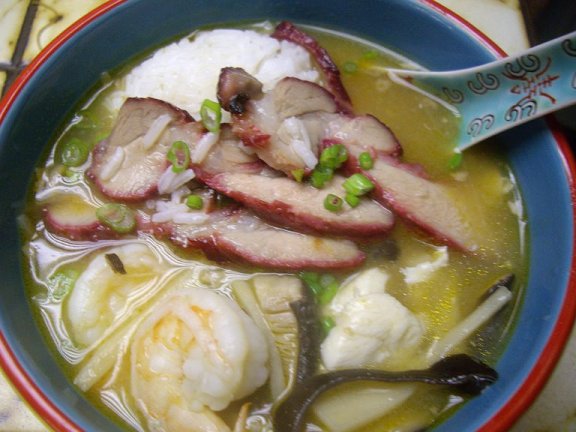 Added several slices of the BBQ pork to hot 'n' soup soup BEFORE I used the honey glaze.
.


..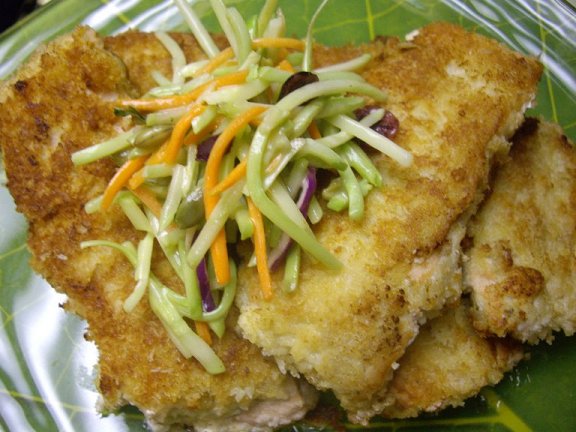 Wild salmon marinated with grated ginger, ginger juice, Caribbean spice rub,
coated with panko crumbs, and pan-fried in olive oil.
No fishy taste at all!
.


..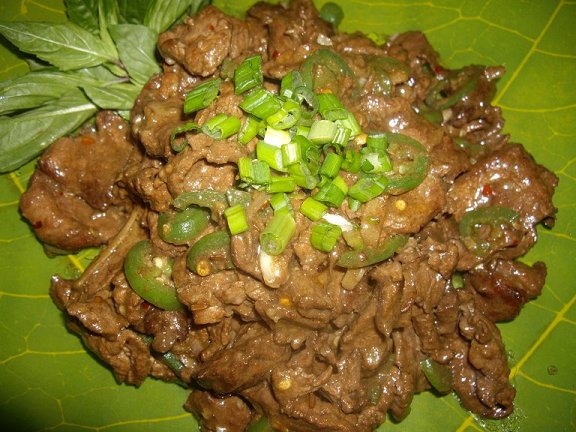 Hunan Cumin Beef: beef marinated in Chinese wine, soy sauce, cornstarch, salt.
Stir-fried with chopped ginger, garlic, chili peppers, chili flakes,
cumin seeds and ground cumin, drizzled with sesame seed oil.
Spicy and full of cumin flavour. YUM!
.


...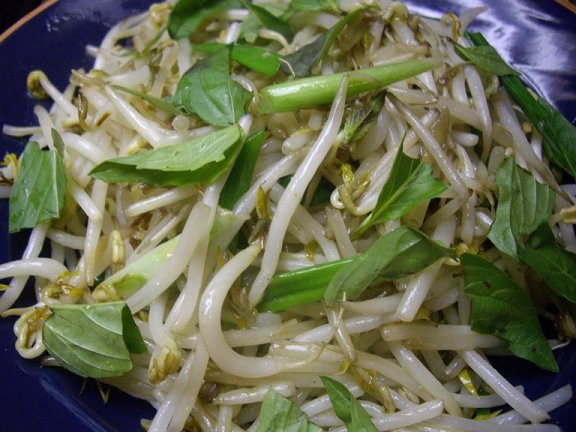 Simple stir-fry of bean sprouts with scallions, ginger, garlic, topped with Thai basil
- the perfect foil for the cumin beef and jamine rice
.


...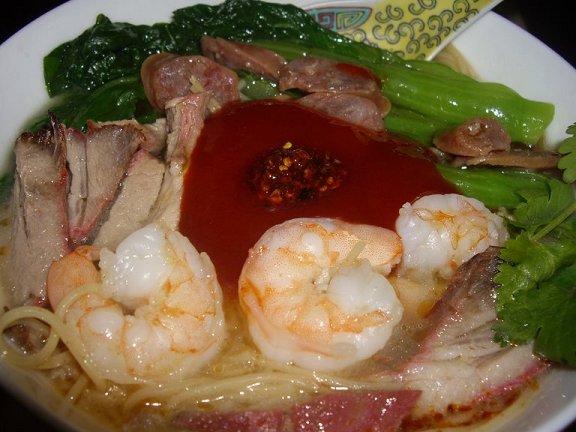 Having Chinese sausages and dry shrimp roe noodles on hand
makes quick lunches so flavourful, easy and quick!
Bill likes the sweet and hot chili sauce
with a dab of Saigon oil and crushed chili peppers for that extra kick.
I always load mine with cilantro and Saigon oil.
Now, to get outside in -2C temp - a mild day, and get the rest of the trees lighted!
.


...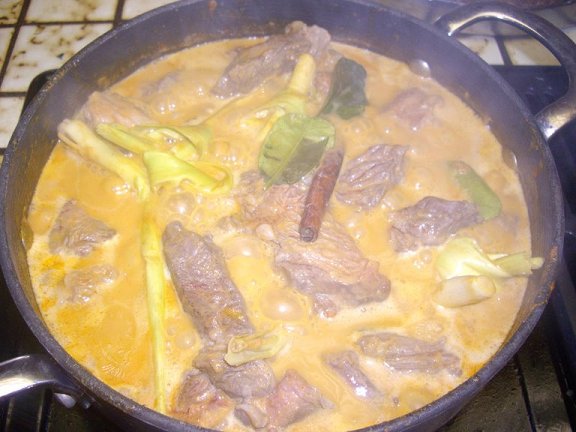 First 30 minutes of simmering the rendang.
.


...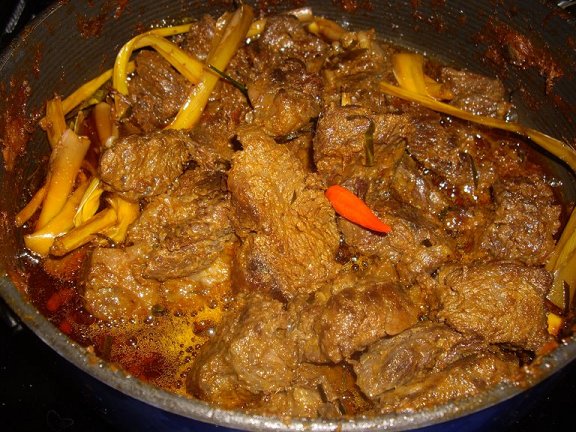 After 3 hours, the liquid had evaporated.
The flavour is infused into the meat, and only the coconut oil remains to brown the meat.
I threw in a couple of Thai chilis for controllable heat ;-)
.


.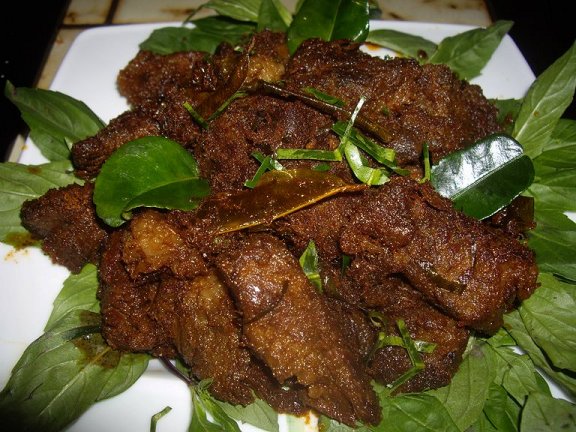 Thai Beef Rendang after 4hours.
Aroma of coconut milk, lemongrass, lime leaves, cinnamon was incredible
throughout the 4 hours of simmering.
Result was rich tender morsels of beef, eaten with Ong Choy (Water spinach) and Jasmine rice.
...


.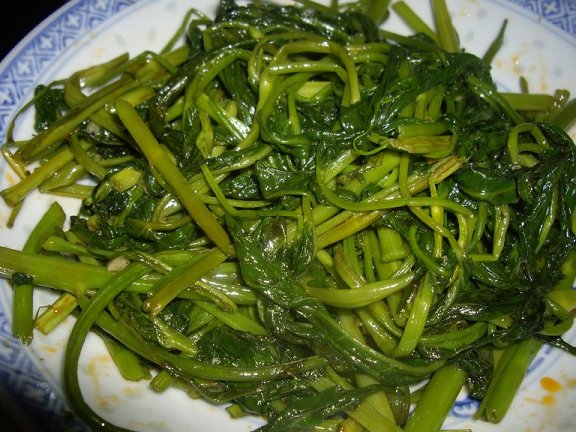 Ong choy / water spinach/hollow stem spinach, quickly stir-fried with chopped garlic.
This is a very fragile vegetable and must be cooked as quickly as possible after being harvested.
A drizzle of sesame oil finishes it off nicely.
.


...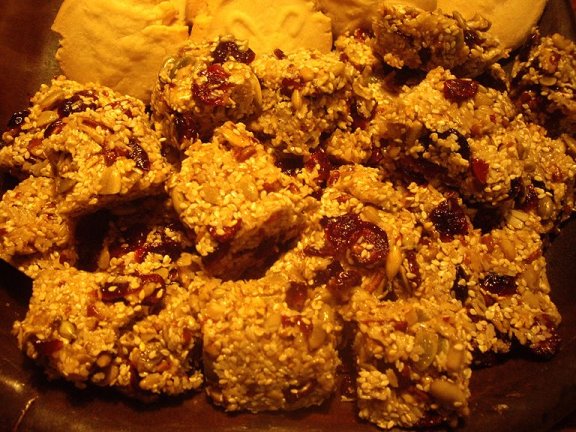 Dec. 12th Xmas baking frenzy! Made 3 batches of the Birdseed Bar - very addictive!
These are for the Hillman/Choy Family baking exchange.
We are so scattered these days with in-laws and out-laws,
so we are trying to keep our bond strong by sharing favourites and family recipes.
.


...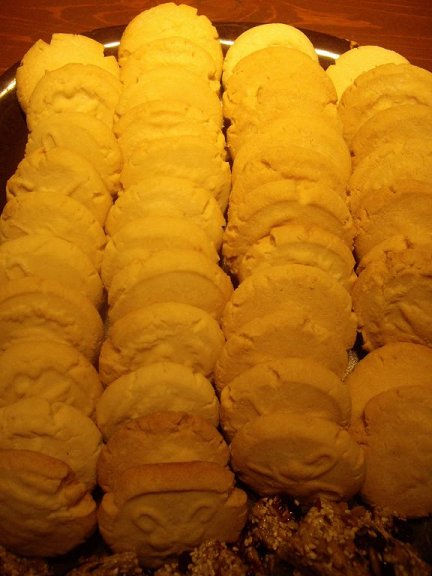 These are my sought-after non-whipped shortbread cookies.
I mix up the dough, rolled each cookie into a ball by hand,
then pressed with special Xmas cookie presses before baking.
One press is a swan, a Xmas tree, a snowman, and candy canes.
So far, I've made 8 dozen.
Need to do about the same amount again...and still...never seems to be enough when the stash is found!
.


...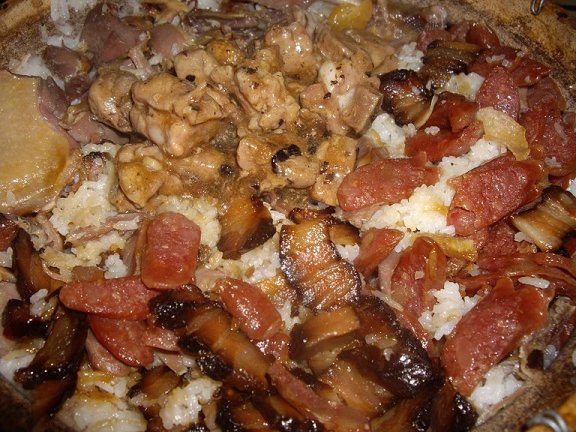 Sandpot Lap Mei Fan: lap cheung, lap juk, lap gnap-, short grain and jasmine rice,
topped with steamed fermented soy beans pork spareribs.
.


...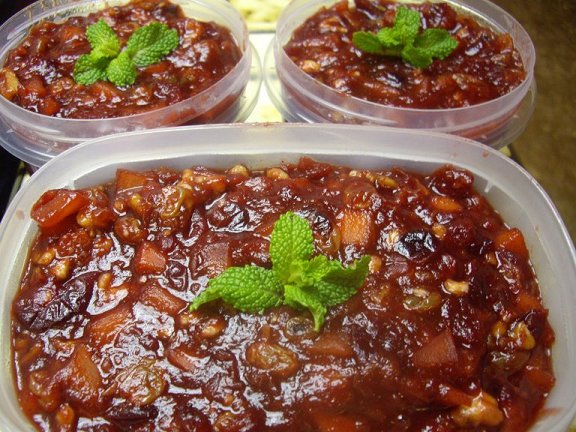 Cranberry chutney with apple, orange, raisins, walnuts.
Done in 30 minutes! Bring on the Christmas turkey, or crown roast of pork,
or any other poultry dish. In fact, this is good even on toast!
.


.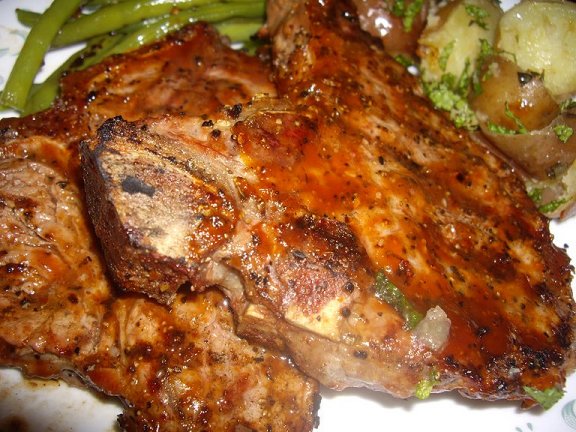 Who says you can't BBQ in December?!
Veal chops with Southern Cajun BBQ sauce, stir-fried green beans with garlic,
and new potatoes with fresh mint. MMmmummmm good!
Didn't even need a jacket to go outside, and it's Dec. 18th!
.


...



Copyright 2011
Sue-On Hillman
Bill and Sue-On Hillman Eclectic Studio