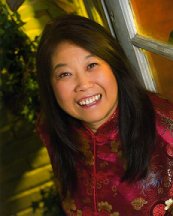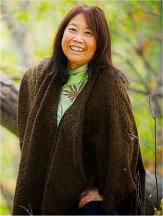 SUE-ON'S KITCHEN
JUNE I: 2013
www.hillmanweb.com/soos/food/65.html
Also featured in my Facebook Album

.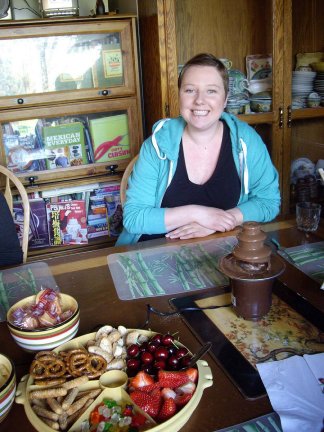 Jen Funk's birthday present: dessert for lunch ;-)
Jen's b'day was in April, but we just got together this weekend to celebrate :-)
.

.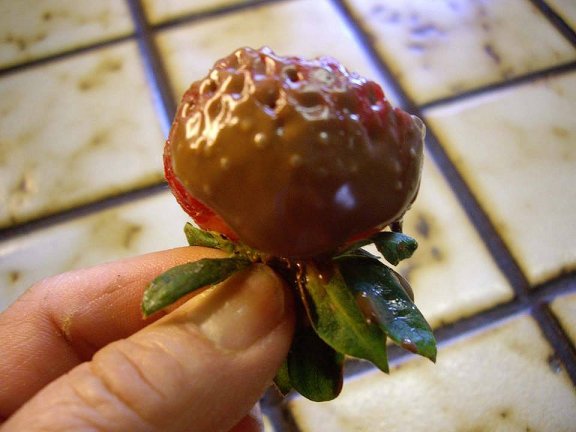 My perfect strawberry dipped in chocolate...YUM!


.


And, one of the two rhubarb pies for tonight :-)
.


.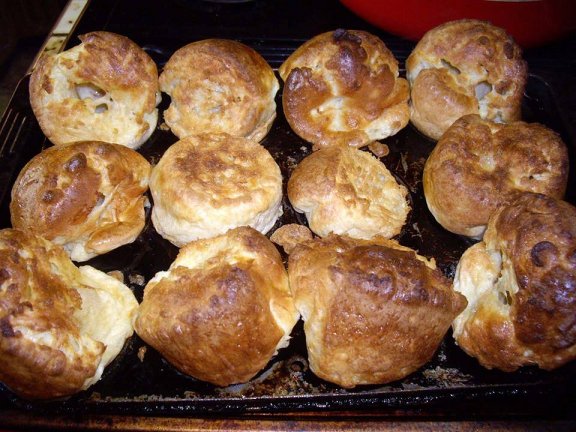 First 11.5 Yorkies done! Things of beauty :-)
Roast will be going in soon! And yes, slow and low.
.


.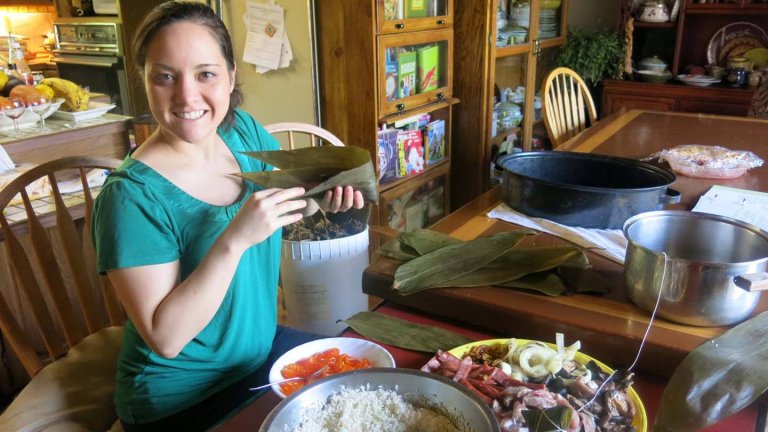 And SO it begins!
Joongzi session with daughter China-Li Hillman and d-i-l Jen Funk!
Missing my Mom / Po-Po tho, but lots of good memories and stories :)
.


.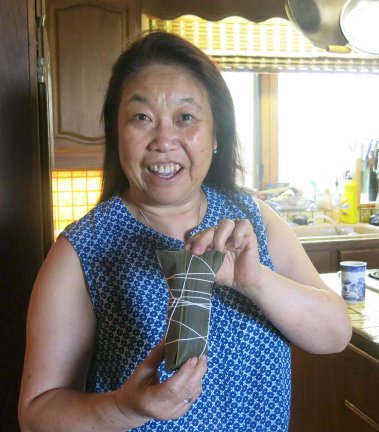 Yes! I made the special twisted shape ones!
.


.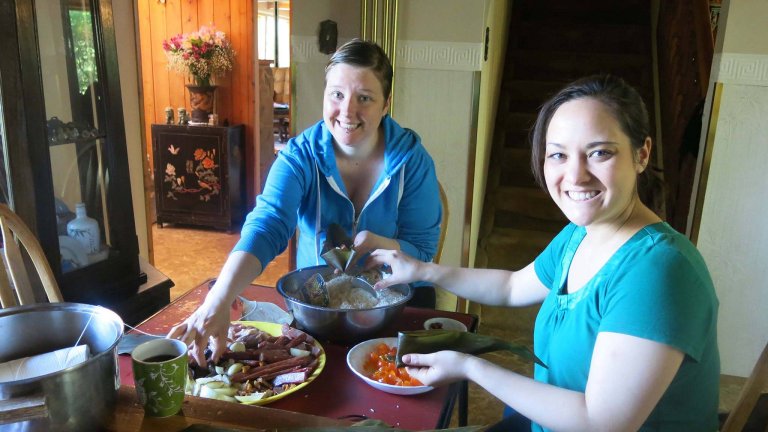 China-Li Hillman and Jen Funk take over while I make steamed egg cakes :-)
The girls did a great job: 84 joongzi!
Had to buy a new burner to replace my old turkey fryer.
The kids all left with a dozen each.
Had leftover filling, so I cooked some glutinous rice with the filling
and made sticky rice in lotus leaves.
We all had joongzi and fuzzy melon soup for lunch, followed by steam cake.
Kids said it was "The Best Weekend EVER!" and we agree :-)
.


.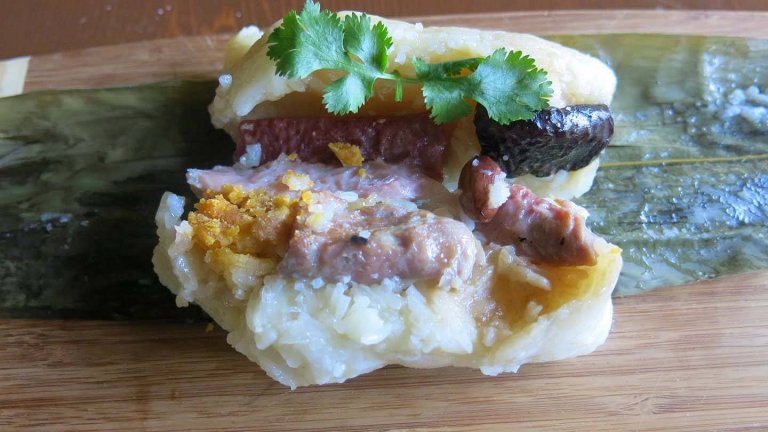 Just started boiling the last 2 dozen joongzi.
This is what the inside looks like...yummy!
Chinese sausage, salted pork, peanuts, dried shrimp,
salted duck egg yolks, Spanish onion, Chinese mushrooms, Jasmine rice, glutinous rice...
.


.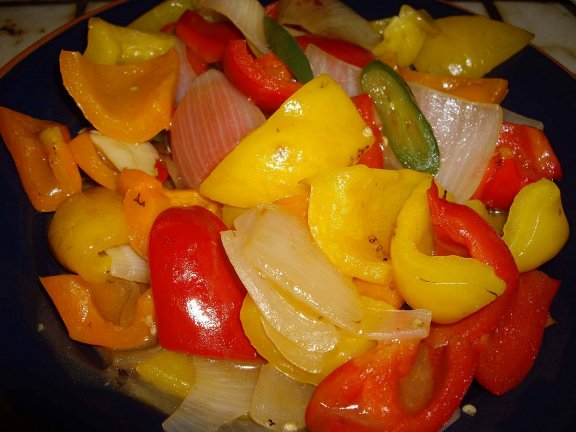 Tri-colour sweet bell peppers stir-fried with a serrano.
Went well with the spicy Hunan Cumin Beef!
.


.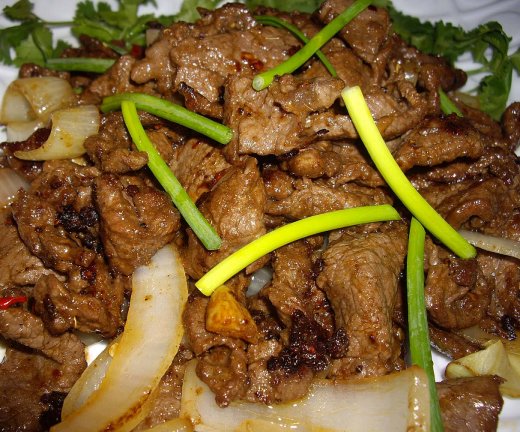 Spicy Hunan Cumin Beef without the 10-20 chili peppers it called for:
thinly sliced Sterling Silver top sirloin beef,
marinated with Chinese wine, soy sauce, cumin powder.
Dusted lightly with cornstarch then shallow fried.
Added Spanish onion and garlic.
Seasoned with "Slap Ya Mama" hot sauce, chopped dried chili peppers,
Old Mama Chili oil with seeds, and lots of cumin powder.
Beef was tender, dryish, spicy, but will add whole cumin seeds next time.
.


.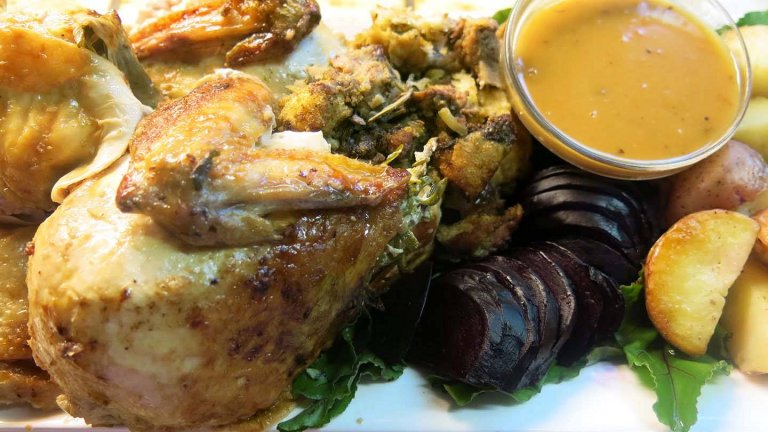 Roast chicken with rosemary under the skin, sage stuffing, roasted beets, potatoes, and the OMG gravy!
Dessert was butter tarts that I've been wanting since the new Canadian Living mag arrived
...rewards for playing in the dirt!
The gravy was spot on! Just needed flour and chicken stock...wishing I had rice...with gravy!
Oh my arteries ;-)
The stuffing was made from a chunk of french bread I had in the freezer,
celery, onion, poultry seasoning and lots of fresh sage leaves I had in the fridge.
.


.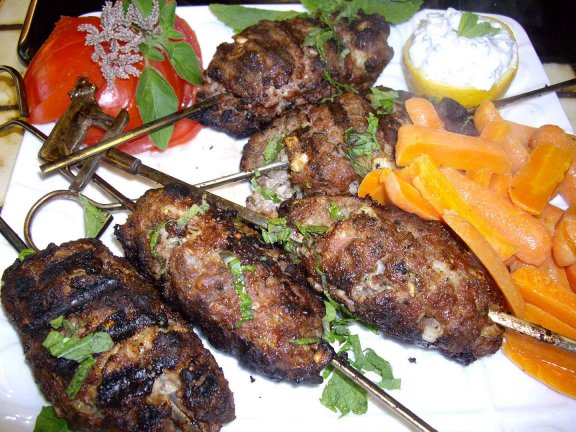 A keeper.
I need to maybe add egg or yogurt to the meat mixture,
or fresh bread crumbs as opposed to dry as I thought it was a bit drier than I'd like.
But, if the mixture is too wet, then it won't hold its shape or stay on the skewers on the BBQ.
---

This is what happens when you love food and once owned a restaurant...
can't stop!
I'm having more fun trying new recipes and plating.


..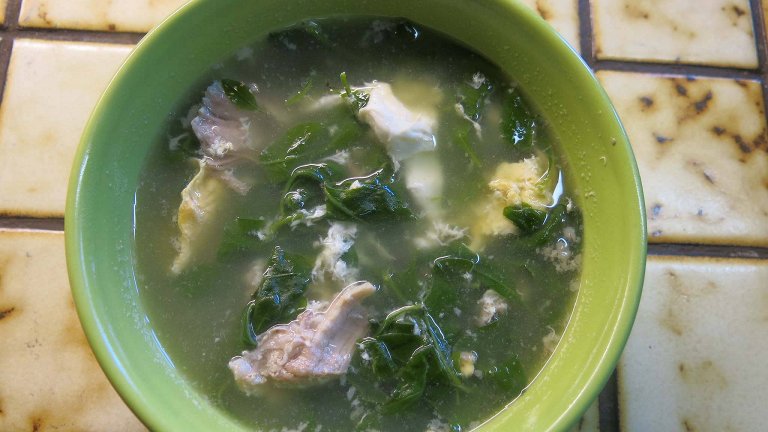 Gow Gay soup with salted duck egg and pork neck bones.
This is the first "vegetable" from my Chinese elders' gardens in the spring.
We make soup with the tender leaves, considered a spring tonic.
This was my favourite soup whenever I stayed with my maternal grandparents in Hong Kong.
Ingredients: Just leaves from the plant,
pork neck bones that were simmered for a few hours,
and egg swirled in at the last minute.
.

..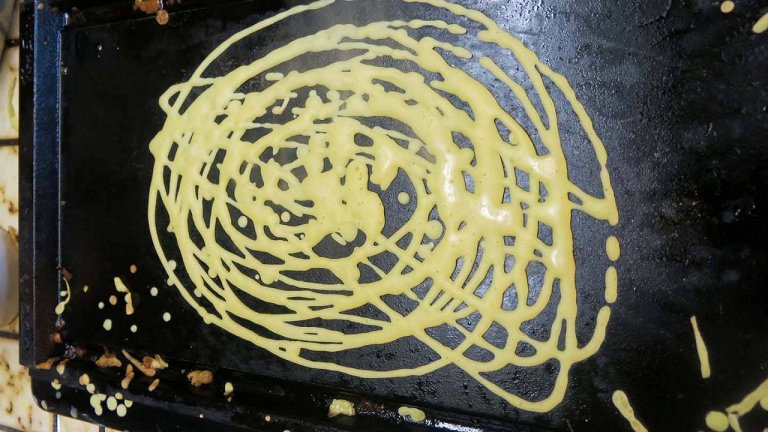 My first attempt at roti jalal, a favourite "bread" to dip into curry sauce when we were in Malaysia.

.


..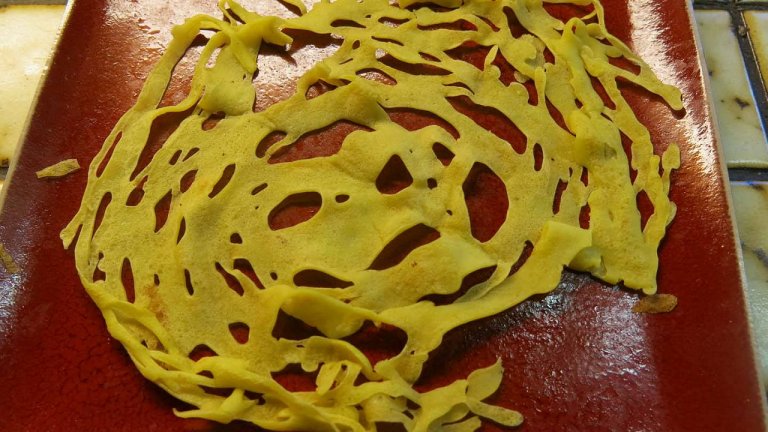 Not bad for a first attempt.
The batter needs to be thicker to get thicker strands,
but it wouldn't come thru' the holes in my jalala ladle.
It's a little "ladle" about 4" deep with holes on the bottom
to let the batter drip down in a stream to make the lacy patter.
Brought it back from Malaysia, but our friend made his own and I think works better!
.


..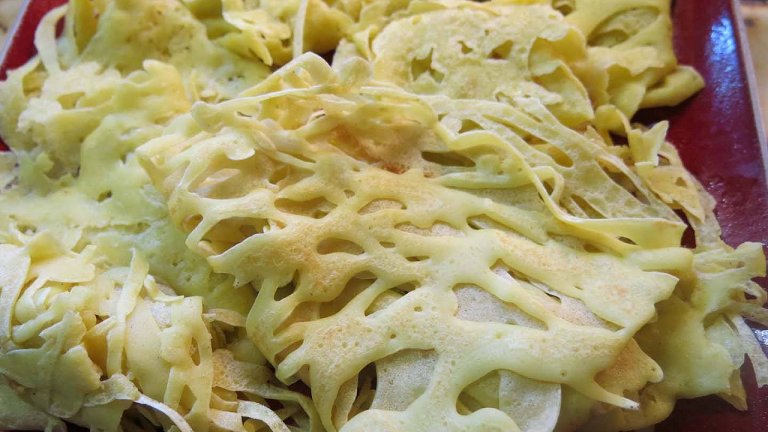 Several "lacy bread" stacks, ready for the curry!
.


.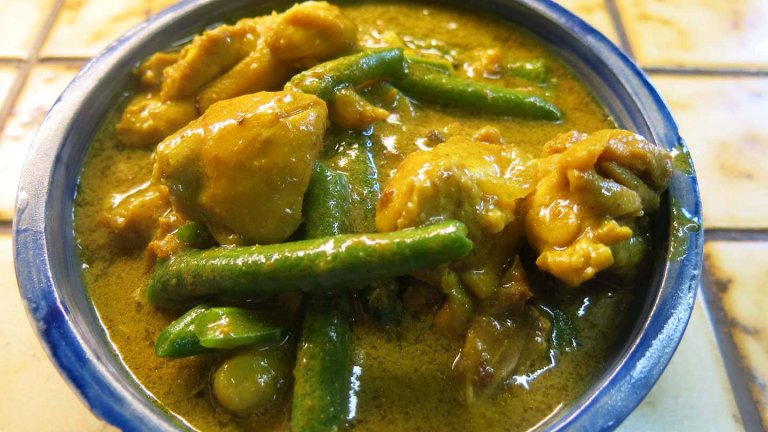 Malaysian curry chicken with green beans.
I used chicken thighs, marinated with salt, cumin, oil and cornstarch -- silky smooth!
.


.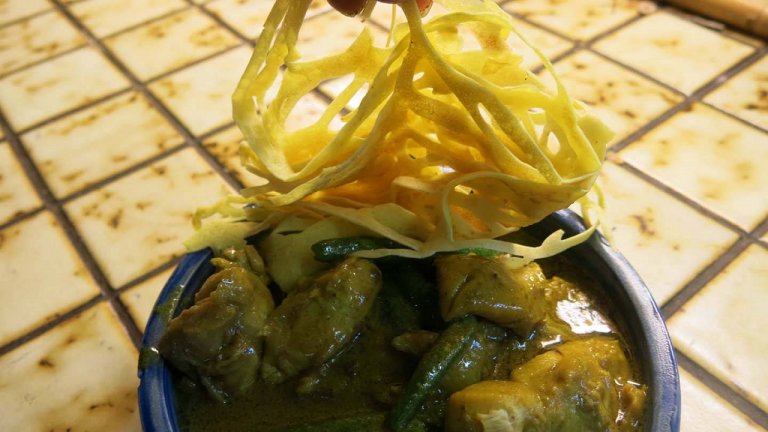 Pretty... and tasty too!
.
.


This month is a follow-up from last month's China Food Adventure




INTRO AND CONTENTS
..