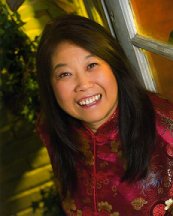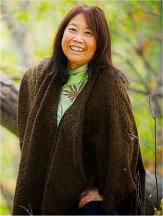 SUE-ON'S KITCHEN
JUNE II: 2013
www.hillmanweb.com/soos/food/66.html
Also featured in my Facebook Album

.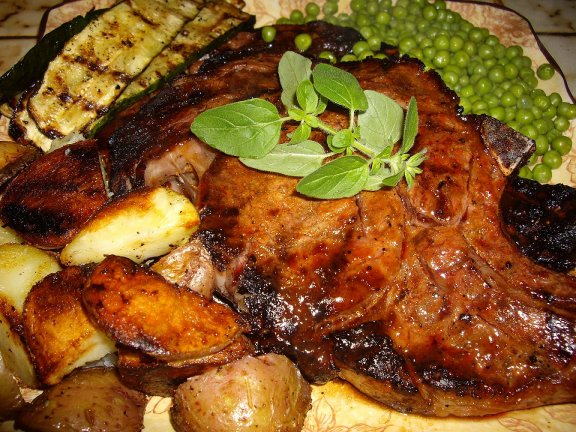 BBQ rib steaks with Ancho Guajillo rub by Stephen Reid -
Very nice!
Zukes and taters with Cajun Slap Ya Mamma powder, and buttered peas = satisfaction!

.


.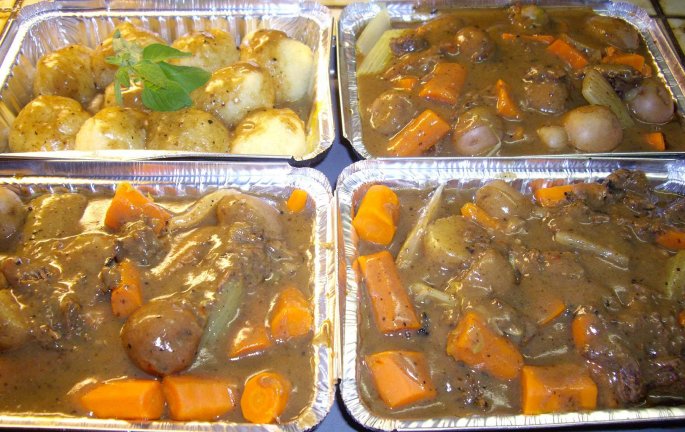 .Beef Stew and Bavarian Potato Dumplings ready for the freezer to go into Winnipeg!
.


.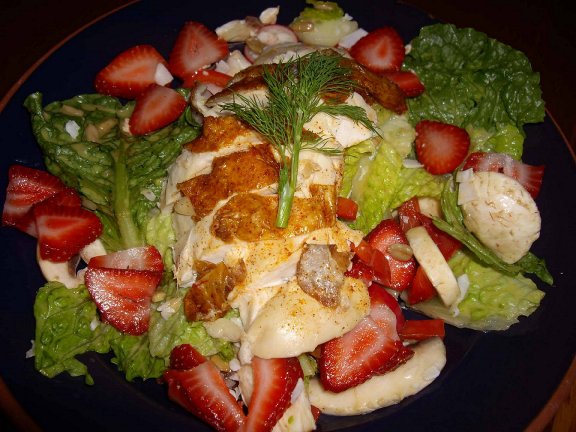 Roast chicken and "Not a-Salad-Eater's Salad" -
Romaine lettuce, sweet bell peppers, radish, celery, mushrooms, coconut flakes,
sunflower seeds, strawberries cucumber, in mango chipotle dressing.
I had torn Thai basil with mine :-)
.


.


First dozen of char siu baos!
.


.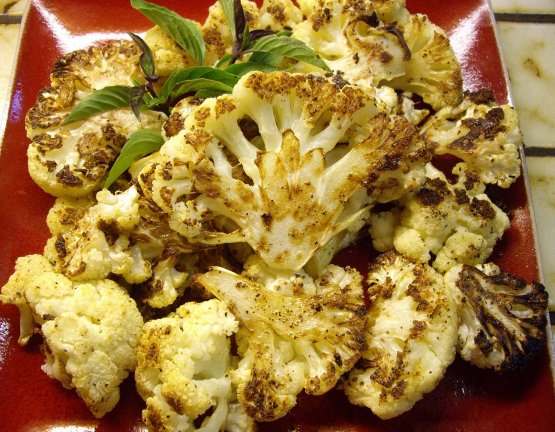 Roasted Cauliflower with olive oil and chili powder.
.


.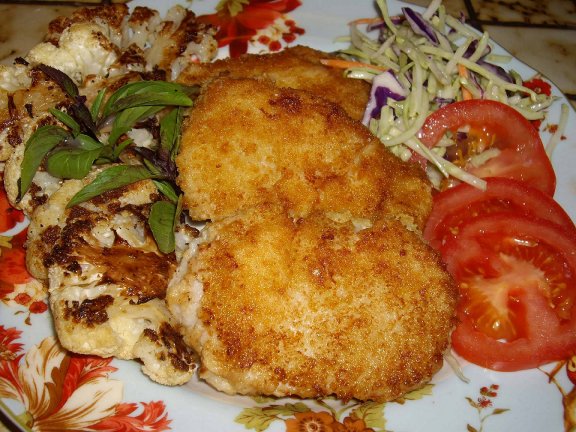 Breaded pork chops with broccoslaw, cauliflower, creamed corn, and lots of apple sauce!
.


.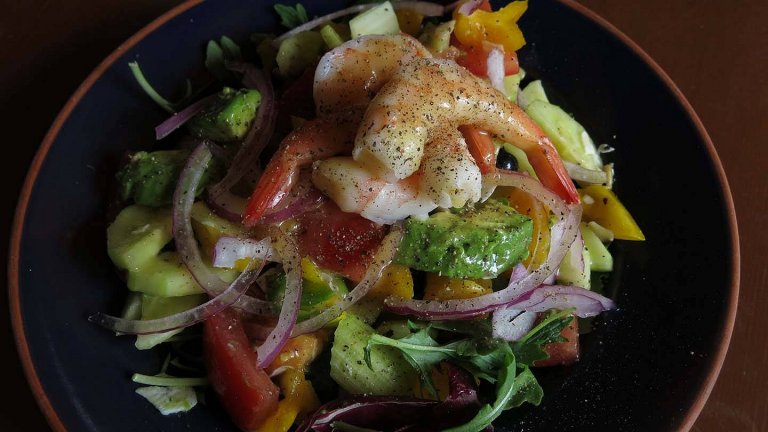 Shrimp and Avocado salad for lunch:
mixed field greens, sweet bell peppers, tomato, cuke, red onion, avocado,
shrimp, mango chipotle dressing, sunflower seeds, coconut flakes, and fresh blueberries . . .
. . . a whole circus performing in the mouth!
.


.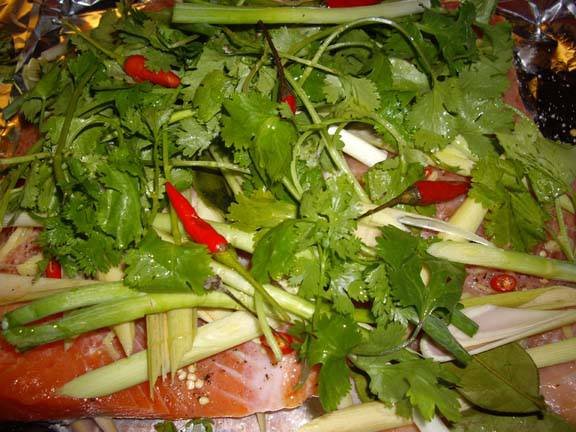 A case of mistaken identity turned out to be a winner!
I thought I bought my usual salmon fillet turned out to be Steelhead Trout.
Did it up the same way: lemongrass, cilantro, red chilis, green onion, ginger,
limes, olive oil, salt, freshly ground pepper,
and this time, I put lime leaves on the bottom so that it would infuse the fish as it cooked.
Done in foil and on the BBQ - 30 minutes!
No hint of fishiness as salmon sometimes gives.
Very happy with this "mistake", and it is cheaper!
.


.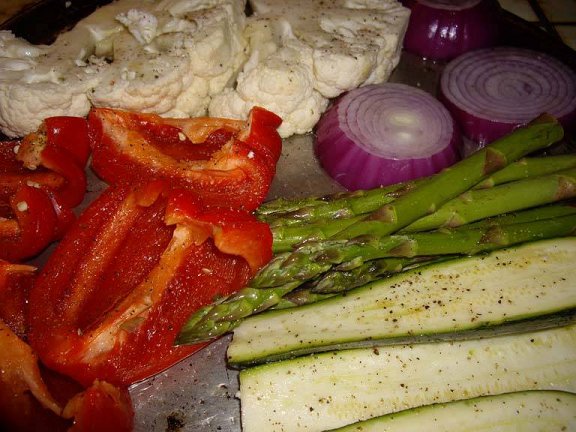 A mix of vegetables for the BBQ:
cauliflower slices, red pepper, asparagus, zucchini, red onion,
all dosed with olive oil, salt and pepper.
.


.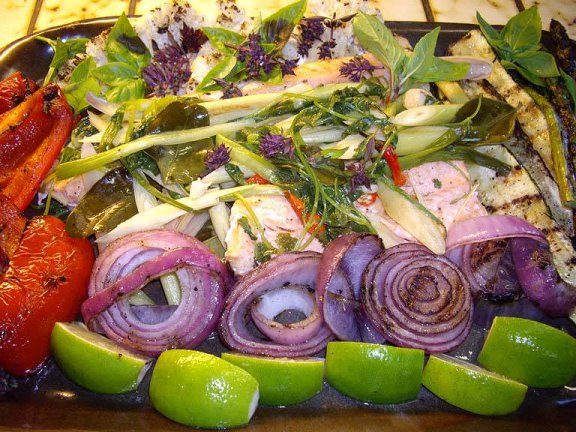 All ready and eaten with snippets of fresh Thai basil from my "garden".
Our first meal outside, and it's the day after the wild thunderstorm of June 25, 2013!
.


..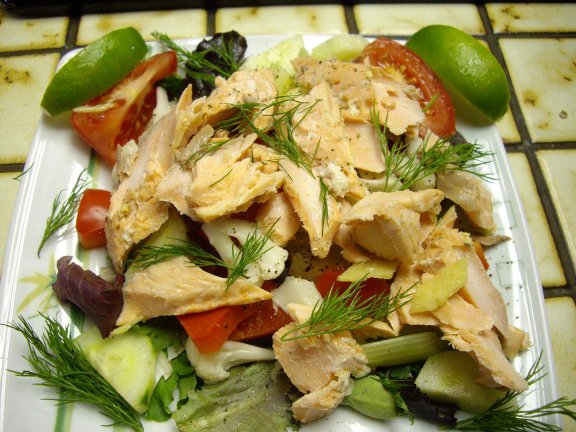 Leftover Steelhead trout salad for lunch
- lime juice and olive oil is perfect dressing.
The fish was fragrant with kaffir lime leaves!
Love it:-)
.


.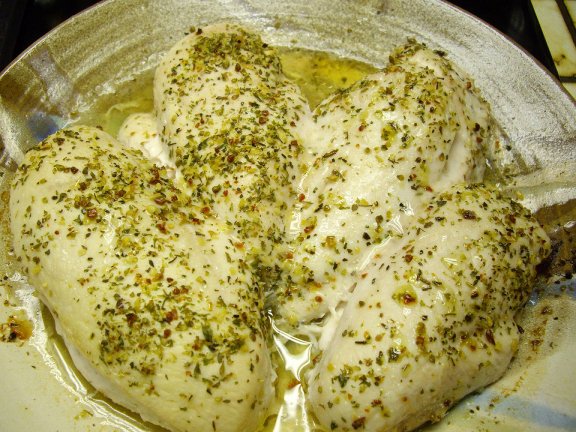 .4 chicken breasts roasted on my new Kathy McDonald platter
...lovely brown bits and juice retained on the bottom.
Seasoned with Italian herbs and destined for chicken pot pies.
.


..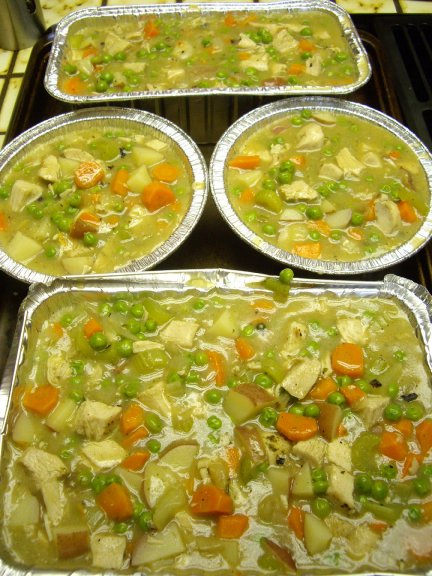 Chicken pot pies waiting for puff pastry top!
One for us and three for friends:
chicken breasts, peas, carrots, celery, onion, potato,
freshly ground and whole pepper, chicken stock Puff pastry is store-bought Tenderflake.
.


..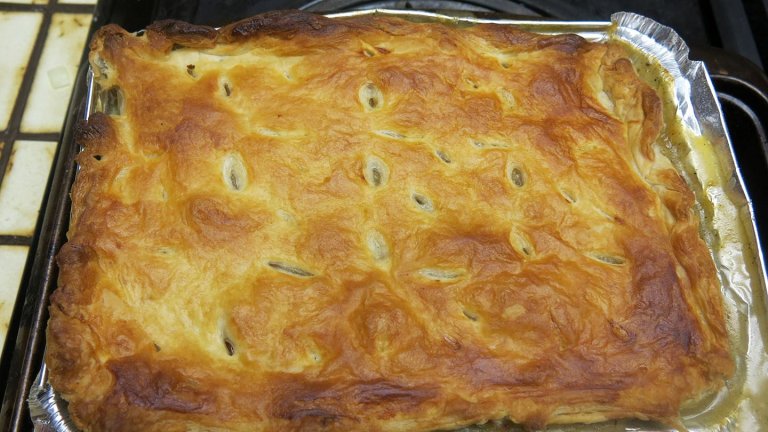 Supper! with broccoslaw...
.


..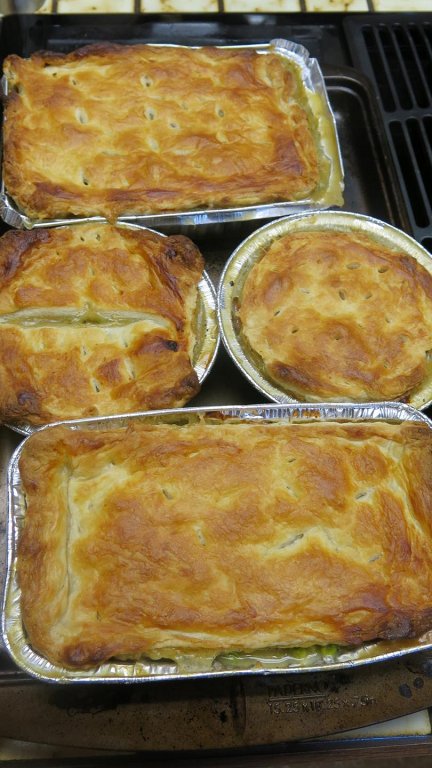 Chicken pot pies done!
Ready to make deliveries :-)
.


..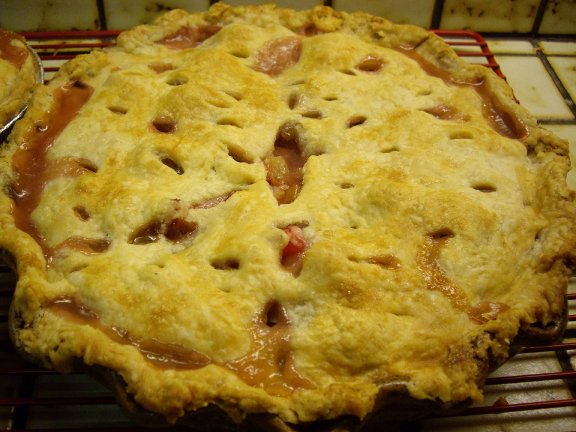 ANOTHER rhubarb pie tonight!
This was made in my new pie plate from Kathy McDonald.
She is right: the bottom crust was "crispy" with just a couple of wet patches
because the juice ran down the side. It's a success!
.


..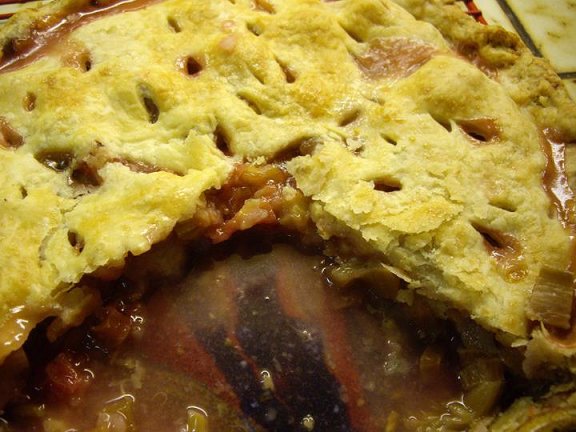 Could hardly wait for it to cool down...Mmmmm...
Didn't need ice cream after all. Besides, we didn't have any ;-)
.


..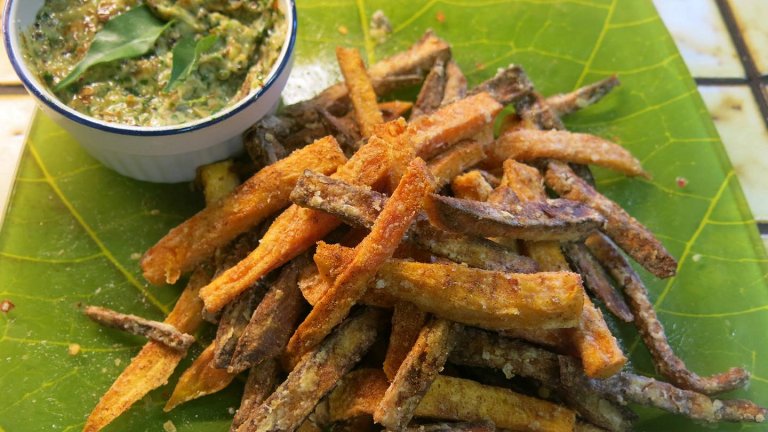 At last! Spice Goddess Sweet Potato Fries and Dip.
The sweet potato was dredged in cornstarch, deep fried,
then sprinkled with a mix of ground cardamom, smoked paprika
(I used Hungarian for the kick), salt.
.


..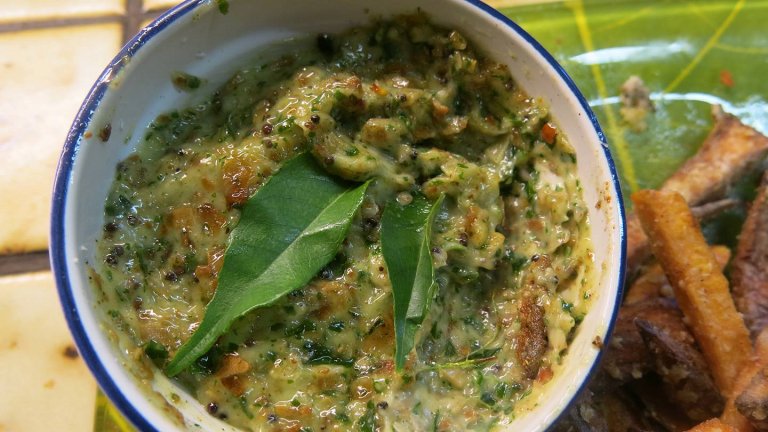 This is REALLY good stuff, for anything...not just sweet potato fries:
grape seed oil, unsweetened coconut flakes, brown mustard seed, curry leaves
(I used fresh leaves), chili powder, ground coriander, mayonnaise...
.


...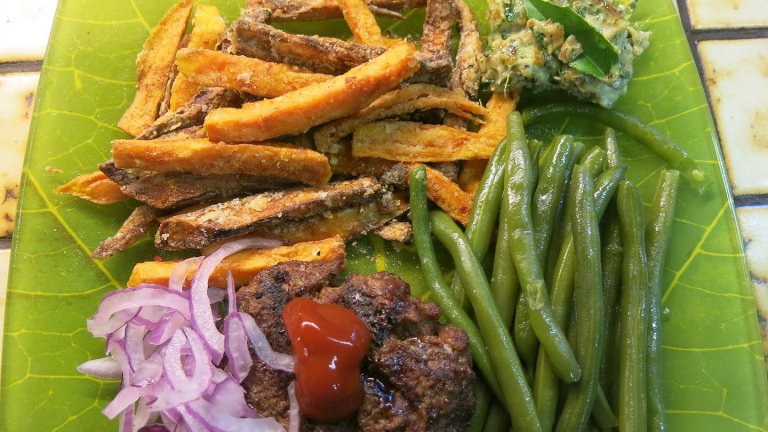 BBQ burgers with hoisin sauce, steamed green beans, red onion the fries and dip,
and spicy ketsup on the burger.
`This was a great "last supper" for June.
.

Follow-up from our May China Food Adventure




INTRO AND CONTENTS
..