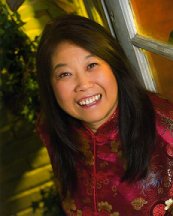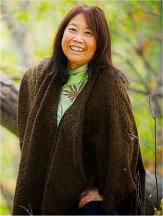 SUE-ON'S KITCHEN
JULY I: 2013
www.hillmanweb.com/soos/food/67.html
Also featured in my Facebook Album

.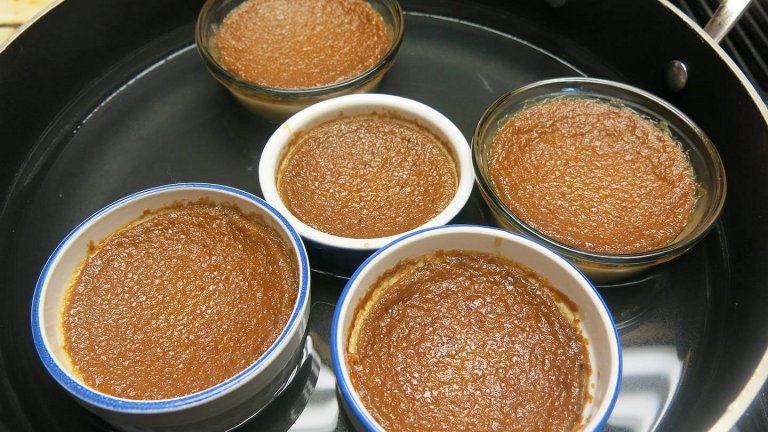 Bob Blumer's Coffee Crispee Creme Brulee before sugar crust.

.


..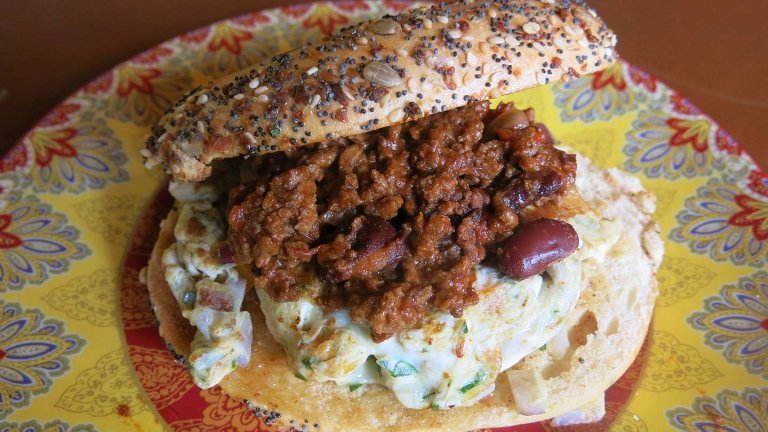 What to do with 2 dozen egg whites after creme brulee?
Make egg white, sweet pepper, chili pepper, onion, fresh curry leaves,
curry powder eggs, ground beef chili on a toasted "everything bagel"!
OH MY! Oh, Oh MY MYYYYY!
Bill said we need to trademark this brunch!
.


..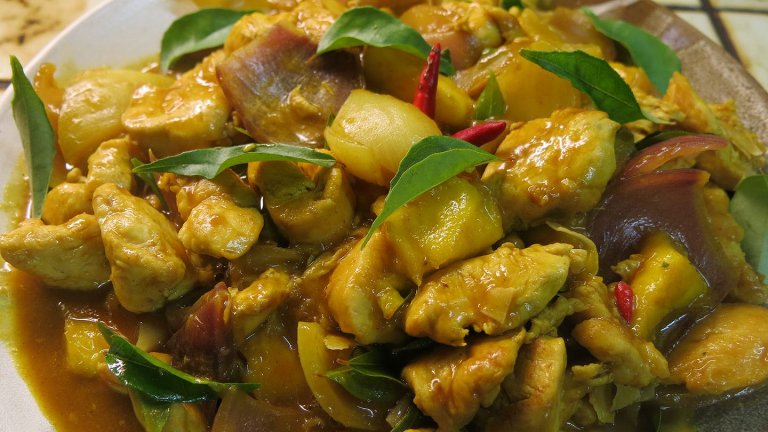 Mango Curry Chicken with Coconut and Curry Leaves.
Sides: cauliflower rice, boiled carrots.
Lovely mix of sweet mango, spicy curry, Thai chilis, coconut flakes, curry leaves.
.


..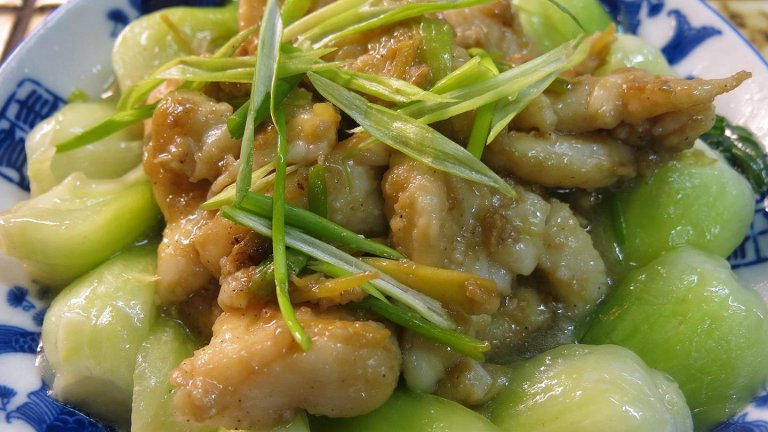 Stir-fried Shanghai bok choy with Basa fillet
(marinated with salt, pepper, Chinese cooking wine, oil, soy sauce, and cornstarch)
.


..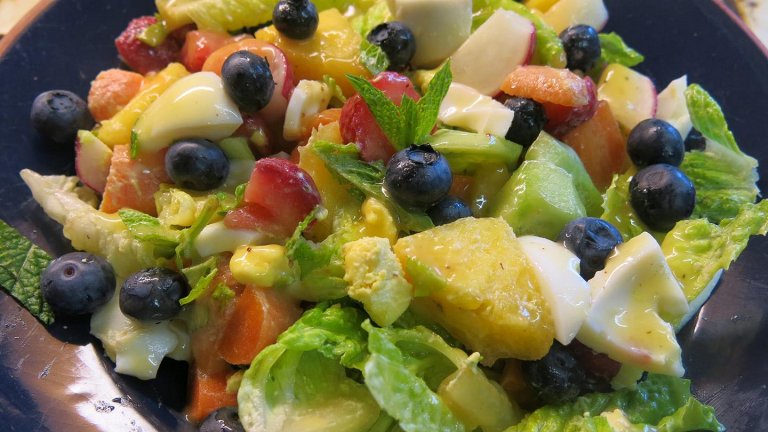 Bill's Not-a-salad salad: romaine lettuce, radish, cooked carrot,
hard-boiled egg (whites only), mini cukes, strawberries, fresh pineapple, blueberries.
and the usual mango chipotle dressing and fresh mint leaves.

---
I wish I had one of those gadgets that is used to make boiled eggs out of the shell.
Not sure if I actually saw those or dreamed about them!
Have used most of the egg whites from the brulee for omelets.

.


..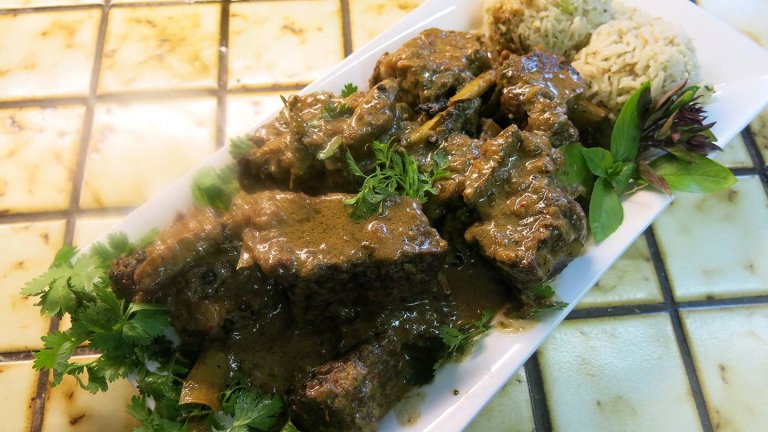 REALLY GOOD!
The basmati rice also had the same ingredients but cooked with coconut milk.
Coconut milk was added at the end to the short ribs.
.


..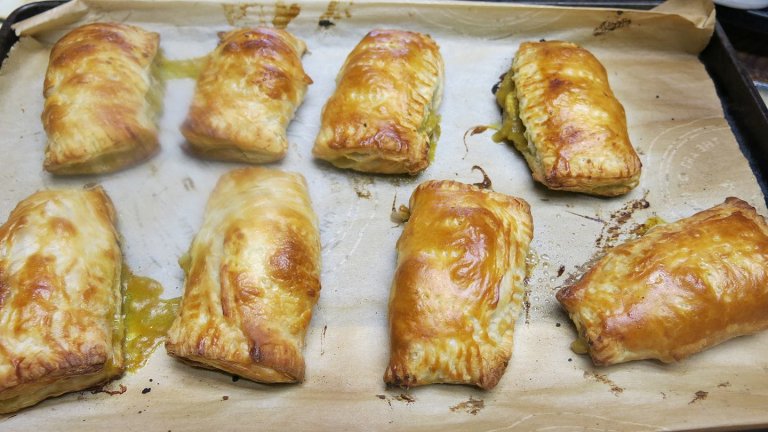 Curry chicken in Puff Pastry.
.


..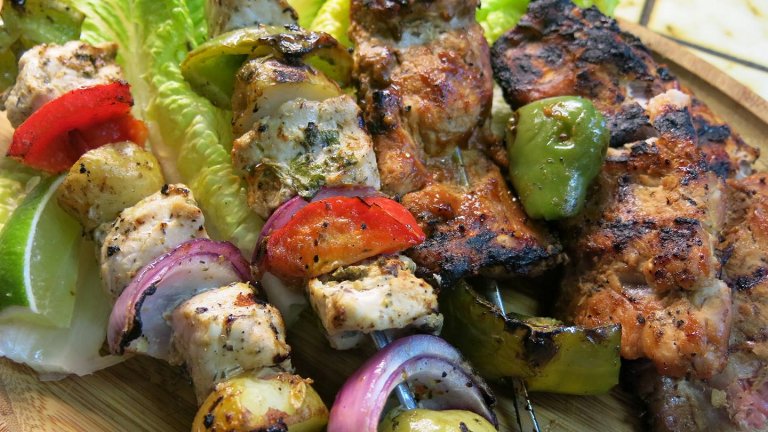 Ssssssssshhhhhh Kebab night!
Chicken breasts marinated in Greek Feta dressing,
pork rib "tails" with Cajun seasoning, sweet bell peppers, red onion, new potatoes...
All yummy - eaten outside sans mosquitoes!
[Turned the Thermacell on 15 minutes before supper, and the mosquitoes all left:-)]
.


..


Spicy Hunan Cumin Beef, Roasted cauliflower steaks, rice...YUM!
Love the cumin.
The recipe just called for cumin powder,
but I toasted cumin seeds in the oil before I added the meat.
The seeds were scattered through out the meat
and gave such an intense bit of flavour when I chewed them.
.


..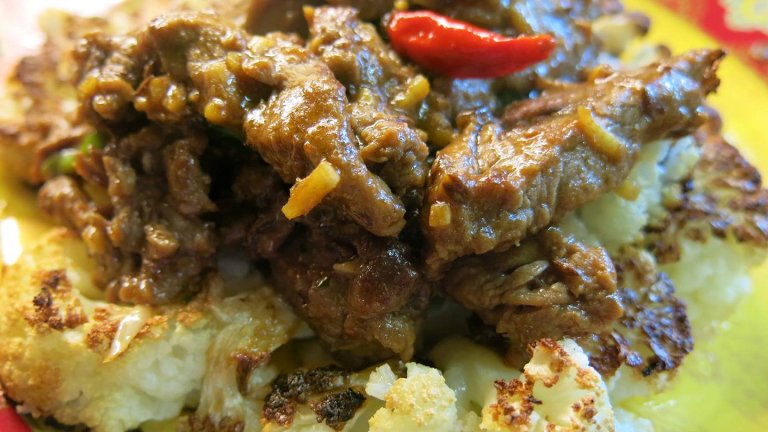 Nice wet version of cumin beef.
With lamb, it's better "dry" style.
.


..


Had Malaysian Meatball Curry that I made up yesterday.
Flavours really intensified with the dish allowed to sit in the fridge for a day!
Sides were seared tofu, roasted carrots and cauliflower
with garam masala, and lots of fresh mint.
.


..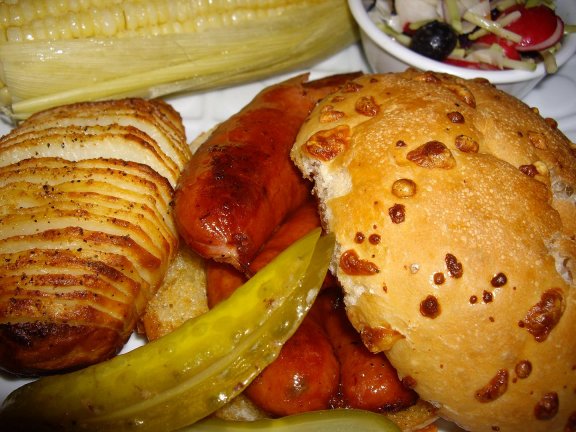 Bill's toasted cheese bun stuffed with jalapeno cheddar smokie sausage,
Sweet and Spicy mustard and ketsup.
Eaten with hasselback potato, steamed corn,
nd a small dish of broco/blueberry slaw.
---
I slapped sliced smokies on the pan with the olive oil.
When they were done, I added the cheese bun halves.
No sense wasting all thatoil from the taters and the smokies.
Bill said it was good :-)

.


..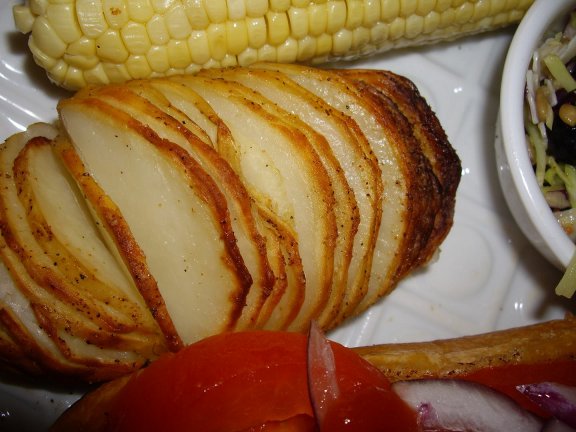 Hasselback potato dusted with Sla Ya Mama seasoning and olive oil.
These would be even better dusted with cornstarch and spices
then deep fried... like the onion flower....
.


..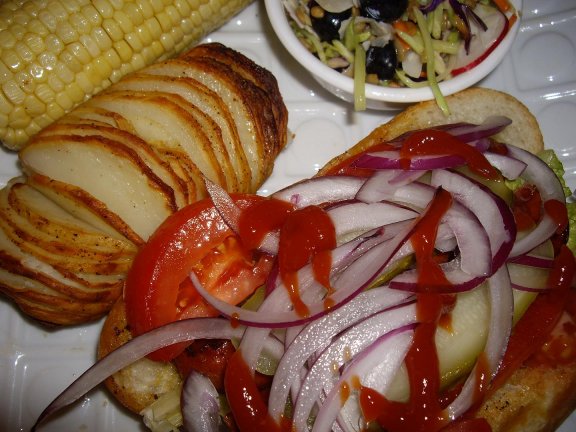 My smokie dog in toasted panini bun,
loaded with red onion, tomato, pickle and ketsup..
.


..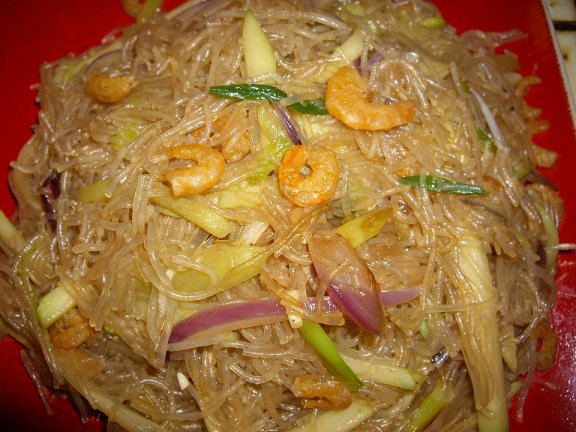 Fun See (mung bean noodles / glass noodles)
stir-fried with chayote, dried shrimp, and onion.
Seasoned with a little soy sauce and sesame oil.
.


..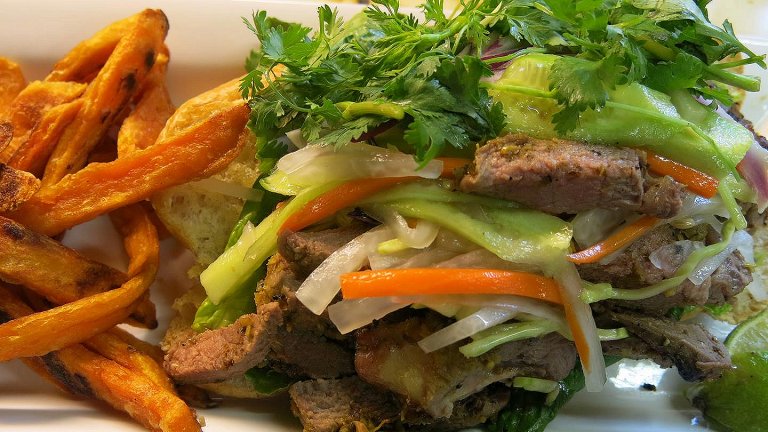 Lemongrass Grilled Lamb Banh Mi
with mint sauce, sweet potato fries and daikon-carrot pickle.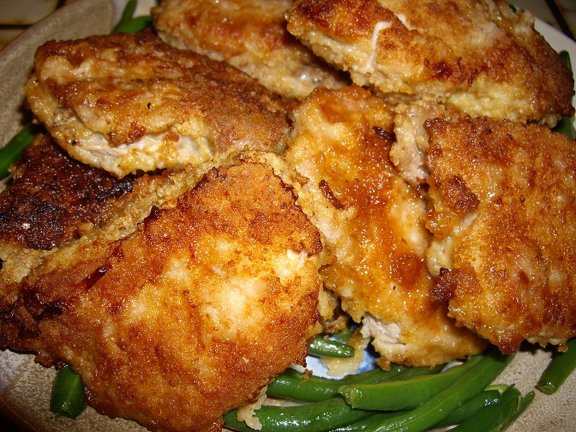 May be called Tonkatsu, which is Japanese for any meat breaded, pan fried.
These were one inch thick boneless pork chops, breaded with cracker meal,
browned in a pan then finished off in the oven - moist and crusty.
Eaten with tonkatsu sauce, rice, green beans, cream corn, and apple sauce.
---
Had to grab another bag of meat from the freezer at 6:30,
after I had a fabulous massage down at Reactive Massage clinic.
Ja was on his own, so he came and had supper and great visit with us.
The chops were tender, moist... IOW - yummy!
---
What makes any breading I do different is the breading itself...
NOT bread crumbs or Panko, but "cracker meal" that we used in our restaurant...
always crispy, never soggy.

.


..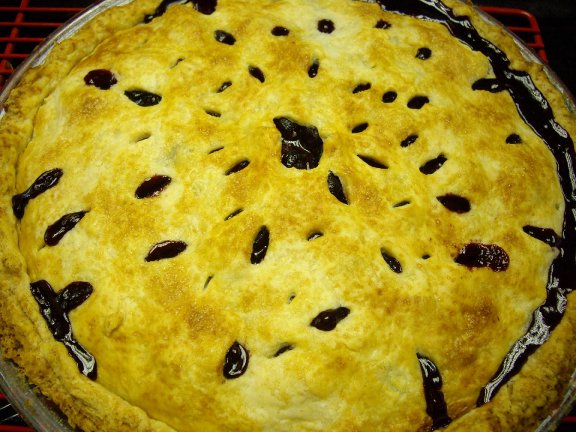 We used to pick Saskatoon berries south of our Strathclair house
but must have been killed off by sprays.
There were some at Salt Lake as well,
but I lost the diamond from my engagement ring there :-(
Poor Bill had to shell put for another ring; -)
Funny... I don't like the seeds in saskatoons or raspberries.
That's why they are Bill's and not my favourite berries :-)
.


.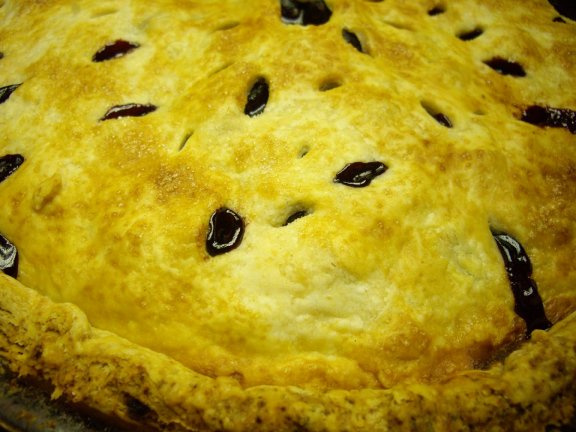 In the States, Saskatoons are sometimes called serviceberries...
I didn't make good pastry until I found this recipe using the food processor!
Now, it turns out every time:-)
Mine is a 7-cup Cuisinart the kids gave me for my birthday.
It also came with a mini and it's great for making pastes for curry, etc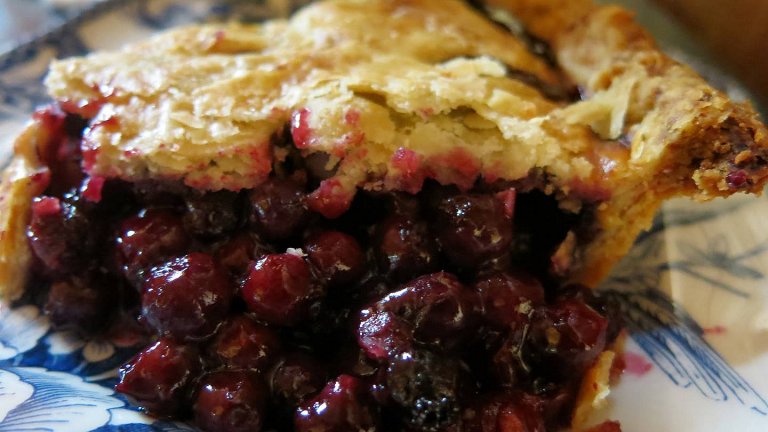 MMmmmmm...Mine with vanilla bean ice cream while the pie is still warm.
.


..
INTRO AND CONTENTS
..