Bill Hillman's Monthly Military Tribute
AS YOU WERE . . .
WAR YEARS ECLECTICA
2017.03 Edition
Click for larger full-screen images


Canada 150 Vignette Series
British Commonwealth Air Training Plan Vignettes
CONTENTS
By Greg Sigurdson/Bill Hillman

CANADA 150 :: BCATP VIGNETTE SERIES
150 Fully Illustrated Webpages
Constantly updated until 150 BCATP Vignettes are displayed.
Go To
www.hillmanweb.com/150
OR
www.airmuseum.ca/150
Links to all 150 will be displayed
on this Webpage when completed


INTRODUCTION
By Greg Sigurdson
The Canada 150 Vignette Series is a project undertaken by the Commonwealth Air Training Plan Museum with two purposes. It is the museum's salute to Canada's 150 birthday and a showcase for various aspects of the British Commonwealth Air Training Plan - a vital part of Canadian history as Canada's great contribution to aircrew training in World War II.

Viewers of the museum's Facebook group – BCATP Air Museum – will see 150 vignettes (brief accounts with a photo or two) about various aspects of the `Plan' every other day or so in 2017.

Topics include articles about the 100 plus BCATP schools, personal recollections from people who experienced World War II firsthand, aircraft used by the 'Plan' and training courses received by the aircrew, among other topics. We hope you will look at our 150 celebratory posts and enjoy learning about our museum and the 'Plan.'
.

2017 ARCHIVE
JANUARY: Photos ~ RCN Hong Kong Journal ~ Station Mag
FEBRUARY: BCATP Pilot Training ~ Dragoons Vimy Night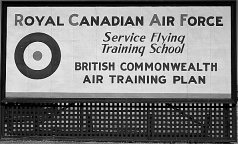 Previous 2016 Issues:
JANUARY
Vets Home for Xmas Plus The Japan Homefront
FEBRUARY
Photo Story: WWII Remembered
MARCH
Canadian Women in WWII
APRIL
RCAF Flyers wrote Olympic history
MAY
Imperial War Museums Memories
JUNE
Lancaster Cockpit and Crew Stations ~ Pearl Harbor Mastermind
JULY
BCATP Bases and Aircraft ~ Battle of Britain ~ War Brides
AUGUST
RCAF and WWII Polish Resistance ~ F/L Donald Hillman ~ WWI Camp Hughes
SEPTEMBER
Memories
OCTOBER
RCAF Women Honoured
NOVEMBER
1. Lest We Forget: Family Tribute
2. Then and Now ~ Wearing the Poppy
DECEMBER
A Wartime Christmas


BACK TO OUR MONTHLY MILITARY WEBZINE
CONTENTS PAGE
As You Were . . .
Web Design by Bill Hillman
Volunteer Editor and Webmaster: William G. Hillman
hillmans@westman.wave.ca
Copyright 2017