PENNY SINGLETON II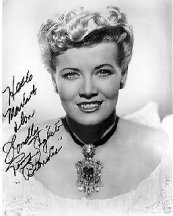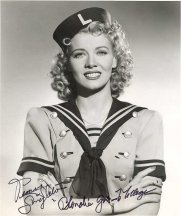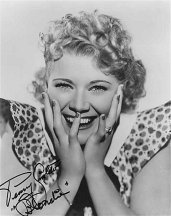 ---
FILMOGRAPHY
The 28 Columbia Blondie films starred:
Penny Singleton as Blondie ~ Arthur Lake as Dagwood ~ Larry Simms as Baby Dumpling/Alexander
Many stars-to-be got their start in this series:
Rita Hayworth, Glenn Ford, Larry Parks, Janet Blair, Ann Doran, Gene Lockhart, Lloyd Bridges and Robert Sterling.
Established actors also made regular appearances:
Jonathan Hale, Marjorie Weaver, Mary Wickes, William Frawley, Hans Conreid, Shemp Howard, Donald Meek, Edgar Kennedy, Eddie Acuff
---
Blondie

(1938) The cinematic debut of Chic Young's beloved comic strip characters, featuring Penny Singleton as flighty Blondie, Arthur Lake as ever-bumbling Dagwood and Larry Simms as Baby Dumpling. In this outing, the Bumsteads celebrate their fifth wedding anniversary with Dagwood losing his job, while Blondie suspects him of infidelity. With Gene Lockhart, Ann Doran. 68 min.
---
Blondie Meets The Boss
(1939) A fishing trip for Dagwood leads to trouble when a picture is snapped of him holding another woman. When Blondie finds the camera and gets the pictures developed, Dagwood has some explaining to do. 68 min.
---
Blondie Brings Up Baby
(1939) During Baby Dumpling's first day at school, trusted family canine Daisy is taken in by the dogcatcher and adopted by a politician's handicapped daughter. When Baby Dumpling plays hooky to find her, Blondie and Dagwood think he's been kidnapped. Bruce Bennett and Jonathan Hale star. 68 min.
---
Blondie Takes A Vacation
(1939) After being shunned by a classy mountain resort, the Bumsteads help manage a nearby resort in danger of closing. Hilarity ensues as they try to make things click, and Baby Dumpling helps out when he unleashes a skunk in the competing hotel's ventilation system. Penny Singleton, Arthur Lake, Larry Simms and Donald Meek star. 68 min.
---
Blondie On A Budget
(1940) Rita Hayworth can be found in a supporting role in this "Blondie" outing. She's the ex-girlfriend enlisted by Dagwood to help him purchase a fur coat for Blondie with $200 from a contest he entered. At the same time, Blondie tries to use the same cash to get him into a fishing club. Hilarity abounds! With Rita Hayworth. 68 min.
---
Blondie Has Servant Trouble
(1940) An estate handled by Dagwood's firm is rumored to be haunted, but the Bumsteads take an offer to stay there because Blondie likes the idea of having servants wait on her. When strange events occur in the mansion, Dagwood and Blondie wonder if the help is human. With Jonathan Hale. 68 min.
---
Blondie Plays Cupid
(1940) While travelling to Aunt Hannah's ranch, the Bumsteads run into a couple about to elope. When a series of mishaps threaten their wedding plans, Blondie and Dagwood pitch in to help them. Glenn Ford plays the young groom-to-be. 68 min.
---
Blondie In Society
(1941) When Dagwood brings home a pedigreed Great Dane and Blondie enters it in the local dog show, they get into hot water when one of his clients has an entry in the same competition. With William Frawley and Edgar Kennedy. 77 min.
---
Blondie Goes Latin
(1942) Hilarity abounds when Mr. Dithers invites the Bumsteads to join him on a Latin American cruise and Dagwood finds himself trapped in a confusing situation with the ship's orchestra. The predicament leads Dagwood into drag and playing the drums! With Eddie Acuff, Tito Guizar, and Ruth Terry. 68 min.
---
Blondie Goes To College
(1942) When Dagwood decides to enroll in college, Mr. Dithers suggests that Blondie join him. Funny situations don't stop coming as Blondie gets attention from the university's top athlete and Dagwood joins the rowing team and finds favor with a pretty coed. With Janet Blair, Lloyd Bridges and Larry Parks. 68 min.
---
Blondie For Victory
(1942) The Bumsteads get patriotic when Blondie joins the Housewives of America for the war effort and Dagwood pretends to enlist in the Army after he makes a lousy guinea pig in Blondie's first aid class. With Eddie Acuff star. 68 min.
---
Blondie's Blessed Event
(1942) While Blondie is about to give birth to Cookie, Dagwood gets into all sorts of trouble at work when he enlists an avant-garde playwright to write a controversial speech for him. With Hans Conried, and Paul Harvey. 69 min.
---
It's A Great Life
(1943)In this "Blondie" offering, Dagwood misunderstands Mr. Dithers' instructions to buy a house and winds up purchasing a horse! As luck would have it, Dagwood is soon "riding to hounds" with an eccentric millionaire whom Dithers would like to land as a client, leading to a wild fox hunt. With Hugh Herbert star. 68 min.
---
Footlight Glamour

(1943) Dagwood is hired by a wealthy tool manufacturer to work at a new plant, but his boss gets angry when Blondie casts his daughter in a play despite his opposition. Ann Savage and Jonathan Hale co-star. 68 min.
---
Leave It To Blondie
(1945) Blondie and Dagwood independently enter a songwriting contest in hopes of winning to cover their charitable donations. Funny situations ensue, and they get even wackier when Dagwood is enlisted to schmooze a pretty real estate specialist for a deal. With Marjorie Weaver and Jonathan Hale. 74 min.
---
Life With Blondie
(1946) Top-notch Bumstead frolic in which Daisy, the family pooch, gets lots of attention after winning a contest as a model for a Navy ad campaign. Daisy becomes the canine pin-up answer to Betty Grable, while Dagwood gets jealous and crooks plot to kidnap the dapper doggie. Penny Singleton, Arthur Lake, Marjorie Kent and Robert Ryan star. 69 min.
---
Blondie's Lucky Day
(1946) Mr. Dithers takes a leave of absence and leaves Dagwood in charge of the office. When Dagwood decides to hire a former WAC for a job, trouble ensues, eventually leaving Dagwood and the new hire unemployed. Penny Singleton, Arthur Lake, Angelyn Orr, Kirby Grant and Jonathan Hale star in this lively, late entry in the hit series. 69 min.
---
Blondie Knows Best
(1946) When Dagwood has to pretend to be Mr. Dithers, all sorts of wacky situations ensue. A fun-filled series entry highlighted by an appearance by Shemp Howard as a myopic process server. With Penny Singleton, Arthur Lake, Shemp Howard and Jonathan Hale. 69 min.
---
Blondie's Big Moment
(1947) When Penny Singleton's Blondie decides it's time to take to the spotlight and become a star, the Bumstead household becomes a world of wacky chaos as Arthur Lake's Dagwood gets mighty jealous. With Anita Louise and Jerome Cowan. 69 min.
---
Blondie's Holiday
(1947) Dagwood tries to ensure his family's finances by getting involved with bookies, but his efforts land him in the pokey. Thankfully, a local bank manager comes to the rescue after Dagwood helps the banker's wife escape a raid on a betting parlor. Some holiday! With Grant Mitchell and Mary Young. 61 min.
---
Blondie In The Dough
(1947) Blondie decides to make some extra cash by baking cookies in her kitchen, then selling them. The sales take off, but unusual complications occur that disrupt the Bumstead household. With Hugh Herbert. 69 min
---
Blondie's Anniversary
(1947) When Blondie finds a watch she thinks is her anniversary gift, Dagwood is in a tizzy trying to find something really special as a "replacement present." With Grant Mitchell and William Frawley. 67 min.
---
Blondie's Secret
(1948) It's vacation time for the Bumsteads, but Dagwood's boss, Mr. Radcliffe, needs him at the office, so he hires someone to steal the family luggage in this madcap outing in the popular series. With Jerome Cowan and Thurston Hall.
---
Blondie's Reward
(1948) Dagwood gets into all sorts of trouble in this "Blondie" outing. First, he purchases the wrong property for his boss, then is accused of punching the son of an important client. With Gay Nelson, Ross Ford and Danny Mummert. 65 min.
---
Blondie's Big Deal
(1949) Laugh-filled entry in the popular series finds Dagwood inventing a fire-repellent paint and convincing his skeptical boss to allow his fishing cottage to be used as an experimental site. When a rival company schemes to ruin the test by switching paints, hilarity abounds. 67 min.
---
Blondie Hits The Jackpot
(1949) Dagwood is in lots of trouble again! After blowing a construction deal for Mr. Radcliffe, he winds up laboring on the site with the hardhats. But Blondie saves the day when she wins a radio quiz show prize. With Jerome Cowan. 66 min.
---
Blondie's Hero
(1950) Dagwood gets into lots of trouble when he mistakenly finds himself in the Army reserve and fumbling through basic training. Blondie stops in to see how her hubby is doing, but witnesses him almost starting a war, then saving the day. With William Frawley and Marjorie Kent. 67 min.
---
Beware Of Blondie
(1950) When Mr. Dithers goes on vacation, Dagwood is left in charge of the business, but he soon finds himself in hot water when an attractive con artist tries to pull the wool over his eyes. Luckily, Blondie comes to the rescue! With Adele Jergens and Dick Wessel. 64 min.
---
OTHER FILM APPEARANCES BY PENNY SINGLETON
---
Good News (1930) (as Dorothy McNulty) Role: Flo, a Student
Love In The Rough (1930) (as Dorothy McNulty) Role: Virgie
---
After The Thin Man
(1936) William Powell and Myrna Loy are back as society sleuths Nick and Nora in the second series entry. Here they must find a murderer among the bluebloods of San Francisco, and the suspects include a young Jimmy Stewart. With Penny Singleton (Dorothy McNulty) as Polly Byrnes, Joseph Calleia, Jessie Ralph. 113 min.
---
Boy Meets Girl
(1938) Screwball satire of Hollywood starring James Cagney and Pat O'Brien as screenwriters who create outrageously plotted scripts as an answer to the studio head and his obnoxious cowboy star, who request material different than their typical "boy meets girl" stories. Ralph Bellamy, Marie Wilson, Penny Singleton (as Peggy) and Dick Foran star in this witty spoof. 86 min.
---

Sea Serpent (1937)
Sea Racketeers (1937) (as Dorothy McNulty) Role: Florence 'Toots' Riley ~ Christine McIntyre
Vogues of 1938 (1937) (as Dorothy McNulty) Role: Miss Violet Sims
... aka All This and Glamour Too ~ aka Vogues ~ aka Walter Wanger's Vogues of 1938
Campus Cinderella (1938)
Garden of the Moon (1938) .... Miss Calder
Hard to Get (1938) .... Hattie, Richards' Maid
Mad Miss Manton, The (1938) .... Frances Glesk
Men Are Such Fools (1938) .... Nancy Crowel Turkel
Mr. Chump (1938) .... Betty Martin
Outside of Paradise (1938) .... Mavourneen Kerrigan
Racket Busters (1938) .... Gladys Christie
Secrets of an Actress (1938) .... Miss Reid
Swing Your Lady (1938) .... Cookie Shannon (Humphrey Bogart's first onscreen kiss)
Go West, Young Lady (1941) Penny Marshall, Glenn Ford, Ann Miller, Charles Ruggles
Congo Swing (1941). . . Blondie
Footlight Glamour (1944)
Young Widow (1946)
Best Man, The (1964) .... Mrs. Claypoole aka Gore Vidal's The Best Man
Jetsons: The Movie (1990): the hokey future as it looked from the perspective of the '60s cartoon. Joseph Barbera (director) ~ Penny Singleton, Mel Blanc, Don Messick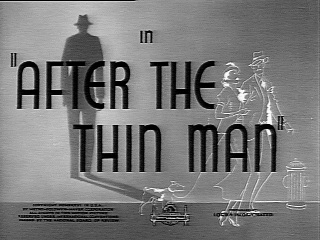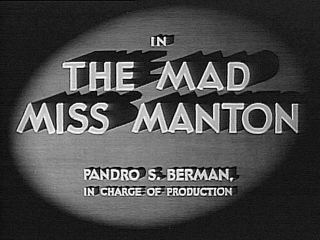 ---
BLONDIE RADIO PROGRAM
---
Uh-uh-uh-uh!
Don't touch that dial!
It's time for. . .
BLOOOONNNNDIE!
Penny Singleton: Blondie (final season starred: Ann Rutherford, Alice White, and Mrs. Arthur Lake: Patricia Van Cleve )
Arthur Lake: Dagwood Bumstead
Leone Ledoux: the pre-toddler Bumstead children ~ Alexander (Baby Dumpling) ~ Cookie
Tommy Cook: Alexander from May 1943
Larry Simms: Alexander from mid-summer 1946
Bobby Ellis: Alexander in 1947
Jeffrey Silver: Alexander from 1949
Marlene Aames: Cookie from 1946
Norma Jean Nilsson: Cookie in 1947
Joan Rae: Cookie later
Hanley Stafford: J. C. Dithers (Dagwood's boss)
Elvia Allman: Mrs. Cora Dithers
Frank Nelson: Herb Woodley the Bumstead's neighbour
Harold Peary: Herb Woodley
Arthur Q. Bryan: Mr. Fuddle ~ another Bumstead neighbour
Harry Lang: Mr. Fuddle
Dix Davis: Alvin Fuddle
Mary Jane Croft: Harriet, Blondie's friend
Veola Vonn: Dimples Wilson
Lurene Tuttle: Dimples Wilson
REGULARS IN 1939: Rosemary DeCamp ~ Ed MacDonald ~ Hans Conried
ANNOUNCERS: Bill Goodwin ~ Howard Petrie ~ Harlow Wilcox
MUSIC: Harry Lubin ~ Billy Artz
PRODUCER-DIRECTOR: Don Bernard
PRODUCER-WRITER: Ashmead Scott
DIRECTORS: Eddie Pola ~ Don Bernard ~ Glenhall Taylor
WRITERS: Johnny Green (1940) ~ William Moore (based on the Chic Young Comic Strip and the movie series)
SOUND EFFECTS: Ray Erlenborn (CBS) ~ Parker Cornel (NBC)
BROADCAST HISTORY (initially a summer replacement for The Eddie Cantor Show but returned full time)
July 3, 1939 - June 26, 1944 ~ CBS ~ 30m ~ Mondays at 7:30 ~ Camel Cigarettes
July 21 - Sept. 1, 1944 ~ Blue Network ~ 30m ~ Fridays at 7 ~ Super Suds
Aug. 13, 1944 ~ Sept. 26, 1948 ~ CBS ~ 30m ~ Sundays at 8 until mid-1945, then at 7:30 ~ Super Sudes
Oct. 6, 1948 ~ June 29, 1949 ~ NBC ~ 30m ~ Wednesdays at 8 ~ Super Suds
Oct. 6, 1949 ~ July 6, 1950 ~ ABC ~ 30m ~ Thursdays at 8, then from May at 8:30
---
THE PENNY SINGLETON RADIO SHOW
---
Penny played a widow who lived in the town of Middleton and sold real estate to support her two daughters. The show was a lighthearted pitch for women's liberation, portraying Penny and her daughters as highly competent, self-sufficient females surrounded by male ineptitude.
Penny Singleton: Penny Williamson
Sheilah James: Penny's daughter, Sue
Mary Lee Robb: Penny's daughter, Dorothy ("DG")
Jim Backus: Horace Wiggins, Penny's partner in the realty firm
Gale Gordon: Judge Beshomer Grundell
Bea Benaderet: Margaret, Penny's cook
DIRECTOR: Max Hutto
BROADCAST HISTORY: Summer replacement for Fibber McGee & Molly and Bob Hope
May 30 - June 28, 1950, NBC, Tuesdays at 9:30 ~ Johnson's Wax ~ Summer sub for Fibber McGee & Molly
July 4 - Sept. 26, 1950, NBC, Tuesdays at 9:00 ~ Wheaties ~ Summer sub for The Bob Hope Show
---
BLONDIE TELEVISION SHOW
January 1957 - September 1957 ~ NBC Situation Comedy
Another short-lived series was aired in 1968 ~ CBS Network
Penny did not participate in these shows
---
Fifties Cast
Blondie Bumstead: Pamela Britton ~ Dagwood Bumstead: Arthur Lake ~ Alexander Bumstead: Stuffy Singer ~ Cookie Bumstead: Ann Barnes ~ Julius C. Dithers: Florenz Ames ~ Cora Dithers: Lela Bliss-Hayden & Elvia Allman ~ Eloise: Pamela Duncan ~ Herb Woodley: Harold Peary ~ Georgia Woodley: Lois Collier ~ Foghorn: George Winslow ~ Mr. Beasley: Lucien Littlefield
Sixties Cast
Dagwood: Will Hutchins ~ Blondie: Patricia Harty ~ Mr. Dithers: Jim Backus
---
TELEVISION
---
Murder, She Wrote - Aunt Mildred - The Perfect Foil (1986)
The Twilight Zone - Mrs. Flemington - Sounds and Silences (1964)
Death Valley Days (1952) in episode: "The Holy Terror" (episode # 12.7) 22 October 1963
Rockin with Judy Jetson (1988) (TV Movie) (voice) .... Jane Jetson
Jetsons Meet the Flintstones, The (1987) (TV Movie) (voice) .... Jane Jetson
Jetsons Christmas Carol (1985) (TV Movie)
Jetsons (1962) TV Series (voice) .... Jane Jetson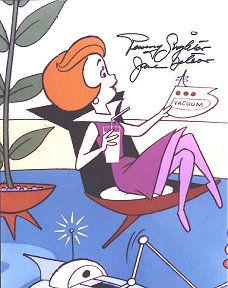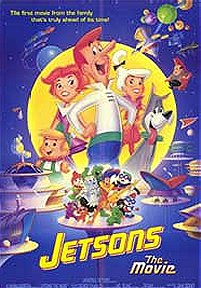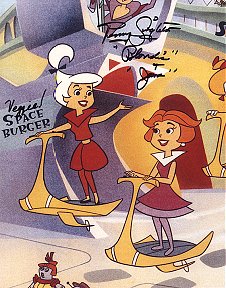 ---
THE BLONDIE AND DAGWOOD SERIES ~ WHITMAN BOOKS
---
Blondie and Dagwood's Secret Service -- 1942. Whitman Authorized ~ Edition #2374
Blondie and Dagwood's Snapshot Clue -- 1943. Whitman Authorized ~ Edition #2388.
Blondie and Dagwood's Adventures in Magic -- 1944. Whitman ~ Authorized Edition #2300
Blondee and Dagwood's Marvelous Invention -- 1947. Whitman ~ Authorized Edition

---
OTHER CHARACTERS IN THE BLONDIE SERIES
---
Larry Simms (Alexander/Baby Dumpling) ~ Born in Los Angeles, CA on October 1, 1934
Jonathan Hale (J.C. Dithers) Born Jonathan Hatley in Ontario, Canada on March 21, 1891 ~ Died February, 28 1966, Woodland Hills, California (Died from a self-inflicted gunshot wound at the Motion Picture Country Home)
Eddie Acuff (the Mailman) Born in Caruthersville, Missouri on June 3, 1903 ~ Died in Hollywood, CA (heart attack) on December 17, 1956
Irving Bacon (the Mailman): Mr. Crumb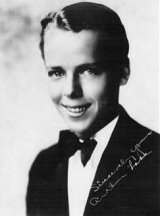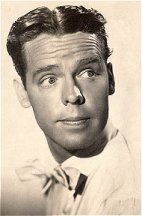 Arthur Lake
Born Arthur Silverlake to a circus family on April 17, 1905 ~ Died: January 9, 1987
Previous film role was another cartoon character: Harold Teen
Lake's resting place is in Marion Davies' Mausoleum because he was married to the daughter of Davies and Randolph Hearst.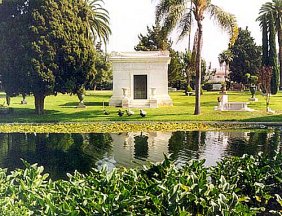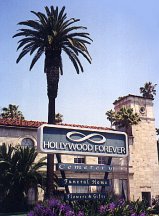 Hollywood Forever, Hollywood, Los Angeles County, California, USA
Plot: In the Marion Davies Mausoleum
---
---
WEBMASTER: BILL HILLMAN
Visit our thousands of other sites at:
BILL & SUE-ON HILLMAN ECLECTIC STUDIO
All Original Work ©1996-2003/2009 by Bill Hillman and/or Contributing Authors/Owners
No part of this web site may be reproduced without permission from the respective owners.