Elle's Notes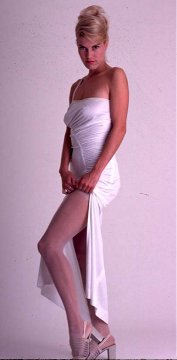 One of my
fashion show photos
These are photos from the day we gathered on Hollywood Boulevard to witness and officiate the renewal of one of Aunt Penny's Hollywood Walk of Fame Stars.

Among the officiating Hollywood dignitaries are the Mayor and Johnny Grant. Mr. Grant is a Local Los Angeles area TV personality and the honorary Mayor of Hollywood, CA. He officiates over the unveilings of Stars on the Hollywood Walk of Fame.

In the family pic granddaughter, Syd, is directly behind her while I am next to Syd. Next to Aunt Penny's left is her daughter Dorothy and to the left are cousins Brynna, Erin and Mellisa.

Our family has been very involved in show business for many years. Aunt Penny's brother, my Uncle Barney McNulty (? - 2000), invented Cue Cards. He got his start with the Ed Wynn TV Show, one of the first shows to originate in Hollywood. He went on to form Ad-Libs, a company that produced cue cards for countless major stars including Lucille Ball, Jack Benny, Fred Astaire, and Orson Welles. He was Bob Hope's right hand man for 40 years ("Barney was my right-hand man, my ad libs.") and he also worked for many years with Milton Berle.

Aunt Penny's sister was my Granma, June Elizabeth McNulty who was a Zeigfeld Follies girl in shows such as Red, White and Hot . . . I believe that was the name of it. My Grandma's husband Ray Flin (1905-1969) was a cinematographer who did work with Ed Wood and scores of TV shows: Checkmate, McHale's Navy, Ironside, etc.

I am doing my part in carrying on the family Showbiz tradition by appearing movies, TV, commercials and fashion shows (Bedazzled, Days of Our Lives, Toyota, etc.).