THE HILLMAN 2013 ASIAN ADVENTURE
Section I: Malaysia
Page 3
www.hillmanweb.com/asia/malaysia03.html
Photos by Bill and Sue-On
(click to see full size)
Captions by Sue-On
(expanded from our FaceBook pages)

Local Sightseeing: April 9, 2013
Semeling and Sungai Patanai

Crossing Seminling Bridge to Sungai Patanai

Chinese auditorium in Semeling -
a predominantly Chinese village.
This is a busy place during Chinese New Years,
especially for Chinese opera performances.

Chinese temple in Semeling

Street in Sungai Patanai:
The store fronts are very small,
and merchandise is crowded ito every available space.

Central Square Mall:
The Reject Shop has great discounts on clothes:
50 - 70% off! Bill scored,
but I was left with empty hands...

While Edah and I shopped,
the guys found "just the place" to kill time ;-)
Kerry, being a musician and our former bandmate,
knows just the right shops to take Bill.

| | |
| --- | --- |
| | |
| Thank goodness, no purchase necessary to enter and look! | Um... Bark is worse than his bite ;-) |

Sue-On's comment:
"You are NOT getting me on that scale...
and WHAT kind of shop is this?!"

Ice cream? Oh yea...chocolate sundae please.
The young Malaysian girls were eager
to use their English with the customers.

License plates are slightly different from ours in Canada.
The letters indicate where the car was purchased,
and the numbers are a kind of registration.
However, you can get them decorated anyway you want.
Kerry needed a new plate, so we went to a shop
where they make them in 10 minutes, while you waited!
As you can see, these shops are very old with most interesting fronts.
Not sure if people lived above the shops, so appears to be residences.
Lots of Chinese shop owners.

Palm oil plantation:
We are thrilled to see palm trees in places such as California,
but to see a plantation is quite amazing.
There are lots of fields planted with palm, banana, rice.

Mango tree on the move!

Street in Semeling - Chinese village
Feels like the home I never knew. LOL!

RAIN!. . . HEAD FOR HOME

A welcomed downpour for abut half an hour.

Kakpah enjoying the cooling rain.
No wonder everything is so lush here...
lots of moisture and high temps.
The grounds are covered with pebble like mixture,
so the wateer soaks in and runs off quickly.

However, Kerry had to do his Gene Kelly routine
to clean out a few of the drainage holes
in the collection troughs.

After, it was relaxation in the sheltered lounge.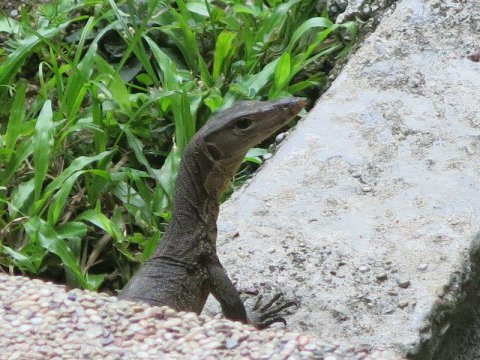 After the rain, the resident lizard comes snooping.
We've seen lots of little geckos (insurance anyone?),
but this was the first lizard who got snapped by Kerry.


BACK TO MALAYSIA/SINGAPORE



Hundreds of Photos with Captions







.
WebMaster: Bill Hillman
Bill and Sue-On Hillman Eclectic Studio
hillmanweb.com
Brandon, Manitoba, Canada