THE HILLMAN 2013 ASIAN ADVENTURE
Section I: Malaysia
Page 5
www.hillmanweb.com/asia/malaysia05.html
Photos by Bill and Sue-On
(click to see full size)
Captions by Sue-On
(expanded from our FaceBook pages)

NIGHT MARKET DAY IN MALAYSIA

Another of Kakpah's lunch meals.
Here the big meal is around 2 pm...
and that's usually after a great breakfast.
This is Edah and their live-in maid Wati.
She does our laundry ;-)

Sue-On has been a lady of leisure
since our arrival April 6th!

One of the many stalls at the night market,
slightly different from the day maket.
At this one, there are more take-away food stalls.
Many workers pick up food on their way home - great variety.
Ye's back home in Canada cannot compare to this "buffet"!

Nasi goreng
Fried rice and baos (paus stall)

Ready-to-eat complete plates, rice and various toppings.

Fresh out of the steamer baos
filled with kaya (a coconut milk spread) or black beans
- sweet pastries

| | |
| --- | --- |
| | |
| How to choose... decisions, decisions! | Malaysian KFC? Lots of deep fried chicken, etc. |

We picked up some kebab and "apom"
- the crepes filled with crushed peanut and cream corn.

Two fry guys.
The people love having their pictures taken!

| | |
| --- | --- |
| | |
| More Malaysian "KFC." | Kayaball stall... deep fried "kaya filled donuts." |

| | |
| --- | --- |
| | |
| Kayaball chef | Ok... durian one day, but not tonight! |

Cake, anyone?

This is one of Edah's regular stalls.
The man in the white makes a very thin dough wrapper
as well as ladling a mixture of egg
and filling onto the grill.
He wraps an "omelet" in the dough
then fries the whole thing on the grill.

| | |
| --- | --- |
| | |
| Team work! | Second step: wrapping the omelet |

| | |
| --- | --- |
| | |
| The "omelet" cut up and eaten with pickled sliced onion. | The two kinds of sweet baos. |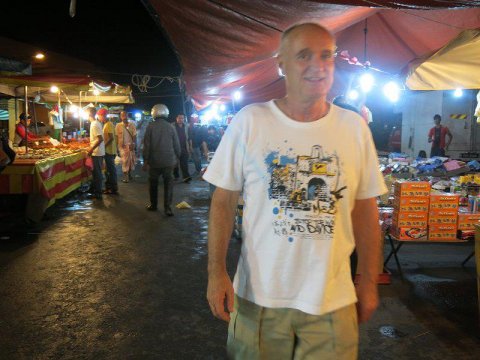 Kerry is always a stand-out here in Yan.
For the month of April, he has Bill to keep him company ;-)


BACK TO MALAYSIA/SINGAPORE



Hundreds of Photos with Captions







.
WebMaster: Bill Hillman
Bill and Sue-On Hillman Eclectic Studio
hillmanweb.com
Brandon, Manitoba, Canada