THE HILLMAN 2013 ASIAN ADVENTURE
Section I: Malaysia
Page 8
www.hillmanweb.com/asia/malaysia08.html
Photos by Bill and Sue-On
(click to see full size)
Captions by Sue-On
(expanded from our FaceBook pages)

FAMILY ~ FOOD ~ FRIENDSHIP

| | |
| --- | --- |
| | |
| Bill's tropical office. | I finally bought some cooling clothes that fit me! |

Edah's sisters Zah and Kakpah cooking up a mega meal!
Kakpah has cooked different dishes for us EVERY DAY!

Edah and Kerry, Kakpah, Zah, and Bill
thru' my foggy lens.
Just brought the camera out from the AC room...

Edah, Sue-On, Kakpah, Bill, Zah
having breakfast together in the outdoor lounge.

Edah's younger sister Zah cooked these rice noodles
with Thai Bird's Eye peppers, sprouts and some green veg.
They were very good.
She made some for her late night snack last night,
and they were much hotter!
She said she didn't make them as hot as
we would not want a tummy ache
enroute to Singapore tomorrow.

Kakpah, Zah, and Edah cooked a big meal
to share also with their 2 brothers who lived nearby.
Not very often does Kakpah join us for a meal
as I am sure she is whupped after cooking for us.

The spread!

Wati, the maid, helps bring the food in from the kitchen.
She is Indonesian and does our laundry.
We're enjoying IRONED clothes!

This chicken was very delicious.
The pieces were rubbed with tumeric and salt,
deep fried then simmered in this chili sauce.

Zah made this salad: cucumber, pineapple, etc,
with chopped peanuts - refreshing!

Vegetable curry:
tomato, eggplant, carrot, sweet potato, potato,
green bean, corn in a very flavourful sauce.

My plate!
The Celebration rice is so good
that it's hard to stop eating!

OK...When in Malaysia,
do as the Wanita Kampung do -
get down and dirty with the hands, never mind fork!

Yes...it was finger-licking good!
I found with the hands, you CAN get
the last drop mopped up with a clump of rice.
It was hard at first because I had too much sauce.
Then the procedure of shoving the clump into the mouth
with your thumb was a challenge.
But when it comes to food, I am a fast learner!

Our night time snack before the trip south.
Edah, her sisters Kakpah and Zah
were making these scrumptious treats at 8 pm at night!
They wanted to make these for us to eat
before our trip south tomorrow!

This was a sweet snack that kakpah made for the evening:
mung beans, condensed milk, coconut milk and palm sugar.
Loved this as it reminded me of the red bean popsicles
and the sweet bean soup I make with nuts, etc.
So many tastes that remind me of my childhood in H.K. yet different.

I don't know the name of these,
but they are delicious!
Curry beef and potato bits in a "custard"?
with a crepe-like shell.

This is the whole assortment - some savory (egg shaped)
and the shell ones (kuih cara manis), are sweet.

Bown sugar variety.

| | |
| --- | --- |
| | |
| White sugar variety. | The sweet variety - SO Pretty. |

Our first experience with jackfruit.
Edah brought this back from
a roadside vendor already in segments.
It has quite a distinct aroma and firm texture.

There is a big pit in each segment.
Not overly sweet but quite enjoyable.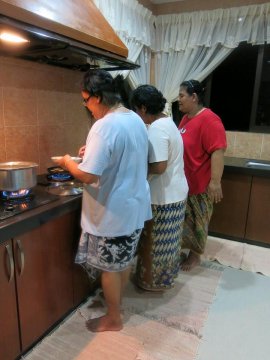 The triple threat: Kakpah, Edah, and Zah - The Gourmet Sisters:-)
Thanks to them, I will NOT be stepping on the scales anytime soon;-)


BACK TO MALAYSIA/SINGAPORE



Hundreds of Photos with Captions







.
WebMaster: Bill Hillman
Bill and Sue-On Hillman Eclectic Studio
hillmanweb.com
Brandon, Manitoba, Canada