BILL & SUE-ON HILLMAN: A 50-YEAR MUSICAL ODYSSEY
THE BOOK: www.hillmanweb.com/book ~ GIG NOTES SECTION: www.hillmanweb.com/book/gigs

---
BLUES AT SOO'S
---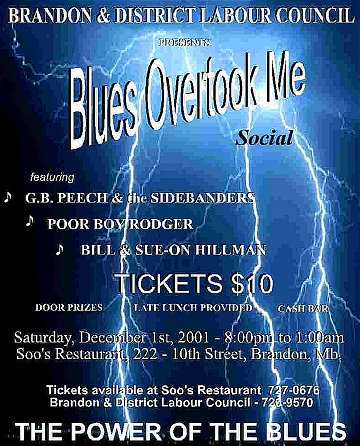 ---
CHINA-LI HILLMAN and her "Blues Harp"
---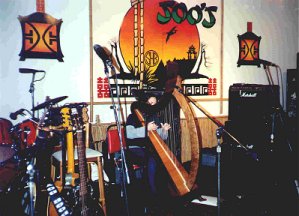 ---
KEITH "POOR BOY" RODGER
---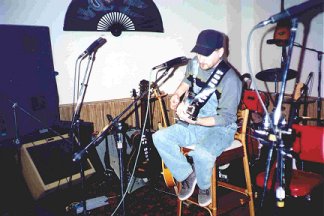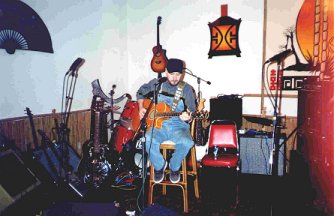 KEITH "POOR BOY" RODGER

---

SET LIST

---

Intro - Hey Hey - Big Bill Broonzy
1. Kindhearted Woman - Robert Johnson
2. One Meatball - Trad. (this song always makes me hungry)
3. Denver Blues - Tampa Red
4. Red River - Poor Boy Rodger
5. Young and Restless - Poor Boy Rodger (I ain't anymore)
6. Beulah Land - Mississippi John Hurt (first time I heard this song I knew I had to learn it)
7. Will The Circle Be Unbroken - Trad. (just a great sing along song)
8. Crossroads - Robert Johnson
9. Ain't No Bread In the Bread Box Cause I Ain't Got No Doe - Norton Buffalo
(if you can remember the title the rest is down hill)
10. Atlanta Moan - Barbecue Bob (my favorite song)
11. Come Together : Norwegian Wood - Beatles (trust me it's a blues song)
---
G.B. PEECH & The SIDEBANDERS
---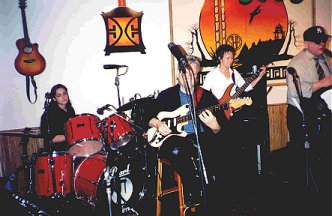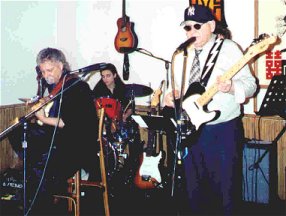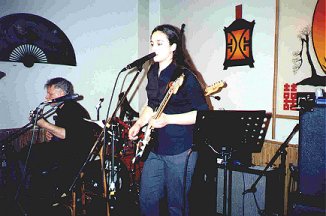 ---
BILL & SUE-ON HILLMAN
and the
SOO'S BLUES WOKKERS
---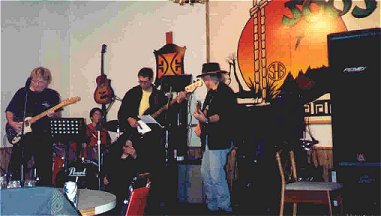 Bill & Sue-On Hillman and the SOO'S Blues Wokkers
An all SOO'S staff band with Adrian Kuryliw (synth sax/bass/harp/organ) filling in for ailing saxman Paul Balcain
Sue-On: Drums & Vox ~ Vaughn Thorsteinson: Guitar & Vox ~ Robin Hillman: Bass & Drums ~
Bill Hillman: Guitar & Vox ~ Adrian Kuryliw: Synth Sax/harp/bass/organ
---
SET LIST
---
Hoochie Koochie Man Bill
Before Ya 'Cuse Me/Hound dog Bill
Crazy Sue-On
Goin' Down to the River Vaughn
Baby What Ya Want Me to Do Bill & Sue-On
Lawdy Miss Clawdy Bill & Sue-On
Memphis Bill & Sue-On
Summertime Sue-On
Roadhouse Blues Vaughn
Alberta / 9 Pound Hammer Bill
Jimmie Rodgers Blues/Reconsider Baby Bill & Sue-On
That's Why I Sing the Blues (original) Vaughn
Rhiannon Sue-On
My Babe Bill
House of the Rising Sun Bill
JAM PHOTO GALLERY
Blues At SOO'S ~ December 1, 2001
Blues Overtook Me Concert

FROM OUR BRANDON UNIVERSITY SITE
HILLMAN GIG NOTES
50 Years of Music Memories
www.hillmanweb.com/book/gigs

TO THE HILLMAN MUSICAL ODYSSEY CONTENTS
TO THE HILLMAN MUSICAL ODYSSEY ILLUSTRATED CONTENTS

Webmaster: Bill Hillman


Bill and Sue-On Hillman Eclectic Studio
Copyright 1996-2004/2016 Bill & Sue-On Hillman, Inc.