HILLMAN: 50-YEAR MUSICAL ODYSSEY
CBC's Coleman & Company
feature on
Bill and Sue-On Hillman
FOREWORD

In the mid-'90s we had numerous long phone calls from the producer of CBC-TV's Coleman and Co. with Sandi Coleman. We discussed some of our background and interests which would give Sandi and the production crew some ideas for questions and filming locations.

Sandi and her film crew met us at our country home - Maple Grove - near Strathclair. We spent much of the day documenting some of treasures and interests. The crew even followed me into my classroom at Strathclair Collegiate where I had taught for 30 years.

Next day we moved to our city home in Brandon where they followed us to our restaurant - SOO'S - and caught our whole family at work. That evening, the crew set up and filmed us during one our dance gigs at Riding Mountain National park. Accompanying us were two musicians who had been the "Third Man" in our trio over the years: Barry Forman and Kerry Morris. Kevin Pahl, another important member of the group over the years was in BC and couldn't make the shoot.

It's fun to look back at what we were doing during that point in time. Sort of a mid-way point on our 50-Year Musical Odyssey. We've added an update summarizing some of the events that came later in the odyssey in our GIG NOTES series and in the AFTERWORD inserted at the end of this video documentary.
---

CBC's Coleman & Company feature on Bill and Sue-On Hillman

---


Theme and Opening Credits with title balloons and montage of past shows:
COLEMAN & COMPANY with SANDI COLEMAN
SANDI: Tonight on Coleman and Company a musical couple from Strathclair who have quite a record - 10 of them to be exact.
VIDEO: Shot of Hillmans and Friends performing on stage.
VIDEO: Fast cuts of record covers
VIDEO: Long shot of Hillman country home -- Maple Grove
MUSIC: Bill & Sue-On singing "One Day at a Time"
VIDEO: Hillman living room - Bill with acoustic guitar - Sue-On singing at Grand Piano - Pan to Sandi's intro.
SANDI: Hi there. I'm Sandi Coleman. Welcome to the show. Where we start off tonight at a family farm set about 100 kilometres north of Brandon. This proved to be an inspirational base for one of Manitoba's most prolific music groups. You may never have heard of them but Bill and Sue-On Hillman have been making beautiful music together for 30 years.
VIDEO: Closeups Sue-On ...then Bill followed by fast cuts of 10 album covers
AUDIO: Sound bites of original songs Montana...China Song...One Night Stand
SANDI: They've toured all of Canada, the US...even England and on their own Maple Grove record label they've put out 10 albums and CDs.

---

VIDEO: Hillmans in their Media room on sofa in front of a wall of Chinese instruments, tapes, records and recording equipment.
BILL: Both my parents were musicians in the home ...they loved jams sessions and I guess they instilled a love of music.
SUE-ON: I took classical piano lessons for about seven years, I guess, and sang in the church choir. I used to watch Bill on TV with his show. I got to know him through his sister and my brother -- we were in the same community. Then when we got married, it was matter of either I stayed home or go along to dances and be bored or else get involved.

---

VIDEO: Cut to a clip of Manitoba Centennial Concert Hall in Winnipeg. Shot of crowd over the shoulder of MC Mike Ried.
AUDIO: Ladies and Gentlemen. Bill and Sue-On Hillman!
VIDEO: Hillmans run onto Concert Hall stage in front of 30 piece orchestra and begin performance.
VIDEO: Superimposed text over performance video: "1980 Manitoba Country Entertainers of the Year"
AUDIO: Original song Cajun Stomp performed live.

---

VIDEO: Back to Maple Grove Media Room chat
SANDI: Is there anything you are trying to say in your music? Is there a point you're trying to get across?
SUE-ON: Hire us! <g>
BILL: Don't notice the mistakes...don't notice how rotten we are. <g>
SUE-ON: I don't know...it's just having fun ... and being together. We've done so many things all these years -- together -- and music has certainly kept us together.

---

VIDEO: Cut to close up of large Chinese wok in Soo's Restauraunt kitchen. Sue-on supervising the staff and giving directions in Chinese.
AUDIO: Ambient sounds of a busy kitchen... much talk in Chinese.
SANDI: Away from the glamour of the music industry, Sue-On manages Soo's Restaurant in downtown Brandon. It was her family's business until she and Bill bought it up three years ago and expanded it to include a banquet hall.
VIDEO: Sue-On carrying a large bowl of deep fried shrimp out to the dining room buffet -- mingling with and talking to customers on the way.
AUDIO: Buzzing dining room noise. Customer overheard saying: "Are you on TV?" Sue-On reply: "No. You are."

---

VIDEO: Cut to Strathclair Collegiate and Bill's integrated Computer/Social Studies/English classroom. Bill at chalkboard... students at computers.
BILL: Take the first file...
SANDI: Bill's full-time job puts him at the front of a high school classroom in Strathclair.
BILL: So it's time to get organized.

---

SANDI: Getting organized is something that Bill and Sue-On are pros at. You see in addition to the music and day jobs, they're collectors.
AUDIO: Heavy guitar chord.
VIDEO: Pan across 20 guitars displayed on music room wall.
SANDI: There's the guitar collection.
SUE-ON: Every one of the them has been a favourite at some time or other. He tends to favour the Fender guitars and the Gretsch guitars.

---

AUDIO: Sounds of the old Red Skeleton radio show.
VIDEO: Pan across shelves filled with boxes of reel-to-reel tape and 16 inch Electrical Transcription (ETs) discs. Then to Sandi and Bill examining tape collection on shelves.
SANDI: The old radio show collection.
BILL: I've compiled a collection of about 10,000 old radio shows from the '30s, '40s and '50s. This is part of it and it sorta goes on and on all through the house.

---

AUDIO: Chinese gong.
VIDEO: Close-up shots of Chinese carved furniture.
SANDI: There's the collection of carved and inlaid Chinese furniture.
SUE-ON: My secretary desk here -- it's carved in teak and camphor wood as well.

---

VIDEO: Quick closeup shots of magazine covers: Country Music Magazine, National Lampoon, Mad, Architectural Digest, etc. and wall shelves full of magazines and comics.
SANDI: The magazine and comics collection covering five decades and just as many topics.
VIDEO: Close-up Bill opening Playboy and starting to unfold the centrefold. Sandi reaches out an quickly closes the magazine.

---

AUDIO: Hillmans performing original song Good Time Jamboree.
VIDEO: Flipping album covers and pan of record collection, cassettes and video tapes on shelves.
SANDI: And their huge music collection in all formats, not to mention the 3000 video tapes crammed with movies and TV shows.
VIDEO: Bill at computer desk at Kensington home keying titles into a computer database.
SANDI: Not only have they all been collected but they've all been catalogued on computer.
VIDEO: Shot of Bill and Sandi in front of video and magazine walls thumbing through large book of computer print outs of video titles.
BILL: All of the "All Creatures Great and Small" series. A lot of English stuff -- a lot of British comedy.
SANDI: And every copy of Coleman and Company that's ever been made so far? LOL
BILL: I have some. [LOL] I pick your show up on Brandon and it's Sunday morning on the Brandon channel, so I'm not always home to get it.
SANDI: Yeh. Yeh...excuses. [LOL] Too well organized.

---

VIDEO: At front door of Maple Grove country home. Sandi walks down brick steps and out among spruce trees.
SANDI: OK. Time for a review -- there may may be a test later on... Bill and Sue-On have recorded 10 albums. They have performed just about everywhere. They have homes in Brandon and in Strathclair. They've catalogued their collections of musical instruments... the comic books.. .Chinese furniture... O yeh...They own and operate a 260-seat Chinese restaurant...and did I mention that Bill also commutes for his teaching job 200 kilometres a day from Brandon to Strathclair?

---

VIDEO: Closeup of hand surfing a car radio dial and then to Bill driving van... waves to local traffic...cut to over the shoulder view of Highway 16.
BILL: It's almost easy driving, cause we're so used to driving at 4 and 5 in the morning after setting up and tearing down and performing and all ...and driving for three hours after that. We're just here for such a short period of time, so you try to cut down on your sleep.
SUE-ON: Do as much as you can.
VIDEO: Long shot of van going by on highway.
BILL: You try to do a great number of things at once.

---

VIDEO: Sandi takes down a family portrait from Media Room picture wall.
SANDI: And did I mention that the Hillmans also have three children.
VIDEO: Ja-On and Sue-On at front till serving customers.
SANDI: There's 17-year-old Ja-On who helps out at the restaurant.
VIDEO: Robin working in clean up prep room washing dishes.
SANDI: 13-year-old Robin who is also picking up some of the family work ethic.
VIDEO: China-Li playing harp in the Kensington music room.
SANDI: And 9-year-old China-Li.

---

VIDEO: Back to Media Room chat
SANDI: Have you two always been this busy?
SUE-ON: We were busy from the day we got married. We were painting a school house in Elphinstone for money to go on our honeymoon. I think we finished painting on a Friday, so we phoned our friends up and said we're getting married on Monday, because we had to be back in two weeks for another gig he was playing -- that was before I joined the band.
SANDI: With you both being so busy, what do you do to relax?

---

AUDIO: Chinese chimes and gong
VIDEO: Long shot overlooking City of Brandon from upper balcony of their North Hill residence. Camera zooms back to show Hillmans in silhouette on balcony doing slow Karate and Tai Chi moves.
SANDI: I guess we forgot to mention that Bill and Sue-On both have their black belts in karate.
AUDIO: Oriental music
VIDEO: Cut to side view of work out on balcony. Cut to shot from ground level looking up for long shot of Hillmans on upper deck of Cedar home.

---

VIDEO: Cut to stage shot. Closeups of band warming up. Barry Forman tuning fiddle. Kerry Morris tuning bass. Kevin Pahl missing from shoot. Bill tuning Roland Synth Guitar. Sue-On adjusting drums.
SANDI: It seems for the Hillmans, their music, their jobs, and their many obsessions are part of a basic whole.
VIDEO: Dancers on dance floor. Sue-On singing and band performing:"Can I Have This Dance?"
AUDIO: "I'll always remember, the song they were playing -- The first time we danced and I knew -- As we swayed to the music -- and held to each other -- I fell in love with you."
BILL: I think that the things we pursue -- that we're busy in -- are relaxing things in general and we gain energy from trying different things.
BILL: A change is as good as a rest...or whatever
VIDEO: Sue-On while playing drums sings "One Day At A Time"
AUDIO: "I'm just a woman. Lord help me believe in all that I am... and all I can be."
SUE-ON: We've never been idle -- we've always done things. Maybe we'll grow old and slow down...
BILL: We have each other to lean on a lot, you know. We gain strength from each other.
SUE-ON: And it's worked out great for 29 years. I don't know what would happen if one of us wasn't there.
AUDIO: "Lord help me today...Show me the way...One day at a time."
VIDEO: Fade out with band performing.

---





BILL and SUE-ON HILLMAN CBC TV BIO SPECIAL
Script and Screen Captures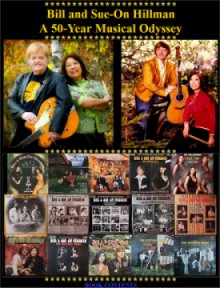 BACK TO THE HILLMAN
50-YEAR MUSICAL ODYSSEY BOOK
WebMaster: Bill Hillman
Bill and Sue-On Hillman Eclectic Studio
Photos and Text Copyright 1996/2004/2015