PART II (Continued from PART I)

VIDEO: Back to Maple Grove Media Room chat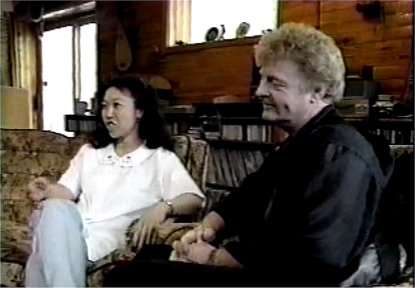 SANDI: Is there anything you are trying to say in your music?
Is there a point youíre trying to get across?
SUE-ON: Hire us! <g>
BILL: Donít notice the mistakes ... donít notice how rotten we are. <g>
SUE-ON: I donít know...itís just having fun ... and being together.
Weíve done so many things all these years -- together --
and music has certainly kept us together.


VIDEO: Cut to close up of large Chinese wok in Sooís Restaurant kitchen.
Sue-on supervising the staff and giving directions in Chinese.
AUDIO: Ambient sounds of a busy kitchen... much talk in Chinese.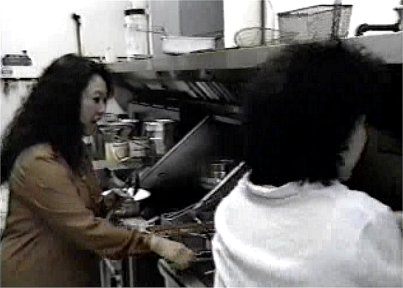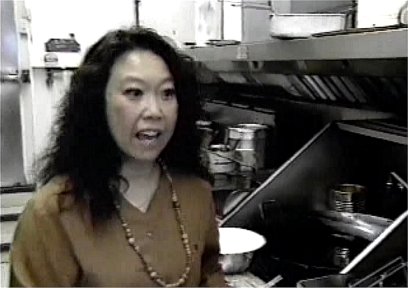 SANDI: Away from the glamour of the music industry,
Sue-On manages Sooís Restaurant in downtown Brandon.
It was her familyís business until she and Bill bought it up three years ago
and expanded it to include a banquet hall.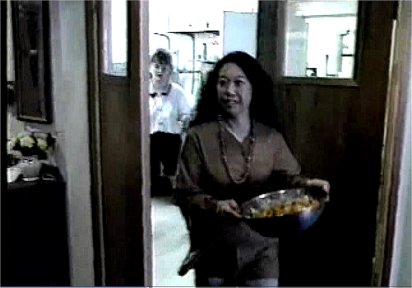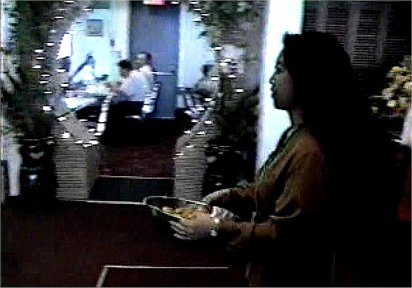 VIDEO: Sue-On carrying a large bowl of deep fried shrimp out to the dining room buffet
-- mingling with and talking to customers on the way.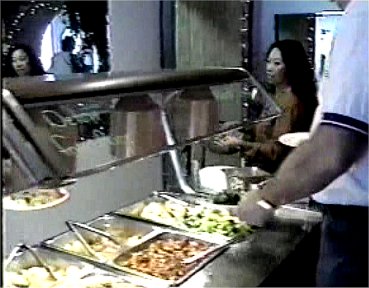 AUDIO: Buzzing dining room noise.
Customer overheard saying: ďAre you on TV?Ē
Sue-On's reply: ďNo. You are.Ē


VIDEO: Cut to Strathclair Collegiate and
Billís integrated Computer/Social Studies/English classroom.
Bill at chalkboard... students at computers.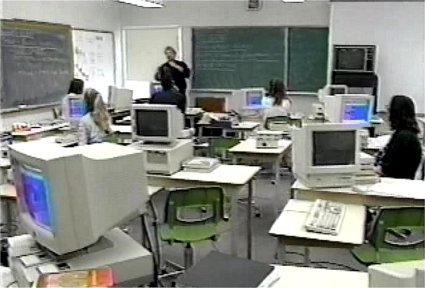 BILL: Take the first file...
SANDI: Billís full-time job puts him at the front of a high school classroom in Strathclair.
BILL: So itís time to get organized.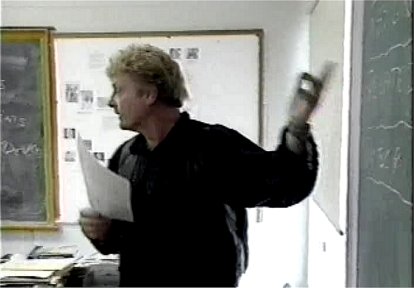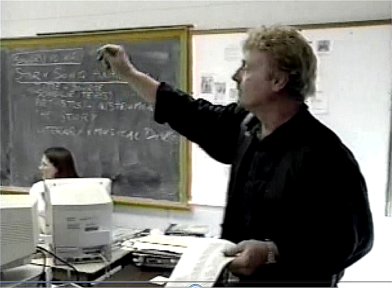 SANDI: Getting organized is something that Bill and Sue-On are pros at.
You see in addition to the music and day jobs, theyíre collectors.
AUDIO: Heavy guitar chord.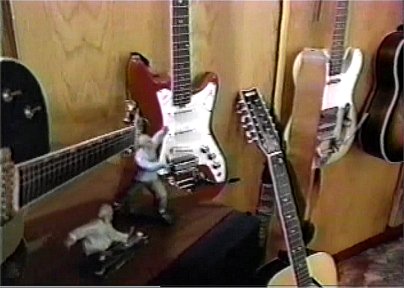 VIDEO: Pan across 20 guitars displayed on music room wall.
SANDI: Thereís the guitar collection.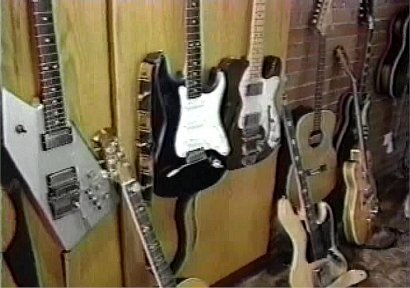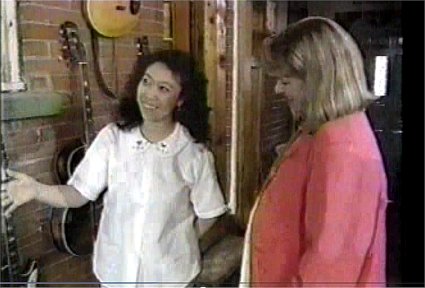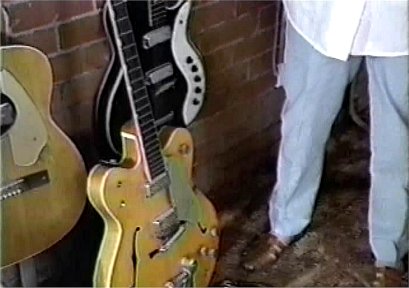 SUE-ON: Every one of the them has been a favourite at some time or other.
He tends to favour the Fender guitars and the Gretsch guitars.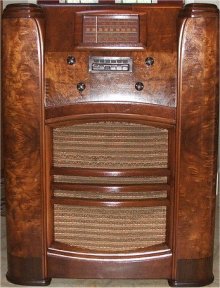 .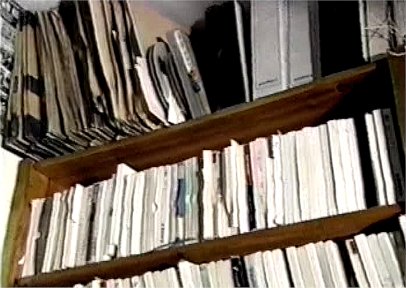 AUDIO: Sounds of the old Red Skeleton radio show.
VIDEO: Pan across shelves filled with hundreds of boxes of reel-to-reel tape and
600 16 inch Electrical Transcription (ETs) discs.
Then to Sandi and Bill examining the tape collection on shelves.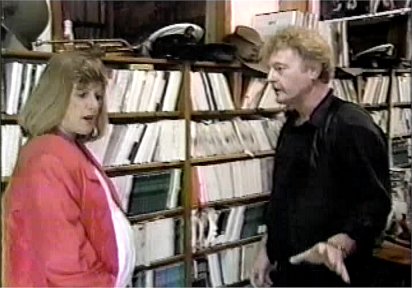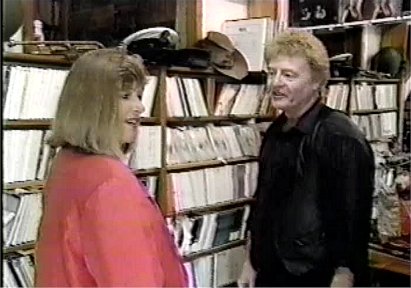 SANDI: The old radio show collection.
BILL: Iíve compiled a collection of about 10,000 old radio shows from the Ď30s, Ď40s and Ď50s.
This is part of it and it sorta goes on and on all through the house.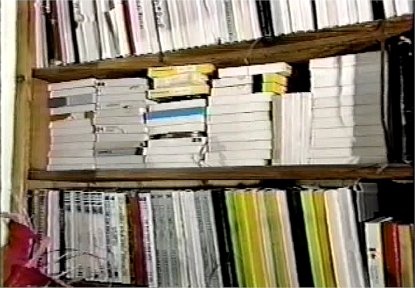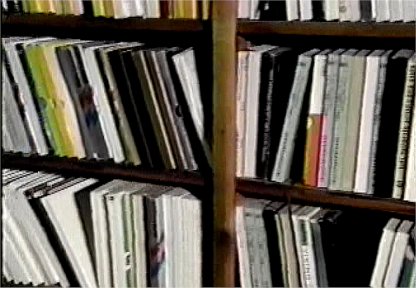 AUDIO: Chinese gong.
VIDEO: Close-up shots of Chinese carved furniture.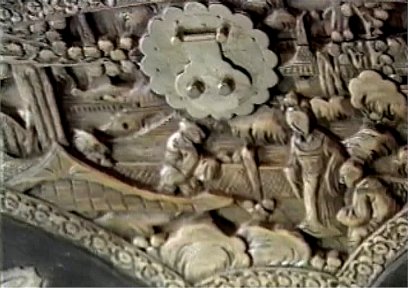 .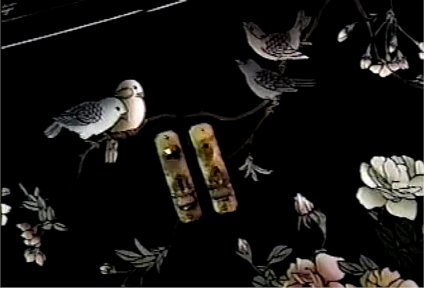 SANDI: Thereís the collection of carved and inlaid Chinese furniture.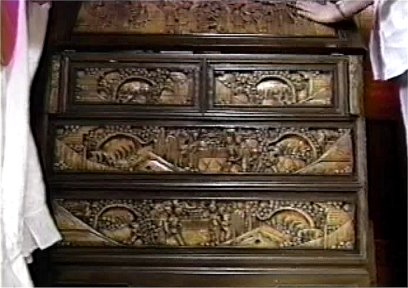 .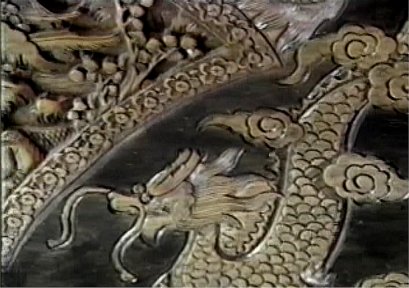 .
SUE-ON: My secretary desk here -- itís carved in teak and camphor wood as well.
VIDEO: Quick closeup shots of magazine covers: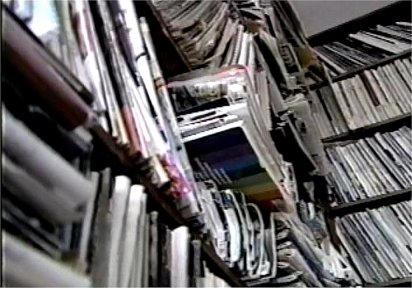 National Geographic, Country Music Magazine, National Lampoon, Mad, Architectural Digest, etc.
and wall shelves full of magazines and comics.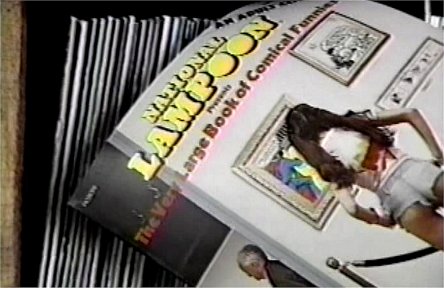 SANDI: The magazine and comics collection covering five decades and just as many topics.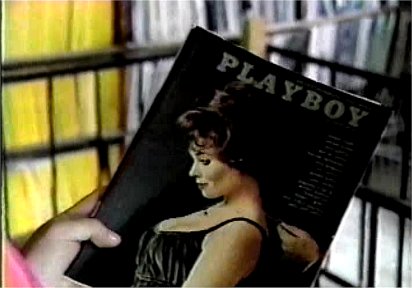 VIDEO: Close-up Bill opening Playboy and starting to unfold the centrefold.
Sandi reaches out an quickly closes the magazine.


AUDIO: Hillmans performing original song Good Time Jamboree.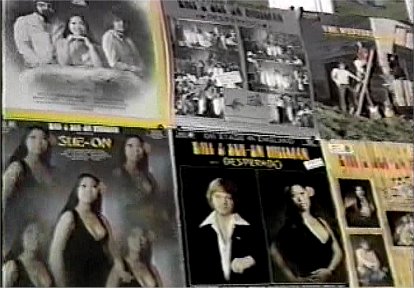 .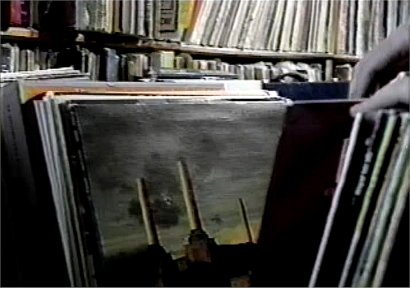 VIDEO: Flipping album covers and pan of record collection, cassettes, CDs, DVDs and video tapes on shelves.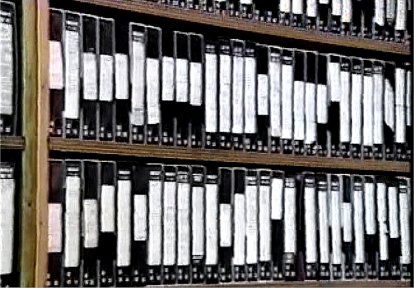 SANDI: And their huge music collection in all formats,
not to mention the 3000 video tapes crammed with movies and TV shows.
(Flashback: Now over 4000 video tapes and just as many DVDs)


VIDEO: Bill at computer desk at Kensington home keying titles into a computer database.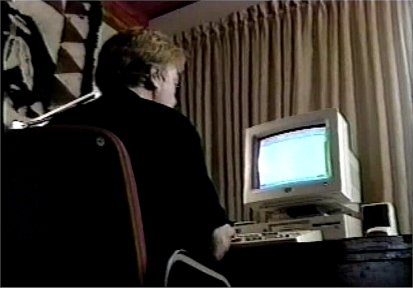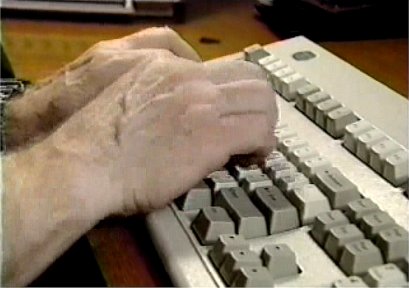 SANDI: Not only have they all been collected,
but theyíve all been catalogued on computer.
VIDEO: Shot of Bill and Sandi in front of video and magazine walls
thumbing through large book of computer print outs of video titles.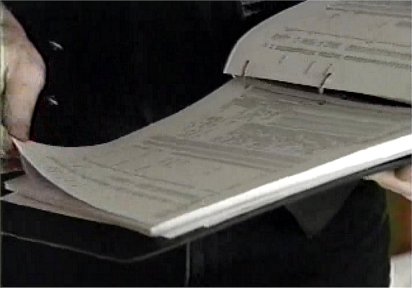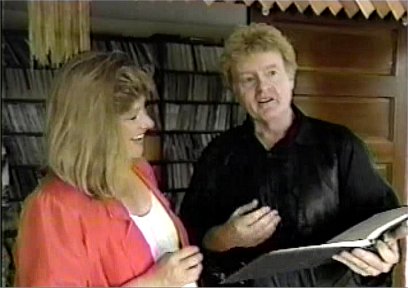 BILL: All of the "All Creatures Great and Small" series. A lot of English stuff -- a lot of British comedy.
SANDI: And every copy of Coleman and Company thatís ever been made so far? LOL
BILL: I have some. [LOL] I pick your show up on Brandon
and itís Sunday morning on the Brandon channel, so Iím not always home to get it.
SANDI: Yeh. Yeh... excuses. [LOL] Too well organized.


Click for full-size collage from our Photo Collage Archive
BILL and SUE-ON HILLMAN CBC TV BIO SPECIAL
Script and Screen Captures