Bill and Sue-On Hillman: A 50-Year Musical Odyssey
www.hillmanweb.com/book :: www.hillmanweb.com/book/gigs

HILLMAN INDIA ADVENTURE
www.hillmanweb.com/india :: www.hillmanweb.com/india/south
South India: Gallery 5a
KATHAKALI DANCE MUSEUM
www.hillmanweb.com/india/south/s05a.html

CONTENTS
PHOTO GALLERIES and TRAVEL NOTES
01 | 02 | 03 | 04 | 05 | 06 |

An interesting feature of the Kerala Kathakali Centre was their Traditional Arts Museum which showcased artwork, props, costumes, instruments, and cultural items

After the show, we went to a seafood restaurant across the street. It was right over the water and smelled like the sea. This place reminded us of the restaurant that our friend Alley had taken us to in Johor Bahru during our Malaysian adventure. Sue-On's stomach was not up to anything heavy but she knew she had to eat. Bill ordered a Hot 'n' Sour Soup and the server asked if he wanted chicken, mushroom, or prawns. He said yep -- all -- but that was not possible. He was of course thinking of the soup that Sue-On makes at home. Sue-On had the Sweet Corn with Prawn, and we also had Lemon Rice -- a perfect choice for her queasy stomach. Bill thought the Hot 'n' Sour soup was watery, but it had lots of cashews. Sue-On planned to add that ingredient to her already-loaded soup when she got home to her own kitchen ;-)

We took a tuk tuk back to the hotel -- 50 rupees for night time as opposed to 30, but still cheap and it saved our energy. We had to go downstairs to get the WiFi connected. Didnít have the energy to do anything much. Sue-On wrote home to see how the placement tests for her university classes went. Bill tried to do some mail catch-up and Web work, but the Internet shut down around 10:30. He did accept Facebook friend requests from two people who had returned home after the first half of our India tour: Robin Taylor (they were enjoying a real English breakfast and a Guinness) and fellow-Canadian Adam Inch, who was flying over the Netherlands.

Got our laundry back and packed up our bags. They will be transferred by bus to our next destination, while we take the train in the morning.
Click for larger images

DINNER OVERLOOKING THE HARBOUR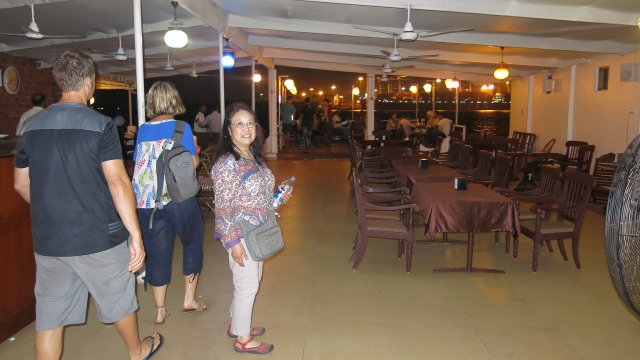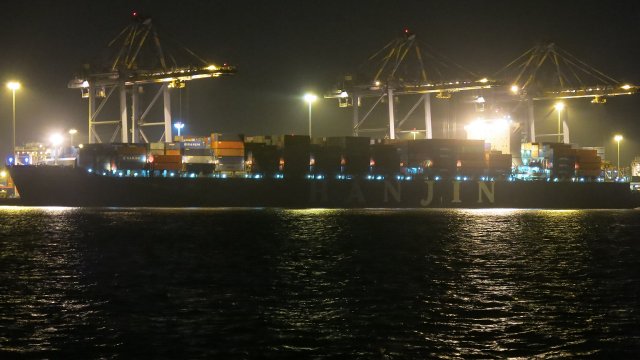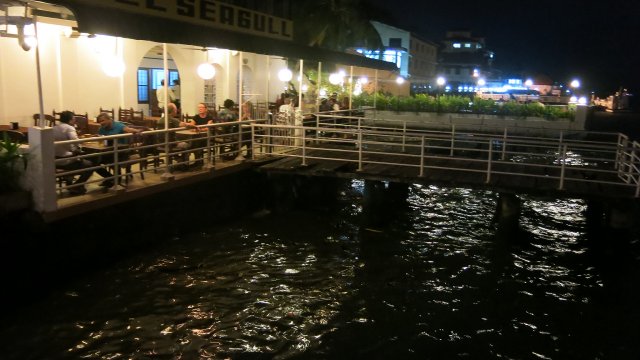 BACK TO SOUTH INDIA CONTENTS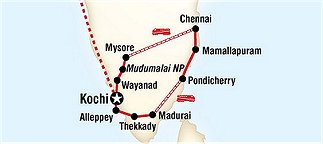 www.hillmanweb.com/india/south



BACK TO MAIN INDIA INTRO PAGE






.
Web Design: Bill Hillman: hillmans@wcgwave.ca
Bill and Sue-On Hillman Eclectic Studio
hillmanweb.com