Bill and Sue-On Hillman: A 50-Year Musical Odyssey
www.hillmanweb.com/book :: www.hillmanweb.com/book/gigs

HILLMAN INDIA ADVENTURE
www.hillmanweb.com/india :: www.hillmanweb.com/india/south
South India: Gallery 5
KATHAKALI DANCE SHOW
www.hillmanweb.com/india/south/s05.html

CONTENTS
PHOTO GALLERIES and TRAVEL NOTES
01 | 02 | 03 | 04 | 05 |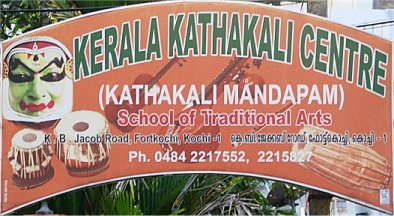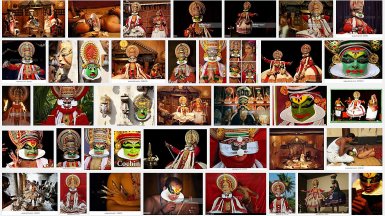 It was to be a 15 minute walk to the Kathakali Dance Show at the Kerala Kathakali Centre but as soon as we left the hotel, Sue-On was in a spot of trouble. Her blood sugar way down because she hadn't eaten a proper lunch, so she was sweaty and shaky. Sanjay ordered us a tuktuk to the theatre. We didn't have any small change (30 rupees) and the driver didn't have change so Bill went into the essential oils shop next door to exchange for smaller bills. The salesman paid the driver and said we can pay him later. He was also hoping to get a sale out of us but he was very kind. There was a restaurant next door where Sue-On was able to sit down and order a vegetable sandwich and Sprite. Bill paid and got change to repay the oil man. He tried to tip him but he wouldn't take anything extra.

Bill went into the theatre, down a long hallway beside the restaurant to a museum and to take pictures of the pre-show makeup being done on the actors. Sue-On stayed back for another 10 minutes for the weakness to pass and then joined the rest for the show.

The show began with an announcer giving a brief history of the drama. Two female dancers came out with small hand candles doing the "Welcome Dance". Then a single "ugliest woman" came out to demonstrate eye movements, emotions, etc. This was a man all made up to represent woman. Really ugly! The eye movements were done to music performed by live musicians - a drummer with sticks and another playing with his wrapped fingers. One man was at the back playing hand cymbals. The eye movements were really funny and would be difficult to do unless well practised. We were a little seasick when he was rolling them and snapping them back and forth. He/she was UGLY! LOL! Then he demonstrated emotions: angry, love, compassion, shock, etc. Again, they all seemed funny because of the exaggeration.

The second half of the show brought another performer - a male figure. Again, a range of emotions were used in this portion and it was quite repetitious. Some of us dozed off between emotions ;-) . . . of course the audience came alive when Bill was brought to the stage to join the act.
Click for larger images

DOWN THE THEATRE'S MAIN CORRIDOR
Past the Museum to the Pre-Show Make-up Area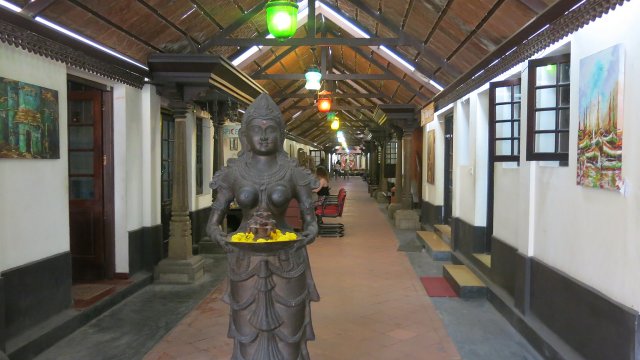 .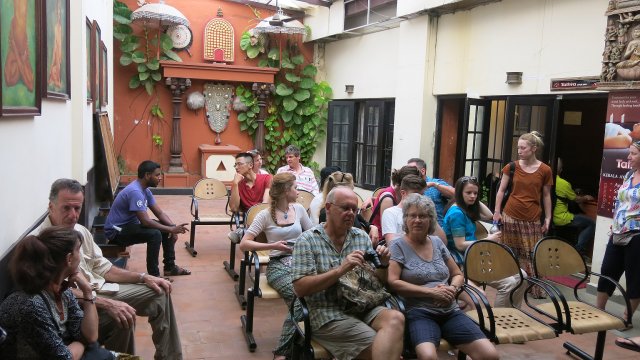 .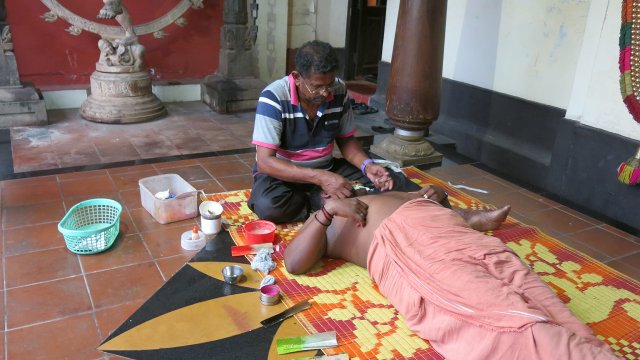 .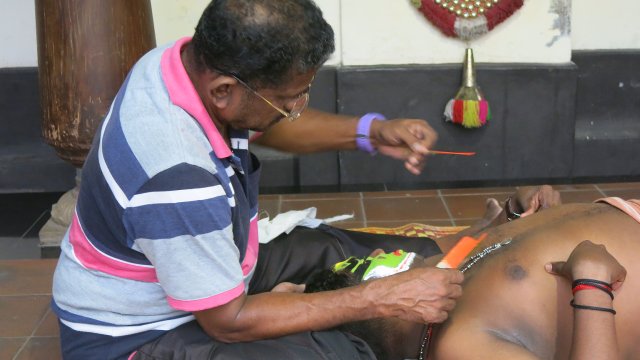 .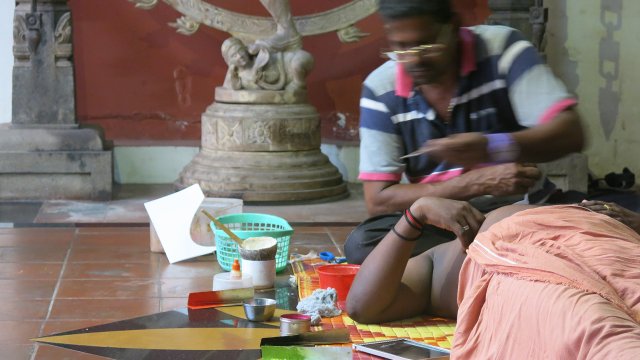 TO THE MAIN THEATRE
Let The Show Begin . . . Dancers and Drummers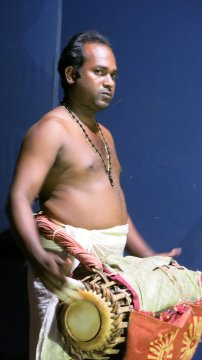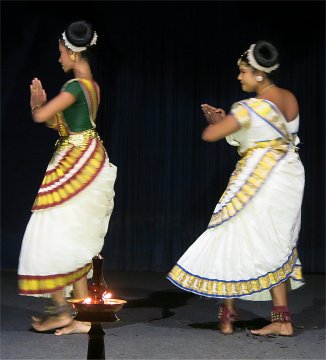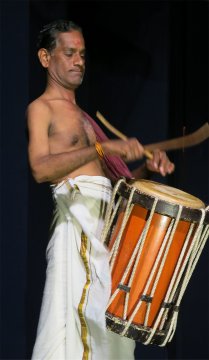 ONE OF OUR GROUP IS BROUGHT INTO THE ACT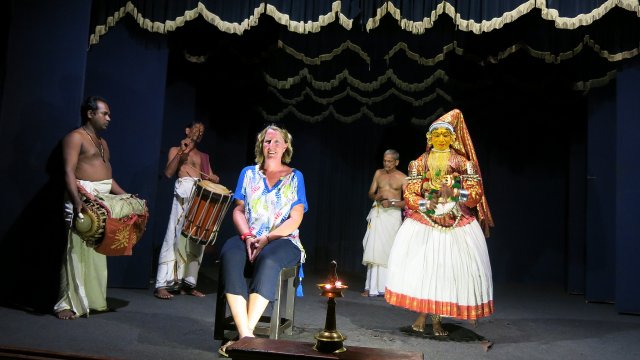 .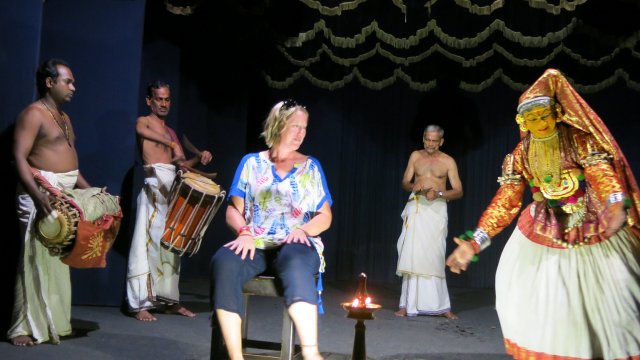 DRAMA BETWEEN THE TWO STAR PERFORMERS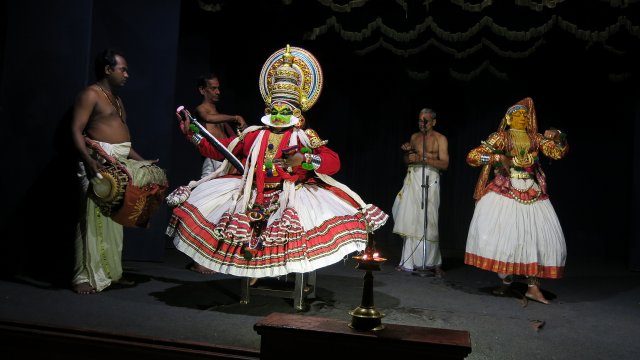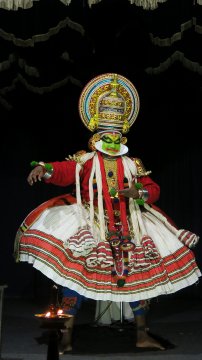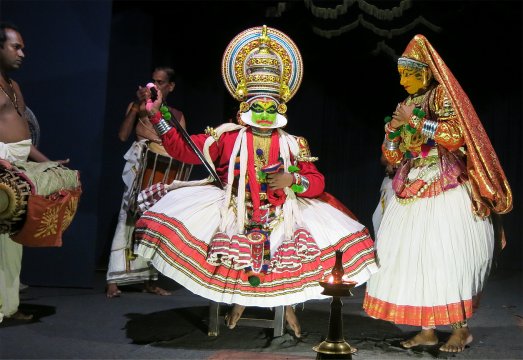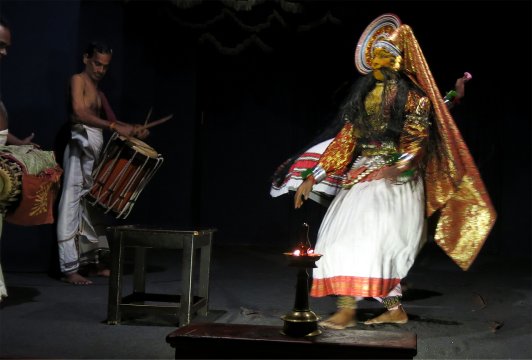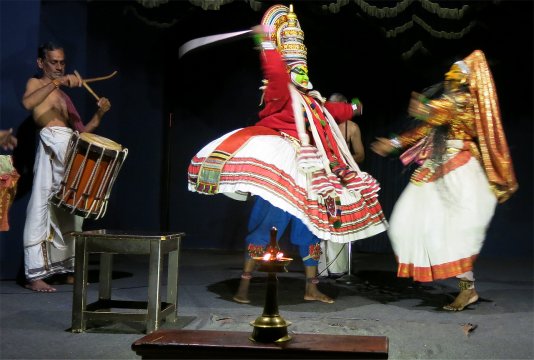 FINALE
Featuring the Star of the Show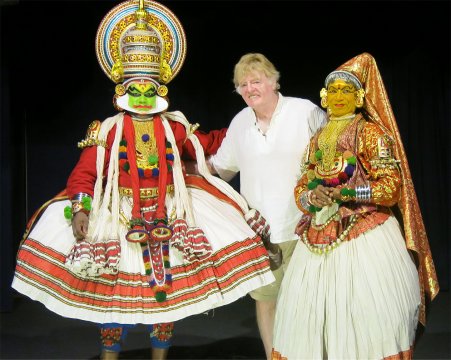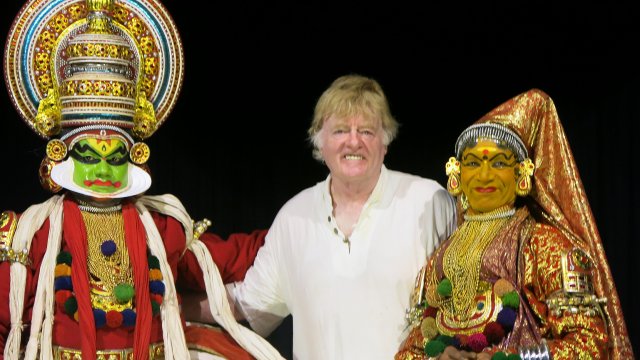 BACK TO SOUTH INDIA CONTENTS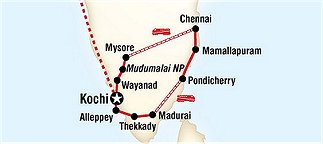 www.hillmanweb.com/india/south



BACK TO MAIN INDIA INTRO PAGE






.
Web Design: Bill Hillman: hillmans@wcgwave.ca
Bill and Sue-On Hillman Eclectic Studio
hillmanweb.com