Bill and Sue-On Hillman: A 50-Year Musical Odyssey

HILLMAN INDOCHINA ADVENTURE

PAGE ONE
www.hillmanweb.com/indochina/thailand/t01.html

Our son Robin dropped us off at Winnipeg International Airport around 3 am.
Arrived in Bangkok after an interesting trip. . . but long . . . 25 hours in the air on three different aircraft (plus 10 hour waits between flights): a smaller Wpg Shuttle to O'Hare long wait then to Tokyo on a United Airlines 747 with the same tired Video entertainment system that was in the plane in 1976 on our UK trip. Long wait in Tokyo then on a Japanese 777 . . . class. Super service, Asian meal and free wine and beer, video on every seatback, long legroom seats by escape door, etc. Pilots are all sane, so far. Sue-On had a good chat with another Manitoban at the Tokyo Airport. She was on her way to Bangkok to participate in Martial Arts Championships.

A great view of the Bangkok skyline as we approachSuvarnabhumiAirport. We found the Gadventures pre-arranged shuttle car (charged $50 while a local cab would have cost $20). A young man from a different group was also assigned to our "private" shuttle. If it had been earlier we would have taken the fast train which goes from the airport to Central Station across from our hotel. Arrived at Centra Hotel
A few "forgets": one of our Canon camera battery chargers, passport photos for future visa border crossings and to turn on the coach lights back home.
36 hours without sleep so hit the sack before 2 am. Plan to get up early to avoid the 40 degree heat of day.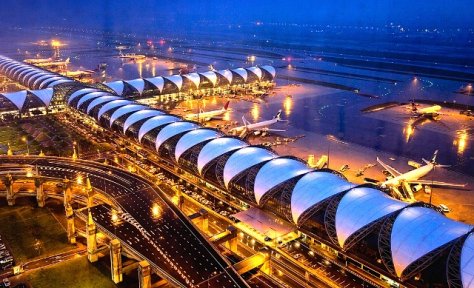 More Bangkok Skyline images at:

Woke up in time for breakfast buffet... everything under the sun but not as 5-star as those in our China tour last year. Explored the hotel and enjoyed the scenery from our 12th floor location. Chinatown gate was in view near the towering temple. As we hit the streets and walked toward Chinatown we were "picked up" by a tuktuk driver. Fascinating ride to a market, but really a jewelry and silk place - his sponsors :) Then to another silk place, to a mall to look for a battery charger, and eventually to Chinatown for a walkaround. Hot and sensory overload!
Morning One Adventure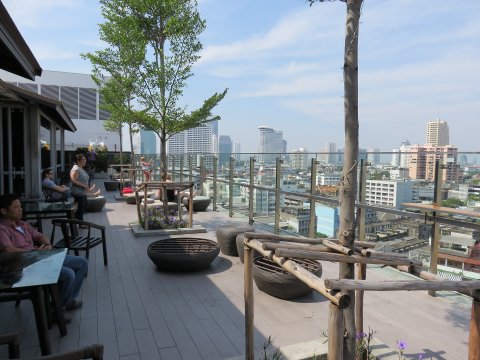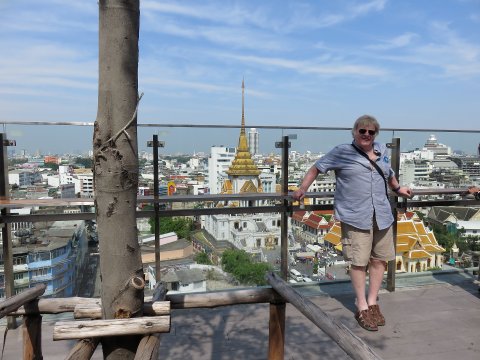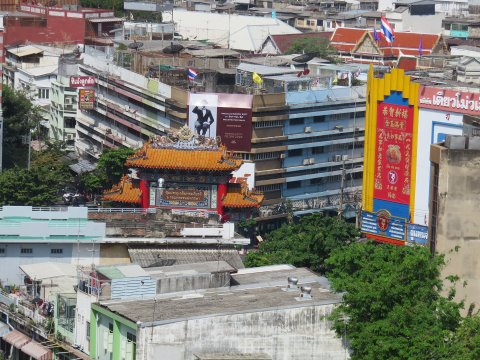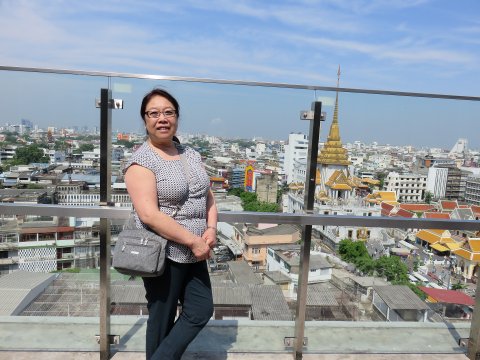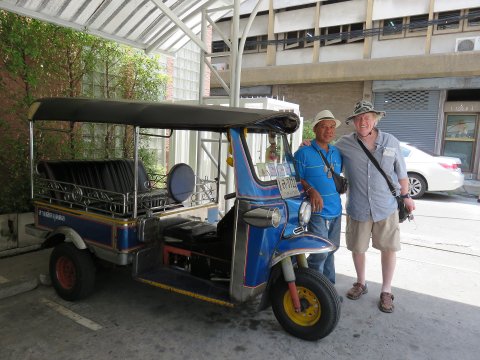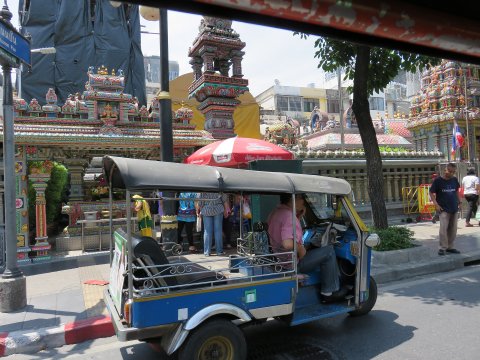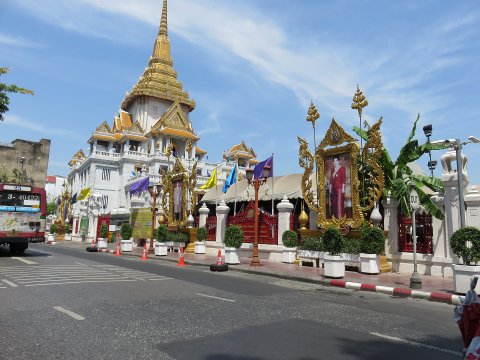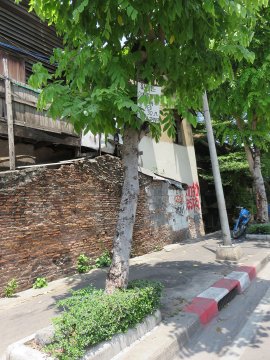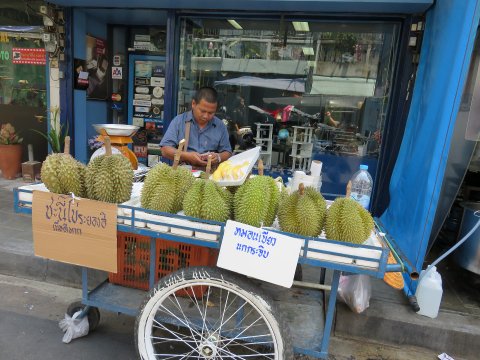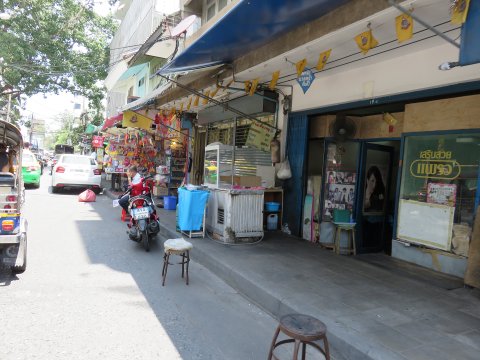 We did not trust eating out on the street in this heat so we went back to the hotel restaurant - Chyna - for dim sum lunch special set for 2 @ 319 bahts each. They brought out a long plate with a taro puff, a piece of daikon cake, and a siu mai. We asked for cold water, so they brought us a bottle and 2 glasses. We thought 3 pieces for that price???!!! Ate that and were getting ready to leave when the waiter appeared to apologize as the food will be out in a few minutes.

Then they covered the table with plates of ribs, rice rolls, and two baskets with siu mai, har gow, etc.... and a basket of baos - BBQ pork and custard baos... two of each. We had quite a laugh remembering the time that Sue-On "ordered" while hubby went to the washroom (in Vancouver). When he came back the table was piled high with food-- a slight communication misinterpretation due to Sue-On's Cantonese skills;-) We thought here we go again...LOL! But no... bamboo soup, fried rice, and delicious cool cantaloup and sago dessert over shaved ice. The whole thing came to 932 bahts with VAT and service charge added...about $28.00. More expensive than on the street, but safer and very well done up.

We went back to the room to cool off and nap before meeting CEO Beam and the group at 6 pm. Following the intros and briefing session we had a group supper in the hotel dining room.

Met a guy in the elevator who taught at BU Rural Development years ago. And a young guy from Winnipeg who rode the shuttle with us from the airport... Lots of people from all over... Heard lots of Cantonese from the locals as well as many tourists from Hong Kong and China.
Our Dim-Sum Lunch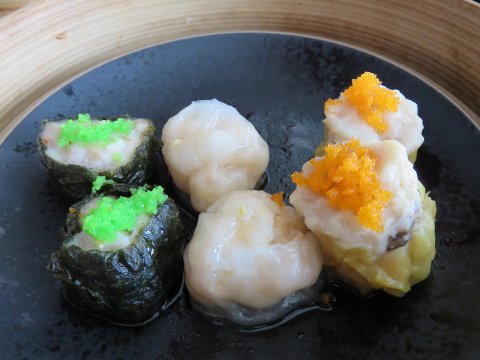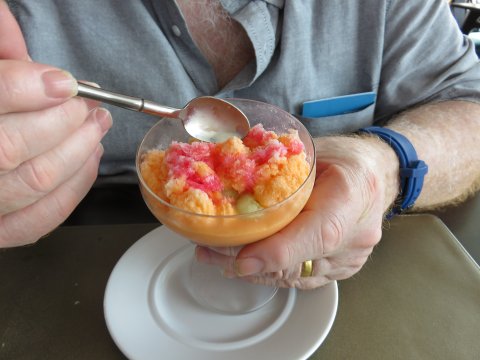 A late-night selfie followed by a visit to the all-night C Store in the basement of our hotel building.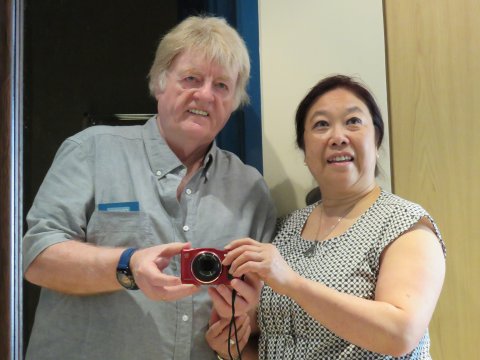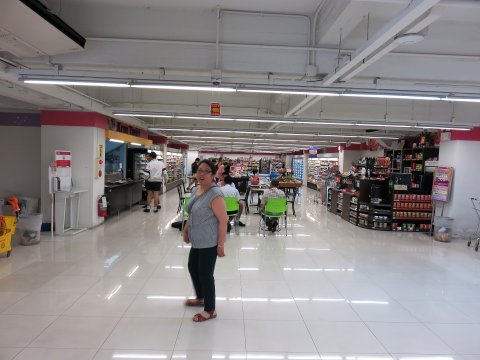 Night View of Central Station Area from Our Room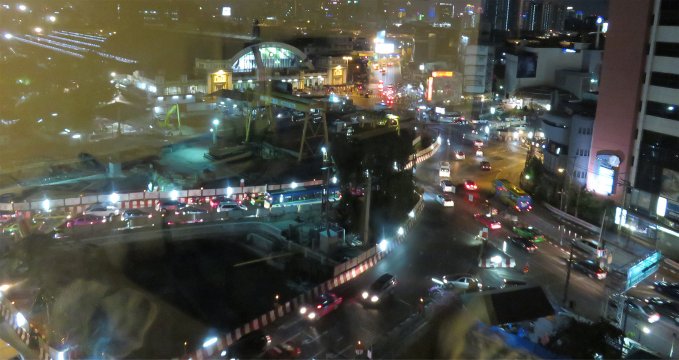 BANGKOK YESTERYEAR circa 1900
3D Stereoview Cards from our Vintage Card Collection
www.hillmanweb.com/3d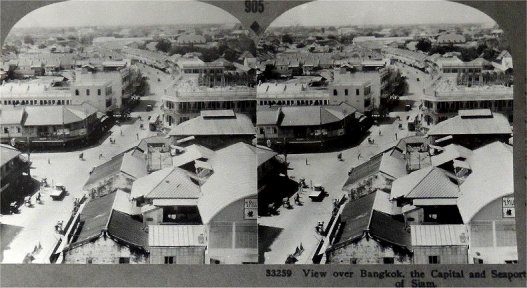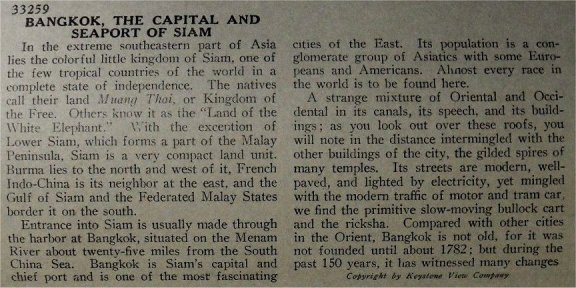 More Photos in
PAGE ONE OUTTAKES
TO MAIN INDOCHINA PAGE
TO THAILAND CONTENTS