Bill and Sue-On Hillman: A 50-Year Musical Odyssey
www.hillmanweb.com/book

HILLMAN INDOCHINA ADVENTURE

PAGE FOUR:
WAT PHO TEMPLE I
www.hillmanweb.com/indochina/thailand/t04.html

Wat Pho is a Buddhist temple located behind the Temple of the Emerald Buddha and adjacent to the Grand Palace in the Phra Nakhon district of Bangkok. Wat Pho is named after a monastery in India where Buddha is believed to have lived. Since it is situated near the Klong dock it was a short walk to enter the gates of this elaborate temple. Wat Pho is one of the largest (80,000 square metres) and oldest (17th century) wats in Bangkok and is home to more than 1,000 Buddha images, as well as one of the largest single Buddha images: the Reclining Buddha which is 15 m high and 43 m long. It illustrates the passing of the Buddha into nirvana.

All visitors were required to wear appropriate clothing with no exposed shoulders or skin above the knee. We removed our shoes in the temple.

The temple has 16 gates around the complex guarded by Chinese giants carved out of rocks. These statues were originally imported as ballast on ship trading with China. The outer cloister has images of 400 Buddhas in various different styles and postures and evenly mounted on matching gilded pedestals. The main temple is raised on a marble platform punctuated by mythological lions in the gateways. The exterior balustrade has around 150 depictions of the epic, Ramakien, the ultimate message of which is transedence from secular to spiritual dimensions.

The temple is considered the first public university of Thailand, teaching students in the fields of religion, science and literature through murals and sculptures and is also home to one of the earliest traditional Thai massage schools. Walls display 60 inscribed plaques showing and explaining the therapeutic points and energy pathways known as sen.

HALF-WAY WATER BREAK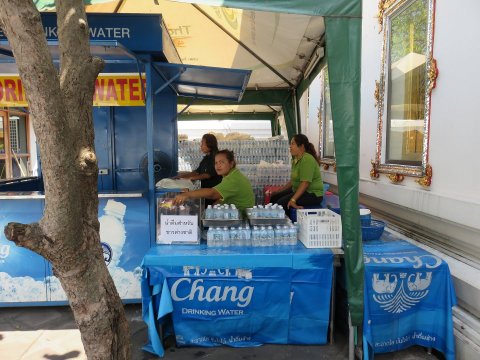 Continued in Part II


BANGKOK YESTERYEAR circa 1900
3D Stereoview Cards from our Vintage Card Collection
www.hillmanweb.com/3d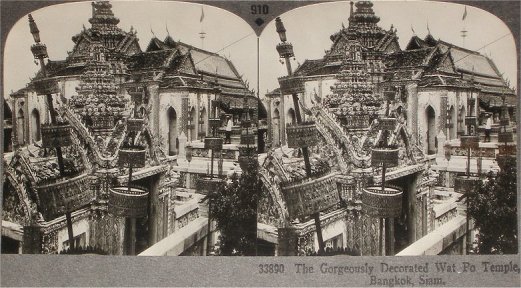 MORE TEMPLE PHOTOS
IN THE OUTTAKES PAGE

TO MAIN INDOCHINA PAGE
TO THAILAND CONTENTS