The Bill Hillman Military Tribute Series
Presents
Canadian Joint Air Training Centre
CJATC RIVERS, MANITOBA
Part IV: Photos from Bernie Rice II
---
SITE NAVIGATION CHART
Rivers I | Rivers II | Rivers III | Rivers IV | Rivers V | Rivers VI
Rivers VII | Rivers VIII | Rivers IX | Rivers X | Rivers XI
---
1964-1965
---
Corporal L.B. Rice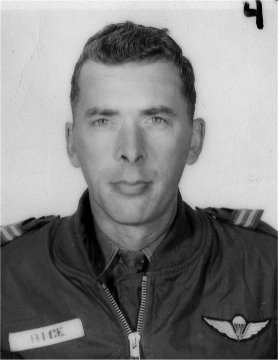 Shortly after I joined the unit as a crew chief in early in 1965.
I remained for about one year and attained the rank of L/Sgt and
accumulated 365 in flight hours before leaving for Officer Candidate Training at Camp Borden.
We were absorbed with 1 Hel Pl under Maj CH Reid
Our detachment was relocated th St Hubert, Que.
My last trip was from Rivers to Saint Hubert and took over 11 hours flying time.
---
Cessna L-19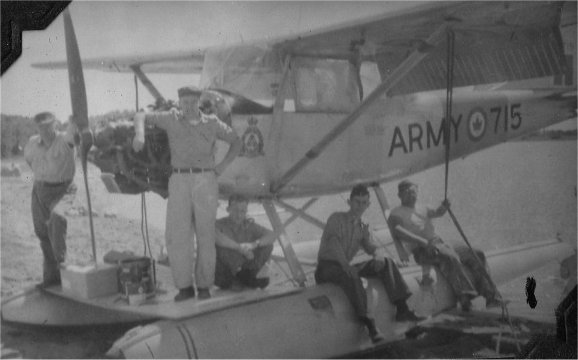 .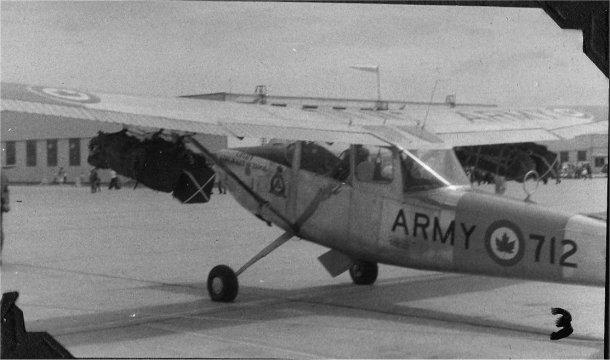 The Cessna L 19 on floats and with A6 containers attached to its wing mounts rigged for aerial release.
---
CRASH SITE
The crash site of the 1st Army AATTS' (Army Aviation Tactical Technical School) CH 113A Boeing-Vertol Voyager accident.
There was a crew of three at the time of the accident with Capt Stan Hand as the instructor pilot and Sgt Hugh Flug the crew chief.
I forget who the student pilot was.
The helicopter belonged to AATTS' (Army Aviation Tactical Technical School) under the command of Capt Dan Danyluk.
---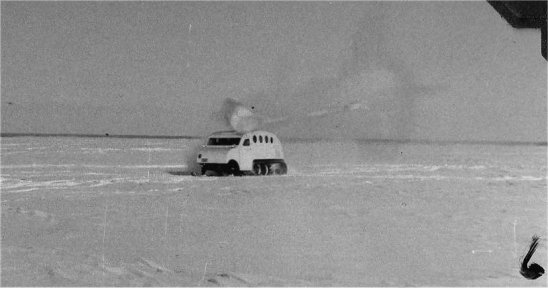 An Air Supply Bombardier snowmobile assisting in Drop Zone (DZ) recovery
---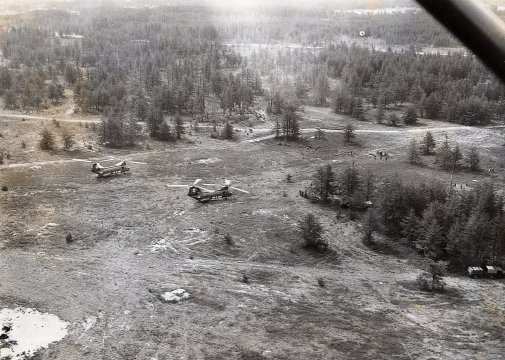 1 Hel Pl hels on ex in the Gagetown trg area
---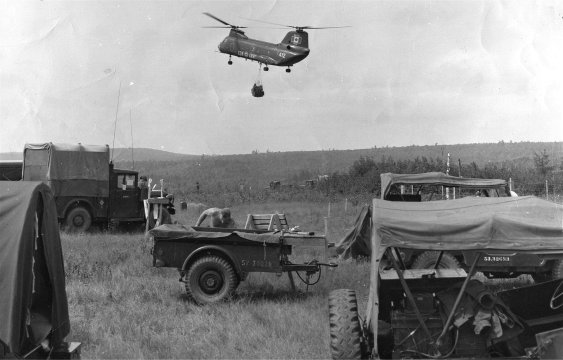 AATTS helicopter with a slung load.
---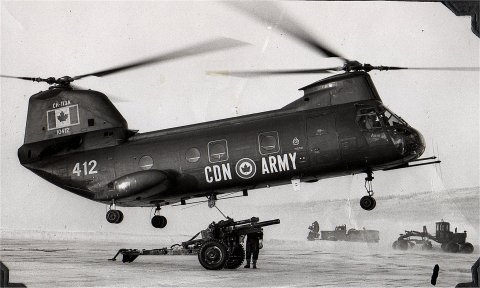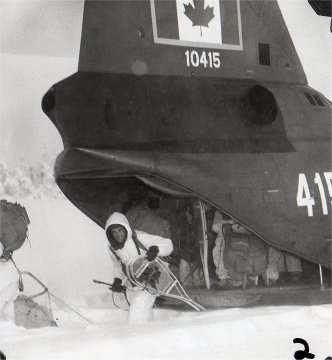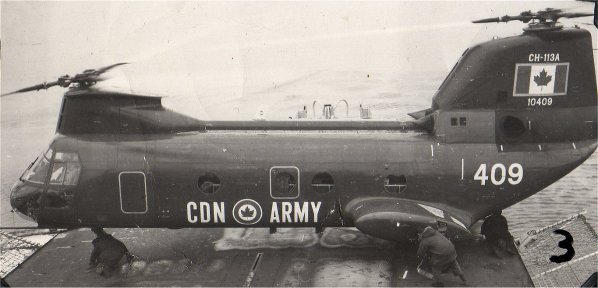 Rivers based AATTS and 1 Hel Pl helicopters
---
SITE NAVIGATION CHART
Rivers I | Rivers II | Rivers III | Rivers IV | Rivers V | Rivers VI
Rivers VII | Rivers VIII | Rivers IX | Rivers X | Rivers XI
---
Visit the
COMMONWEALTH AIR TRAINING PLAN MUSEUM
Brandon, Manitoba, Canada
MILITARY TRIBUTE PAGES
BACK TO BILL AND SUE-ON HILLMAN MAIN PAGE
www.hillmanweb.com
Bill Hillman