The Bill Hillman Military Tribute Series
Presents
Canadian Joint Air Training Centre
CJATC RIVERS, MANITOBA
Part II
Photo Memories
Continued from Part I
---
SITE NAVIGATION CHART
Rivers I | Rivers II | Rivers III | Rivers IV | Rivers V | Rivers VI
Rivers VII | Rivers VIII | Rivers IX | Rivers X | Rivers XI
---

www.hillmanweb.com/rivers/02.html
Photos from the Gerry Logan Collection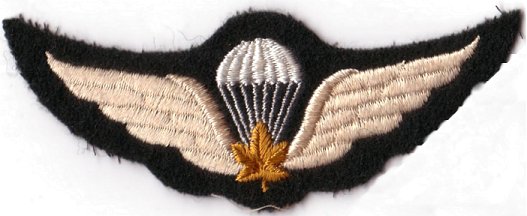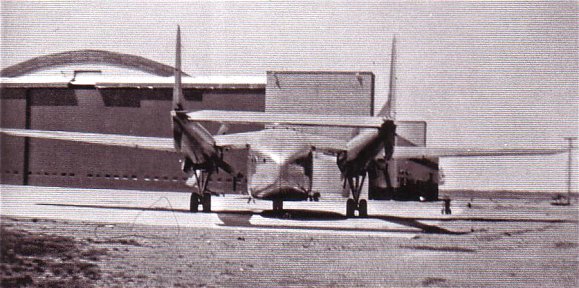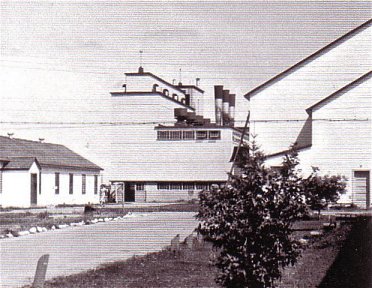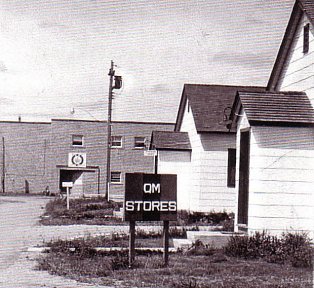 The Players:
Gerry Logan ~ Jim Sloane (Sigs) ~ Hartley ~ Giles ~ Buchanan ~ Rheal Cote ~ Len Patterson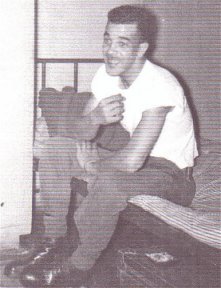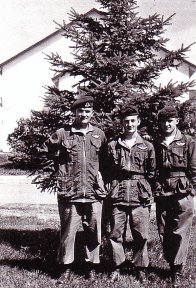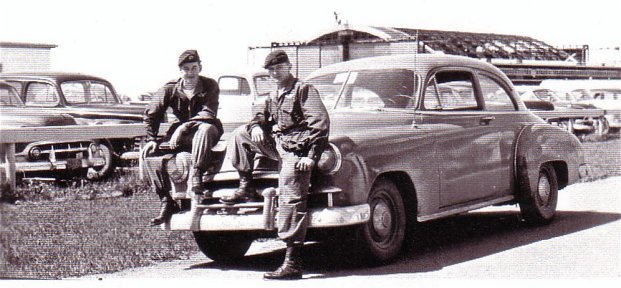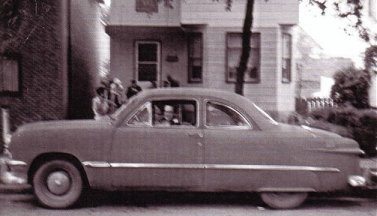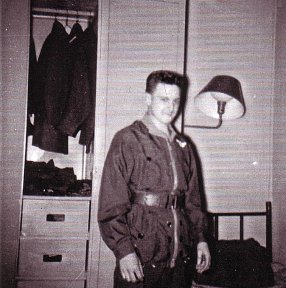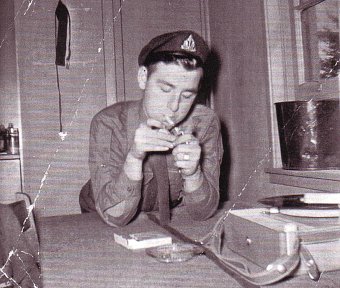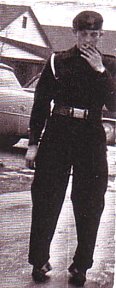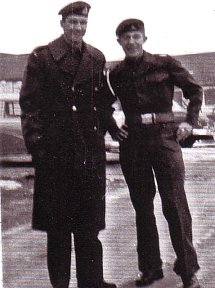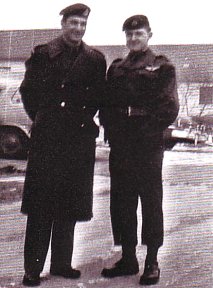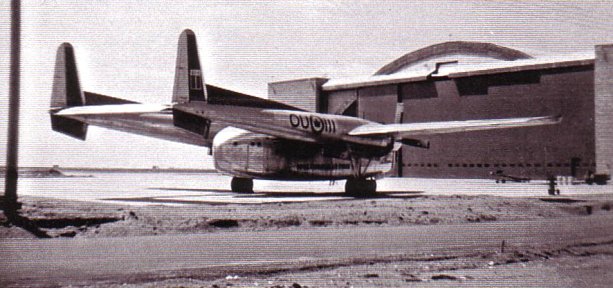 ---
Photos of the Royal Canadian Sigs ~ 1959/60
They took care of communications on the base and in the field
working with the airborne and the aircraft and keeping pilogs informed on wind speeds on the ground, etc...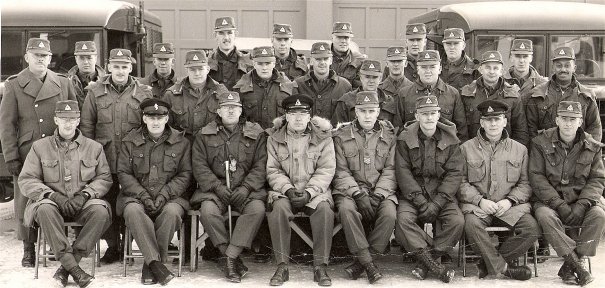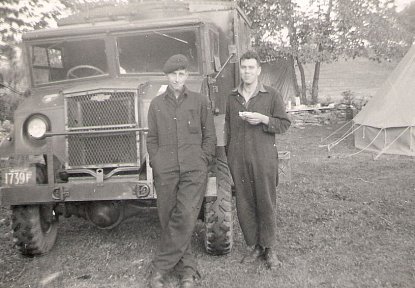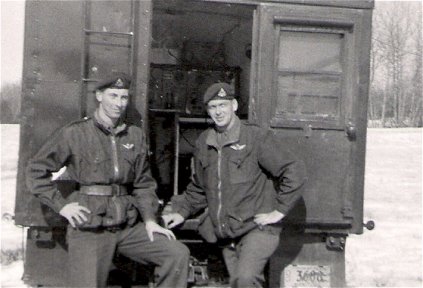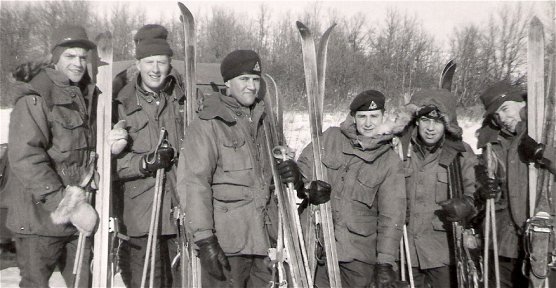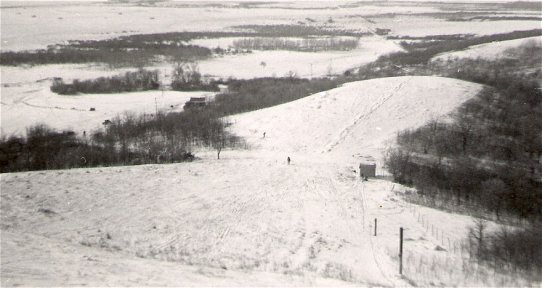 The ski hill south of CJATC, winter 1956/57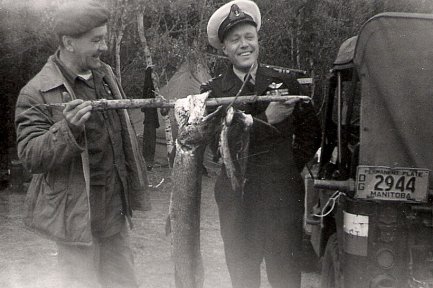 Sgt Walsh ~ NCO-IC RM (Radio Mechanic) shop ~ I Air Support Signal Troop
and the Naval officer we had at the time.
At Shilo, MB Weapons range very early spring 1957. Off duty activity.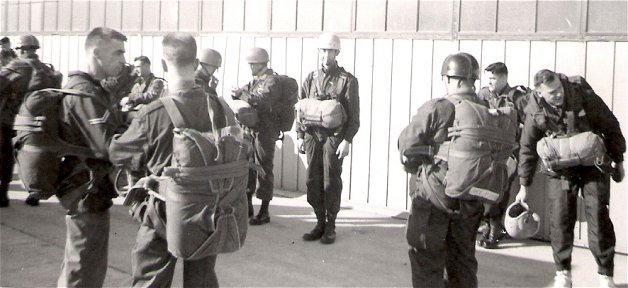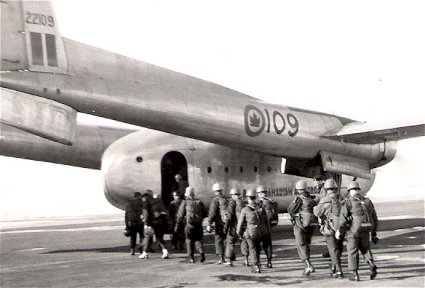 .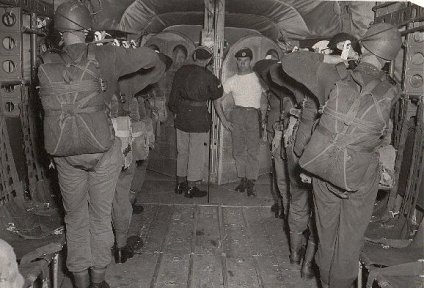 Photo taken from the back of the two sticks in the C119
.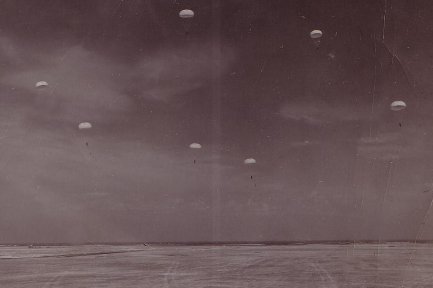 Photos from the middle of the drop zone and from the highway
---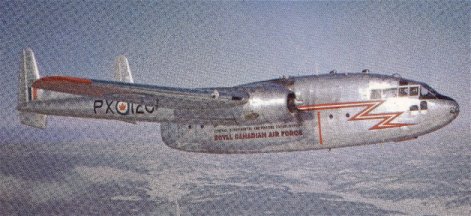 I have many memories of the C119 Boxcar -- it was a good workhorse in its day, something like the DC3. I can remember my first trips in the Dakota (DC3) and Boxcar. There was a Dakota training flight going from Rivers directly to London, Ont on the Friday afternoon before the long weekend in October. I had just turned 18 on the 7th of that month (1955) and I was scheduled to start my jump course on the following Tuesday morning. All the guys on the plane were members of the RCASC Airborne Platoon and all had their wings. When you went on board any RCAF a/c they gave you a parachute harness to wear and a reserve parachute that you could strap on the front of the harness. If you had to jump you had a ring on the front of the chute that you pulled to open the chute. The flight went well on the way down - no delays no stops. However, the flight on the way back changed. We left London around 11:00 am and half way across Lake Superior one of the two engines decided to start leaking oil. All the airborne guys had their para harnesses tightened up nice and snug and had their parachutes in place, but I didn't have a clue. My harness hung six inches below my crotch and they had to do everything for me. Well, the plane managed to make it into Thunder Bay, which made me happy as this was my original home but which I hadn't visited since I was seven.

Well, one of my uncles came out to the airport and took me back to his place as we had to wait for them to send a C119 back for us from Rivers so we would be laid up for at least 5 hours. It turned out that my Uncle was one of the local bootleggers of the day and had a large batch of wine made. He kept pouring and I kept drinking, and at 18 I really wasn't all that wise in managing my new-found enjoyment. Anyways, he returned me to the airport in a little number state then when I left. I was a bit nervous as the pilot could have refused to let me get on board, well we got back to Rivers okay around midnight that night, and to my surprise there was a good eight inches of snow on the runways. Getting off the plane I accidentally picked up the parachute I had by the ring and of course the chute exploded all over the inside of the plane. (I still have the ring as a souvenir to this day). Next morning I reported to Airborne School at 8:00 a.m. sharp -- hangover and all. But I'll always remember that it was a little scary flying over Lake Superior with a damaged engine.

~ Gerry Logan

---
---
SITE NAVIGATION CHART
Rivers I | Rivers II | Rivers III | Rivers IV | Rivers V | Rivers VI
Rivers VII | Rivers VIII | Rivers IX | Rivers X | Rivers XI | Rivers XII
---
---
Visit the
COMMONWEALTH AIR TRAINING PLAN MUSEUM
Brandon, Manitoba, Canada