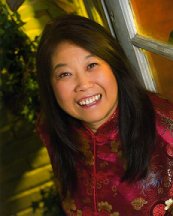 SUE-ON'S KITCHEN
March I : 2011
www.hillmanweb.com/soos/food/02.html
Also featured in my Facebook Album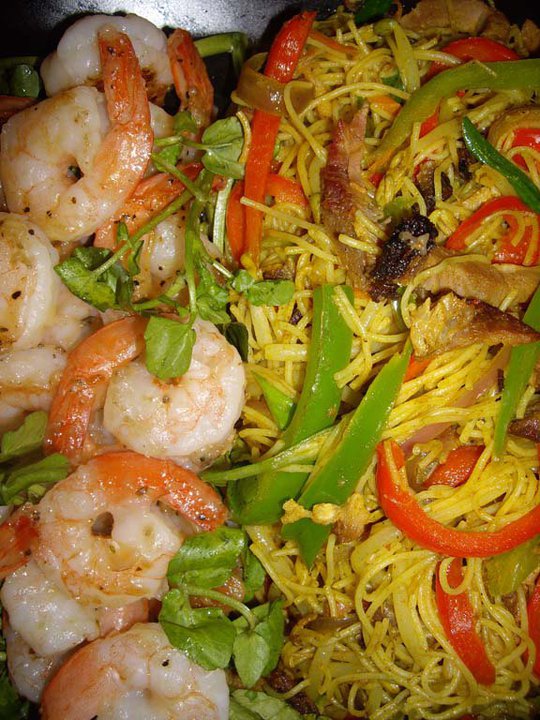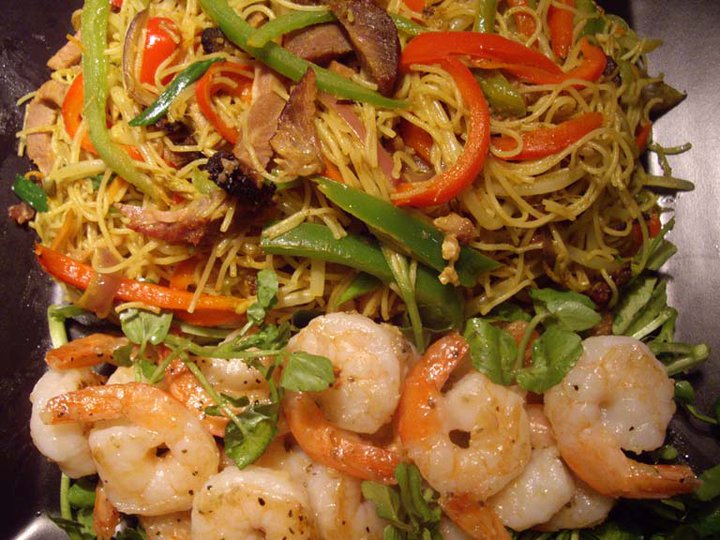 Singapore Rice Noodles (curry) and Salt 'n' Pepper Shrimp for a very cold March 1st!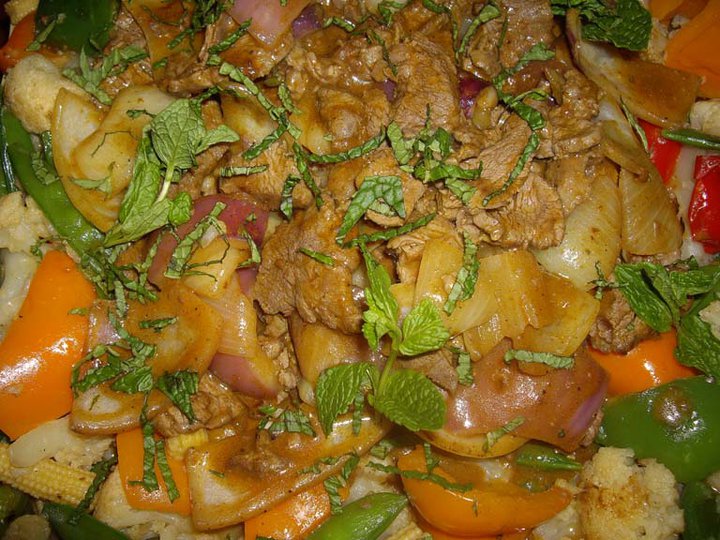 Curry two nights in a row!? Last night, Singapore curry.
Tonight - Indian vindaloo curry with cauliflower and whatever veg to use up.
Served with cumin/cardamon basmati rice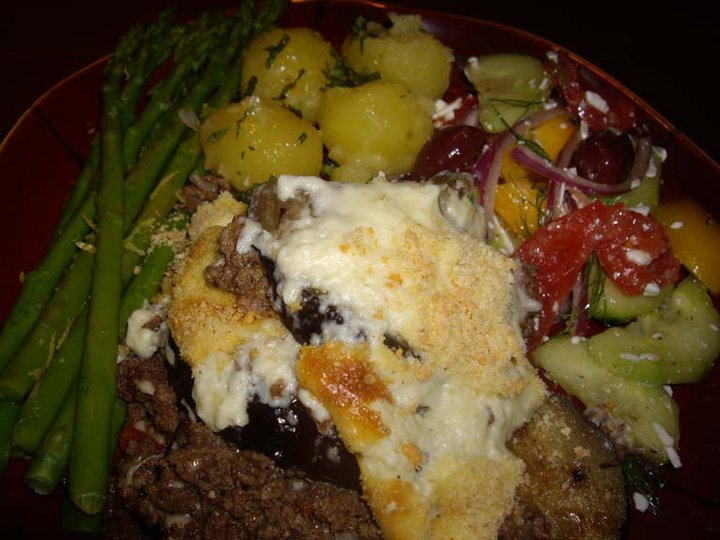 Moussaka for supper! Bill had jalapeno peppers with his:-)



.


Moussaka, baby taters with fresh mint, asparagus with lemon juice and zest, and Greek salad.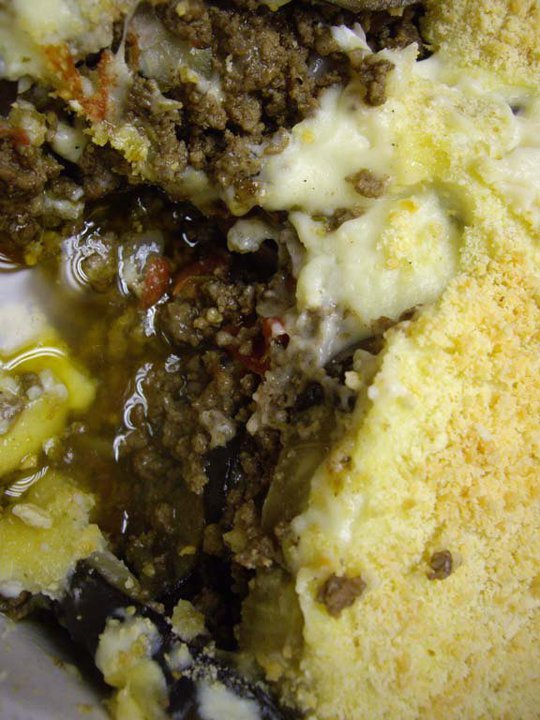 Moussaka just out of the oven with first piece out.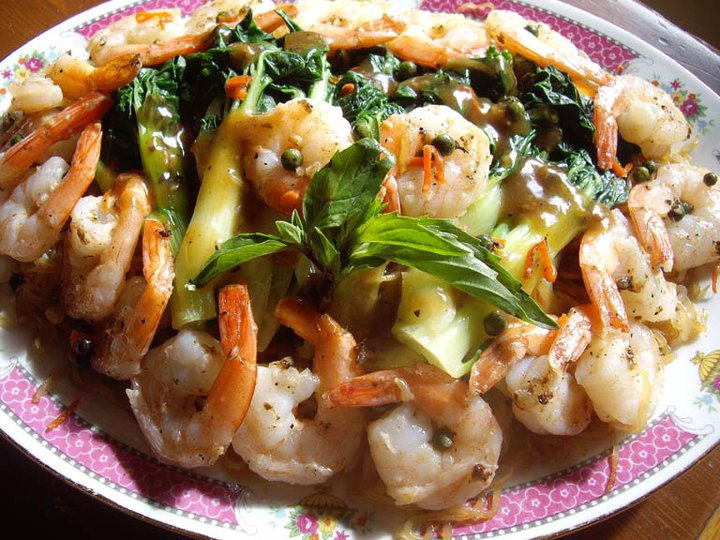 Shiritaki noodles, shrimp with fresh green peppercorns and
bits of fiery Thai pepper, blanchedbaby bok choy, Thai basil...Yummy lunch!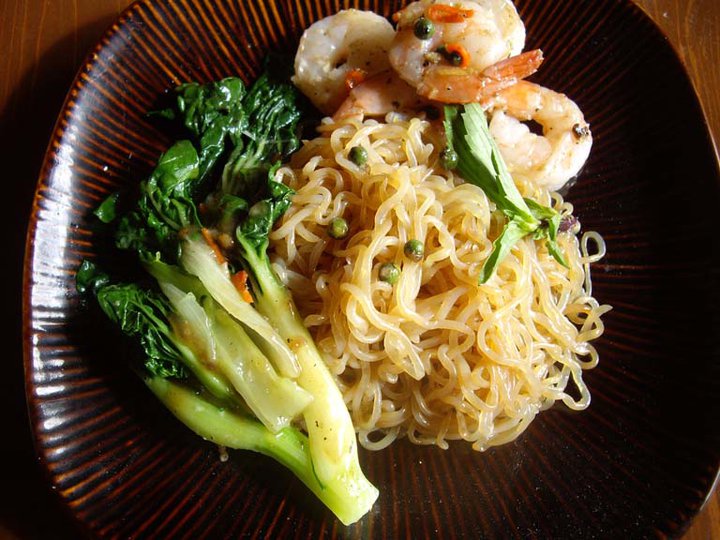 Plated for one person: This is an attempt to reduce carbs.
Shiritaki noodles have 0 carbs, 0 cholestrol, 2gms of fibre.
One package has 0 to 20 calories, depending on the brand.
I drained then dry-fried them in a heavy non-stick pan,
then crisped them up with just a quick spray of olive oil, a tsp of light soy.
Shrimp were sauteed with a tsp of olive oil, ginger, shreds of chili pepper and a sprig of fresh green peppercorns
(these are addictive!)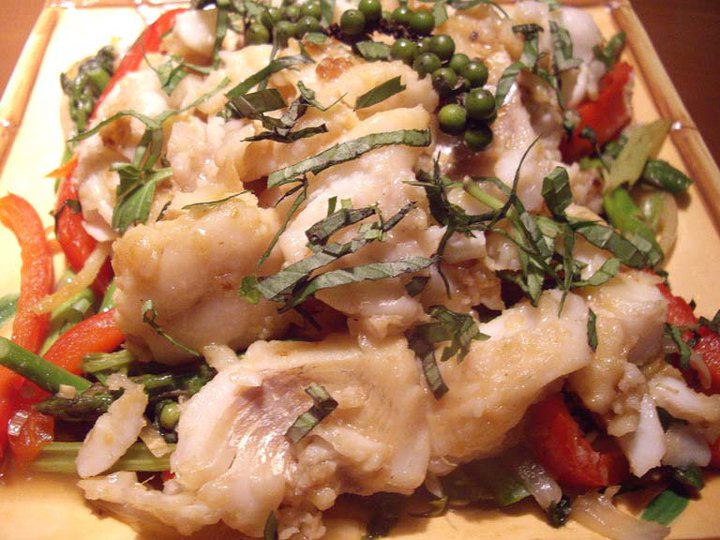 Gimli pickerel stir-fried with lemongrass and ginger served with mixed veg:
red pepper, Chinese celery, onion, asparagus, Thai basil, fresh green peppercorns
(They're in EVERYTHING!), and jasmine rice.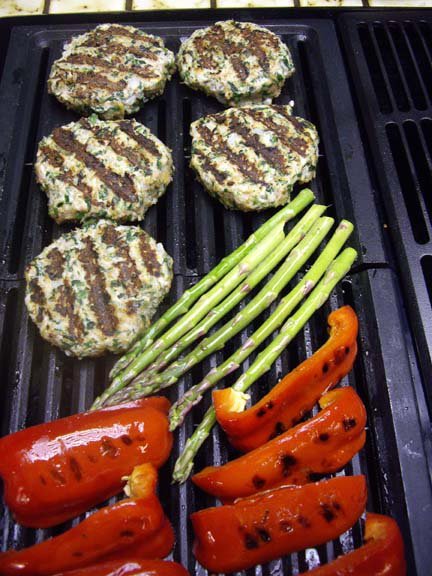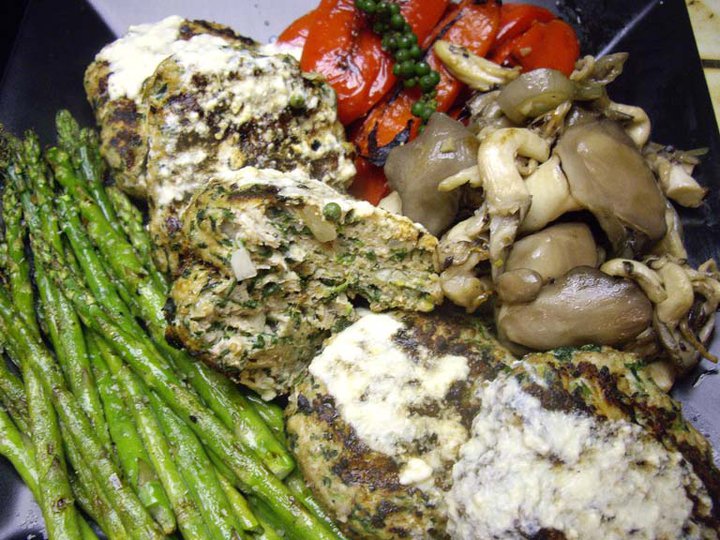 These are based on the Greek chicken meatballs I made last week.
This time, I changed it up with cumin and mint instead of oregano.
Left out the raw rice as I wasn't simmered the patties like I did with the meatballs.
Still stayed moist because of the spinach, bread crumbs, etc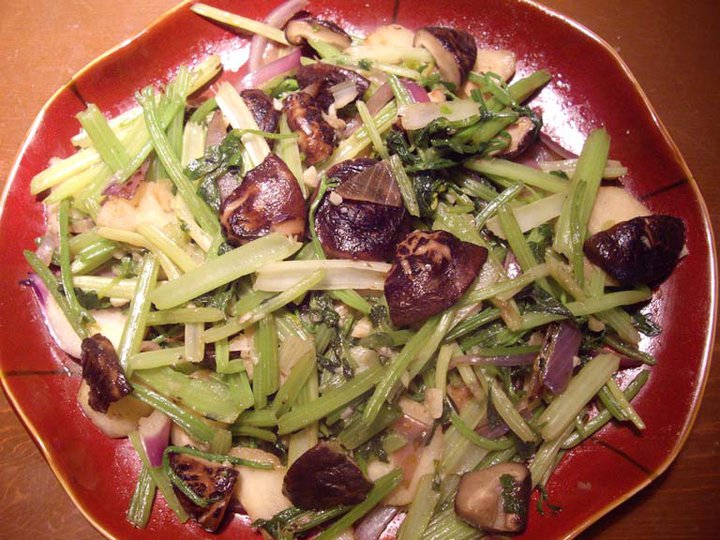 Chinese celery, fresh shitaki mushrooms, fresh waterchestnuts --
a nice blend of strong celery flavour, the earthiness of the mushrooms,
and the sweetness of the waterchestnuts.
Went well with the beef and jasmine rice.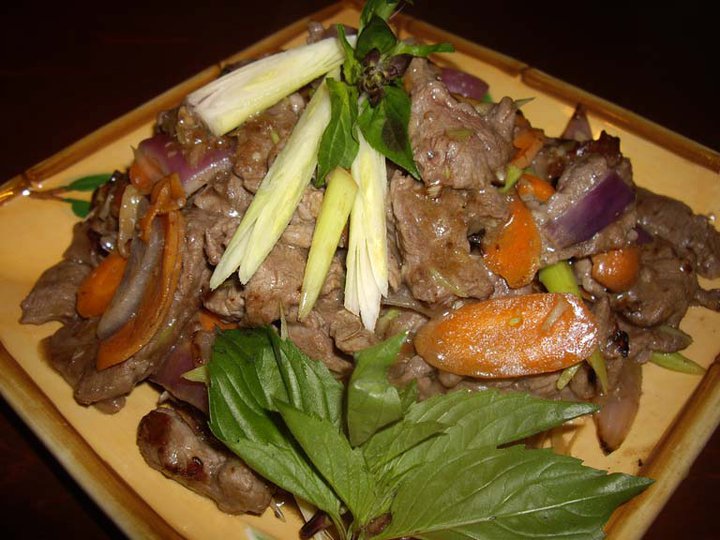 Lemongrass infused stir-fried beef tenderloin and green peppercorns --
nice lingering taste of the lemongrass and heat from the green peppercorns :-)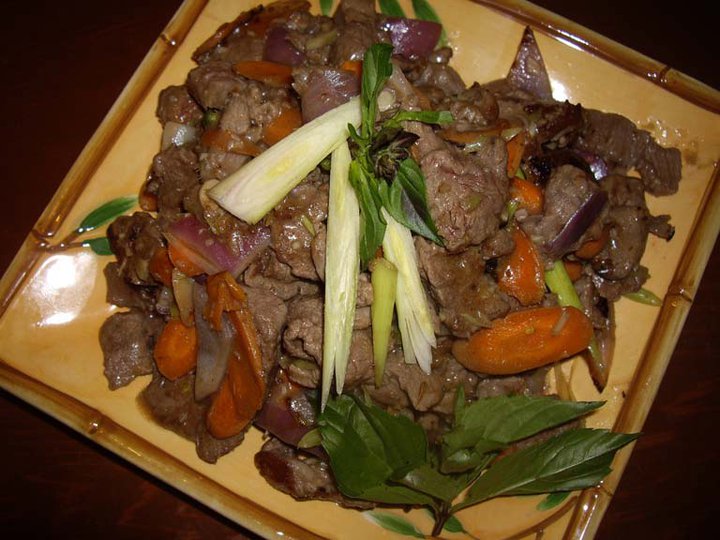 Lemongrass Beef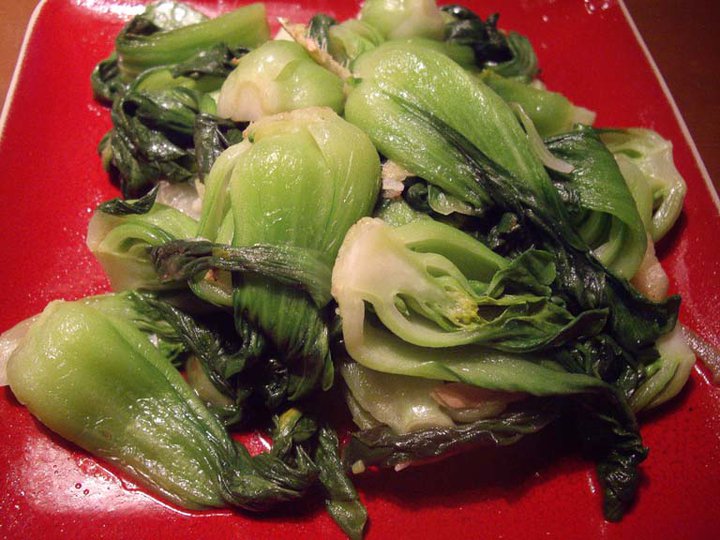 Shanghai bok choy with garlic and ginger - perfect for the eggplant mapo tofu and rice!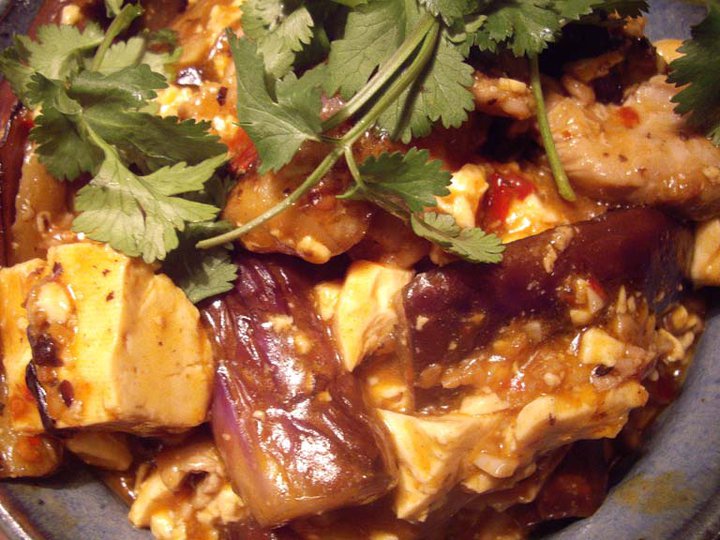 My combined take on Fish-fragrant Eggplant and Ma-po Tofu.
Wanted both for supper!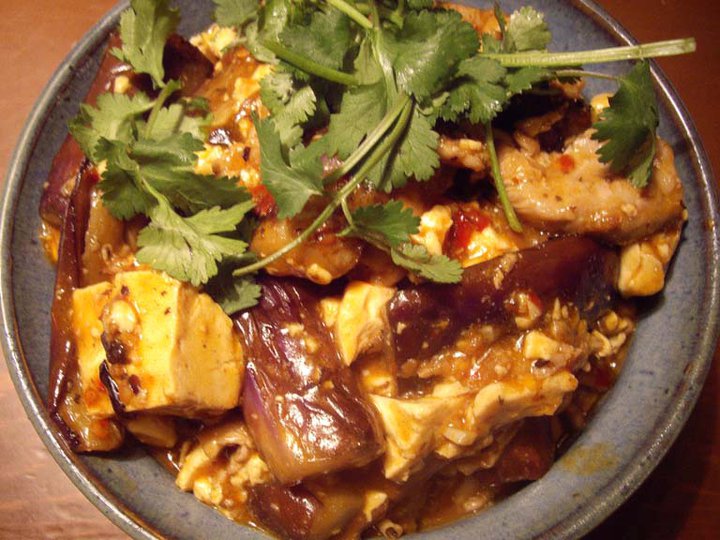 Luscious combo of silky eggplant in ma-po tofu.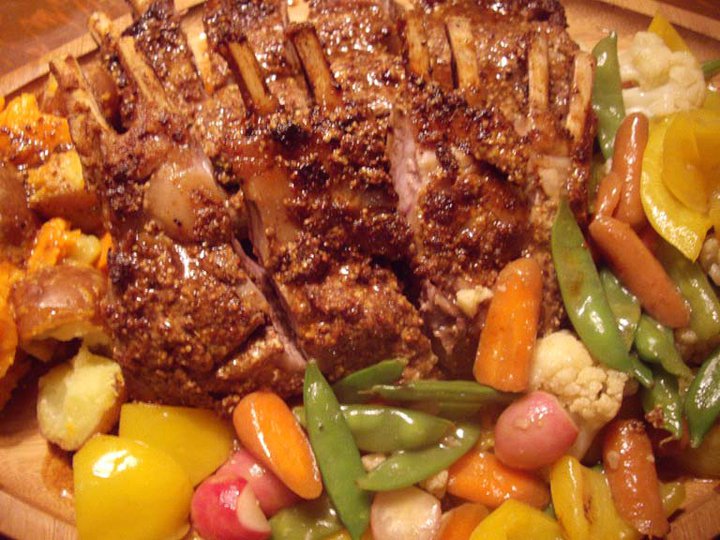 Whole grain mustard and cumin crusted rack of lamb,
"clean out the salad bowl" veg. stir-fry, baby taters and sweet potatoes.
A warm-yer innards kind of supper on a blizzardy Friday.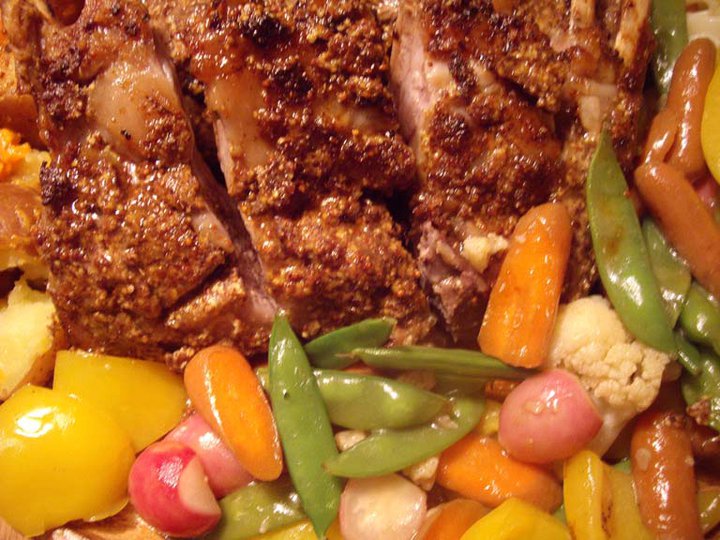 Loved the juicy crust on the lamb with fresh mint sauce :-)