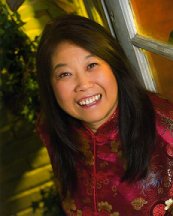 SUE-ON'S KITCHEN
March II : 2011
www.hillmanweb.com/soos/food/03.html
Also featured in my Facebook Album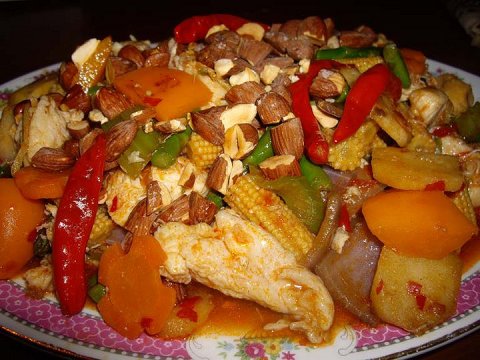 Kung Po Chicken with almonds!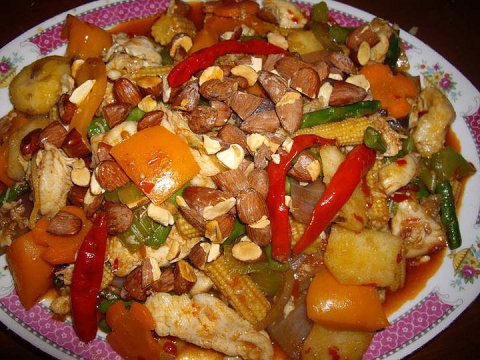 Mighty spicy little devils , them little Thai chilis. I know 'cos I hate one by mistake.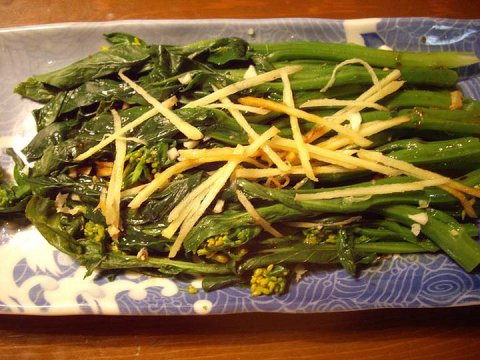 Yu choy - blanched, sprinkled with ginger and finely chopped garlic, sizzled with smokin's hot corn oil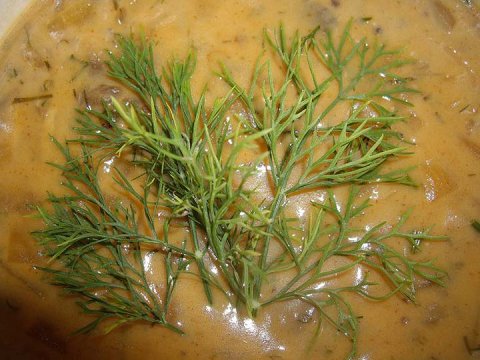 Hungarian Mushroom soup from Moosewood cookbook. Made with Hungarian Hot paprika.
Great with a little shaved cumin Gouda cheese!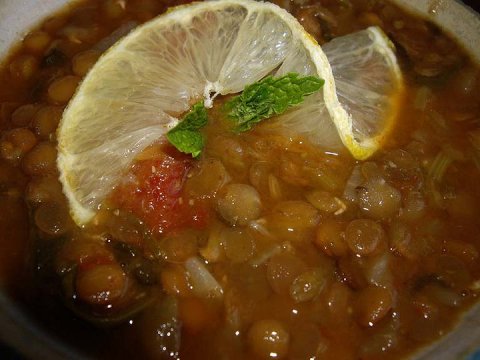 Armenian Lentil ad Spinach soup (Vospapur)- lunch for next week. Low in WW points - high fibre.
Seasoned with cumin, coriander, hot paprika and a squirt of lemon juice just before serving.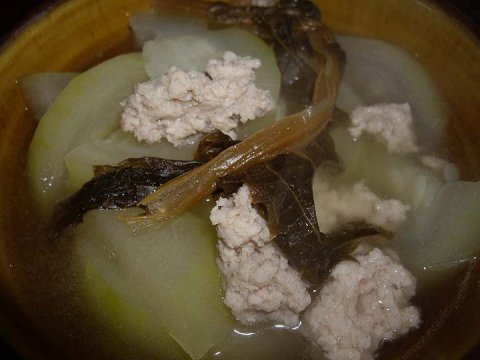 Very traditional Chinese home-style soup: hairy melon in pork stock with velvet pork meatballs.
The "stalk" is re-hydrated preserved bok choy - for flavour and saltiness.
Simple light soup that went well with the mish-mash of leftovers.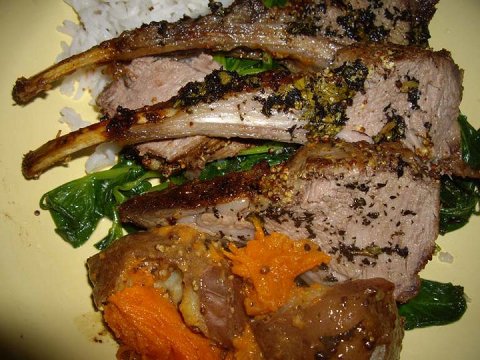 Leftover lamb chops on a bed of stir-fried pea shoots, mint sauce, sweet potato and baby taters.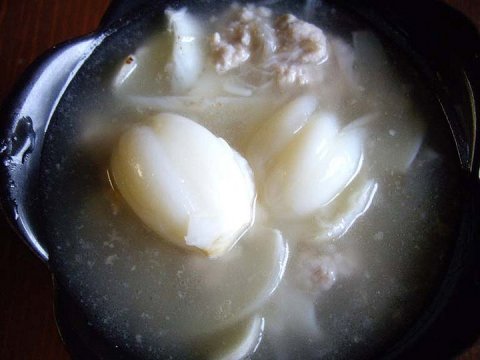 Fresh lily bulb soup with pork meatballs and pork stock.
Promotes healthy lungs. Important for singers and teachers ;-)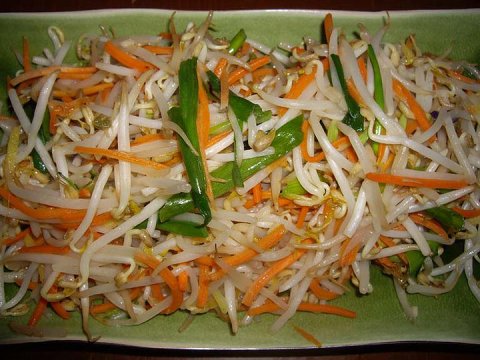 Quick stir-fry bean sprouts, shredded carrot, green onion, ginger, garlic.
Crisp! Light! Leftovers to add to rice noodles for summer rolls tomorrow.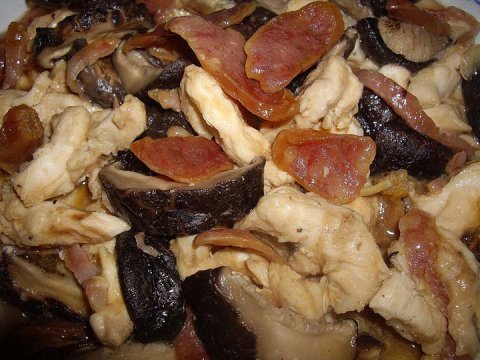 Traditional steamed velvet chicken
(marinated with Chinese cooking wine, Tamari soy, cornstarch, and seasonings)
with shitaki mushrooms, Chinese sausage, ginger.
A family favourite.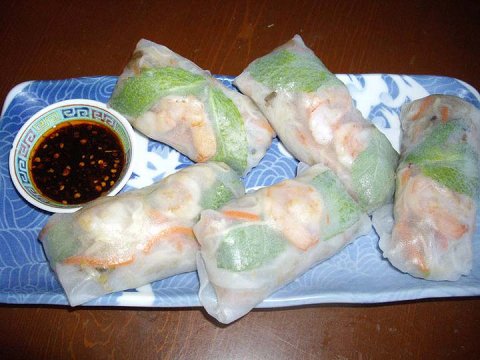 Summer rolls: bean sprouts, shredded carrot, green onion, rice noodles, shrimp, mint.
Dipping sauce of tamari soy sauce, Saigon chili oil, sesame oil.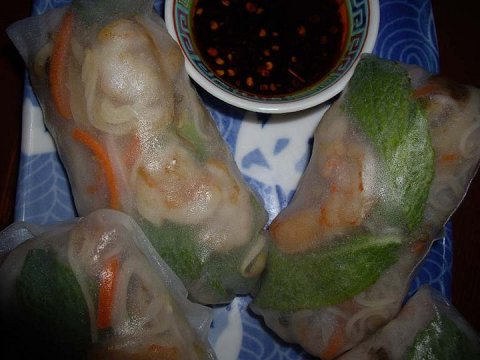 Summer rolls: using leftover stir-fried beansprouts, shredded carrot etc. from the night before.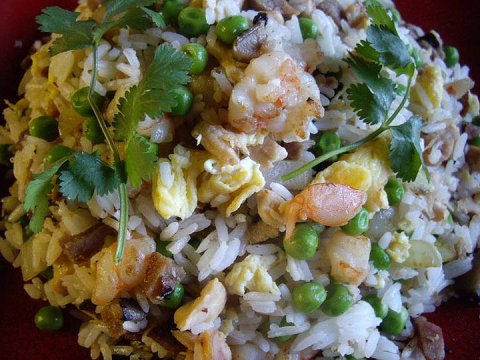 Yangzhou Fried Rice a la Fushia Dunlop:
jasmine rice, shitaki mushrooms, onion,chicken, BBQ pork, shrimp, peas, rice wine, egg.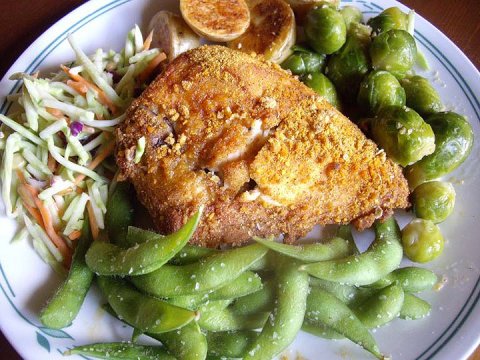 Dare I post this?! He**. . .why not? ;-)
Shake'n'Bake Cajun chicken, endamame, Brussel sprouts
with maple sugar flakes, oven baked baby taters, broc-slaw.
A quick oven and one pot meal after a "fuzzy day" and an osteopathy treatment from Ja-On.
He's trying to straighten Mama out. LOL!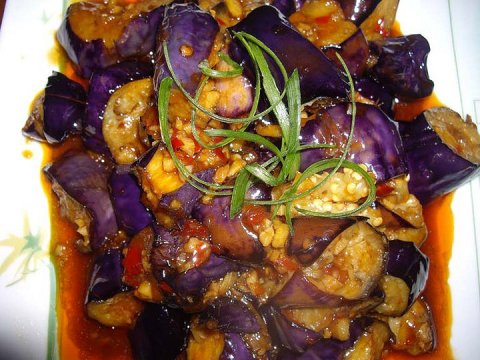 So Pretty! Fish Fragrant Eggplant - spicy, sweet, vinegary, garlicky, gingery, silk smooth - addictive!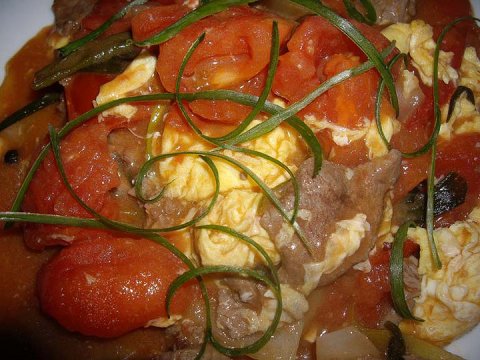 Beef, Tomato and Egg. Perfect sauce over jamine rice - another family favourite.
Need to send this picture to entice kids to come home ;-)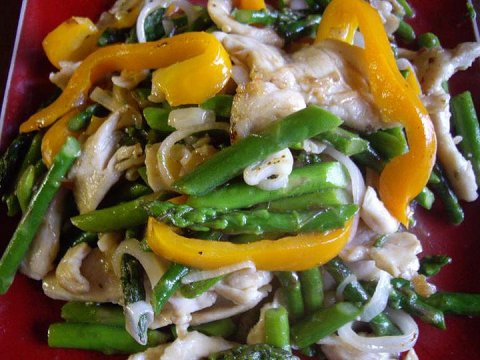 Chicken and asparagus stir-fry.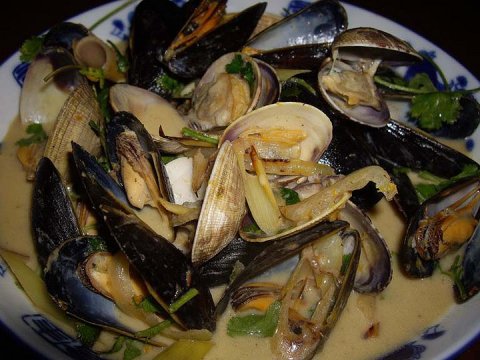 Thai mussels and clams: lemongrass, ginger, garlic, onion, ground coriander,
orange and lime zest and juice, kaffir lime leaves, cilantro, coconut milk, white wine! Slurp!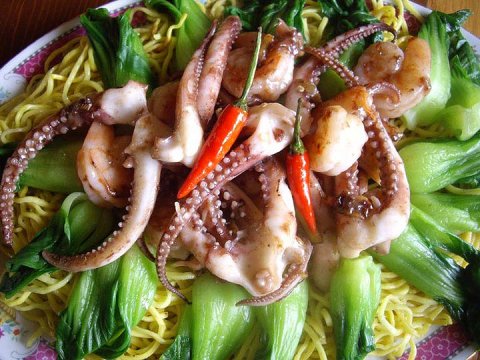 Squid tentacles, shrimp (in ginger, garlic, and Chinese cooking wine),
blanched baby Shanghai bok choy, and stir-fried Chinese chow mein noodles with sesame oil for lunch:-)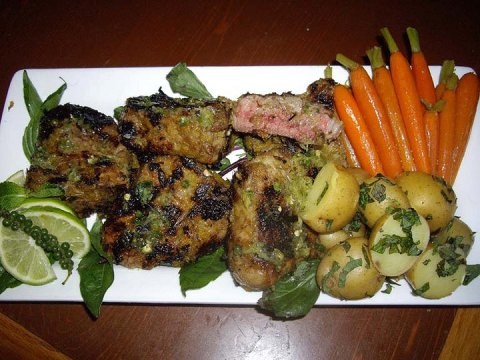 Lemongrass grilled lamb chops, real baby carrots, baby taters.
Lemongrass paste will need modifications - more lemongrass, less add-ons! But good noetheless....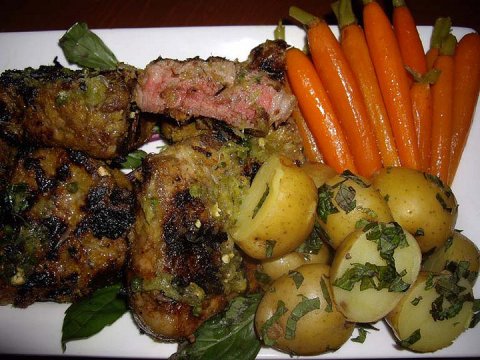 Lovely med lamb chops.
Lime/chopped fresh green peppercorn/oil drizzled on the chops gave them a bit of tang. Nice lift....