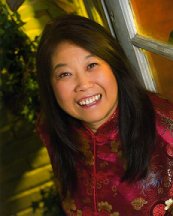 SUE-ON'S KITCHEN
April Pt. I : 2011
www.hillmanweb.com/soos/food/05.html
Also featured in my Facebook Album


...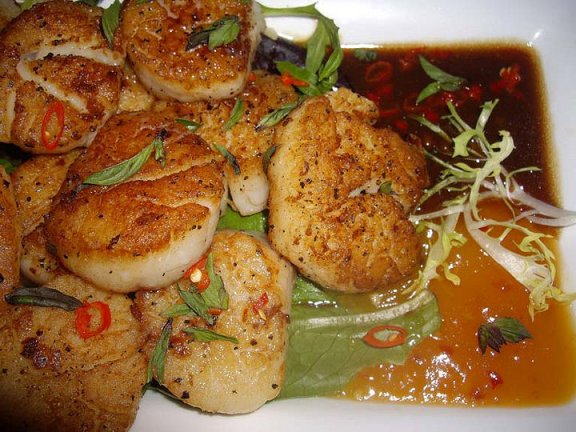 Scallops
Home-made hoisin-lime sauce, and bottled mango chutney sauce
Scallops were from Costco - large and thick. No water added.



.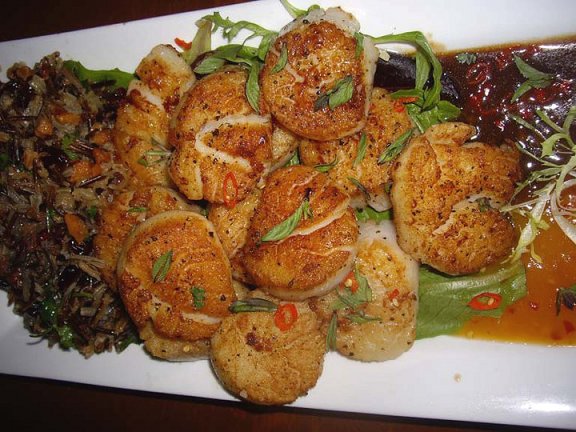 Pan-seared scallops on a bed of field greens, wild rice pilaf,
hoisin-lime sauce and bottled mango chutney sauce.



.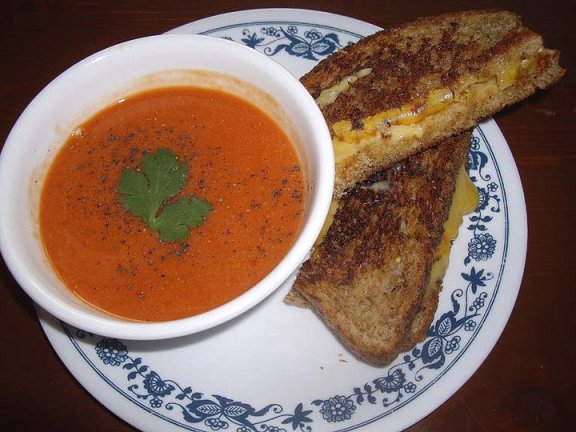 Feeling defeated by the 10 cm of unwanted snow, I decided, for lunch, to have
Grilled Smoked Gouda Cheese Sandwiches with sprouted grain (flourless) bread
and Campbell's Cream of Tomato Soup - calories and cholesterol be damned!



.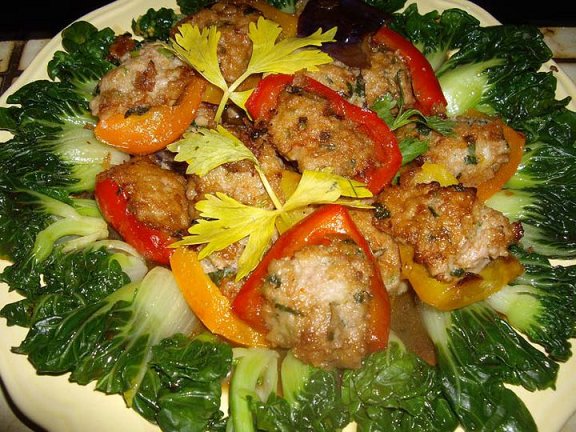 Yes! My Stuffed Peppers and Eggplant turned out delicious!
Ground pork, shrimp, Chinese celery, cilantro, sesame oil, green onions.
The meat surface was browned in the pan then steamed with oyster sauce



.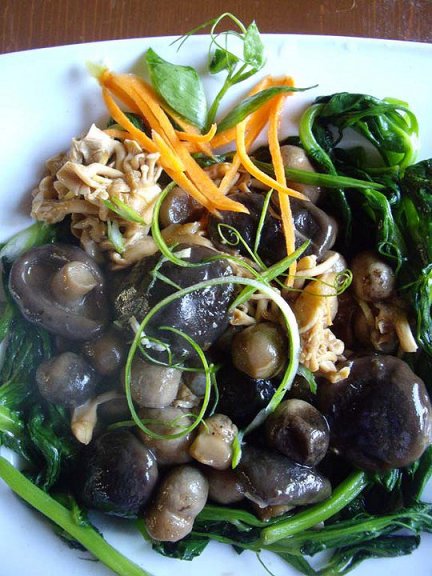 A medley of shitaki, oyster, and straw mushrooms in oyster sauce.


.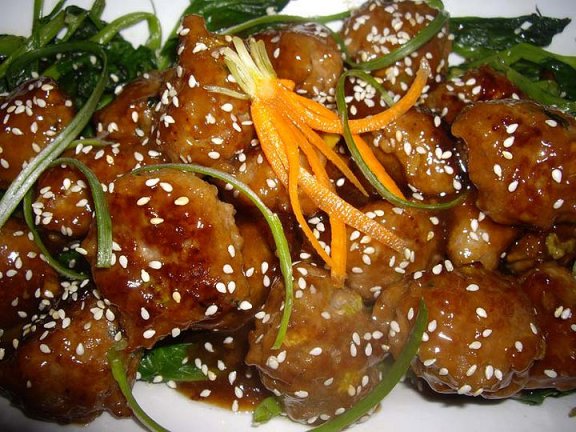 Vinegar splashed sesame pork balls - ground pork, chopped waterchestnut,
hoisin, sesame oil, soy sauce, lemon zest, sherry, cornstarch in the meat balls.
Sauce: vinegar, sugar, soy sauce, sesame oil thickened with cornstarch slurry.
VERY GOOD! Served on a bed of sauteed pea shoots with garlic and ginger.



.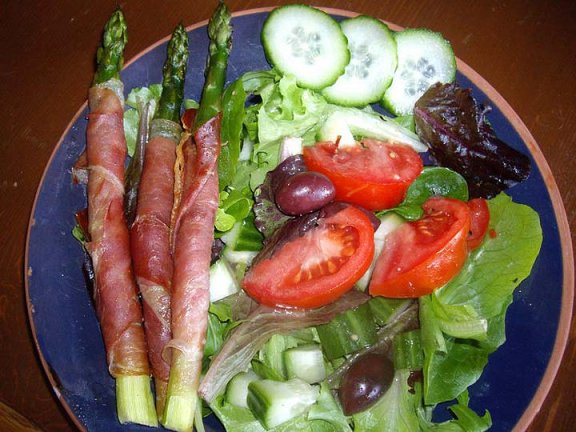 So, ever since that "DDDD" - Darn Diva Debra Donaghey
posted about proscuitto wrapped asparagus, I've been wanting some!
Picked up a package of Fratelli Bereta at Costco ($12.00!), and some huge asparagus spears,
I made them tonight. Bill said they were great - almost like jerky! LOL!
Had them with the salad before spaghetti - Bill's request.



.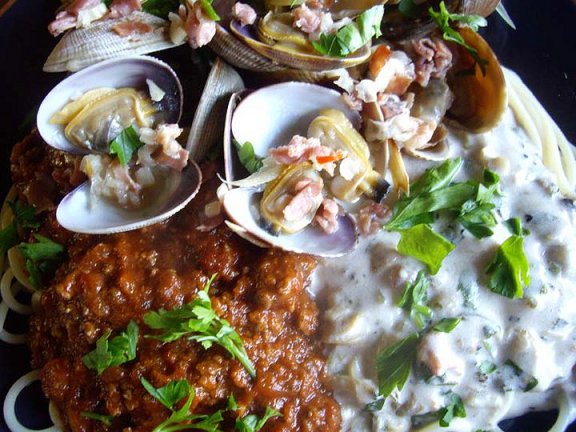 Spaghetti with "almost" 3 sauces
Reminiscent of three sauce spaghetti at Old Spaghetti Factory: Burnt butter, clam, and meat sauce.
Tonight, we had clam/herb/white wine/cream sauce, meat/basil sauce,
and steamed clams with more of that proscuitto, garlic, and white wine.
Really! There's spaghetti under all of that!



.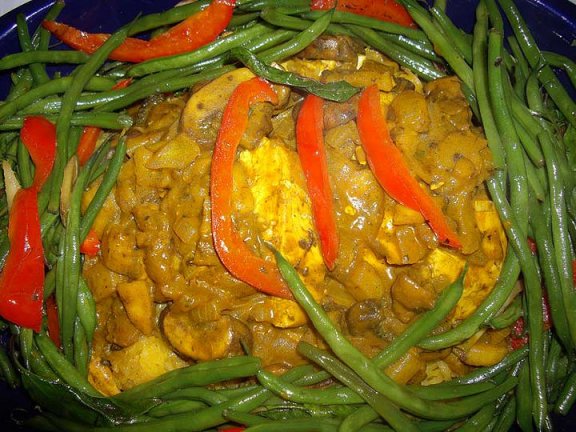 Curried chicken from Better Homes and Gardens:
chicken, chopped onion, garlic, apple, mini bella mushroom,
curry powder, cinnamon, and chicken stock.
I omitted the cream it called for and threw in a handful of fresh Thai basil.
Served over spaghetti squash instead of rice, and blanched / quick stir-fried green beans and red peppers.



.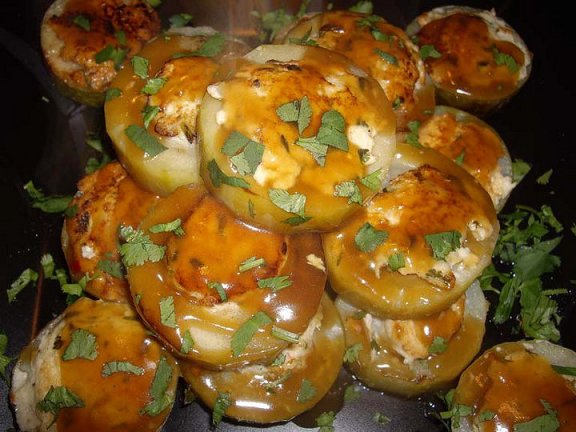 Steamed stuffed Chinese squash with oyster sauce:
lean ground chicken breast, waterchestnut, shrimp, ginger, sesame oil.
Beat until "stringy", stuffed into hollowed out squash.
Cut into slices, pan fried to brown surface, then steamed with chicken broth and oyster sauce.
Healthy!
Served with pan fried tofu and fish fragrant eggplant.



.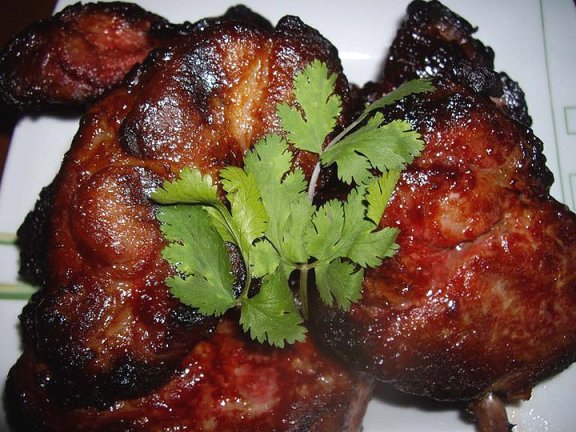 Fresh out of the oven - this afternoon's char siu - Chinese BBQ pork.
So hard to keep my hands off ;-)



.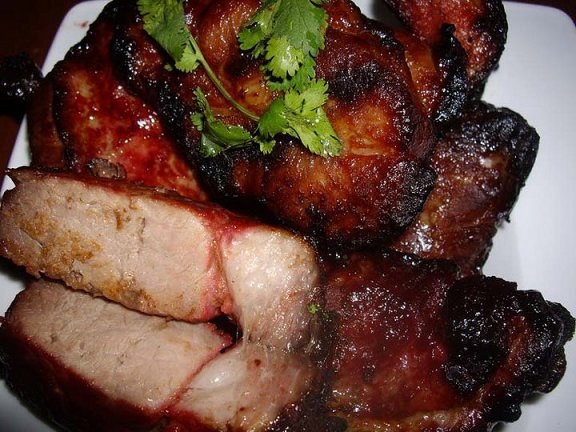 Time for char siu baos! Will use some bits for hot 'n' sour soup.



.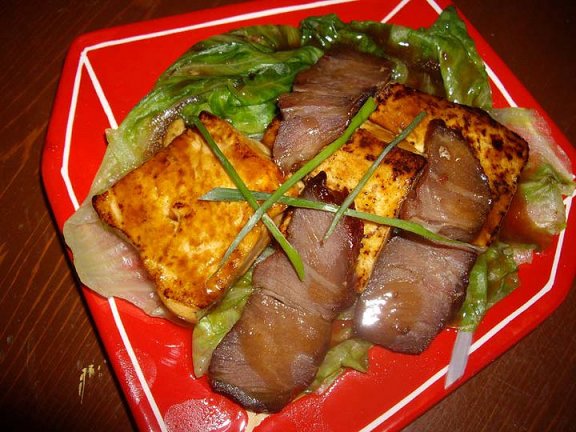 Pan fried tofu, char siu (Chinese BBQ pork), oyster sauce over wilted iceberg lettuce.



.
.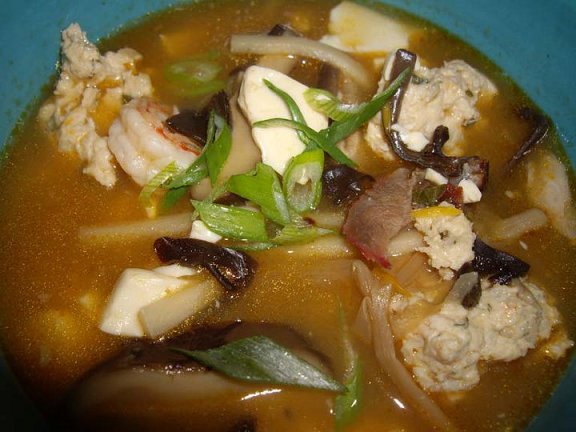 My infamous Hot 'n' Sour Soup:
BBQ pork shrimp, chicken (leftover ground chicken/shrimp), bamboo shoots,
shitaki mushrooms, wood ear, day lily, tofu, ginger.
Tasted great in my new bowls :-)))



..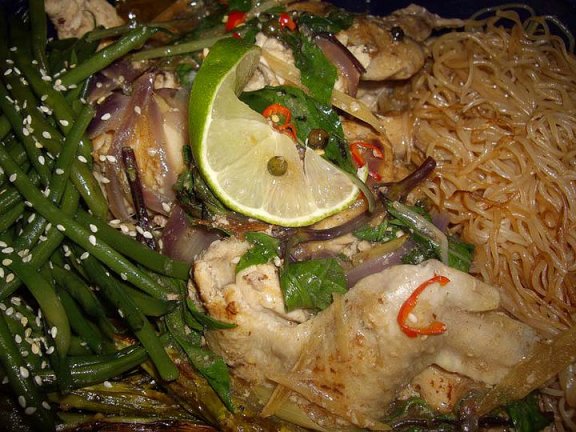 Lemongrass - coconut milk infused chicken with fresh Thai basil and fresh green peppercorns.
Chicken was marinated overnight, browned, then simmered in the marinade and chicken stock.
A squeeze of lime juice was great on the chicken which had a bit of sweetness from the light coconut milk.
Served with roasted asparagus, stir-fried green beans, and shiratki noodles.



..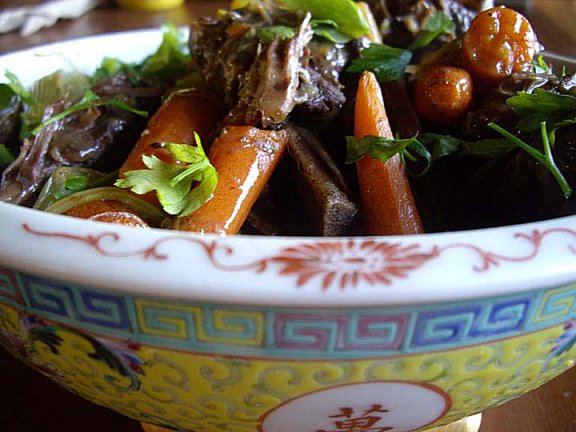 Beef short rib stew according to my Dad Soo Choy's recipe in one of my Mom's dishes.
This large family style soup bowl is part of the set my Mom and I brought over from Hong Kong - 1958.
The recipe remains a family favourite.
It was also a favourite of the American hunters that used to come to Newdale, my old hometown.
Clark Gable was said to have been a frequent hunter in the area.



..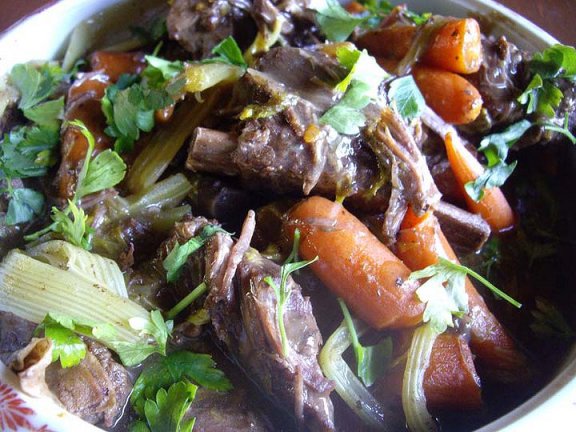 Beef Stew II
Beef short ribs, carrots, celery, onion beef stock, peppercorns, bay leaf, thyme, oregano.
I added red wine which Dad didn't.
The short ribs were browned then simmered for hours with the rest of the ingredients.
I strained the liquid, put everything in the fridge to "de-fat".
Tonight, I added fresh carrots and celery to the liquid then added the meat to heat up at the end.
Thickener was combination of flour and cornstarch.



..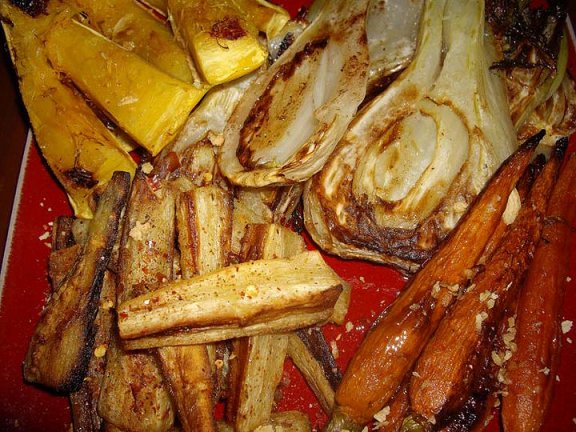 Oven roasted vegetables: fennel with five-spice powder, parsnips with cumin,
baby carrots with maple sugar flakes, and spaghetti squash.
All vegetables were coated with olive oil before the 425F oven.



..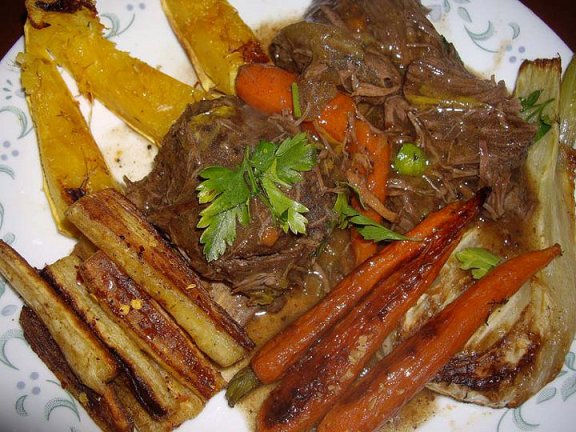 Plated! Mucho left for the freezer :-)



.
.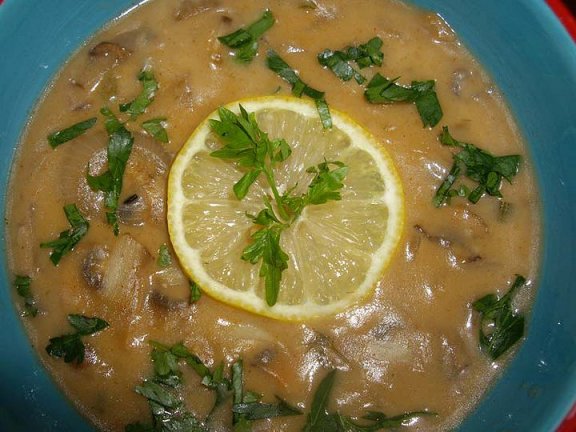 Moosewood cookbook for Hungarian Mushroom soup:
Mushrooms, onion, Tamari soy sauce, chicken stock, Hungarian HOT paprika, dill, parsley, and lemon juice.
Recipe also called for sour cream, but this is rich enough for us.
When I have good Dutch cumin Gouda cheese, I like to grate some on top.
A friend of mine upped it even more by adding cream cheese!


Copyright 2011
Sue-On Hillman
Bill and Sue-On Hillman Eclectic Studio