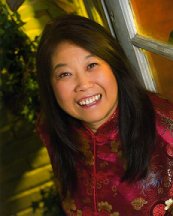 SUE-ON'S KITCHEN
April Pt. II : 2011
www.hillmanweb.com/soos/food/06.html
Also featured in my Facebook Album


...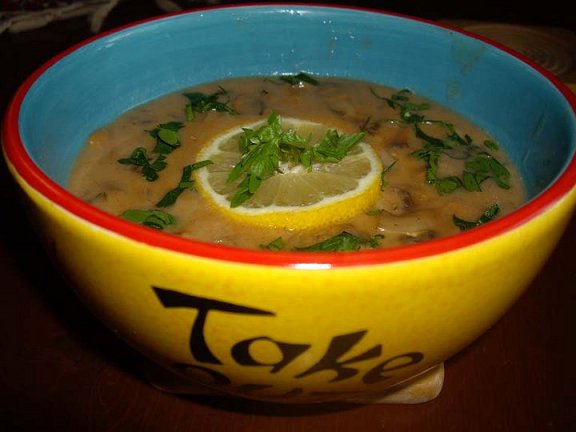 What happened to the +12 predicted last week?! It's -7C, windchill -14:-
( Good day for soup: Moosewood Hungarian Mushroom soup - a winner on a colder April day.
Not "take out" but so pretty with these bowls. Crusty bread...mmm.
Wonder where I can get bread bowls!?



.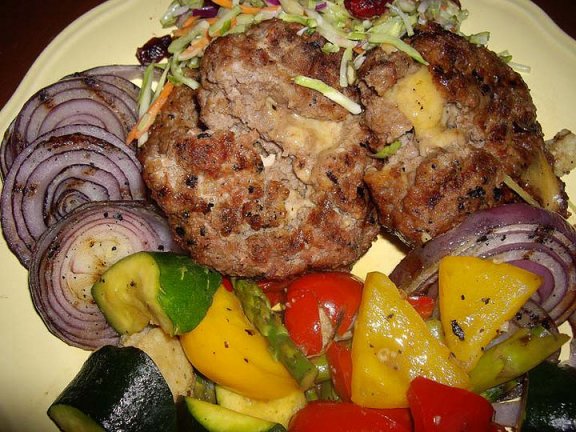 Of all days to leave the cozy confines of my indoor grill for the one in the backyard!
Could not change my own mind ;-)
Burgers stuffed with smoked Gouda cheese, brushed with Guinness BBQ sauce.
Red onions brushed with olive oil and grilled. Stir-fried mixed vegetables.



.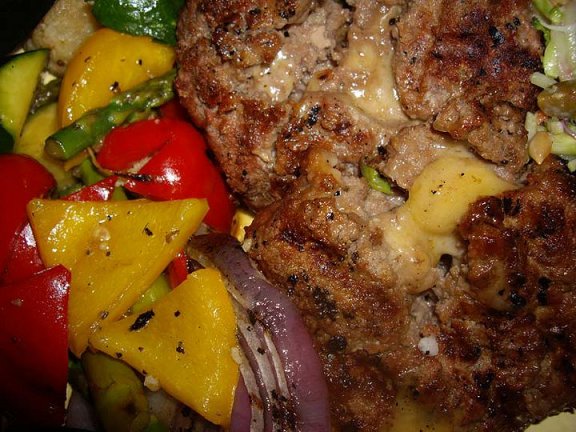 Burger porn! oozy cheese...tender, moist. It was worth the chill ;-)
.


.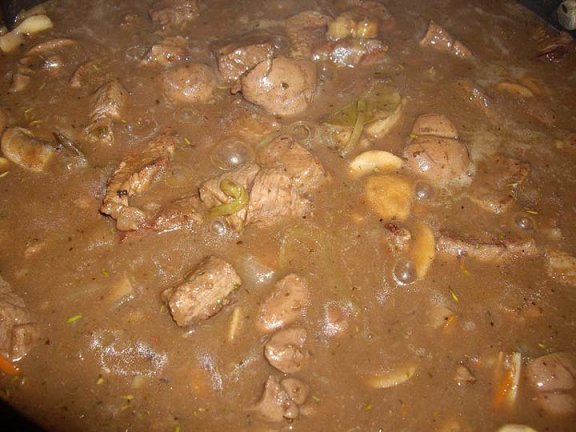 Steak and kidney pie filling:
steak, beef kidneys, onion, beef stock, thyme, bay leaf, peppercorns, worchestershire sauce,
and threw in the remains of a bag of carrot slaw.
Simmered for 2 hours..



.
.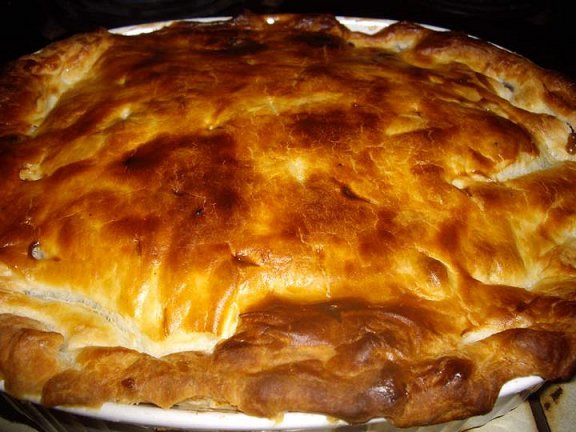 Steak and Kidney Pie
Snow AGAIN!? It's April 15th... short spring.
Warmed up my kitchen with good ole English pub fare -
Steak and Kidney Pie under a cozy cover of puff pastry.
.


.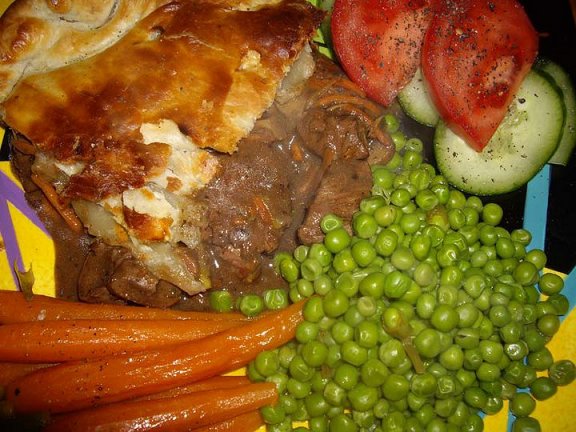 Steak and Kidney pie oozing with flavourful gravy, tender pieces of steak and beef kidneys,
baby carrots, peas, and some healthy stuff that Bill is not too fond of ;-)



.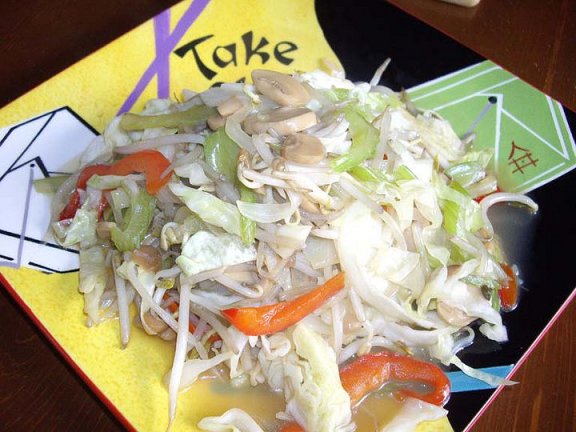 Soo's #5: Mushroom Chop Suey. So simple but so good!



.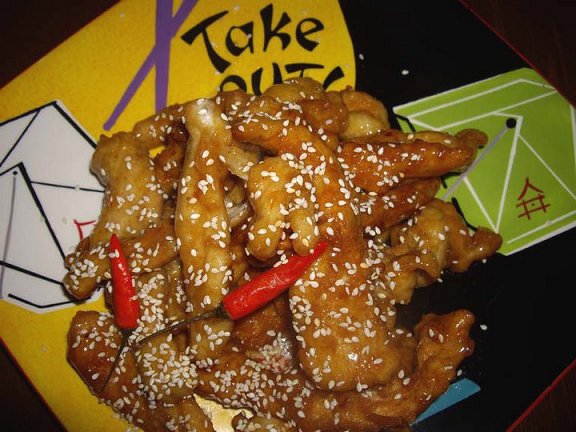 Soo's #111: Sechuan Sesame Chicken: strips of chicken breast
marinated in egg, salt, sesame oil, cornstarch/flour, breaded with cracker meal, deep fried.
Sauce: ancient Chinese secret?
LOL! Naw...: water, sugar, vinegar, five-spice powder, crushed chilis.
Tangy, spicy, fragrant with sesame oil.



.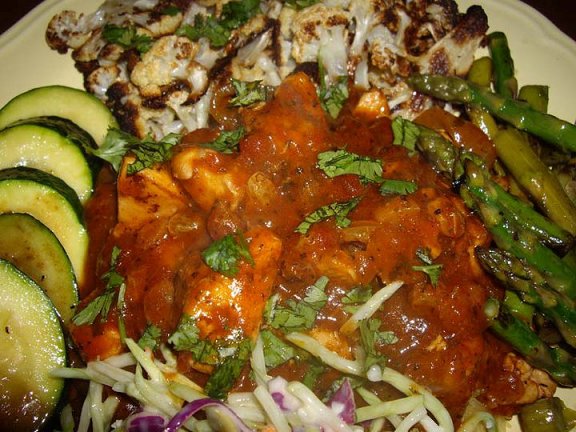 With the chicken, I made "cauliflower chips", which are thin slices of cauliflower,
sprinkled with olive oil and salt, then baked in a 425 oven, turning once.
These are great!



.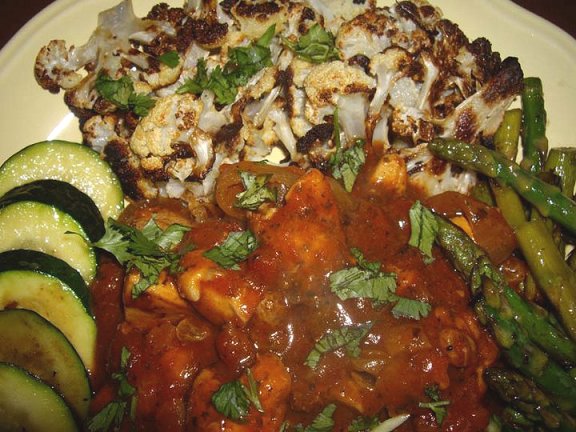 Brandon's Superstore has finally renovated and is now more like the ones in Winnipeg.
They have brought in some new products.
Tonight, I made chicken with the Marrakech Tagine Apricot Coriander sauce.
It was OK for a 30 minute meal. Don't think it'll be a repeat.



.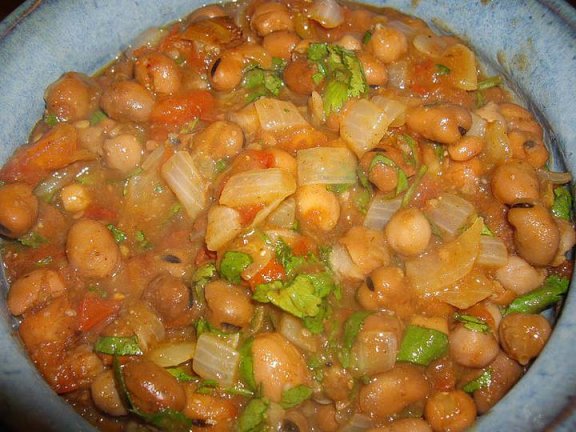 Chickpeas, fava beans dressed up with chopped tomato,
onion, cumin, red chili powder, cardamon, lemon juice, cilantro.
Great as a side dish or snacking stuff.



.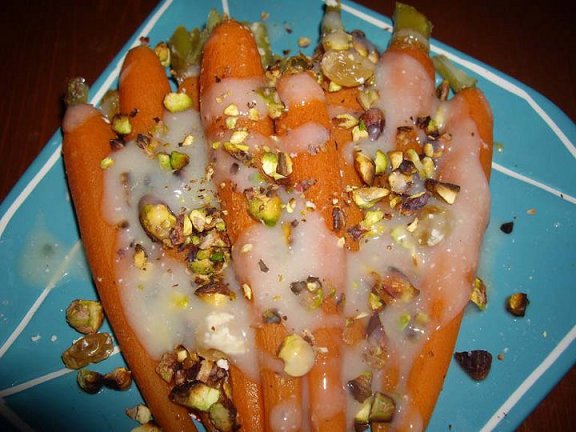 Baby carrots simmered in milk, cardamon, brown sugar, raisins,
and chopped pistachios (instead of almonds).
Sweet and nutty.
Not sure what the milk added....



.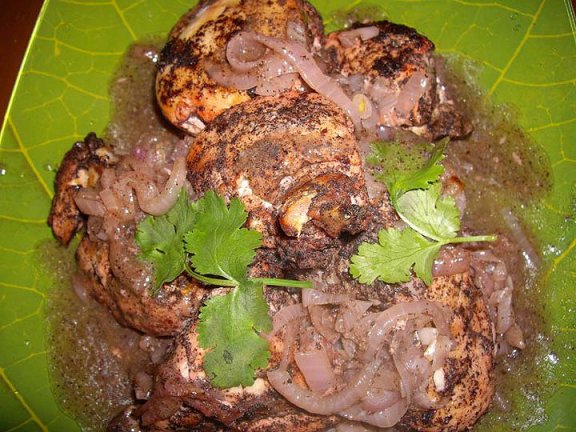 Musakhan: A Saudi Arabian dish I made for a student about 2 years ago.
He said it was delicious ;-)
Chicken marinated in lemon juice, nutmeg, cinnamon, sumac, black pepper for one day.
Cooked with red onions and chicken broth, then baked on top of "lavosh" or flat bread in the oven.
We omitted the bread as we had chickpeas.
Lovely blend of flavours in the mouth as well as in the kitchen :-)



.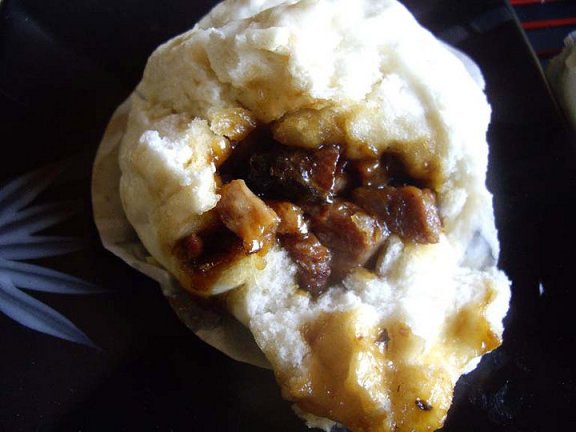 Char Siu Baos: Steamed Chinese BBQ pork buns



.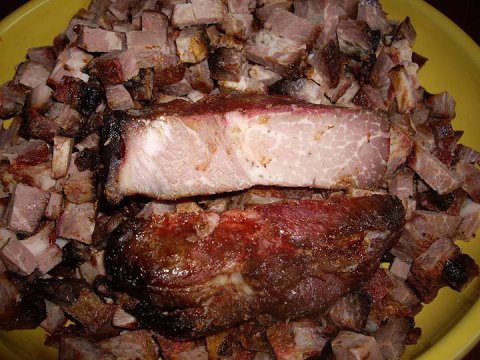 BBQ Pork: diced and ready for stir-frying into filling for baos.



.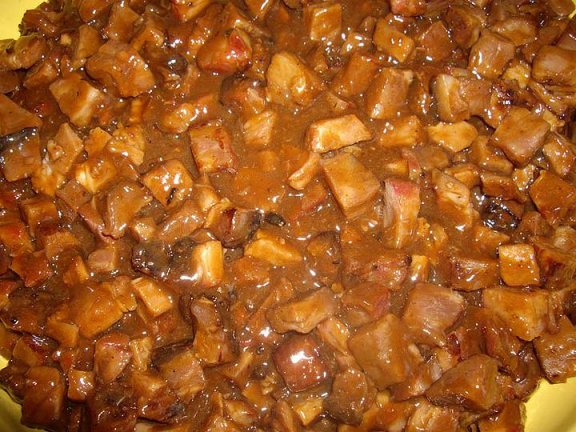 Stir-fried with sauce: Hoisin, oyster, chicken stock, cornstarch slurry.
Hard to stop tasting by the spoonful ;-) Cooling...



.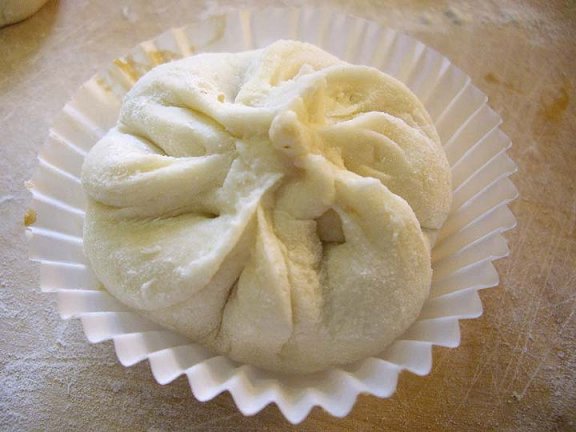 Filled and pleated...waiting for the steamer...



.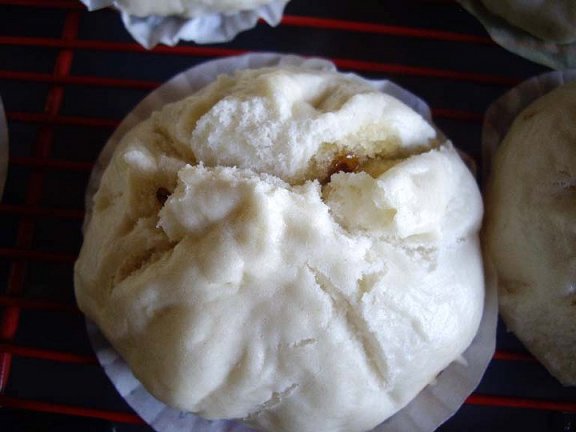 Fresh out of the steamer after 20 minutes...



.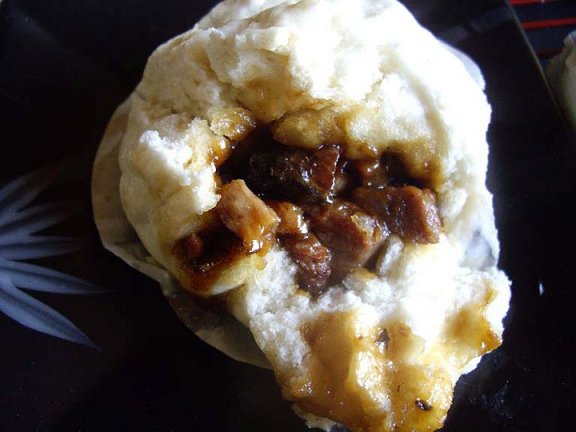 Oozy with saucy char siu! Dough is fluffy and chewy



.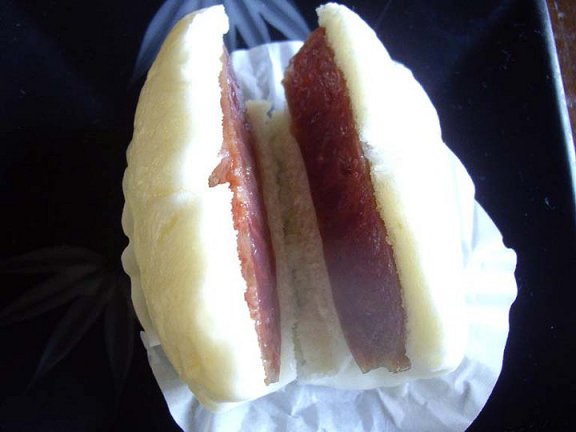 I made extra dough to make one of Ryan's favourites: baos with Chinese sausage.
I think he likes these 'cos they're handy to take in his pack when he goes hunting ;-)


See my Recipe Page for all 16 steps for making these Baos
www.hillmanweb.com/soos/food/baos.html
.


.



Copyright 2011
Sue-On Hillman
Bill and Sue-On Hillman Eclectic Studio