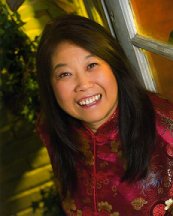 SUE-ON'S KITCHEN
May Pt. II : 2011
www.hillmanweb.com/soos/food/09.html
Also featured in my Facebook Album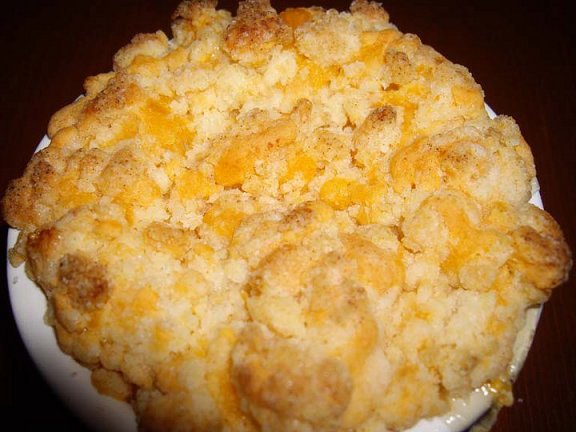 Canadian Cheddar Cheese Apple Crisp: not your traditional oatmeal and brown sugar topping.
This has a dough of flour, baking powder, sugar, butter, milk, and cheddar cheese.
These were extras done up in ramekins.
Great hot from the oven with a dollop of vanilla ice-cream!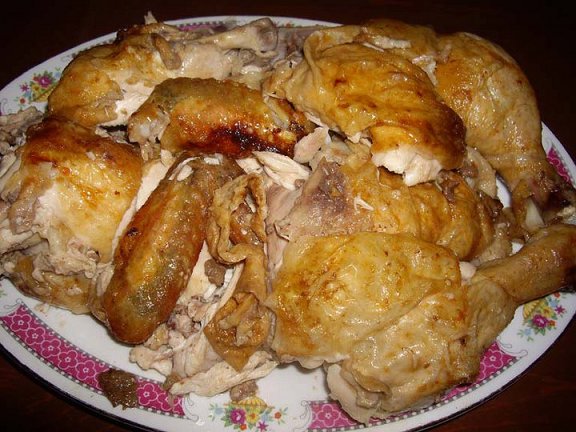 Chinese Salty Chicken - fresh roaster rubbed inside and out with salt, 5-spice powder, ground ginger.
Roasted uncovered in 350F oven for 1.5 hours.
Made the kitchen smell wonderful.
The breasts stayed moist and it was SO hard to resist that skin!



.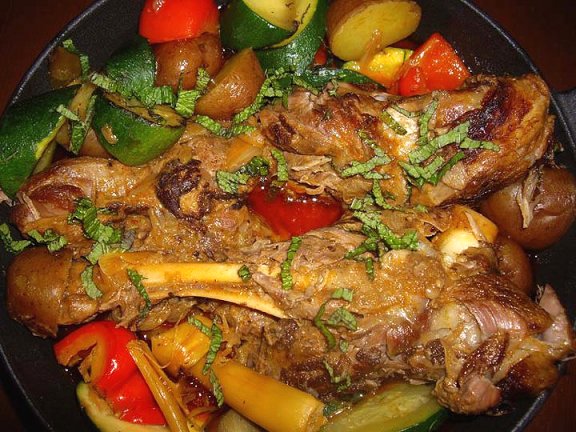 Lamb shanks braised in red Thai curry paste, lemongrass, kaffir lime leaves, and coconut milk.
Threw in baby taters in the last 30 minutes.



.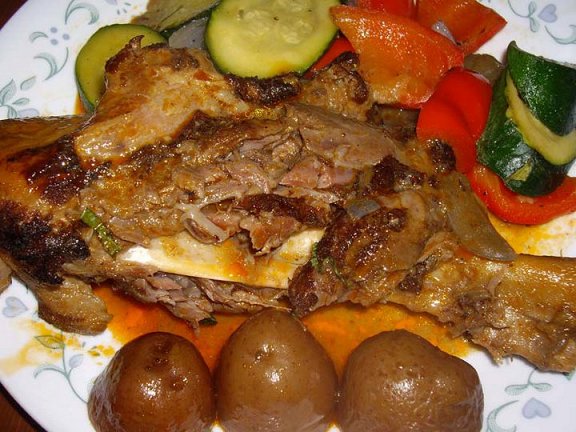 Braised lamb shanks in Thai curry and coconut milk.
Served with stir-fried zucchini, red peppers , red onion, and eggplant.



.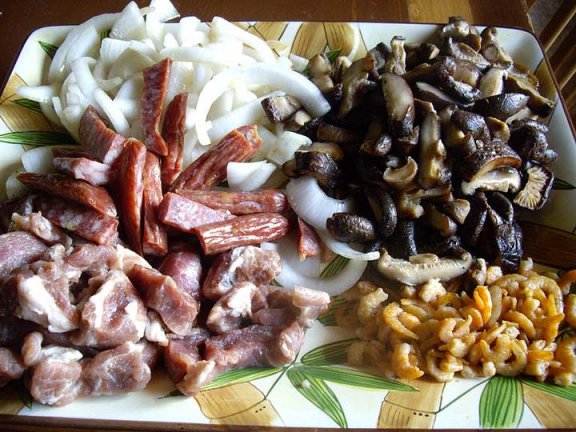 Gearing up for my Joongzi session! Got the main ingredients ready:
lapcheong (Chinese sausage), salt pork, Spanish onion, re-hydrated dried shrimp,
re-hydrated dong goo (Chinese -shitaki mushrooms), and salted egg yolks.
Bamboo leaves are rinsed with vinegar and draining.
Now, if Superstore would open on this Victoria Day,
so I can pick up the most important ingredient:
Glutinous RICE!
.
.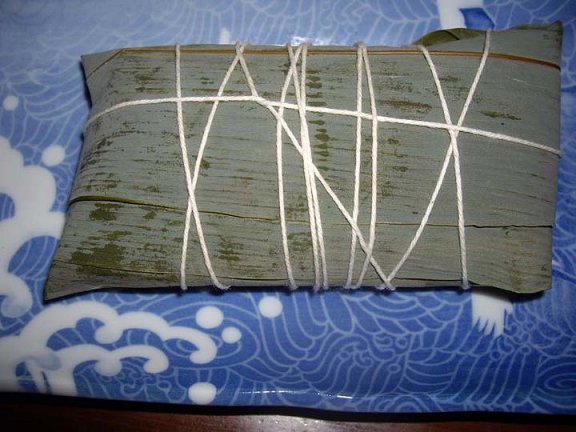 Freshly wrapped Joong.



.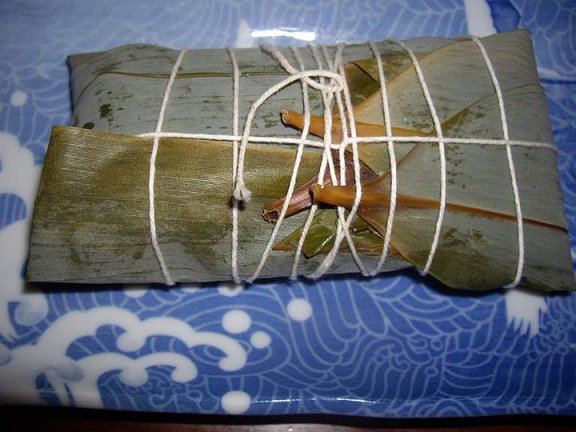 Back view of freshly wrapped Joong



.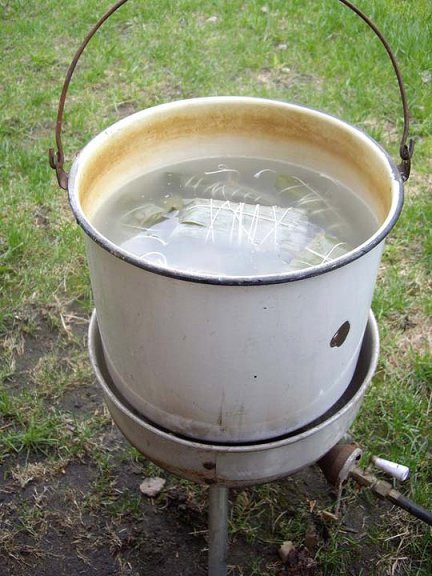 My Mom's hand-me-down +30 year old joong boiling pot!
Permanently stained and chipped enamel from the thousands of joong.
I've got 30 packets in there, ready for the heat from the turkey deep fryer.



.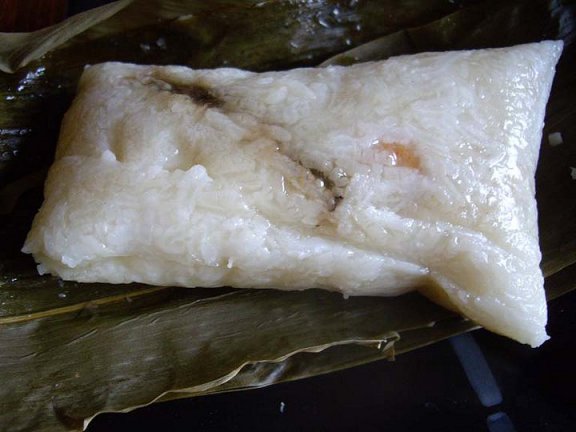 A mixture of Jasmin and glutinous rice made a lovely silky texture and blend of aromas
with the bamboo leaves and all the filling.
Fresh out of the pot!



.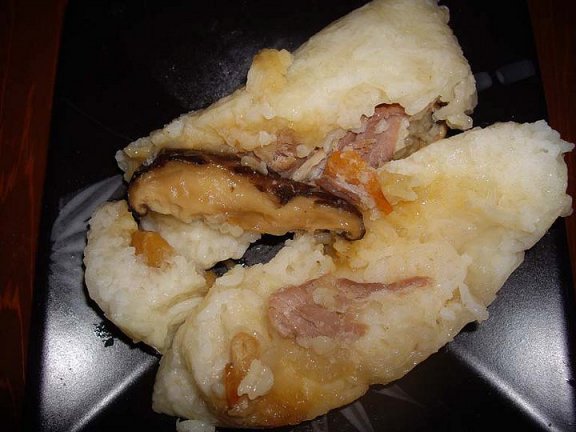 YUM! Cousins May and Albert of the Bamboo Garden Restaurant in Neepawa came
just in time to sample my handiwork.
They deemed the joong perfect :-)



.

---

For the photo diary of previous sessions of Joong making and "recipe" check out:
http://www.hillmanweb.com/soos/joong2.html
Copyright 2011
Sue-On Hillman
Bill and Sue-On Hillman Eclectic Studio