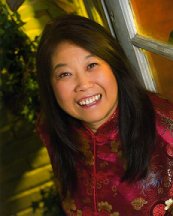 SUE-ON'S KITCHEN
September Food I : 2011
www.hillmanweb.com/soos/food18.html
Also featured in my Facebook Album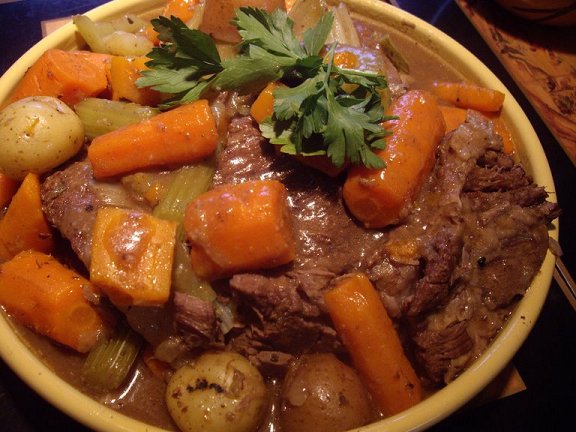 First meal to be photographed after being on a +8000km road trip
with several stops in several western states, California, Washington, and B.C.
Meals along the way were fantastic, but I sense fall in the air,
and the family requested comfort food: my Dad Soo's short rib beef stew.
.



.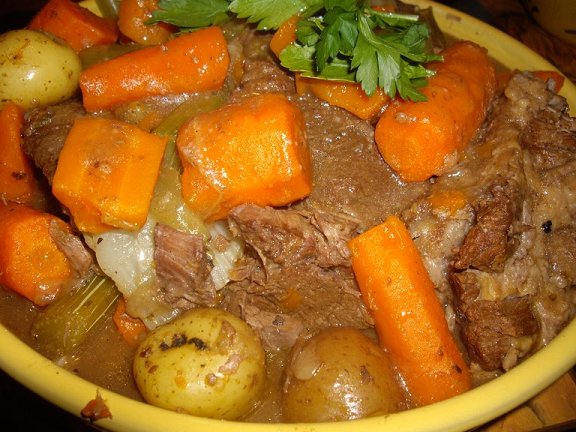 The short ribs were huge, bone-in, well marbled.
My favourite veg is the celery, but carrots and potatoes add a nice sweetness and starch.
Gravy over mashed up taters and Jasmin rice. Yum!
.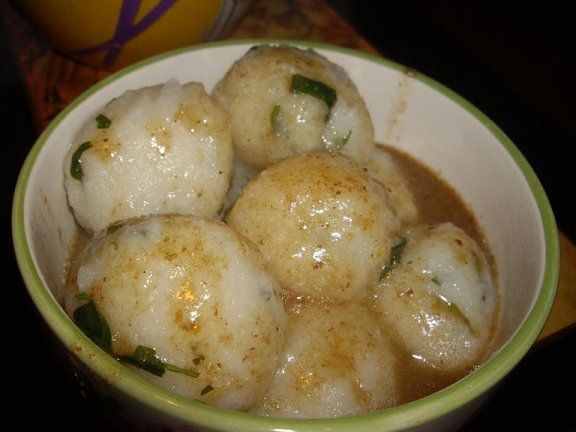 German potato dumplings with Italian parsley...a must according to the kids...


.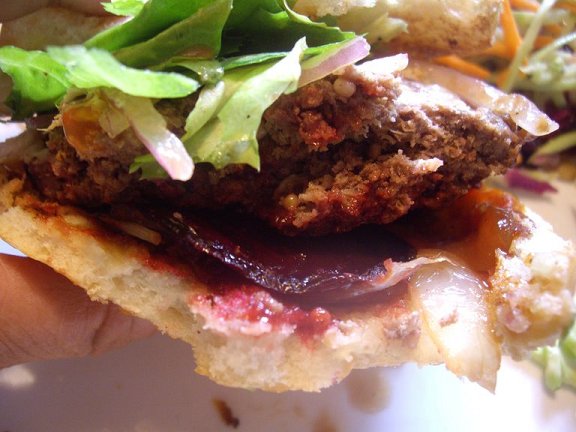 Ryan's burgers: ground beef, pork and venison.
Add-ons: tomato, leaf lettuce, red onion, cooked onion in chipotle,
and pan fried beet slices, all on a toasted kaiser bun.
Delicious!
.



.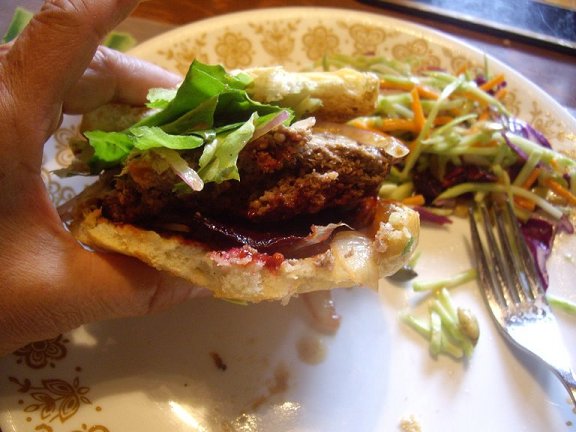 Ryan's burger and my brocoslaw with mango-chipotle dressing, pumpkin seeds and dried cranberries.
.



.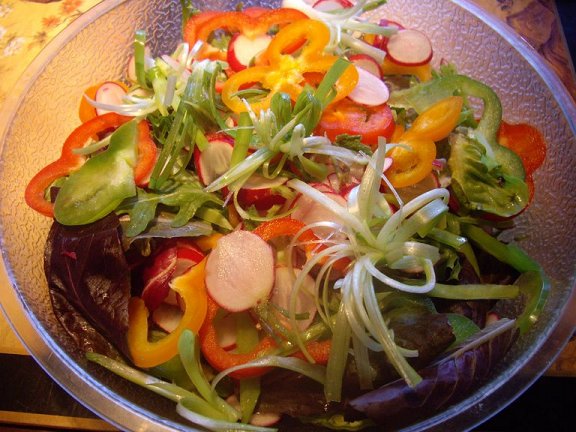 Salad of field greens, colourful sweet peppers, radishes, sugar peas,
and green onion with raspberry vinegrette or mango chipotle dressing
.



.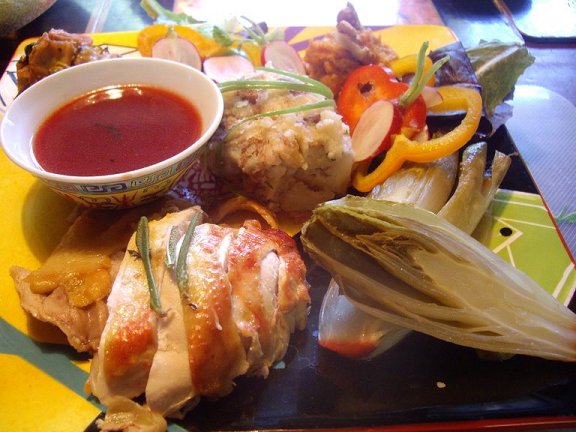 Ryan's roast chicken - brined in buttermilk and fresh herbs, roasted with onion, potato, endive, beets.
Served with the lovely roaster juice, stuffing, mashed taters and sweet potatoes.
He cooked both meals today - a nice treat!
.



.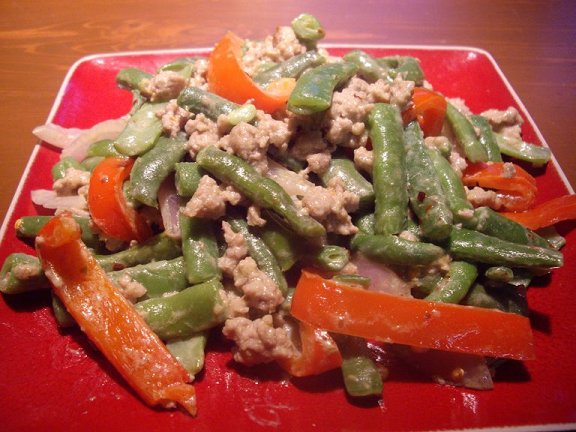 Sister-in-law and brother brought over a bag of green beans from their garden.
I love them any way, but Bill only likes them with fuyu - fermented tofu aka Chinese cheese.
Think vegemite! To add a little more protein, I added ground pork.
Great salty spicy taste eaten with steamed Jasmin rice.
.



.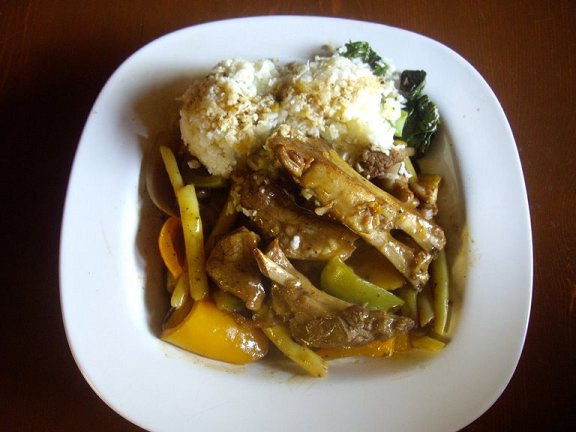 Throw together Madras curry lamb chops and vegetables,
served with "mock steamed rice" - grated cauliflower and steamed gai lan.
.



.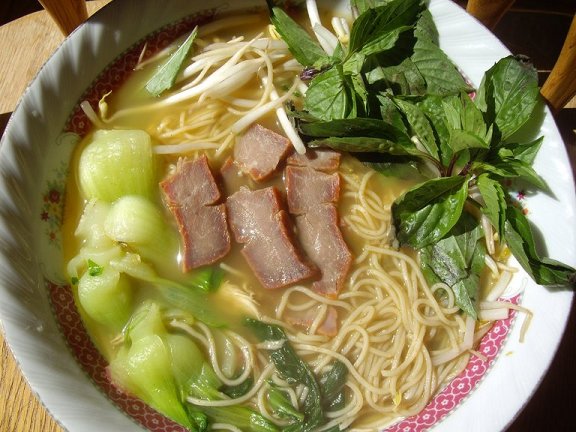 Not pho, but just as satisfying: shrimp roe noodles, Shanghai bok choy, char siu, fresh beansprouts,
Thai basil, and a drizzle of sesame oil. Lovely lunch:-)
.



.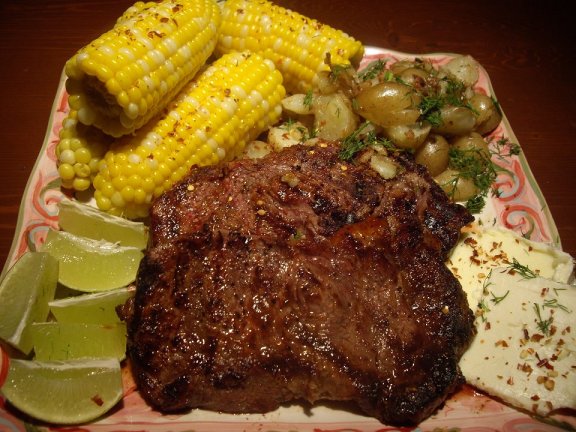 Were feeling a bit under the weather, so it was grilled ribeye steaks
(cut from a whole Sterling Silver Ribeye from Sobey's),
corn, and pan fried baby potatoes.
Ate the corn with butter, a squeeze of lime, and red pepper flakes.
Wish we had some Chiliwack corn like we did at our niece Ilym's place in Burnaby.
She only boiled the corn for 1 minute and they were incredible!
.



.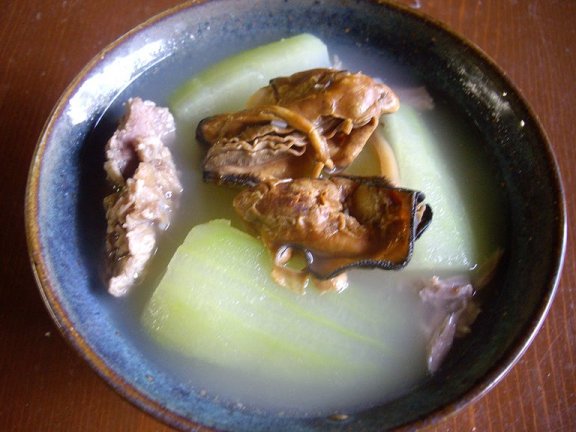 Re-hydrated oysters, pork, and fuzzy melon soup.
.



.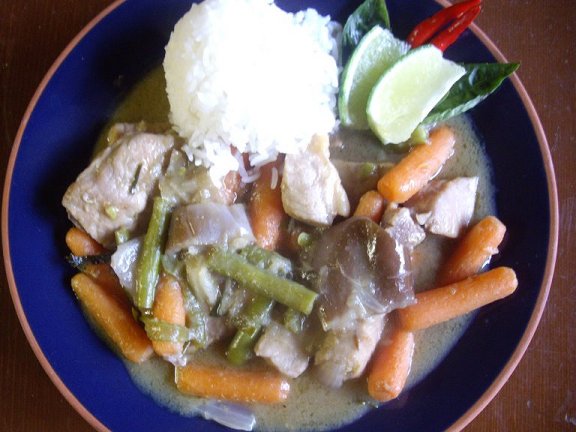 Thai green curry with pork.
All the different flavours were there PLUS the heat.
Whew! Hot lips;-) I added fresh beansprouts and Thai basil to mine.
The squeeze of lime juice added a nice tang to the salty, sweet, and heat.