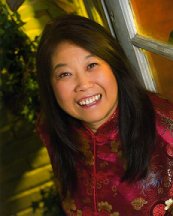 SUE-ON'S KITCHEN
September Food II : 2011
www.hillmanweb.com/soos/food19.html
Also featured in my Facebook Album


.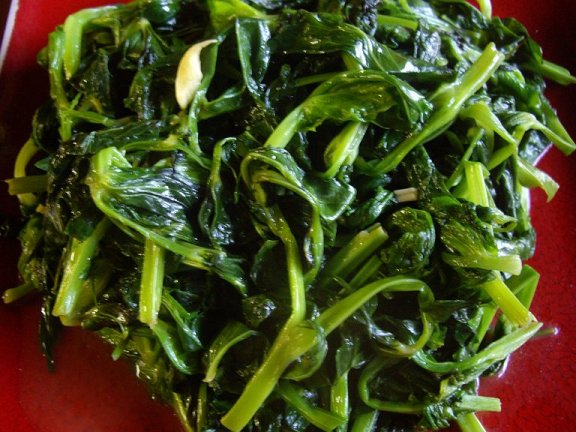 Lovely pea tips sauteed with garlic and a touch of sesame oil - one of my favourite greens!
.


.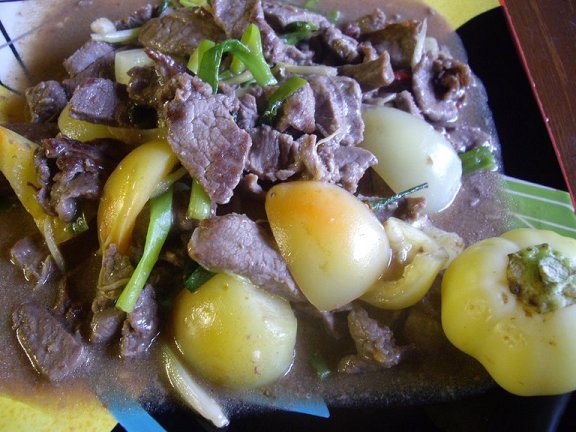 The yellow "tomato" in the picture is something new that I found at an Asian supermarket:
Hot Apple Pepper.
I was disappointed as there was not much heat nor taste when I tried a piece raw.
So, it was stir-fried with lots of young ginger, green onion, and one little Thai red pepper.
There was still not much heat after cooking the peppers,
so I added a dab of oyster sauce to round out the flavours a bit.
The beef and sauce were good over rice, so we didn't suffer ;-).
.


.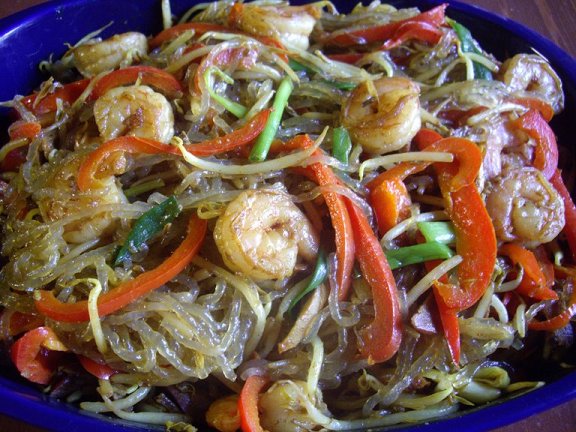 Can this be called "fusion" or just "confusion"?
Korean yam noodles stir-fried with Chinese curry powder (like Singapore noodles)
with sweet bell peppers, ginger, garlic, beansprouts, green onions, and shrimp.
It had just the right amount of heat - to get me fired up for first day of teaching tomorrow ;-)
Look out new students!.
.


.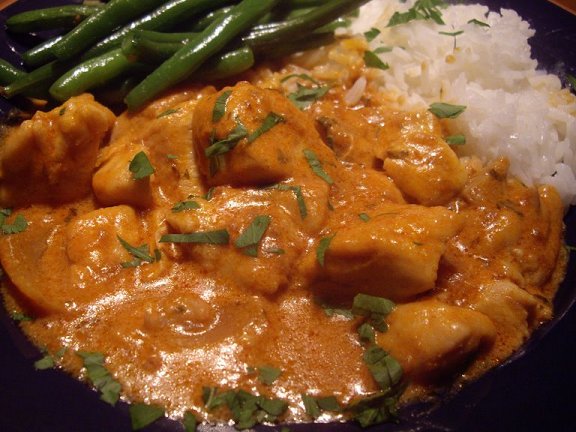 Oh Yeah...Butter Chicken, rice, and my favourite vegetable!.
.


.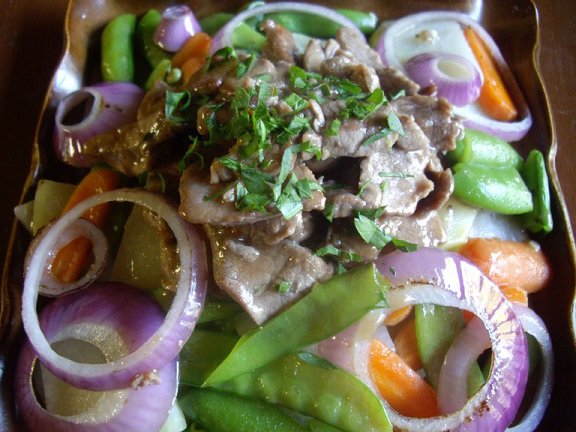 Anticipating first day of fall, supper last night was
beef tenderloin stir-fried with kohlrabi, carrots, and a bit of leftover- summer:
sugar snap and snow peas.
A touch of oyster sauce added the saltiness that I love..
.


.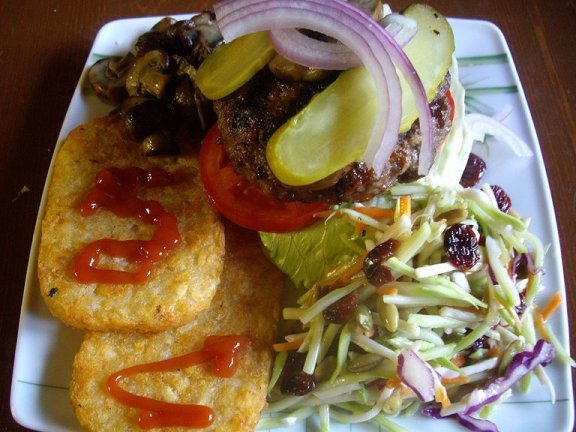 Grilled ground chuck burger with the fixings:
lettuce, tomato, sauteed mushrooms, Staub's dill, red onion, and Chicago Hot Mustard.
Sides: more mushrooms, brocoslaw, and tater patties with spicy ketsup.
Enjoyed the burgers while listening to John Einarson play our cover of Ian and Sylvia's song
"You Were On My Mind" on his show "This Time Long Ago" - CJNU Winnipeg! :-))).
.


.


"Fajita" - flat iron steak, red and yellow peppers, red onions, cilantro, and home-made seasoning.
Eaten with spinach wraps, Spanish rice, guacamole, and other toppings.
Early supper so Ryan and Bill could deliver furniture to the farm, and for Ryan to go goose hunting..
.


.
.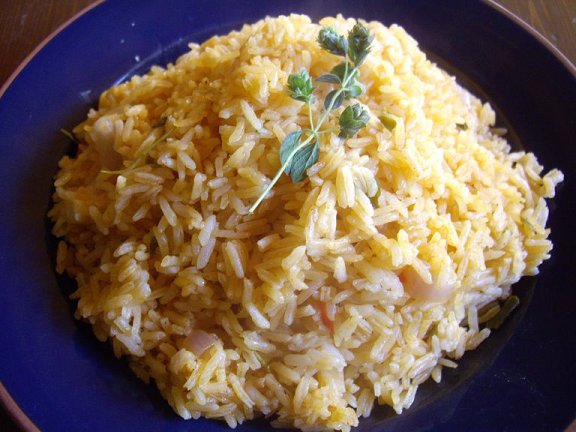 First attempt at Spanish rice. China said, "More tomato sauce".
Called for green peppers but all I had were red, yellow, and orange.
Rice was sauteed in butter with onion, red peppers, a touch of cumin,
fresh oregano, tomato paste, and finished in chicken stock. Still dang tasty!.
.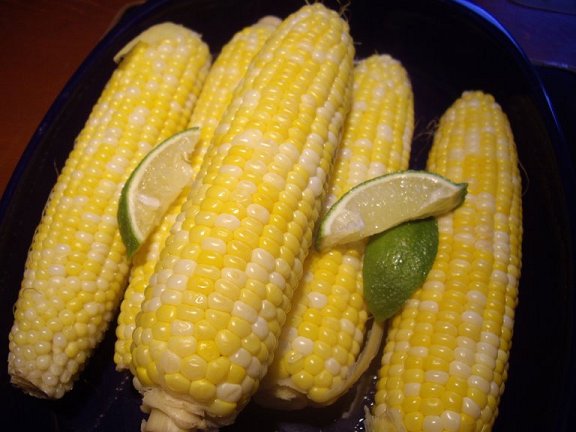 Must have sensed that China and Ryan were coming out this weekend -
did a lot of grocery shopping Thursday!
Took a chance on this Sobey's corn, which turned out very nice.
Eaten with lime juice and chili pepper flakes - niece Ilym's tip!.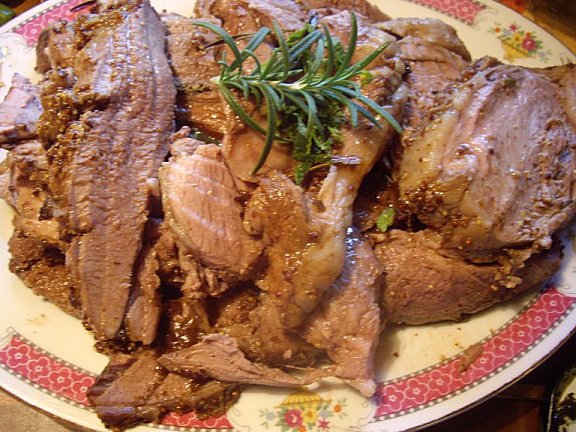 Roast leg of lamb - China's choice ONLY if I made mint sauce - I did and we ate it all.
Rubbed with whole grain Dijon mustard, salt, pepper with whole stalks of rosemary inserted into the meat.
Flavourful and tender! No gravy but the pan juice was perfect along with the mint sauce.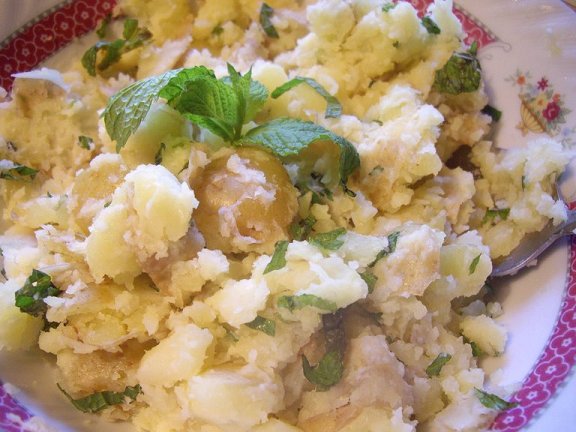 Smashed baby taters with butter and chopped mint.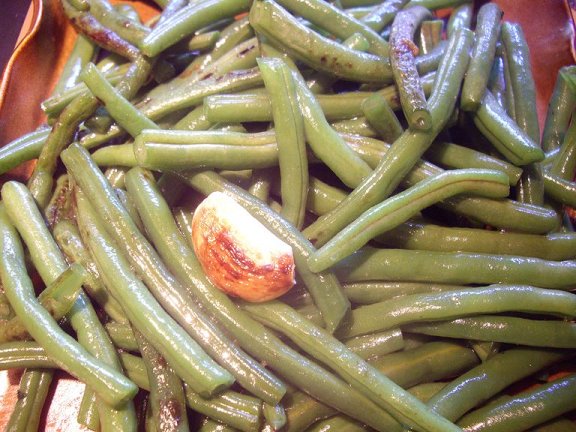 Another of China-Li's and my favourites: green beans!
Simply blanched and stir-fried with garlic.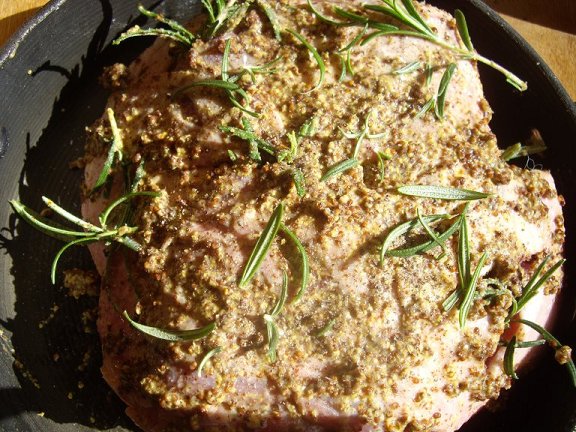 Shoulder of lamb - rubbed with whole grain Dijon mustard,
fresh rosemary stalks inserted into the roast and sprinkled on top, salt, pepper.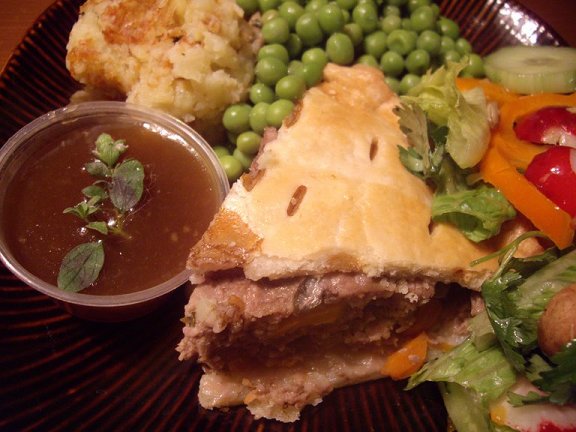 Scotch Pie - recipe from from fall issue of Flavours published by Liquor Commission of Manitoba:
ground beef, lamb, peas, Worcestershire sauce, nutmeg, and I added diced onion, carrots.
The pastry was to have been made with lard melted in hot water,
but I didn't have time, so just made my usual pastry.
There was oregano in the pastry and I added some fresh to the filling before baking.
It was still lamb flavoured even tho' I used twice as much beef.
Made a quick gravy just in case the meat turned out drier than we'd like.
It was moist. Eaten with peas, refried smashed potatoes, salad, and Indian pickled mango.


Copyright 2011
Sue-On Hillman
Bill and Sue-On Hillman Eclectic Studio