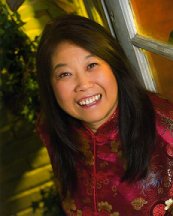 SUE-ON'S KITCHEN
January I: 2012
www.hillmanweb.com/soos/food26.html
Also featured in my Facebook Album


.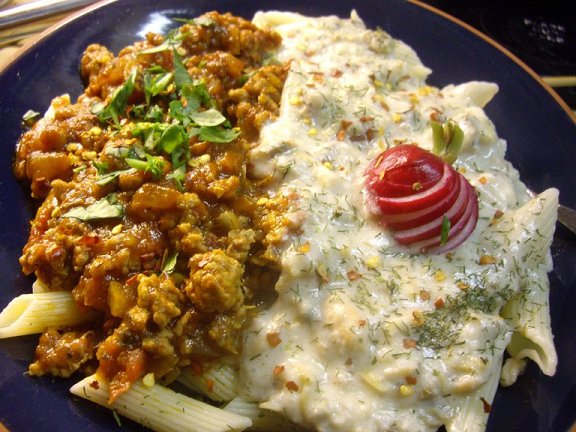 Penne pasta with chicken tomato sauce and clam/crab sauce.
Dusted with dried dill, basil, and crushed chili peppers
.


.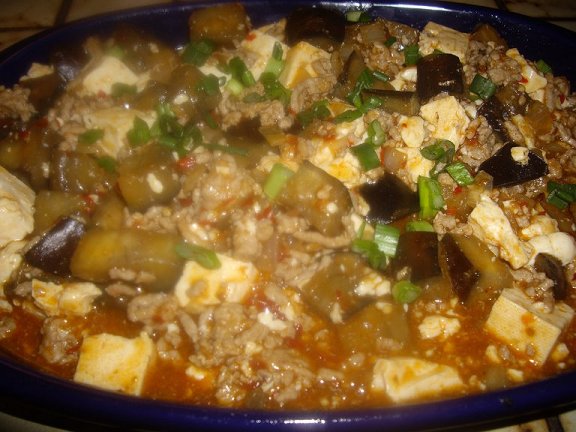 A perennial favourite: ground pork, diced onion, tofu, eggplant, in toban chili sauce - jazzed up mapo tofu!
.


.


So silky yet chewy - perfect foil for Jasmine rice ;-)
.


.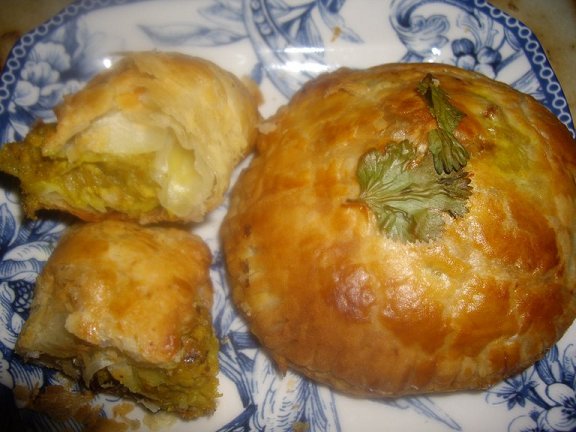 "Afternoon Delight" ;-) Curry chicken with potato and onion in puff pastry.
Flaky bundles that burst into heat and aromas: Love at first bite!
.


.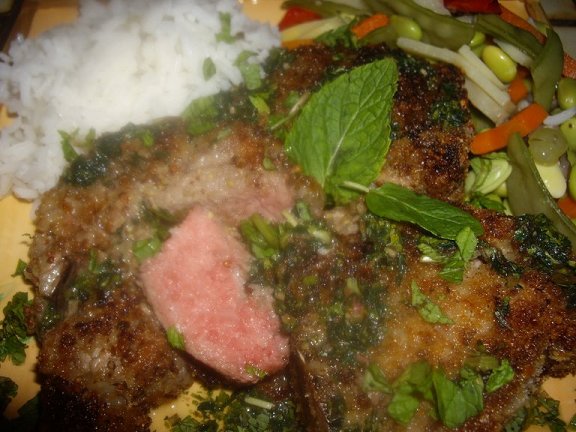 The MOST AMAZING lambs chops ever!
.


.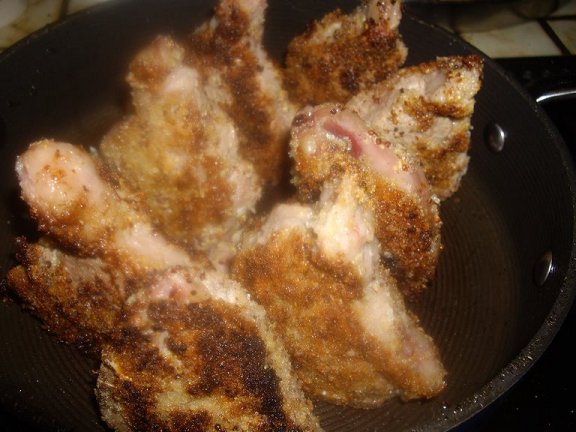 Lamb chops were coated with whole grain Dijon mustard then with panko crumbs.
The chops were browned quickly in olive oil then finished in 350 F oven for 25 minutes until medium rare.
.


.


Lamb chops were incredibly juicy and tender.
Made a sauce with fresh mint, olive oil, and sushi seasoning (vinegar) in my little Cuisinart food processor.
Lamb chops were from Safeway - an unexpected purchase when they were 30% off.
Always a great find when they move them from the showcase at full price to "packaged" for the open fridge section :-)))
.


.


Been eyeing those damn A&W bacon'n'egger coupons and wanted one!
Then thought, don't need "no stinkin' coupons" when I can make my own...
Went downhill - literally - from that thought - to Safeway:
Extra crispy English muffins, Harvest back bacon rounds, home, and THIS was the result!
2 slices of back bacon, 2 soft yolk fried eggs (I like the ooze),
a squeeze of spicy ketsup, nestled between toasted muffins.
What more could I ask for?
Well...Bill did make a fresh pot of Tim's! Perfect Sunday brunch for two:-)
.


.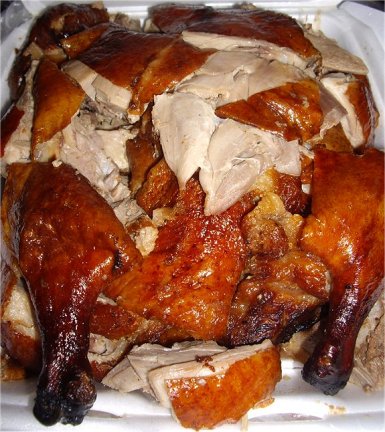 Chinese BBQ duck - amazing flavour. Best eaten while fresh and hot from the BBQ shop!
.


.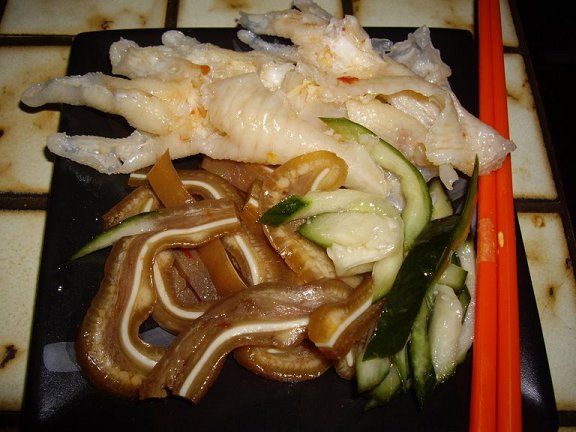 Ok...Graphic warning for some of you: pickled pig's ear and pickles boneless" phoenix claws"
- does the name make it better?
Saw these at the Chinese grocery store in Wpg, The Lucky Supermarket, and just couldn't resist.
Thought maybe for the "fear factor", but wow!
hey are damn tasty, if I DO say so MYSELF...lol!
.


.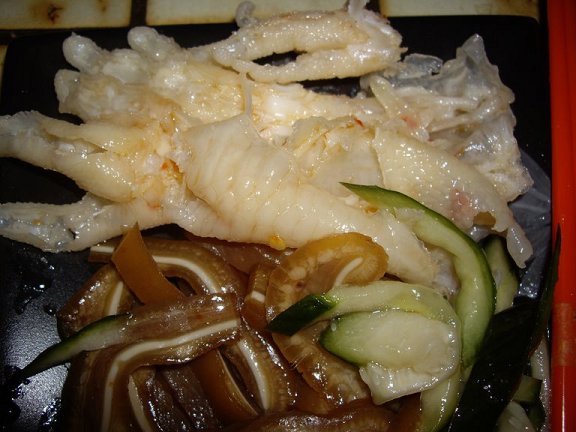 So, I said these make perfect bar food, and Bill says,
"Only if you're too drunk to know what they are!"
Just thought you'd like a real close up.
The pickled cucumber is quite good as well;-)
.


.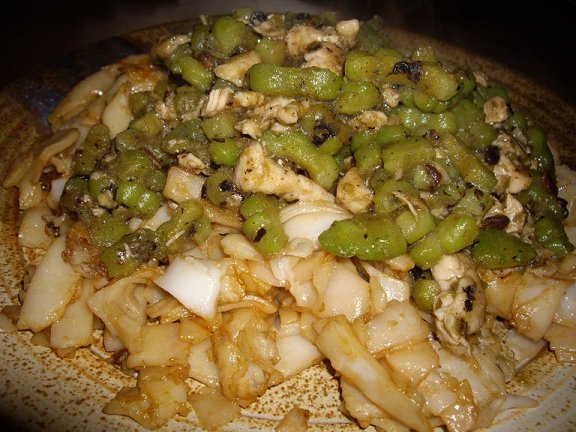 Stir-fried black bean garlic bitter melon, turkey fillet over a bed of rice noodles (ho fun).
Bitter melon is considered a "cooling foods" in the ying/tang of body balance.
Having eaten fried foods, junk foods, all holidays, I'm trying to get our bodies back to a healthy balance
.


.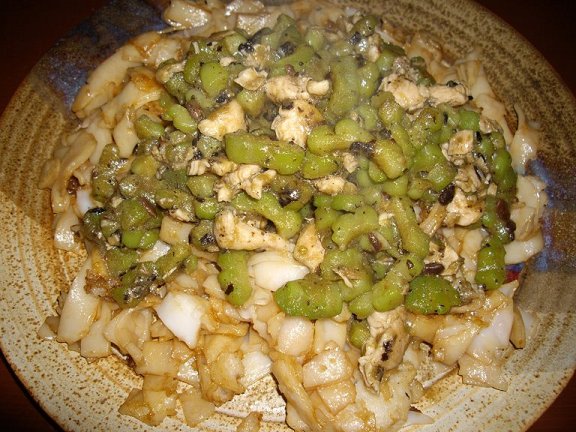 Our late lunch on one of Kathy McDonald's lovely plates.
.


.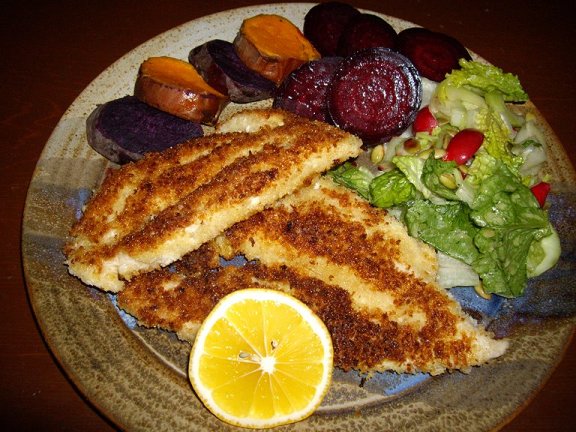 Panko-crusted turkey fillets, orange and purple yams, beets, salad with mango dressing and pumpkin seeds,
and a slice of lemon to squeeze onto the turkey: on my new plate, of course!
.


.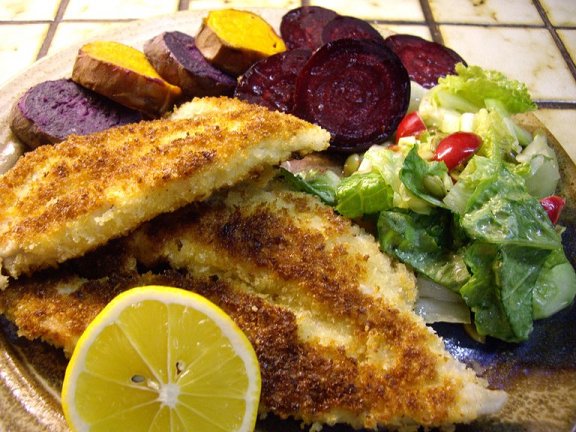 Nice flaky Panko crust kept the turkey fillet moist.
This is the most tender part of the turkey.
Fresh squeeze of lemon is my favourite "sauce" for this.
.


.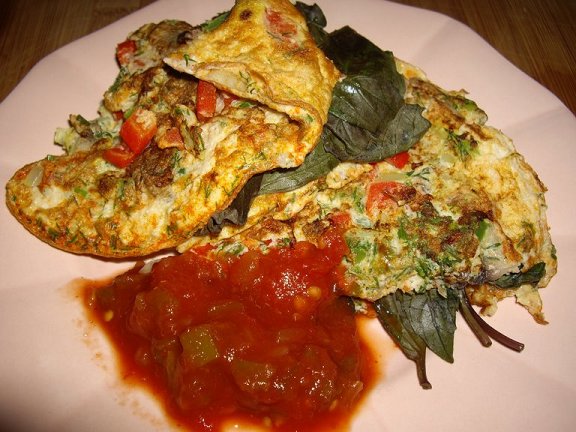 Whites Only omelet: red peppers, jalapeno, dill, onion, mushroom, fresh Thai basil,
curry powder, kept company by med. hot salsa. Makes my tummy happy;-)
.


.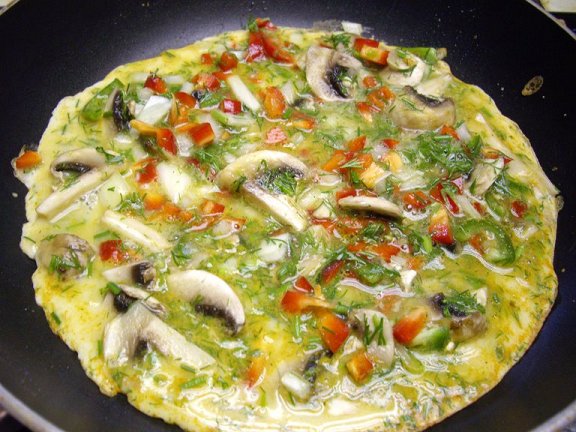 Vegetables all warming up in Whites Only with curry powder and a couple drops of olive oil in non-stick pan.
.


.
.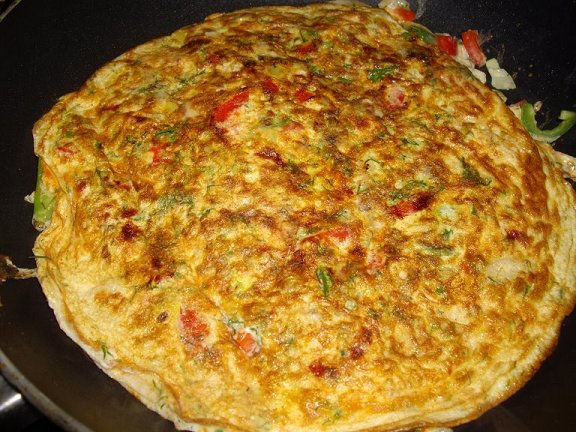 Flipping Golden!
.


.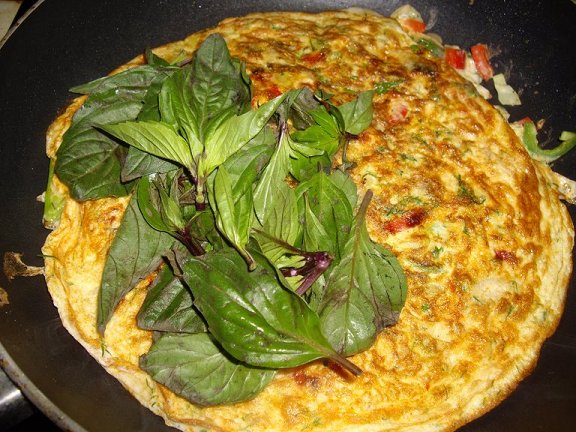 Love Thai basil.
I put them on one side then folded the other over just before eating.
I should just lay the basil on top - lost that nice "crunch" but still retained the flavour.
.


.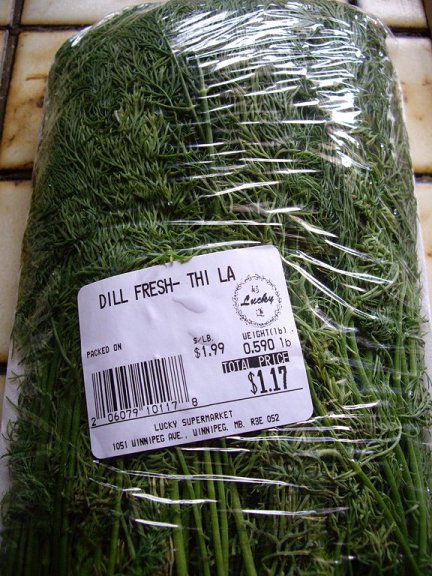 How can Chinese supermarkets sell fresh dill at these prices,
and I have to pay +$1.00 for a small bunch, usually wilting by the time they put it out?
Or, pay +2.00 for a small plastic flip-box...
Not sure, but I always find dill not only adds
a wonderful flavour but consider it a cleansing herb...
.


.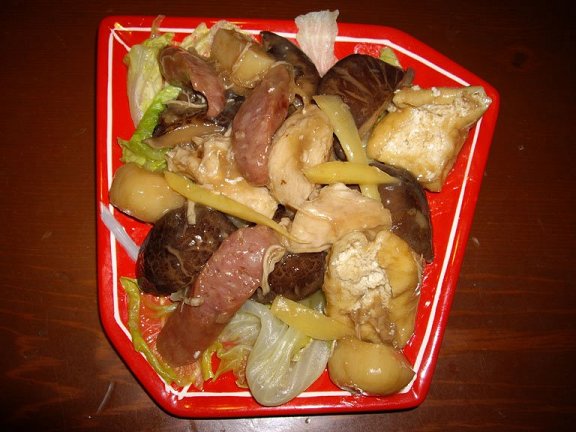 More like a wintery January night, so braised turkey fillet
with Chinese mushrooms, waterchestnuts, Chinese sausage,
fried tofu, fresh ginger in oyster sauce over wilted lettuce. Yum!
.


.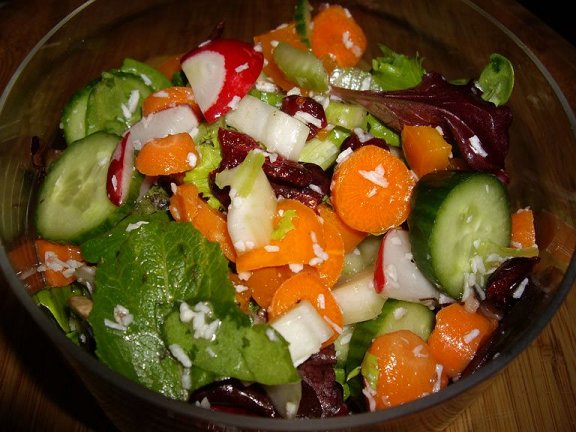 Trying different add-ons to entice Bill to eat more salad:
NO cauliflower or broccoli (tiny pieces well hidden),
mini cukes, carrot, orange pepper, radish, mixed greens, celery, dried cranberries,
shredded coconut, raspberry vinaigrette, fresh grind of mixed peppers.
.

Copyright 2012
Sue-On Hillman
Bill and Sue-On Hillman Eclectic Studio