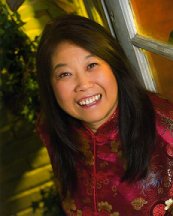 SUE-ON'S KITCHEN
March III: 2012
www.hillmanweb.com/soos/food32.html
Also featured in my Facebook Album


.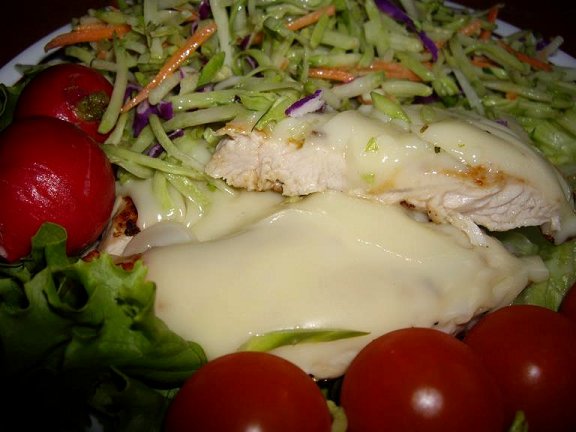 Pan-seared turkey fillet with Montreal steak spice and fat-free mozza cheese.
Broccoslaw with reduced calorie dressing, grape tomatoes, crisp radishes.
.


.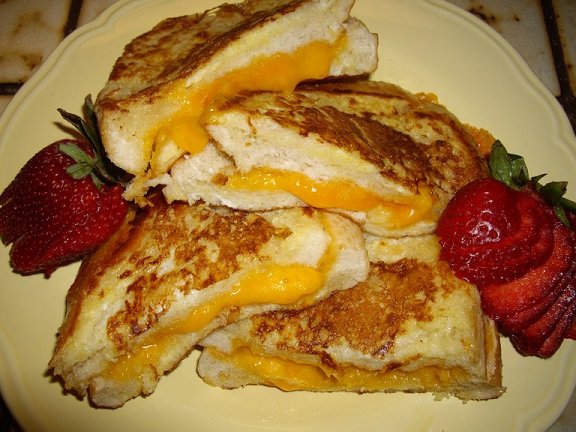 Lunch for Will: French toast Hillman style:
Bread dipped in egg and milk.
Extra old cheddar cheese sandwiched between the slices.
Grilled on non-stick pan.
May be eaten with maple syrup or as is.



..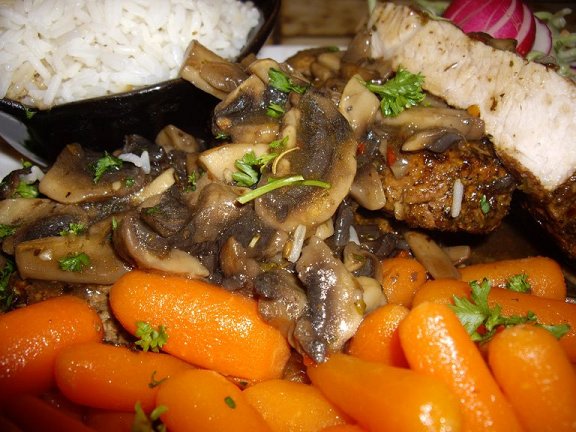 Lean pork chops marinated in Italian spices, herbs, olive oil, balsamic vinegar.
Pan seared and finished in the oven.
Made a mushroom sauce with reduced chicken stock and white wine.
Miss the flavour and texture of a butter-base rue,
but basically fat-free, carb-free, and reduced sodium.
.


.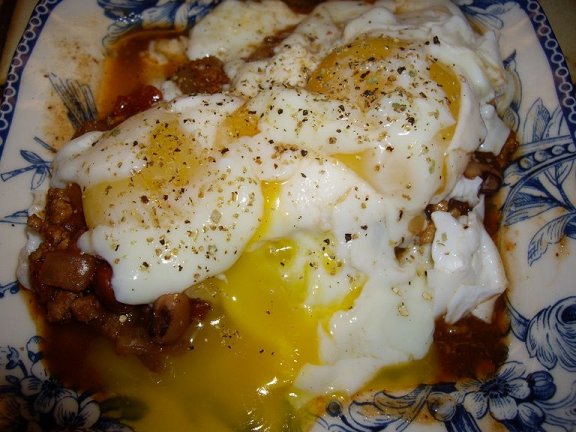 Poached eggs over turkey chili - breakfast of champions...?



..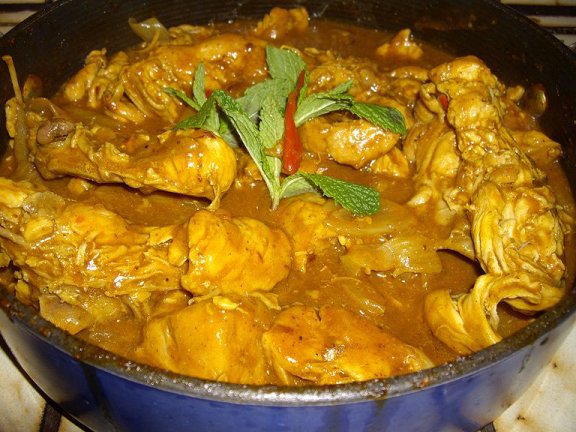 Curry chicken with bone-in chicken breasts, onions,
and a new HOT Indian curry powder.
Chunks of onion were browned, the the chicken was added.
The carcasses were added last.
I use about 3 heaping TBS of the curry powder, but there really wasn't much heat.
I added 5 Thai chilis and that helped raise the temperature ;-)
The powder had a nice aroma, just not the heat I was expecting.
.


.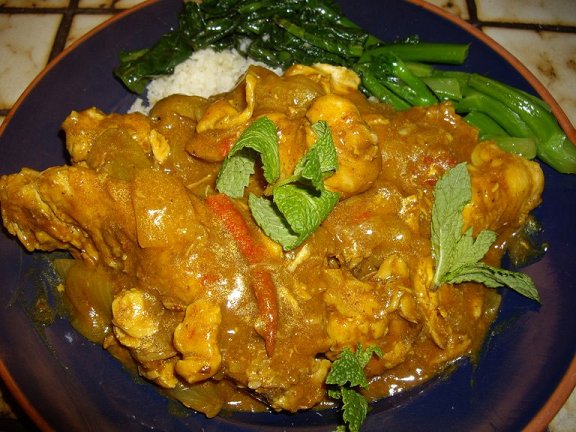 Being Chinese, I love the bones more than the meat!
Mine came with cauliflower rice and Chinese broccoli.
Mmmm...MmmMm good!



..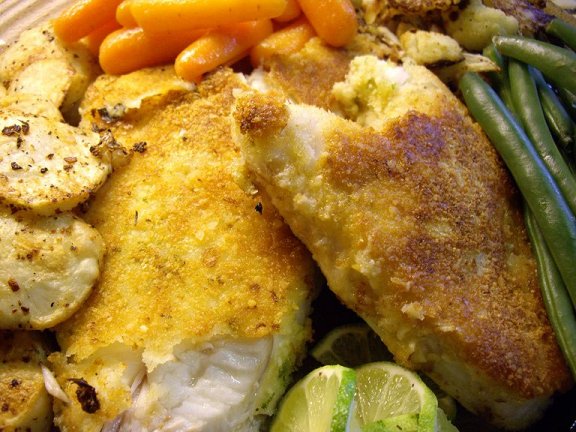 Finally! Fresh halibut at Sobeys this week.
Halibut steaks in panko crumbs, grated parmesan, and lime zest.
The texture was silky, moist, and "sweet" - DELICIOUS!
Got an idea from my friend Debra Donaghey and made roasted tater slices
(added Cajun spices) and cauliflower fries.
Sides were steamed carrots and green beans.
That's all ;-)
.


.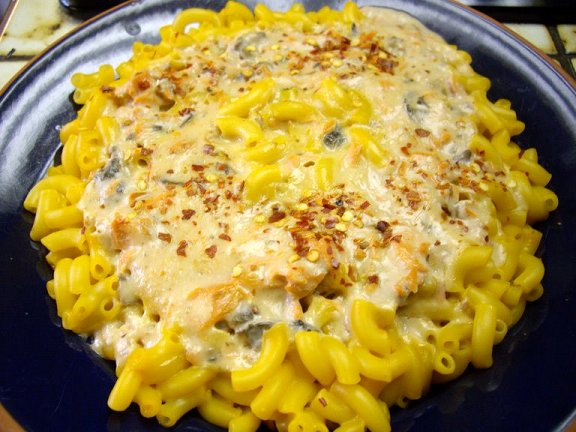 KD and creamed salmon.
I get to go out for end-of-term dinner with our students.
Bill gets KD and canned salmon in cream of mushroom soup.
This isn't even the jazzed up version, which has corn, mushrooms, etc.
But, he still likes it, I hope ;-)



..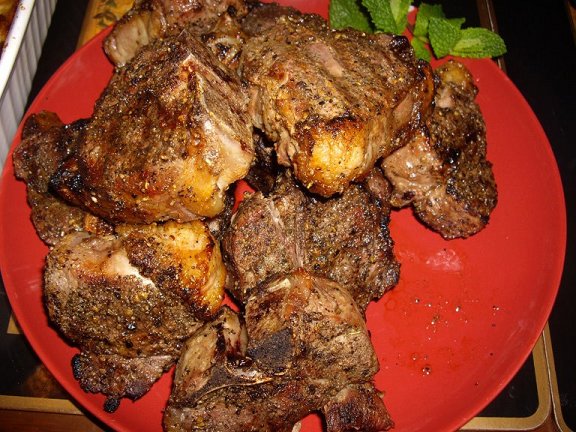 Lamb chops with tarragon, rosemary, mint, onion, garlic, pepper rub /
Ryan'-the-boy's special rub blend.
Ryan and Robin replaced the burner, diffuser, and gas ports on my BBQ today,
so he felt we just HAD to have something from the BBQ;-)
Delicious with my mint sauce.
.


.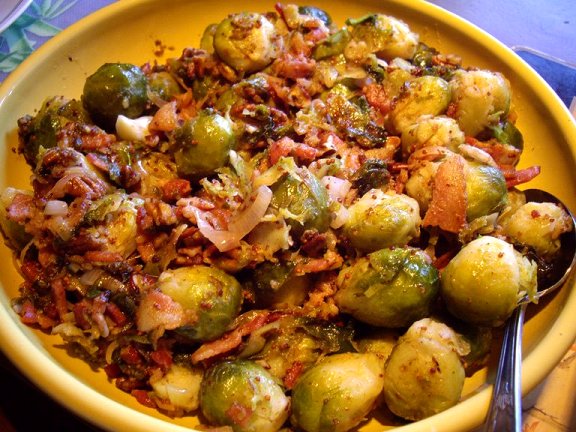 Brussel sprouts with bacon, shallots, garlic, Dijon mustard, lemon juice, and lots of butter!



..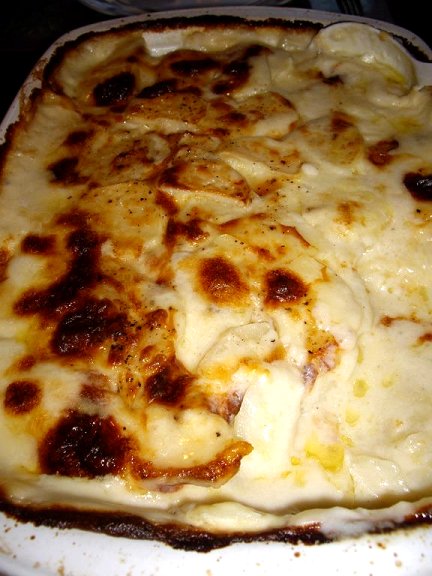 Scalloped potatoes!
.


..
.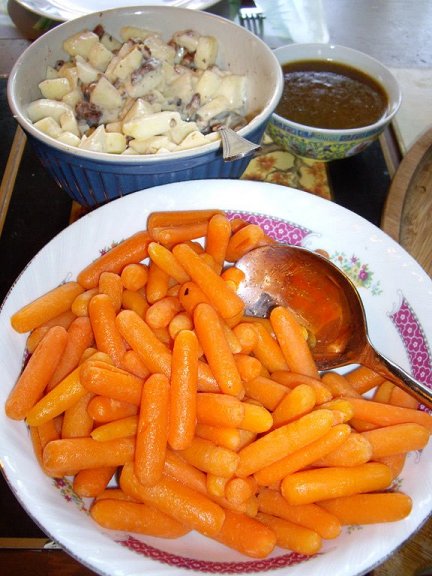 Simple carrots and apple/pecan salad.



..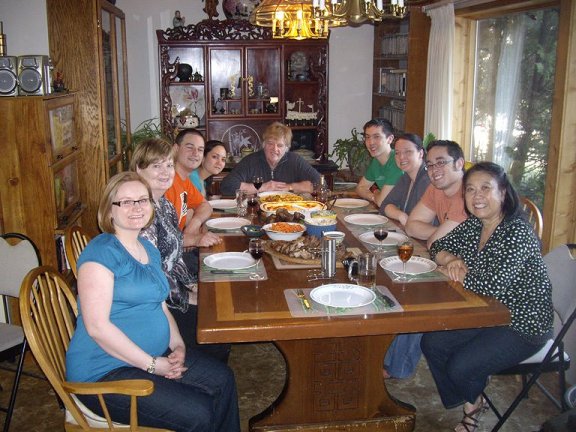 FAMILY! Auntie Bonnie's visit - Bill's sister! (second from the left)
.


.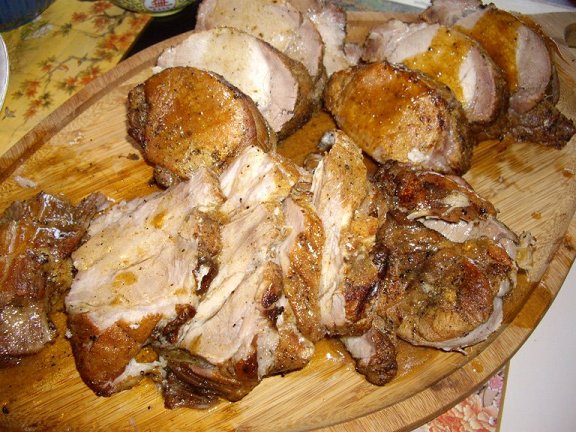 Kosher salt and rosemary brined pork butt with mustard and paprika rub.
Seared then slow-roast on BBQ. Jus was reduced into a sauce.
Two pork loin roast were also brined.
One was with rosemary and basil rub.
The other was cumin/coriander/ chipotle rub.
Again, seared the slow-roast on BBQ.
Jus was reduced and poured over meat at service.
Ryan again was the rub-master!
...


.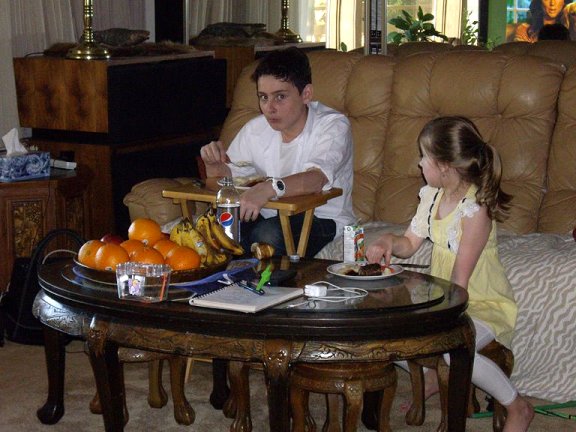 Grandson Soulin and granddaughter Oriyen ate at "their table".



..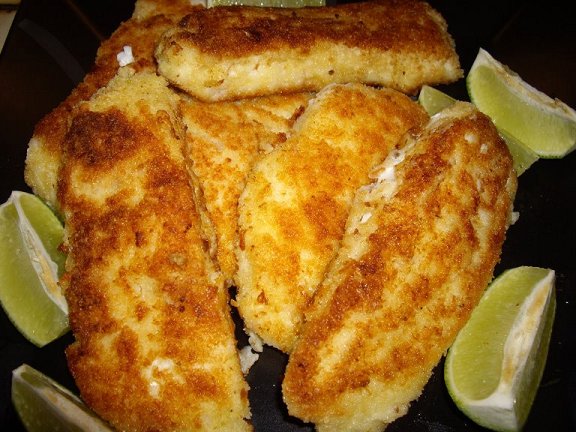 Halibut fillets from Sobeys... the same lot that I got earlier in the week.
It was , again, lovely, moist, velvety flesh.
Now, waiting for new shipment so I can stock pile!
.


.
.


Copyright 2012
Sue-On Hillman
Bill and Sue-On Hillman Eclectic Studio