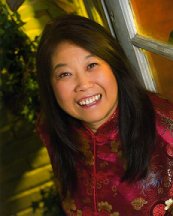 SUE-ON'S KITCHEN
April I: 2012
www.hillmanweb.com/soos/food33.html
Also featured in my Facebook Album


.
.

Ho Fun or flat rice noodles are one of grandson Soulin's favourite foods.
He even likes broccoli!
Tonight was guitar lesson night, so we had stir-fried "flat iron steak",
ho fun in oyster sauce, broccoli, sweet bell peppers. Bill likes sweet chili sauce.
I like Saigon chili oil with my noodles.



..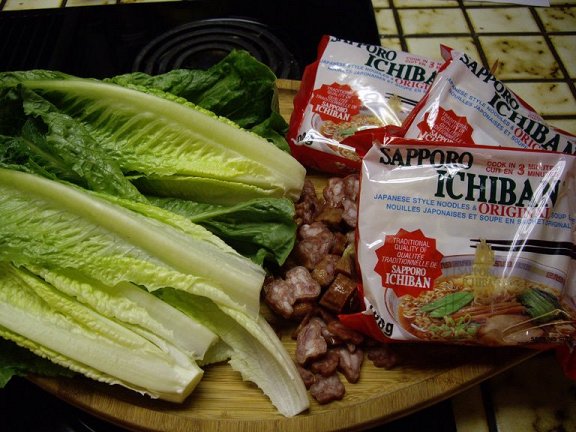 April 23rd.Home from our +5000-mile road trip to Louisiana and points south!
Rushed the last few miles and made it to Sobeys for Romaine lettuce to add to my larder...
Home cooking!



..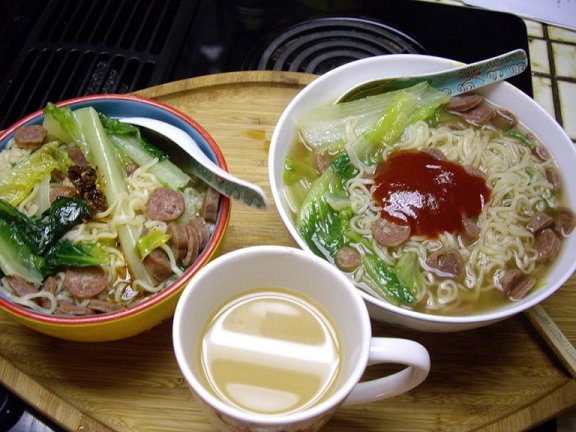 10-minute meal - with cups of Tim Horton's home-brewed coffee!
.


.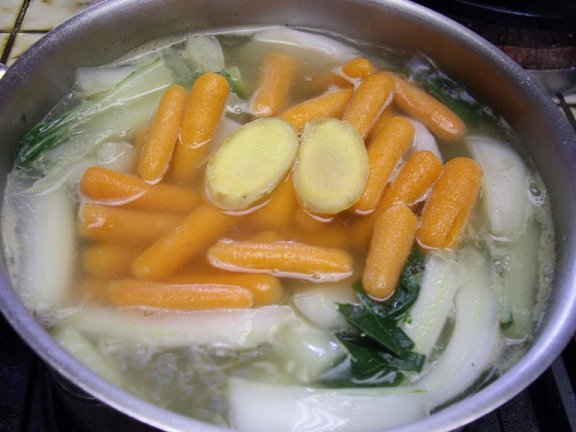 My idea of a cleansing soup after 17 days of eating out.
Hey! this could be the new 17-Day Diet for Road trips ;-)
Bok choy, daikon, carrots, lots of slices of ginger, and pork neck bones.
Bill's comment: "Wha? More leaves?!"
..


..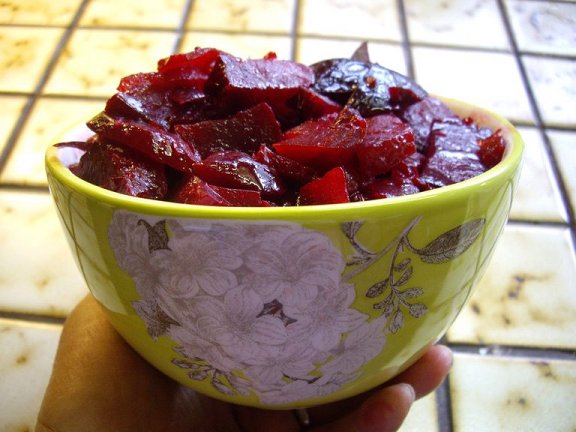 Buttered roasted beets in my new bowl :-)
.


.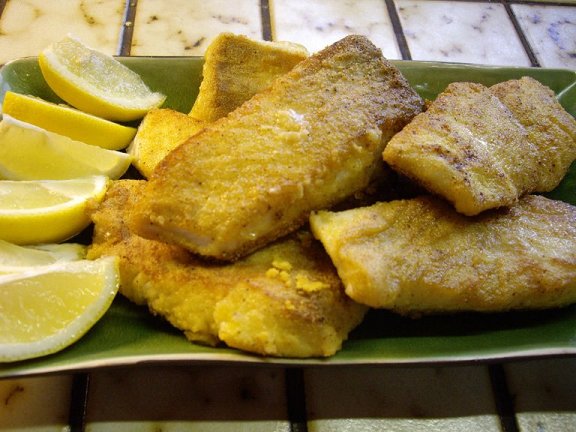 Fresh halibut fillets lightly breaded with New Orleans Fish Fry Seasoned Breading Mix.
Nice light flavour that allowed the natural halibut to shine thru'.
These were pan-fried rather than deep fried with a thicker breading.
Nice change from my usual Panko breading.
..


..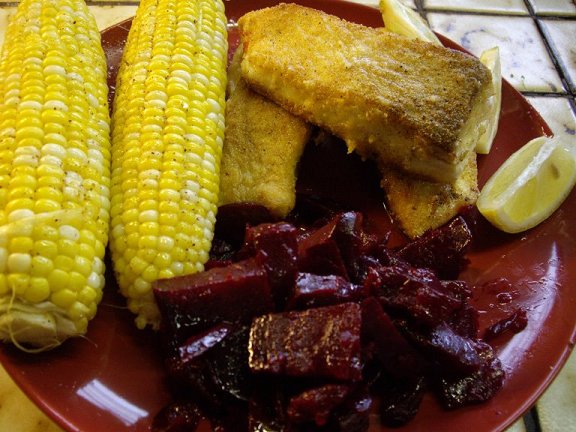 Corn on the cob with sprinkle of Chilito en Polvo -
a present from a former Mexican student.
I think it's meant for fruit, but so good on corn!
.


.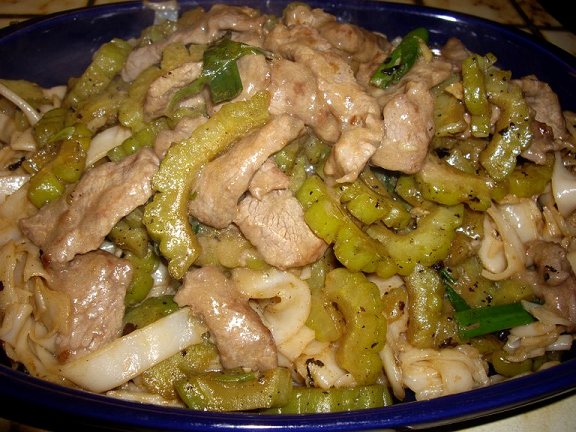 We've eaten alot of "yeet hai" hot food:
kettle cooked jalapeno chips, spicy tortilla chips, deep fried foods, cokes, etc,
so it's time to eat "leung" cooling foods
to re-balance the yin (cold) and yang (hot)of the body system.
Tonight then, Chinese mustard green (cooling veg) soup
followed by bitter melon ( a cooling veg) stir-fried with black bean garlic ginger, beef,
and ho fun (rice noodles) with oyster sauce.
..


..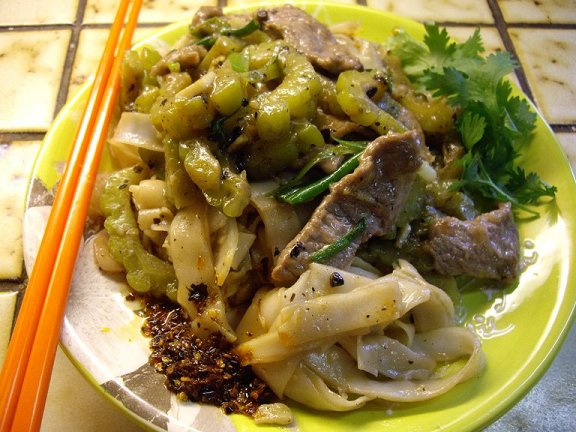 However cooling the vegetables, we still insist on hot chili sauce with ho fun :-)
.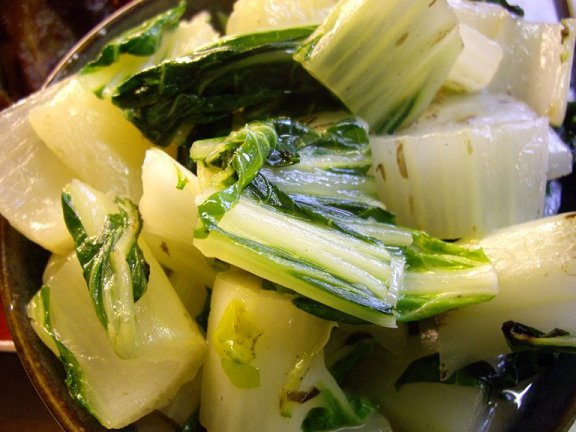 Really needed a fix of simple stir-fried boy choy:
just a clove of garlic , sprinkle of salt, and bok choy...



..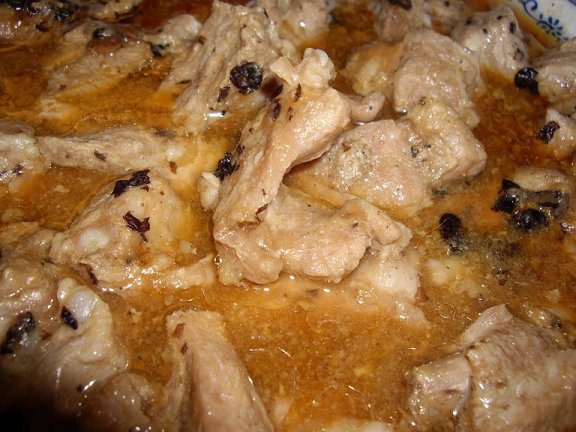 Black bean garlic spareribs ( see jup pie gwut), steamed for one hour.
Had this with ginger garlic Chinese broccoli (gai lan) and jasmine rice.
And yes, Yukah Lam, we had soup: guy choy pie gwut tong!



.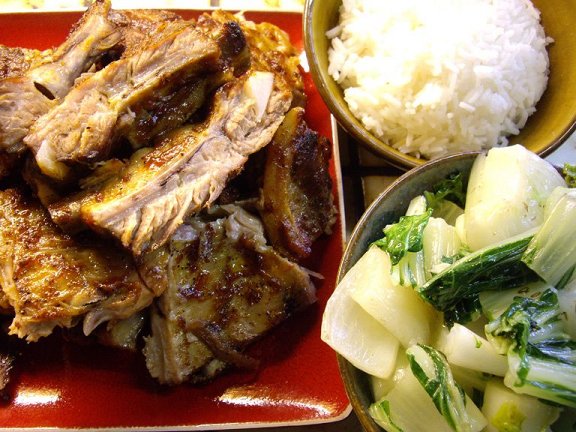 "Slap Ya Mama" seasoned BBQ ribs done in the oven for supper tonight.
Wanted to try out the Cajun seasoning I brought back from Louisiana.
Sprinkled liberally on side ribs, foil wrapped, and baked in slow oven for the afternoon.
Finished with Chipotle BBQ sauce at 450.
Tender, moist, good flavour with a touch of heat.
I think the Slap Ya Mama Cajun seasoning will work better just sprinkled on cooked food.
One suggestion is for french fries.
THAT sounds very appealing!



..
..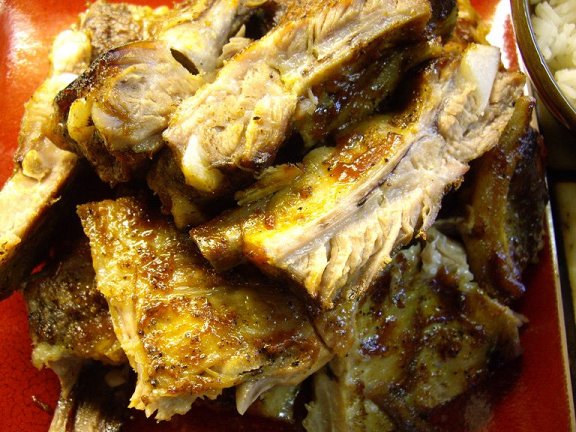 Up close and personal ;-)
But as I said to Bill, not TOO personal until I get that picture,
or yo' Mama gonna SLAP Ya!
.

Copyright 2012
Sue-On Hillman
Bill and Sue-On Hillman Eclectic Studio