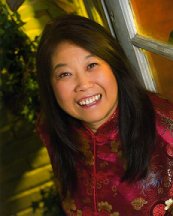 SUE-ON'S KITCHEN
June II: 2012
www.hillmanweb.com/soos/food37.html
Also featured in my Facebook Album


.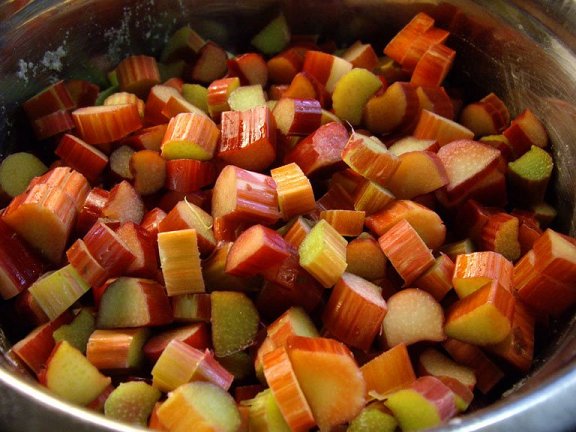 Strawberry red rhubarb - washed, trimmed and cut - ready for pie later.
Flaky short crust pastry from Bon Appetite chilling in the fridge,
for steak pie bottom and rhubarb pie.


.
.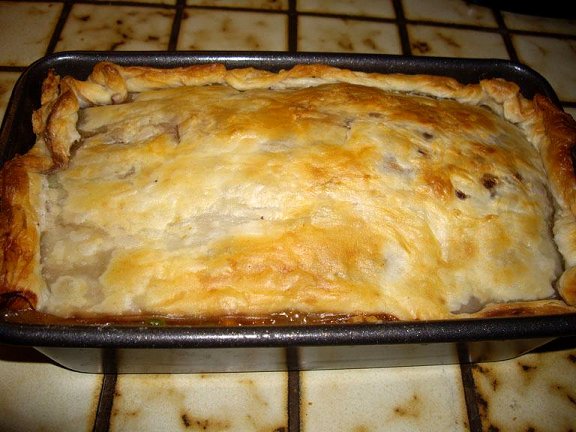 Steak and veg pie - short crust on the bottom, puff pastry on top.


.
.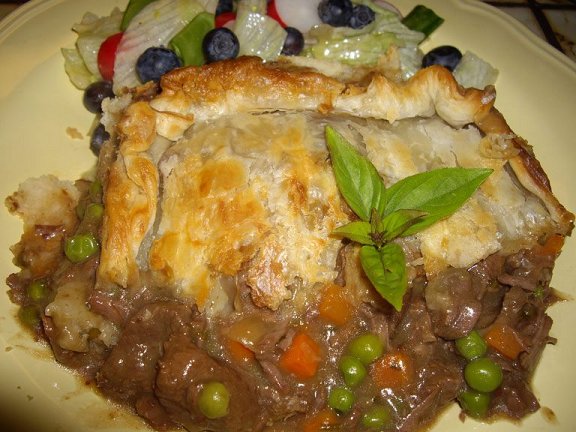 Oooozzzzyyyy goodness!
Salad was iceberg lettuce, sugar snaps, radishes, mini cukes, fresh blueberries,
and mango chipotle dressing. Satisfying!



.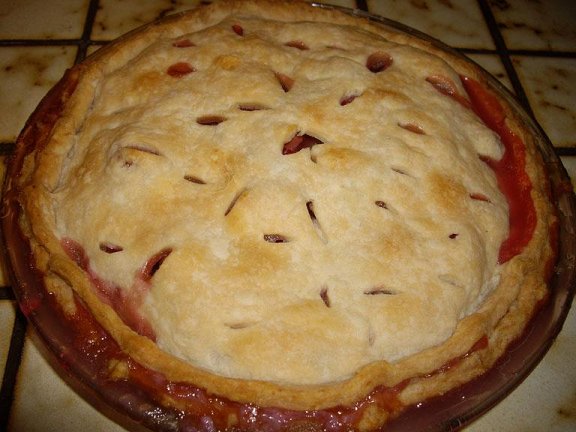 Rhubarb pie - first of the season.
Short crust with frozen butter and lard, apple cider vinegar, sugar and ice water.
Flaky



.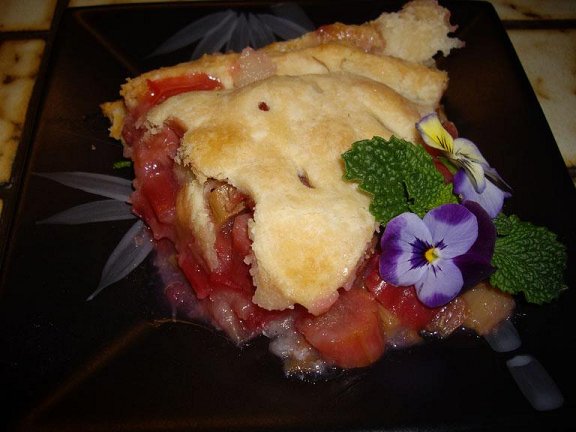 Even after steak pie, there's room for a slice (s) of pie :-)
Pretty pansies and mint completes the plate along with Timmie's!


.
.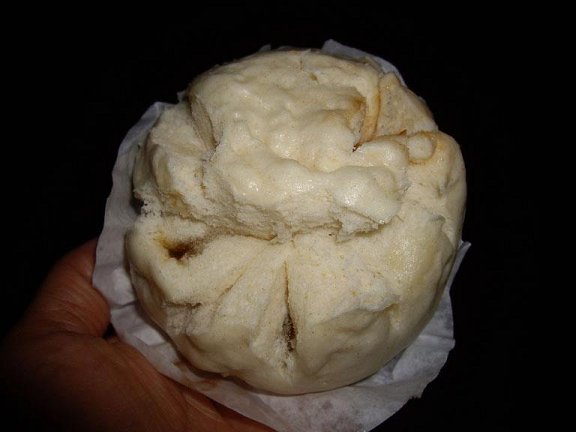 Making baos again!
Finally got around to using the BBQ pork filling I prepped Sat.
4 dozens done - one more dozen to go!
Now...to get them to the kids:-)


.
.

Wrapped in dough, steamed for 20 minutes . . .
. . .fluffy outside - juicy sweetness inside.
Mmm...Mmmmm good!
.


.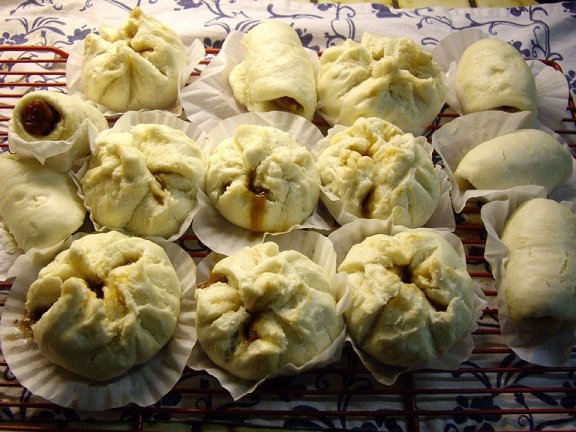 The last dozen done!
My kitchen windows are so steamed, no one can see in OR out. LOL!


.
.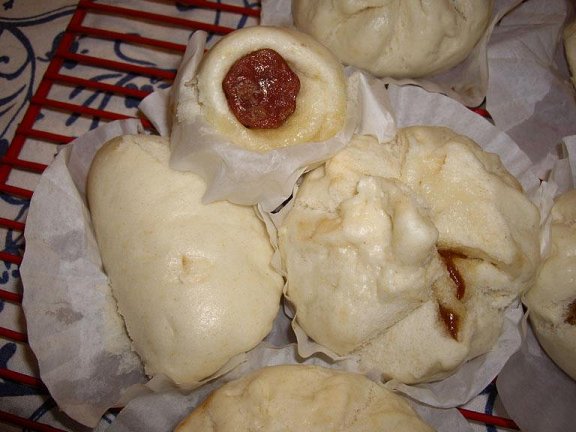 Ran out of BBQ pork filling, but Chinese sausage (lap cheung) fills in nicely in a pinch and just as delicious!
China's fiance Ryan loves these too. In fact, he loves food!


.
.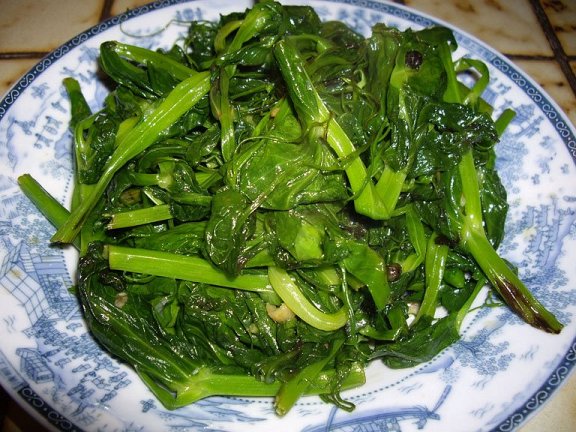 Stir-fried peashoots!
One of my favourite vegetables when I can get it.
Picked this up in Winnipeg.
A quick stir-fry with garlic and ginger...
Delicious when it is tender!
.


.


Quinoa - first time to cook it at home..,
next time, I will cook it like basmati rice with cumin and cardamon.


.
.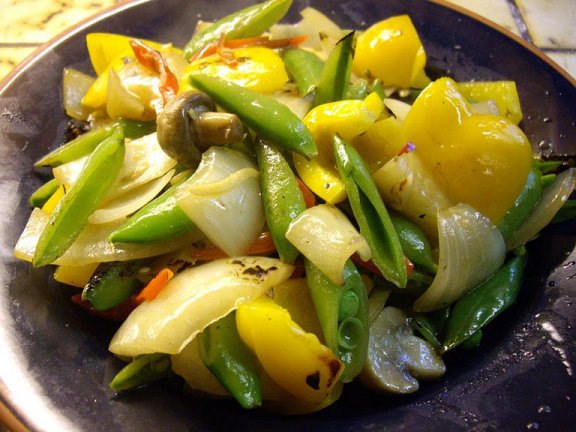 Sweet yellow peppers, sugar snaps, mushrooms, Spanish onion, and one fresh chili pepper --
-- spicy!


.
..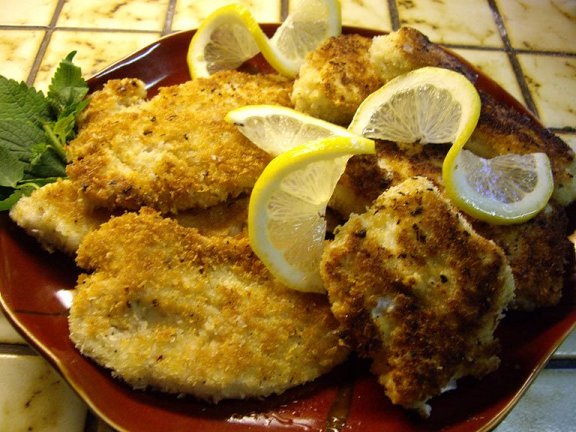 Tonkatsu two ways: turkey fillet and halibut.
Bill always says fish doesn't fill him up,
so I topped it with the "gobbler"
...no complaints so far ;-)


.
.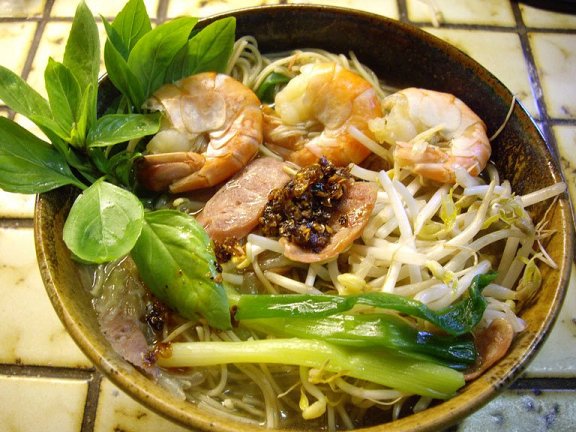 Shrimp roe noodles soup with big shrimp, Chinese sausage,
blanched green onion and iceberg lettuce, a handful of fresh beansprouts,
and a couple springs of Thai basil from my pallette
- a dab of Saigon chili oil-
nearly did me in when the last mouthful of chili infused broth went down the wrong way!


.
.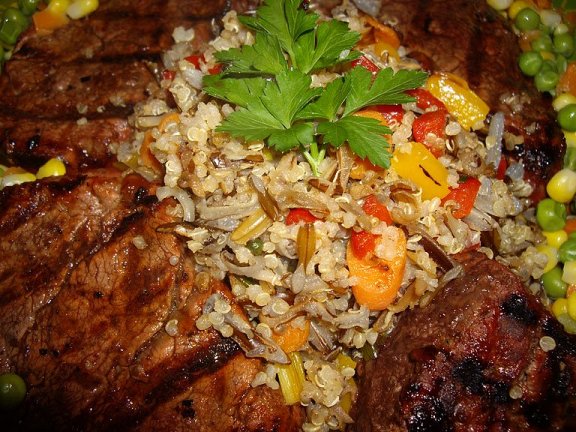 Wild rice and quinoa pilaf with BBQ tenderloin steaks
- just trying out the new propane tank ;-)
.


.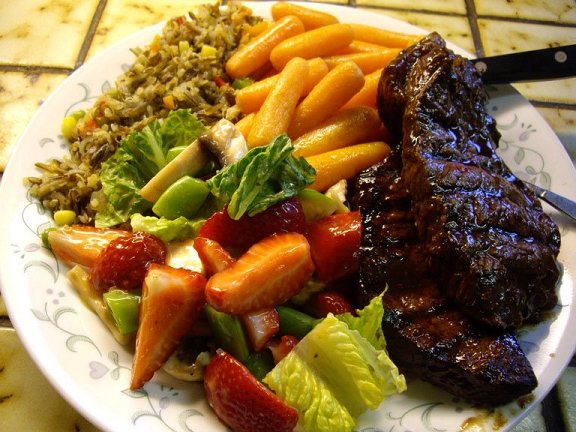 I didn't get to try the quinoa curry as I still had lots leftover.
Had planned on tandoori chicken for supper,
but grandson Soulin was over for guitar lesson and supper, so switched meats.
He will NOT eat chicken of any kind anymore
since he OD'ed on McD's chicken McNuggets as a kid.
So we had steak again along with strawberry / romaine lettuce salad
with mango chipotle dressing and carrots.
I added marinated vegetables (caulif. , broccoli, mushrooms, cukes) and less steak to my plate.
Ate outside and enjoyed the beautiful weather, even at 8 pm!


.
.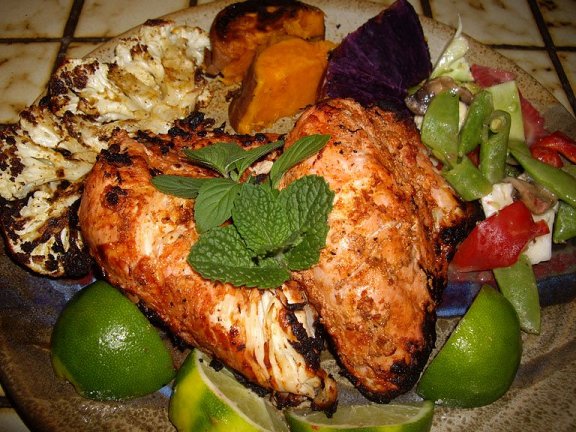 Tandoori chicken, grilled cauliflower, sweet potato, purple yam,
marinated vegetables, and a squeeze of lime.
So good, especially when it was all done on the BBQ :-)


.
.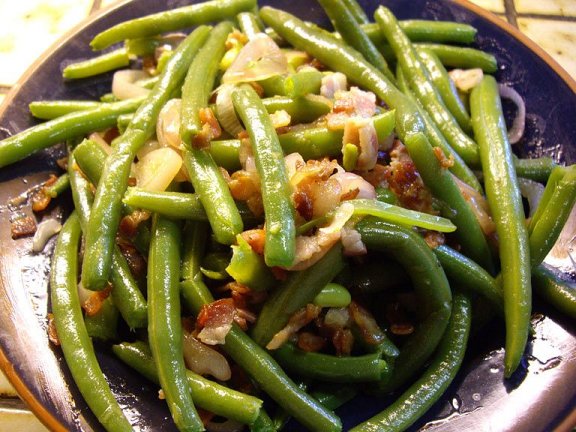 Bacon, shallot, and green beans.
I was trying to disguise the taste of green beans for Bill,
but he wasn't fooled ;-)



.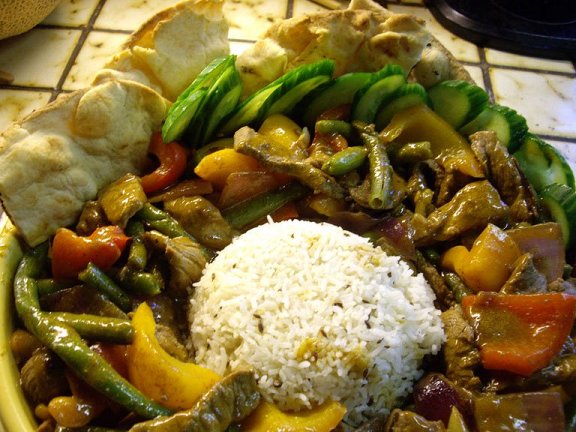 Sliced beef sirloin, sweet peppers, onion, green beans
(another disguise for Bill's benefit...foiled again!),
Patak vindaloo paste.
Basmati rice with cumin and cardamon fried first in ghee then steamed.


.
.



..
Copyright 2012
Sue-On Hillman
Bill and Sue-On Hillman Eclectic Studio