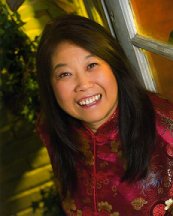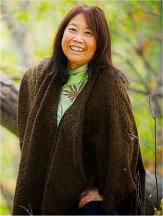 SUE-ON'S KITCHEN
July II: 2012
www.hillmanweb.com/soos/food39.html
Also featured in my Facebook Album



.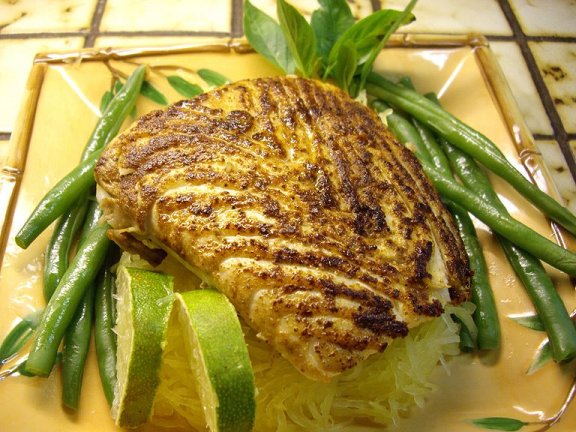 Blackened fresh halibut fillet, with a sprinkle of "Slap Ya, Mama!"
on a bed of steamed spaghetti squash and green beans.
No sauce other than a squeeze of lime...


.
..
.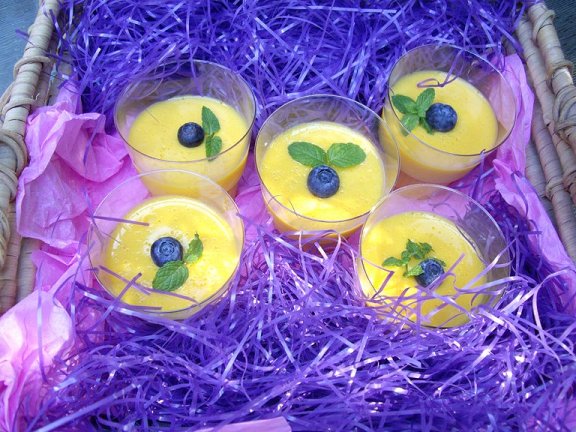 Mango Pudding from HeartSmart Chinese cookbook:
Dissolve 2 pkgs of unflavoured gelatin, 3/4 cup sugar
(optional. I use 1/2 or less, or none) in 1 cup hot water.
Stir to dissolve completely.
In a large bowl, mix 3 cups mango pulp (1 large can from Superstore)
and 1 cup evaporated milk (or cream or coconut milk).
Add 8 ice cubes and the gelatine mixture. Stir until ice cubes are melted.
Pour into individual glasses, ice cream dishes, wine glasses, etc and chill until partially set.
Add "decorations" and return to fridge until firm - about 3 hours.
Great after a rich meal or anytime!



..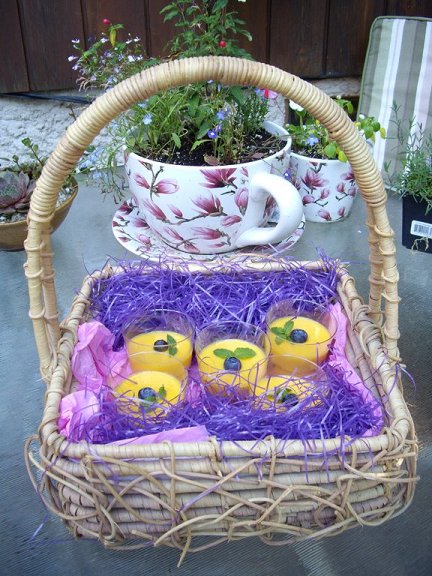 All set to go to (Wilson's) Lisa's house - sans Little Red Riding Hood costume ;-)


.
.
.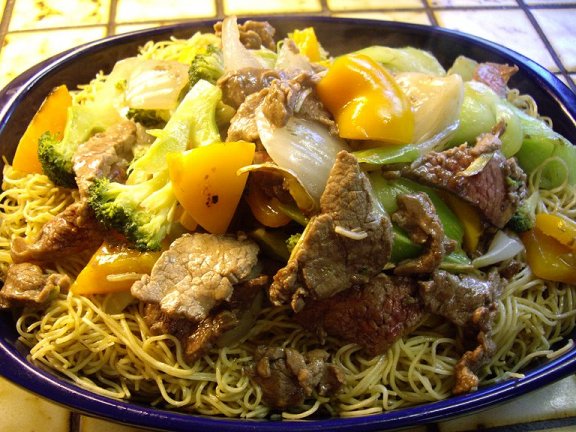 Cantonese Chow Mein:
dry fried egg noodles, beef, and mixed veg - one of Soulin's favourite noodles.
Soulin mowed lawns, then we took him to see Dark Knight Rises -)
I slice the beef into slices, and not paper thin as it will break into too small piece.
I just add water to the vegetables half way to "steam" them uncovered.
I marinate the beef with salt, oil, and cornstarch.
When I add the cooked veg and liquids to the cooking beef, it forms the sauce.
If it is too runny, just thicken with cornstarch slurry.
Sometimes I use chicken stock in place of water in the vegetables.
I then let the beef sit while I cook the noodles and vegetables (separately).
You can use different flavourings, such as oyster sauce, soy sauce, but we we always kept it simple.
The marinade will keep the beef moist and give it a slicky texture on the outside.



..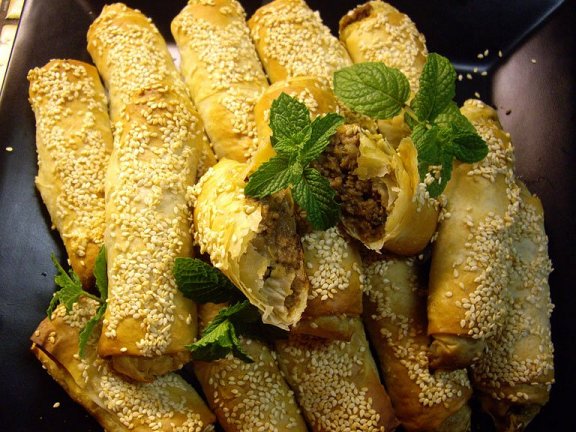 Spiced Moroccan Beef Cigars - ground beef rolled in filo pastry and coated with sesame seeds.
Baked at 400F for 20 minutes.
These are great to have on hand - freezes well.
Perfect finger food with a yogurt dip or salsa.


.
.
.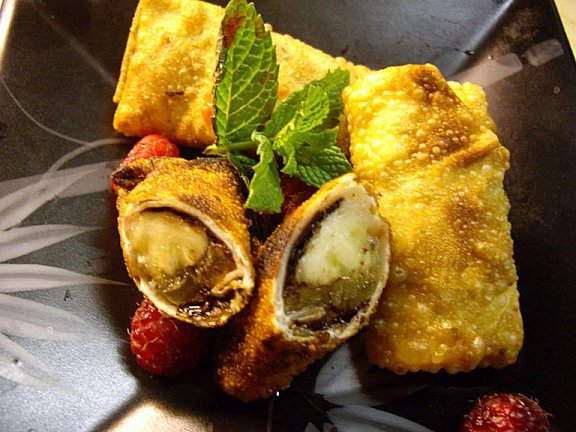 Banana Dark chocolate ginger "egg rolls" - great with vanilla ice cream ;-)



..


Mango cheesecake - for Robin's birthday!


.
.
.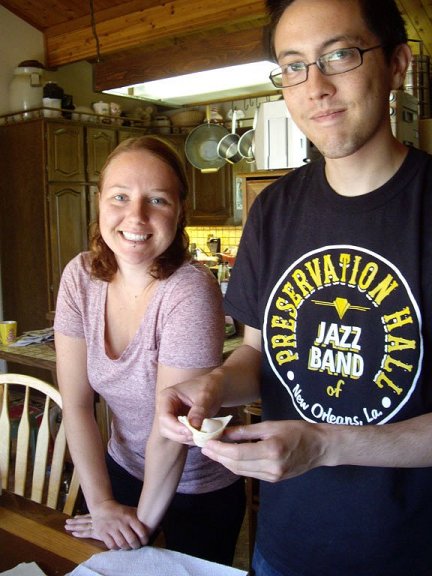 Robin and China were the wonton masters when we had Soo's Restaurant.
Here, Robin's giving fiance Jen a lesson as we needed a lot for lunch!
I didn't have time for pics of the wonton noodle soup we had for lunch,
but trust me, it was devoured with wontons, shrimp roe noodles, Chinese cabbage,
lots of broth and several different kinds of hot sauce.
The wonton filling was ground pork, shrimp, waterchestnuts and seasonings.



..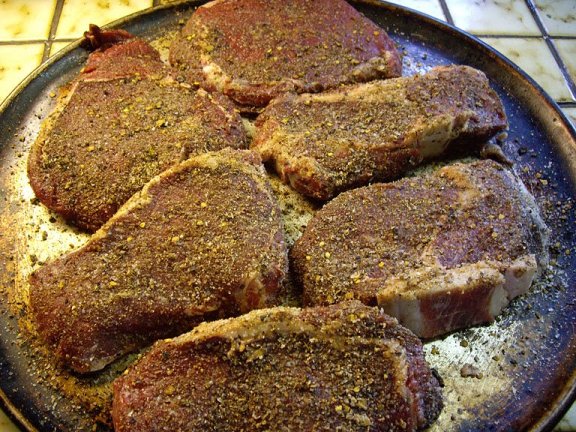 Bison ribeye steaks with Ryan's own concoction of steak spice rub...


.
.
.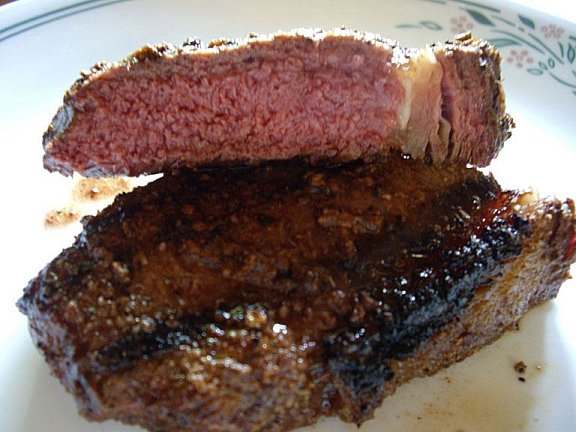 Could anything be more perfect than this piece of bison steak?!
Eaten with new potatoes smothered with butter and fresh mint, and corn on the cob.
A good meal with which to send the kids on their way home!



.
.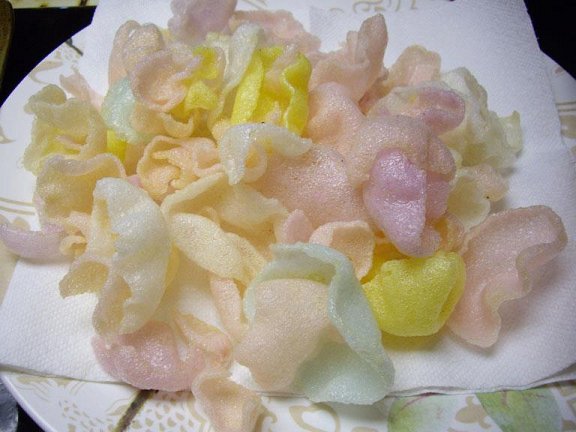 Snackin'! Shrimp chips



..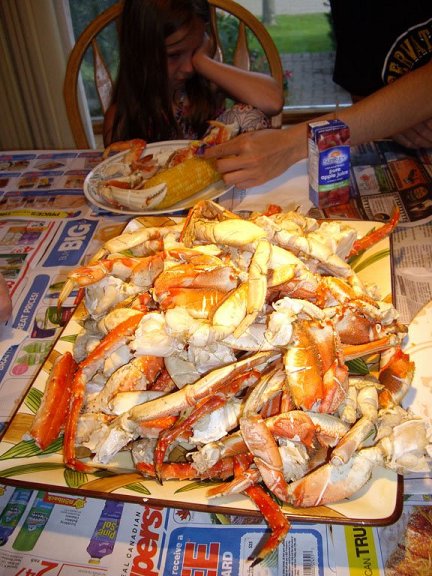 Dungeness and King Crab boiled in Lousiana Crab Boil seasoning from the "south"
- spicy and delicious!


.
.
.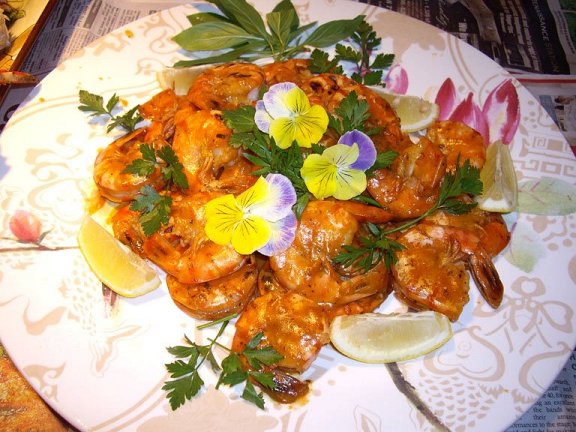 Jumbo shrimp in the shell sauteed in BBQ sauce.
Love that slightly charred sweet and spicy sauce.



..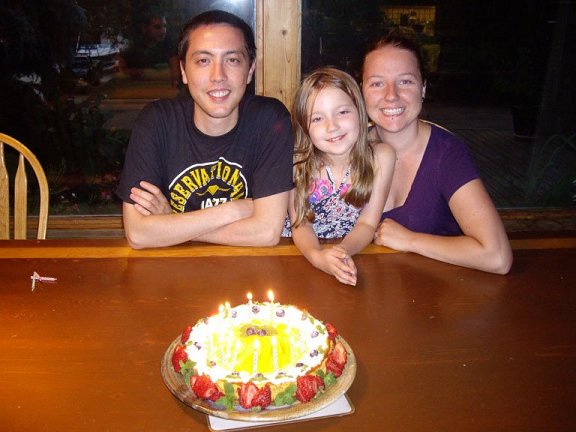 Birthday boy Robin, fiance Jen, and daughter Oriyen


.
...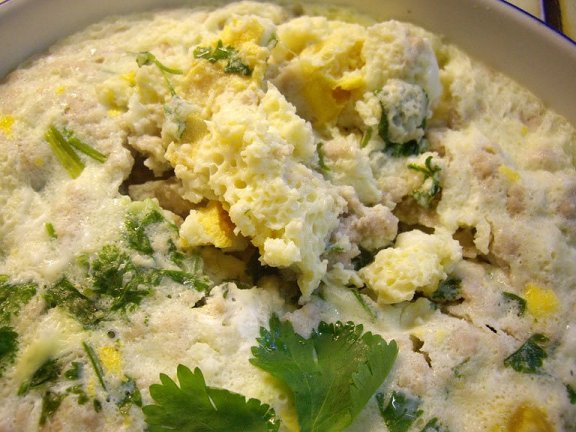 Ending the month of July with a very traditional Toisan / Chinese dish:
Steamed (4)fresh eggs, (2)salted duck eggs, with ground pork and cilantro.
Satisfying that craving for salt today :-)
Eaten with jasmine rice and stir-fried bok choy..



..
.
..


Copyright 2012
Sue-On Hillman
Bill and Sue-On Hillman Eclectic Studio