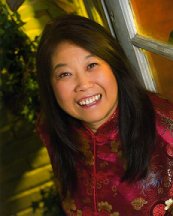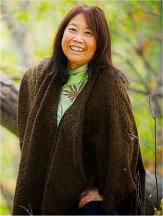 SUE-ON'S KITCHEN
August : 2012
www.hillmanweb.com/soos/food40.html
Also featured in my Facebook Album


.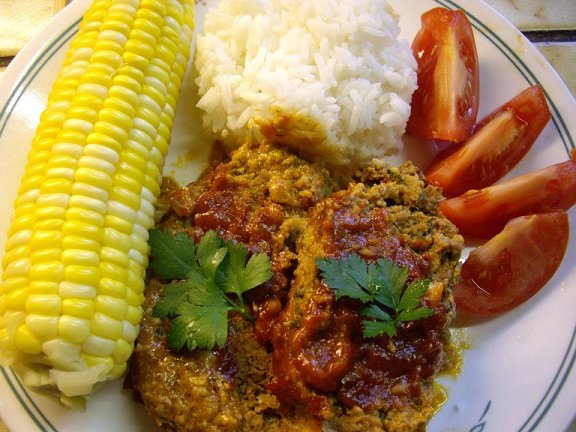 Chipotle meatloaf:
Chipotle peppers in adobo sauce, oregano, basil, parsley, cumin, black pepper, chopped onion,
bread crumbs, egg, tomato sauce, hot southern BBQ sauce (Bull's Eye), ketsup, beef, regular oats.
Original recipe called for turkey.
I used ground chuck and fresh herbs from my palette.
Recipe also called for 1 chipotle pepper and 1 tsp. adobo sauce.
I used 2 peppers, but next time, I may use 4 for more bite.



..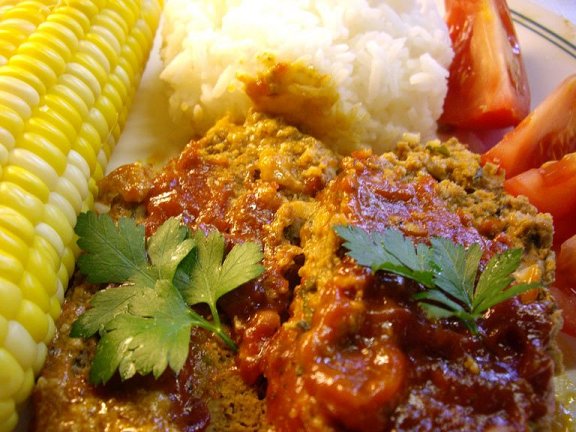 Chipotle meatloaf
- cooks in 1 hour, stays moist and full of well-blended flavours.



..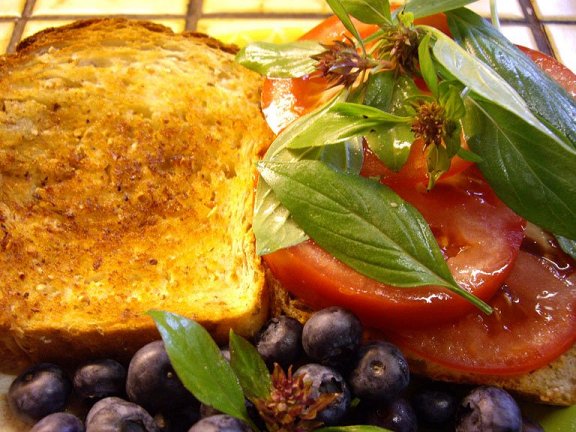 Not only can my friend Kathy McDonald make beautiful, unique jewelry and pottery,
she also can BAKE bread!
She presented me with a loaf of her Weight Watcher's whole wheat bread
- just out of the oven - when I stopped in this morning.
Bill had his toasted with our friend Inga Bjornson's raspberry jam.
I had my favourite toasted tomato sandwich, kicked up a notch with home-grown Thai basil.
This was after I ate the end slice not-toasted . . .
Excellent bread!



..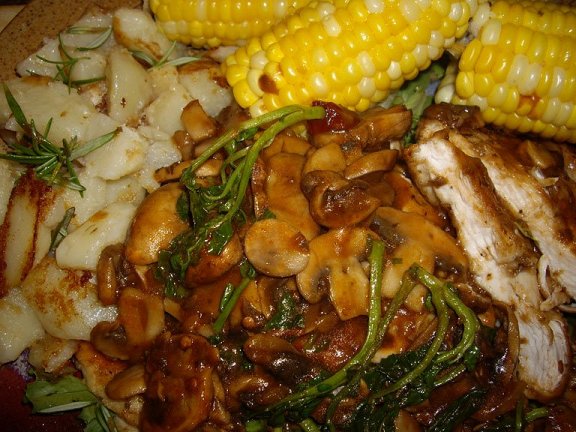 Chicken Marsala Florentine:
Didn't have fresh spinach, but I did have watercress.
It filled in nicely.
Boiled the potato chunks with the corn then pan-fried them with fresh rosemary.
Chicken was tender and delicious with the mushroom/marsala sauce.
It's been a while since I made this...
Need to remember to make this more often.



..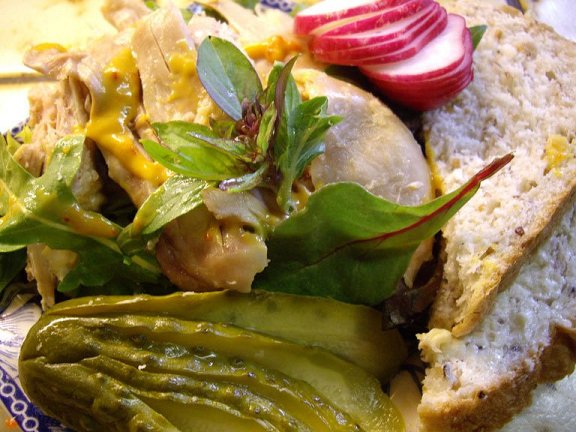 Kathy McDonald 's bread stuffed with roast chicken,
drizzled with sweet and heat mustard on a bed of field greens
- very satisfying :-)



..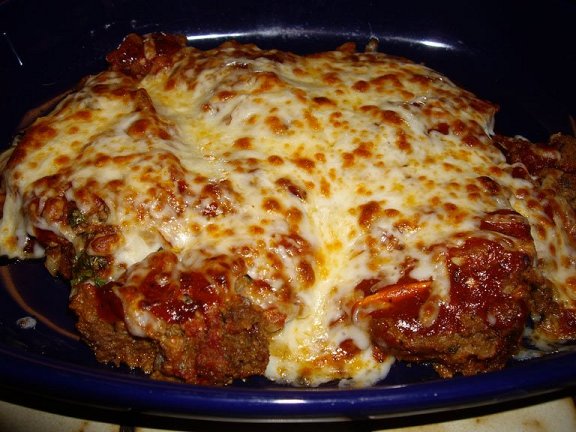 Meatloaf Re-Do:
Ramped up the heat with more chipotle peppers and adobo sauce.
Topped the slices with 3-cheese combo.



..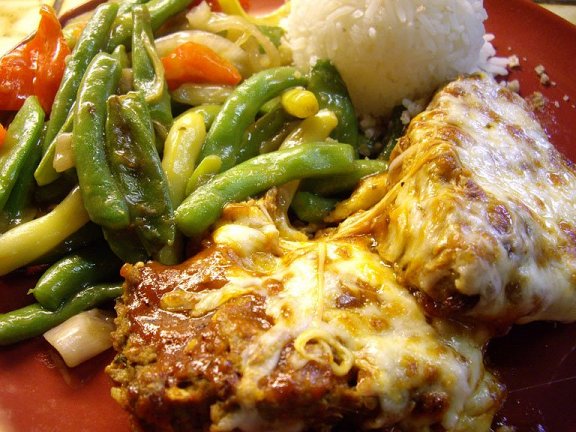 Whoa! Intense heat ;-)
Thank goodness for the rice and the beans/peas, peppers, and shallot medley.
I'm sweating!



..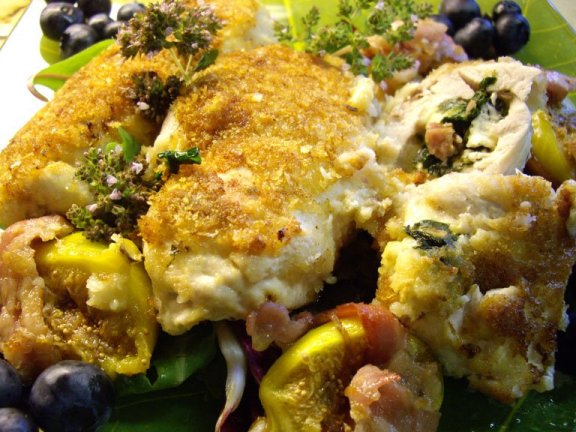 Chicken breasts coated with panko, stuffed with sauteed bacon, spinach,
garlic, fresh oregano, 3-peppercorn feta cheese.
Also bought a flat of fresh figs, so wrapped a couple with bacon and
finished them off in the oven with the chicken.



..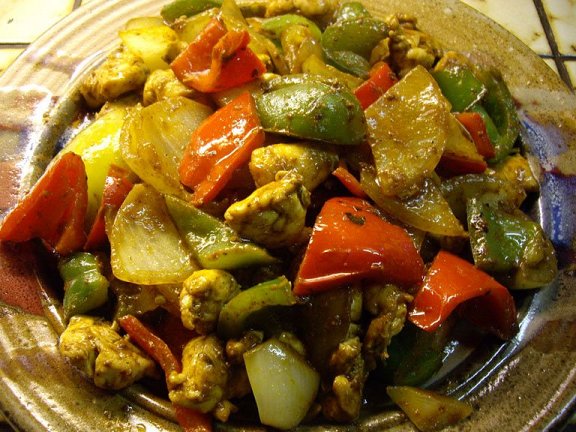 Madras curry chicken with sweet peppers.



..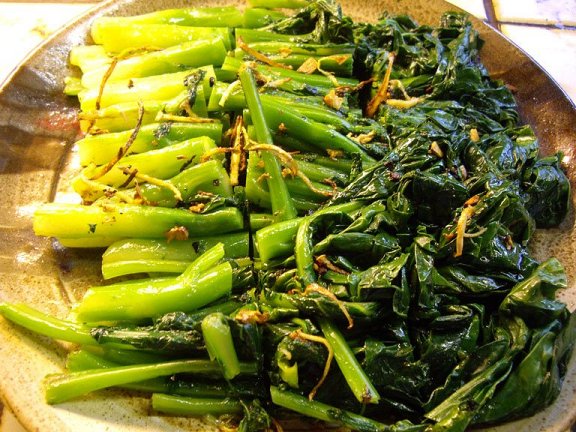 Gai lan (Chinese broccoli) with ginger, garlic, and sesame oil



..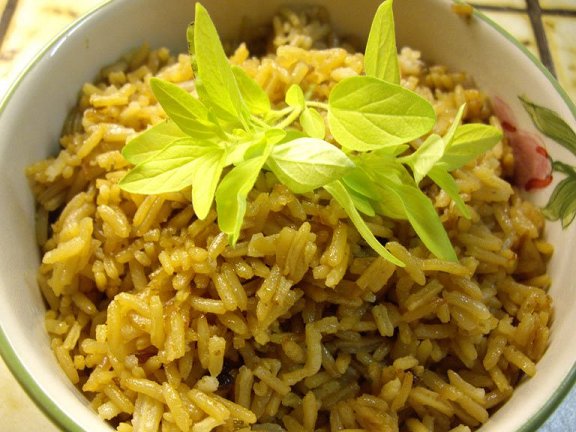 Thai coconut / ginger rice (package)



..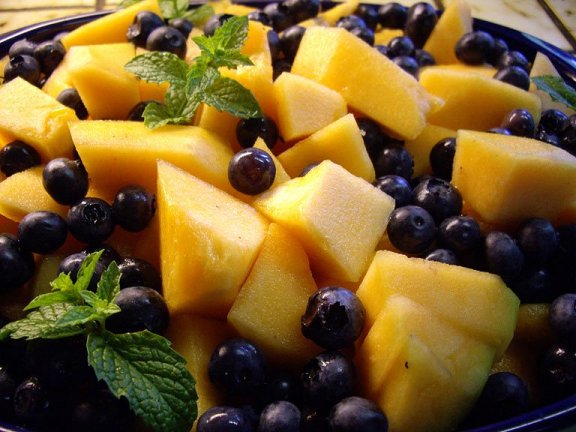 Picked the perfect cantaloupe - paired with blueberries.
Had this for dessert for lunch with cousins May and Albert Louie of Neepawa's Bamboo Garden Restaurant.
We ate my homemade joong, BBQ, gai lan and chayote soup.



..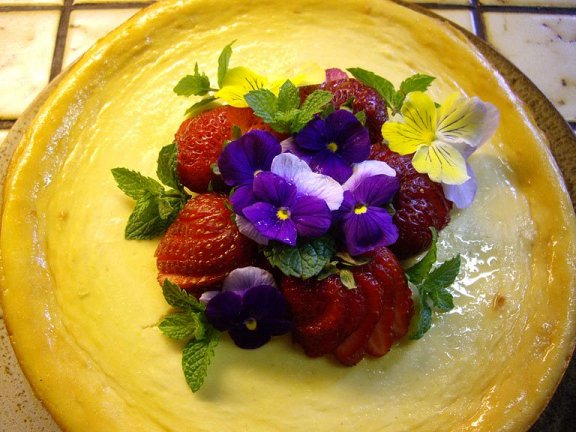 Whose favourite colours are purple and mauve? ;-)
Her birthday is tomorrow, but we're eating this today!



..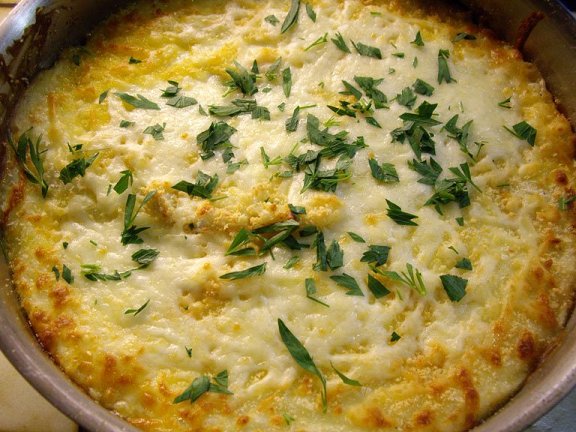 Moussaka with the ground lamb my buddy Inga gifted me.



..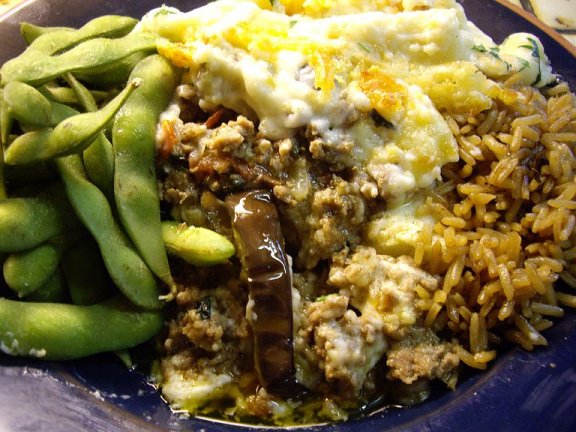 Moussaka plated with endamame (sorry Bill Hillman - I didn't shell them for you!),
He actually had kernel corn as well;-)



..



..
Copyright 2012
Sue-On Hillman
Bill and Sue-On Hillman Eclectic Studio