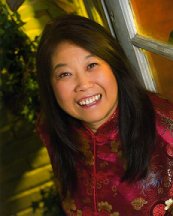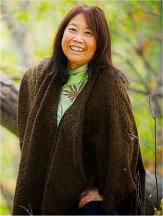 SUE-ON'S KITCHEN
September II : 2012
www.hillmanweb.com/soos/food42.html
Also featured in my Facebook Album


.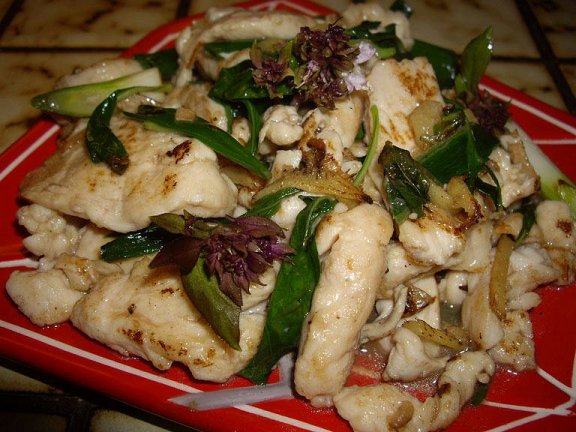 Thai basil chicken stir-fry with the one chicken breast in the fridge that needed using up.
The basil is from my palette garden - bursting with flavour as this is a more mature plant.



..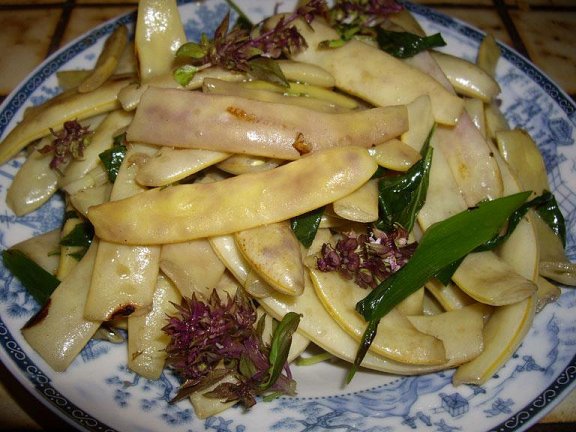 Picked up lovely dragon's tongue beans from Aagard Farms at the farmer's market on Sat.
These were more purple-streaked when fresh.
Stir-fried with Thai basil (yes...more of this stuff!)
made the perfect lunch today.



..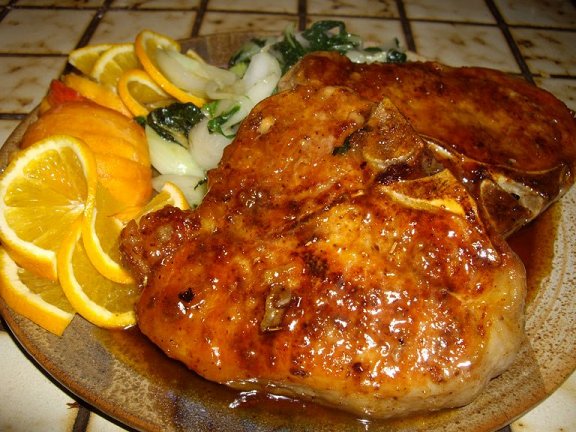 Maple-Orange Glazed Pork Chops:
1.5 " thick pork chops, dusted with Creole seasoning, salt, pepper, flour.
Browned in skillet until golden, turning 4 to 5 times.
Poured in sauce of lemon juice ( 1 lemon), orange ( 1 orange), 1 TBSP brown sugar, 1/4 pure maple syrup.
Simmer for 15 minutes, turning 3 to 4 times.
Cook uncovered 5 minutes to reduce liquids to glaze.
DO AGAIN!
Eaten with stir-fried baby bok choy, Jasmine rice, peach slices...and spaghetti squash.



..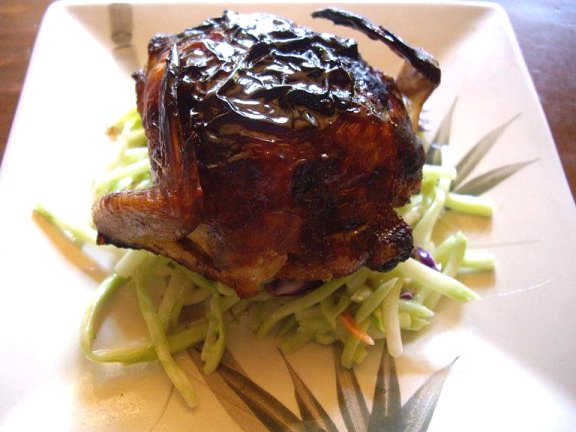 Ryan's Quail:
Glaze of soy sauce, molasses, balsamic vinegar, and a few drops of smoke.
Quails were stuffed and roasted in 400 oven until brown ;-)



..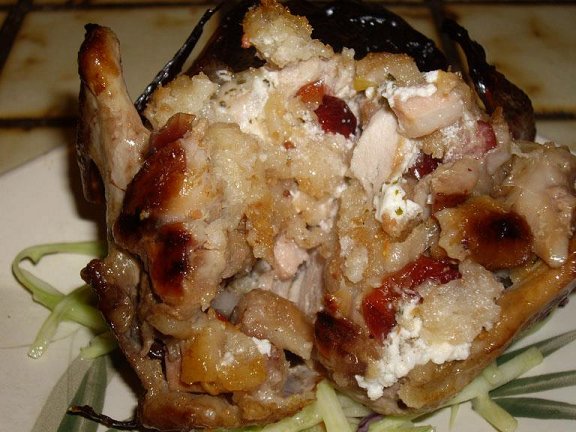 Stuffing:
Herb goat cheese, rye bread crumbs , cranberries, green onion,
and fresh cayenne pepper from my palette garden.
Great stuff...ing!
Ryan also made "gumbo - rice, cayenne, fresh okra, onion, and stock from the quail that he boned...



..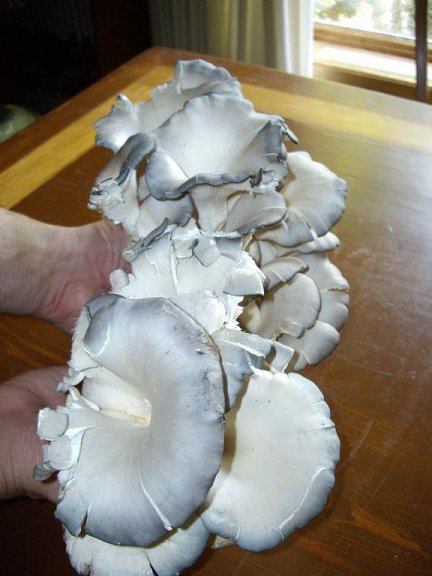 Oyster mushrooms...I think...and grown in Brandon, MB.
Will be part of supper tonight.



..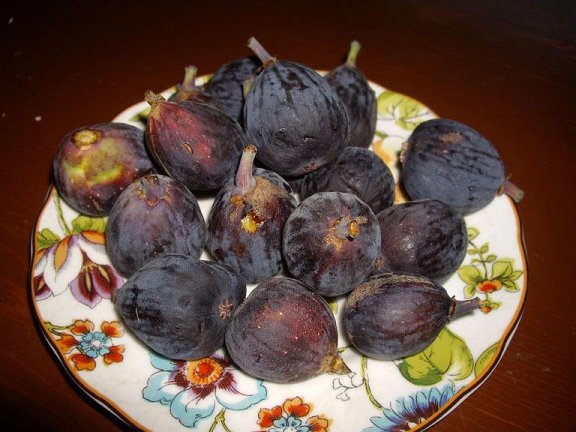 Ss had Mission figs in - sweet!
Think Ryan-Boy wants to do them with goat cheese in puff pastry.



..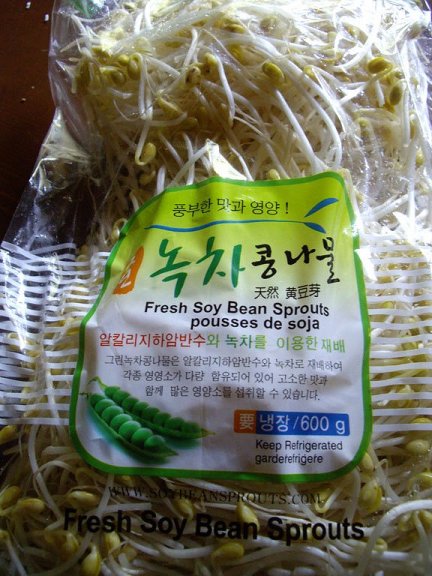 Found more soy bean sprouts at the Chinese grocery store this afternoon!



..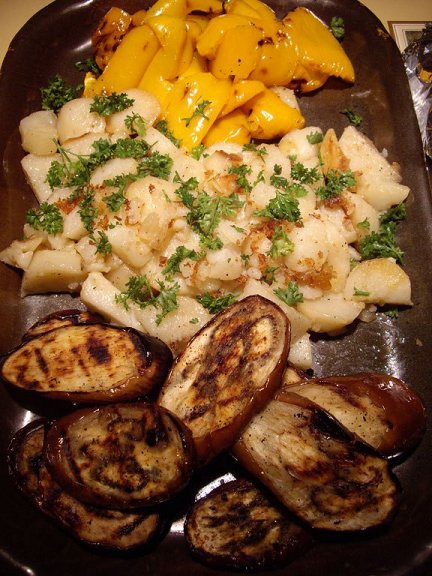 Grilled Asian eggplant and sweet peppers -
both dusted with Slap Ya Momma Cajun Spice.
Potatoes done in foil on the BBQ finished with parsley.



..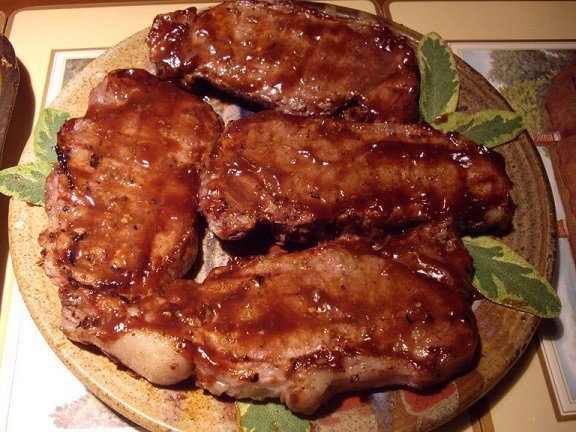 The grilled veg were perfect with these strip loins that Ryan preped.
with his own rub and finished off with Guinness BBQ sauce - tender and to perfect med. rare!
Dessert was frozen Greek Black Cherry Yogurt by Open Nature at Safeway.
It's a new product with a $1.00 coupon, so #3.99 for a pint-size round tub. Good stuff!



..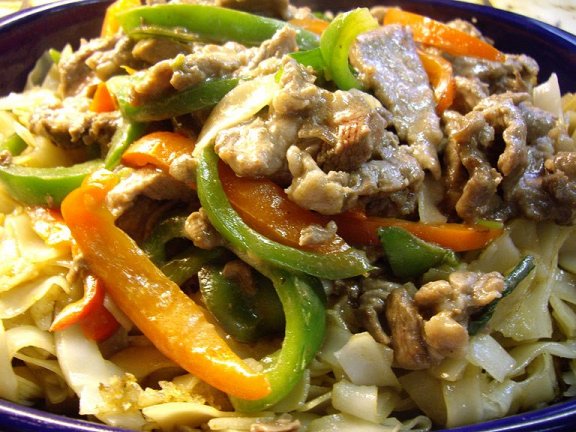 Rice noodle (Ho fun) with beef and sweet peppers
- a grandson Soulin favourite except for the vegetable!



..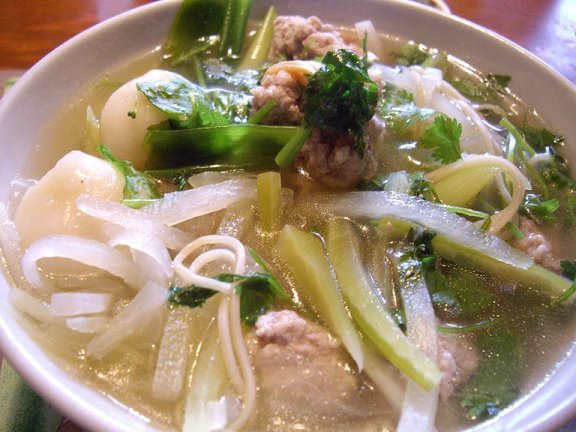 Glutinous rice dumpling soup (tong yuen)
with ground pork balls, shredded Chinese daikon, cilantro,
green onion, and a dash of sesame seed oil.
This was my Mom's favourite.
The dumplings are sticky and chewy, so not to everyone's taste.
The daikon is my favourite.
I julienne it by hand; a shredder is too fine.l



..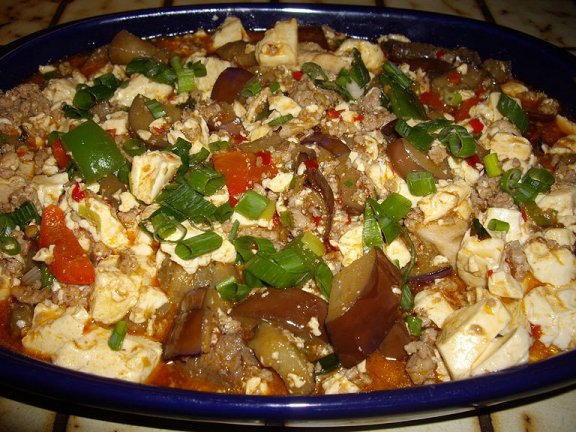 Mapo tofu WITH Chinese eggplant thrown in along with some halves of sweet pepper.



..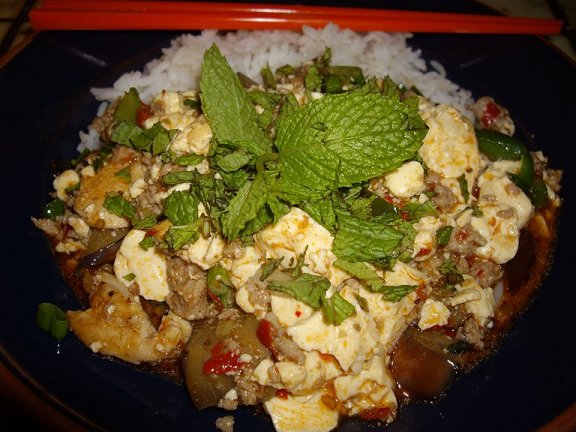 I love fresh mint with spicy food!



..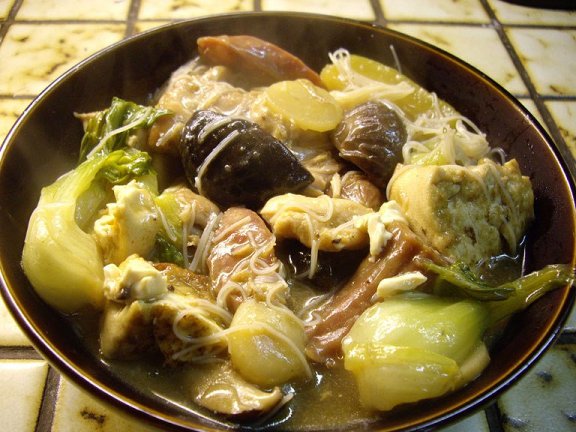 Chicken braised with Chinese mushrooms, Chinese sausage,
tofu, bok choi, waterchestnut, ginger, and rice noodles
- perfect for fall-like weather.



..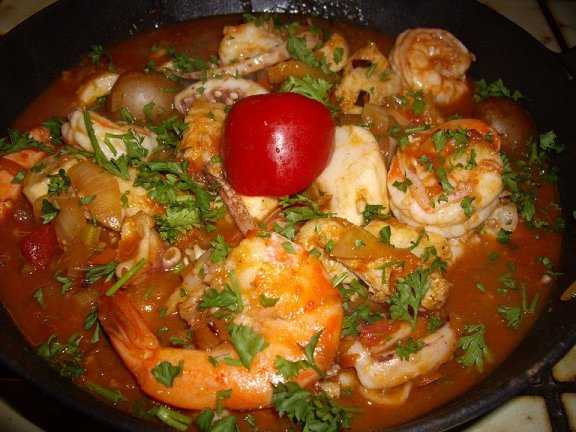 Quick seafood stew:
Scallops, sole, shrimp, squid tentacles:
sweated diced onion, sweet bell pepper, ginger, chili pepper in olive oil.
Added a splash of red wine, 1 cup of hot salsa, 1 cup of chicken broth.
with a splash of worchestershire sauce. Reduced slightly.
Added shrimp, squid, scallops that were "massaged" with seasonings, cornstarch and oil.
Simmered until seafood was just cooked.
Added chunks of seared fillet of sole and boiled baby potatoes.
Sprinkled with parsley and eaten with baguette...
Done within an hour.
The "red apple" on top is a red pepper sent from our nephew Paul 's garden in Burnaby.
Nice bit of heat but not over-powering.



..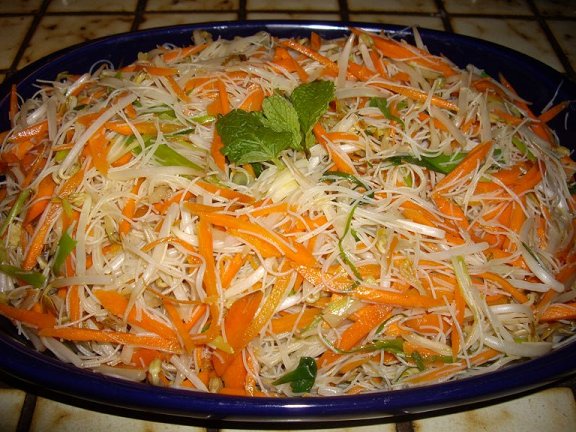 My take on Vietnamese Summer Rolls:
Carrots, green onions and rice noodles prepped last night.
Just quickly stir-fried everything with fish sauce and sesame oil.
Added beansprouts at the end.
The filling ROCKED, and be ready to ROLL after cooling for about 15 minutes :-)
Taking a bunch to friends at BU :-)



..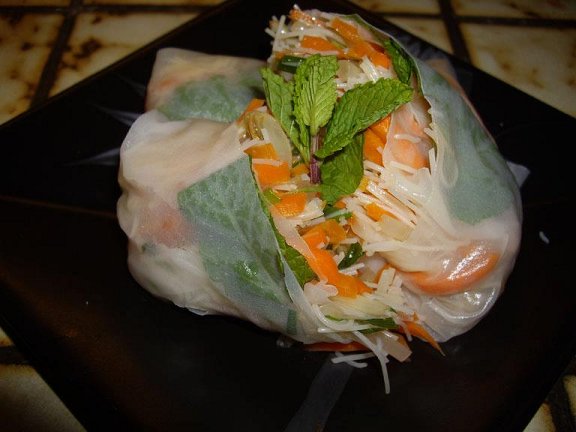 Innards rolled!



..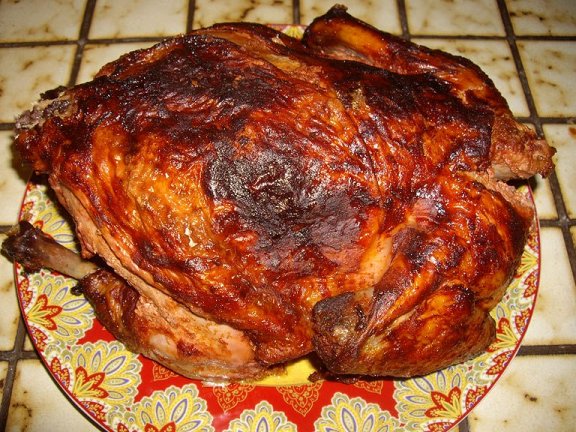 Oven roasted tandoori chicken:
Whole chicken marinated inside and out with tandoori paste and Greek 0% fat yogurt.
Roasted in 350 oven for 2.5 hours.
Juicy, tender, delicious!
Made basmati rice with cumin seeds, black peppercorns, and cardamon...



..
..


Copyright 2012
Sue-On Hillman
Bill and Sue-On Hillman Eclectic Studio