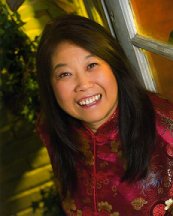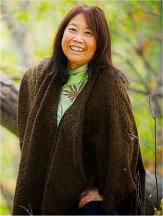 SUE-ON'S KITCHEN
February I: 2013
www.hillmanweb.com/soos/food/54.html
Also featured in my Facebook Album


.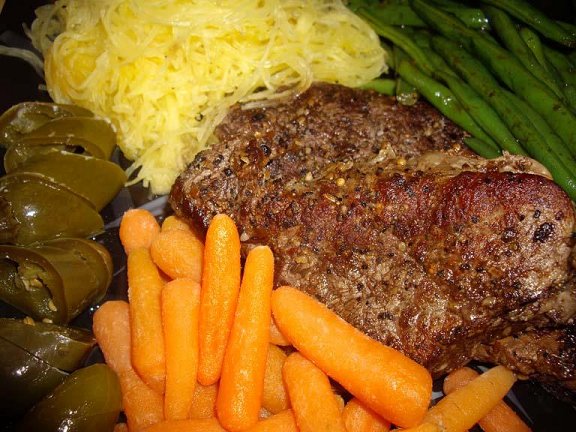 Pan-seared tenderloin steak and vegetables.
Spiked up with jalapeno peppers!



.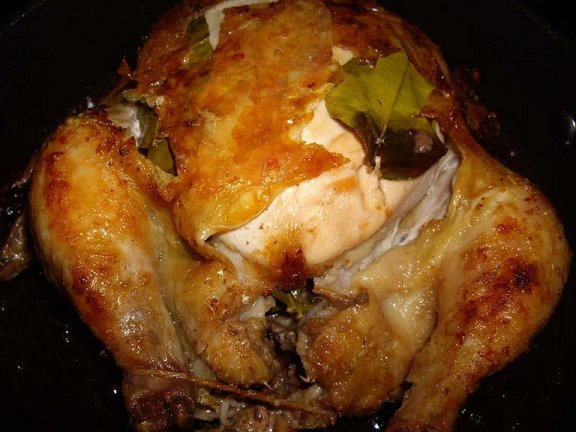 Zuni Cafe Chicken with Kaffir Lime Leaves - Great flavour from the leaves!


.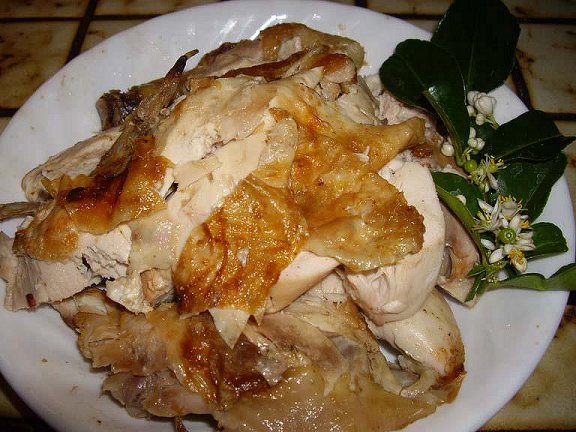 Zuni Kaffir Lime chicken - cut up for tomorrow's lunch!


.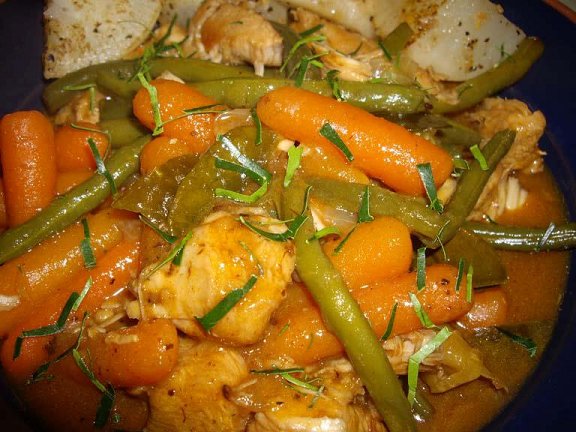 Thai Red Curry Turkey Fillet Tenders with coconut milk, lemongrass, kaffir lime leaves -
added carrots and green beans for a complete dish.
Very aromatic dinner!


.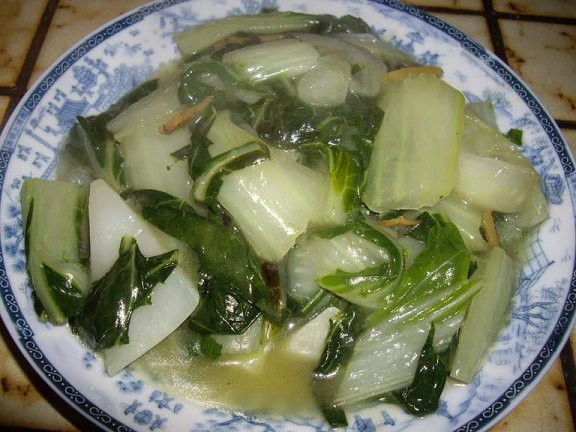 Large variety of bok choy stir-fried with garlic and ginger.


.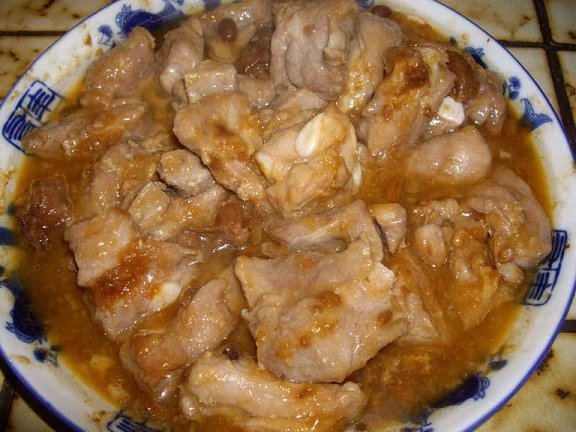 Very traditional Chinese style pork ribs
- steamed with brown soy bean paste and plums in brine.


.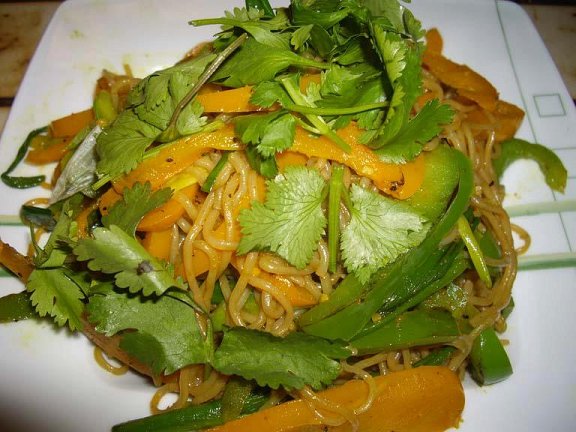 Shirataki noodles done up with curry and sweet peppers.
Love cilantro - can you tell?


.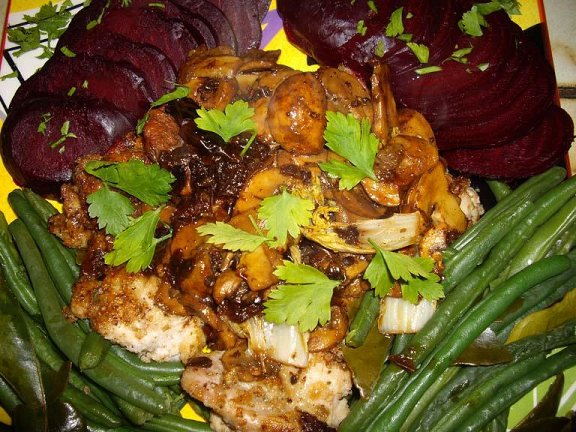 .Chicken Marsala: Chicken breaded with Almond Meal.
Pan-fried in a smear of grape seed oil. Sliced mushrooms and
chopped sun-dried tomatoes simmered in Marsala wine.
The sauce was ladled on top of the chicken.
Served with oven roasted beets and green beans steamed with Kaffir lime leaves.
Literally inhaled the beans ;-)


.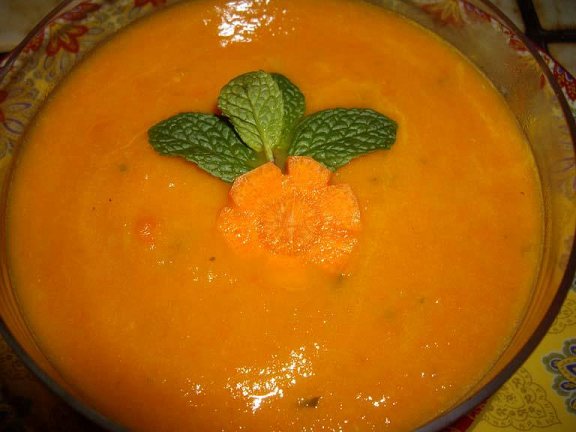 Found a recipe for Carrot-Ginger Soup -
just carrots, onion, fresh ginger, garlic, chicken stock, then pureed.
I jazzed it up as I thought it was boring.
Simmered some more carrots with lemongrass and,
yes, Kaffir lime leaves before the immersion blender.
Curry powder was added at the end along with a squirt of fresh lemon juice.
Much better!


.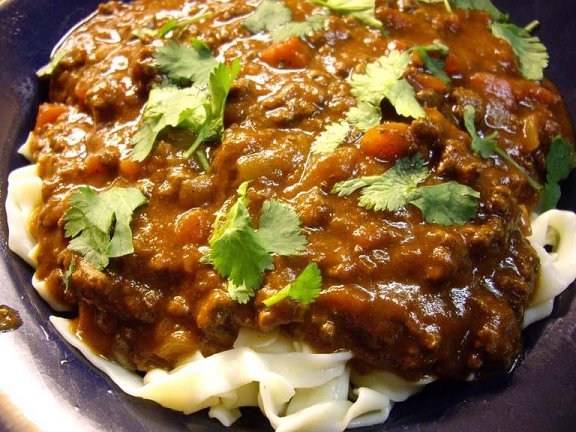 Doctored-up Cincinnati Chili over shirataki "fettuccinie" noodles
.



.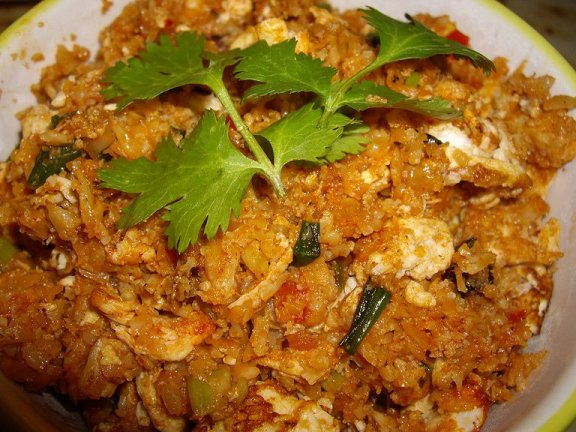 .Kimchi "fried rice" with chicken
.



.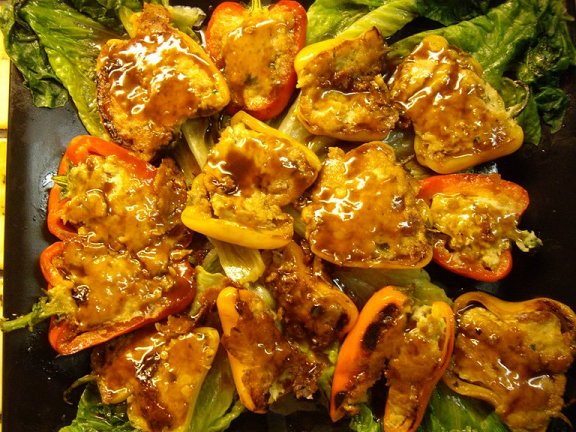 Mini sweet bell peppers stuffed with ground turkey, waterchestnut, cilantro.
Browned, then steamed with oyster sauce and chicken broth.
.



..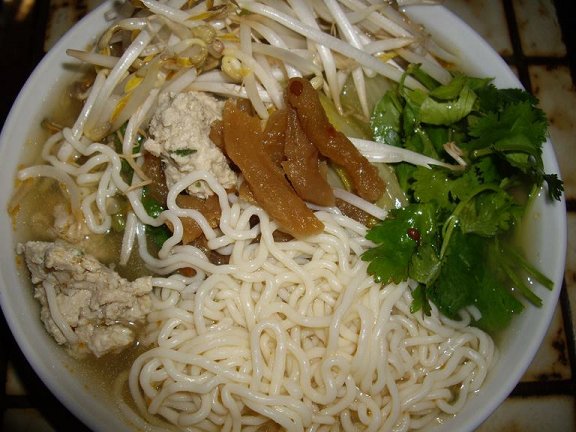 Late Lunch Turkey noodle soup with sides:
fresh beansprouts, cilantro, and preserved chili radish.
..



.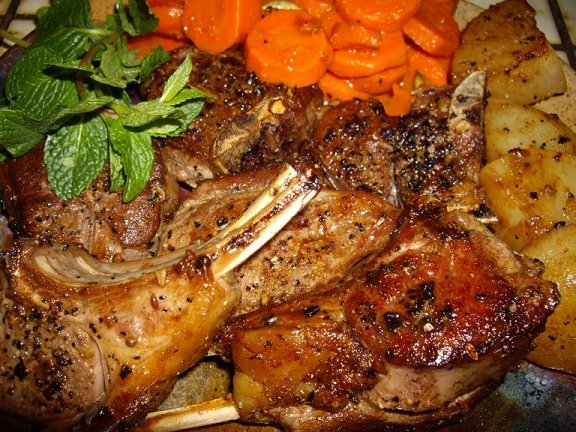 Seared and oven-finished lamb chops with cardamon carrots and turnip.
.



.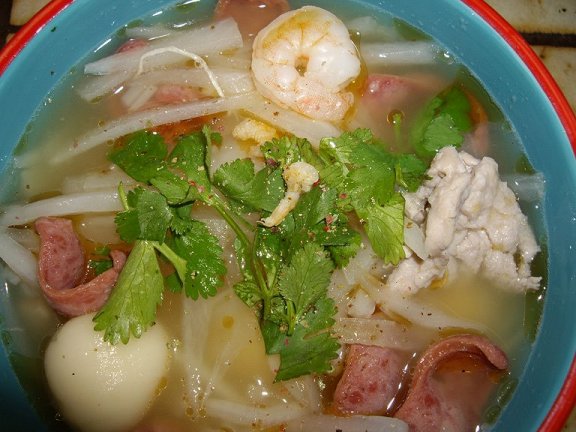 Savory Tong Yuen:
Cantonese glutinous rice dumplings in chicken broth,
Chinese sausage, sliced pork tenderloin, julienne daikon, baby shrimp, dried baby shrimp,
cilantro, drizzled with sesame oil.
.



.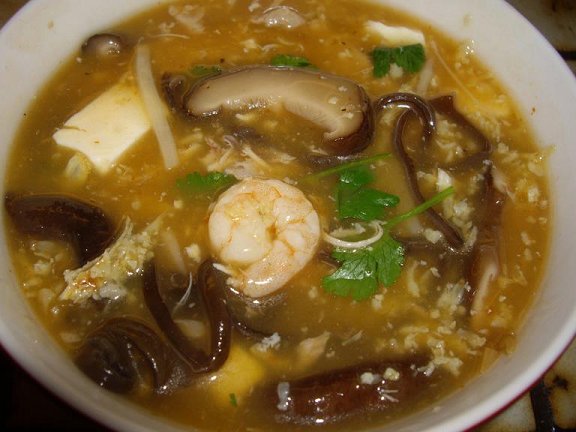 Bill's not a fan of the glutinous blobs of dumpling,
so he had Hot 'n' Sour Soup.
..



.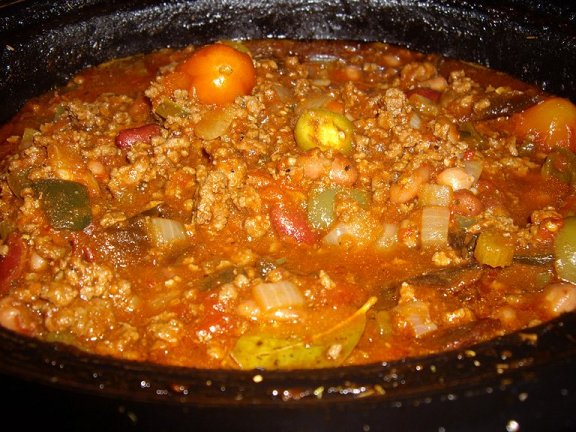 Stephen Reid 's 4-Pepper Chili: modified
- didn't have Guinness so I subbed in with 12-year-old sherry,
a bit of palm sugar, a few dashes of worchestershire sauce,
and a couple of serrano peppers for more heat.
Ready for packing some away!
.



.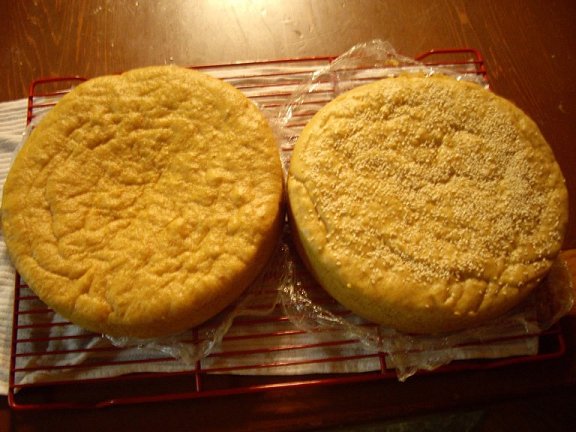 Mah lai goh:
Two steamed cakes: eggs, brown sugar, butter, eveaporated milk,
baking soda, baking powder, flour, steamed for 30 minutes
.



.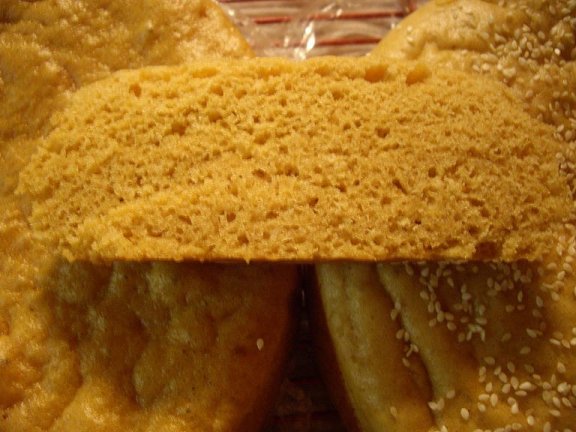 The end slice... looking good!
..



.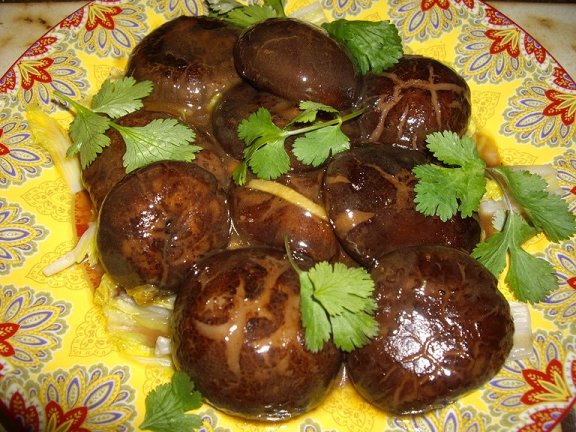 Re-hydrated tong goo - shitaki mushrooms.
Simmered in chicken stock, then quickly stir-fried in oyster sauce.
Served over wilted napa cabbage
.



.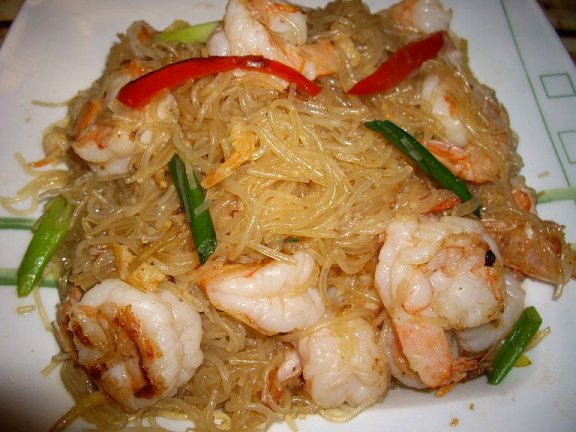 Shrimp and "fun see" - mung bean noodles -
required dish for Chinese New Year.
.



.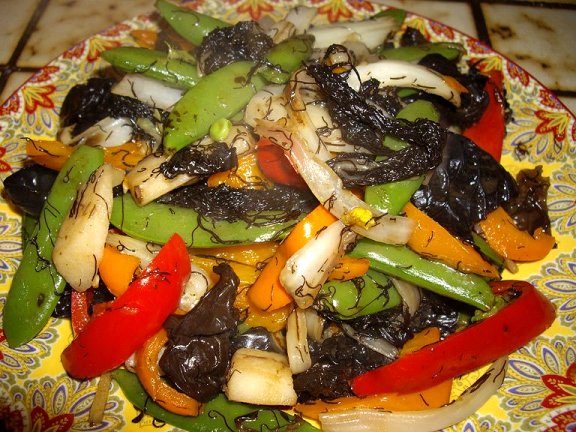 Mixed vegetables:
Sweet bell peppers, sugar snap peas, nanp cabbage stalk, wood ear, and hairy moss.
Hairy moss in Chinese is "fat choy" - same sounds as prosperity.
This moss is from the ocean.
It's quite expensive as harvest is restricted.
Chinese people often give "pancakes" of these as gifts
because it is expensive and carries status;-)
..



.
..