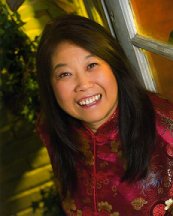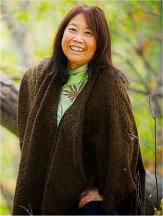 SUE-ON'S KITCHEN
OCTOBER II: 2013
www.hillmanweb.com/soos/food/73.html
Also featured in my Facebook Album

.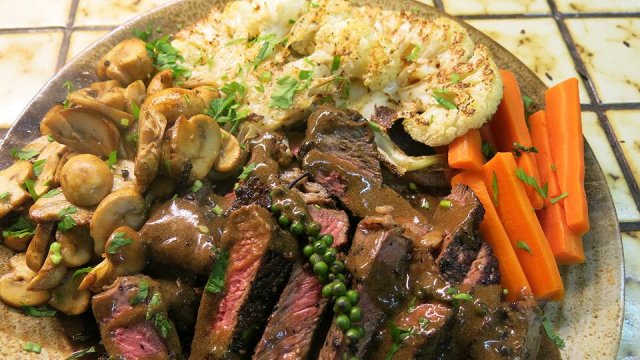 Steak au poivre (stove and oven finished) with green peppercorn sauce,
stir-fried mushrooms, steamed carrots and roast cauliflower steak.

.


..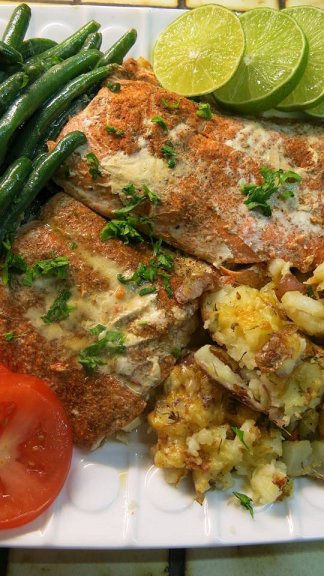 Creole rubbed sockeye salmon, steamed green beans
with fermented tofu (Fu Yu), Crash Hot Potatoes
with smoky Gouda cheese
.


.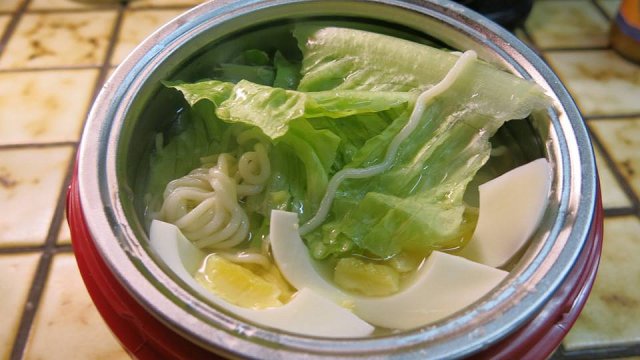 Shirataki noodles, Romaine lettuce, hard boiled egg, chicken stock
- all put into the crock pot cold in the morning.
.


...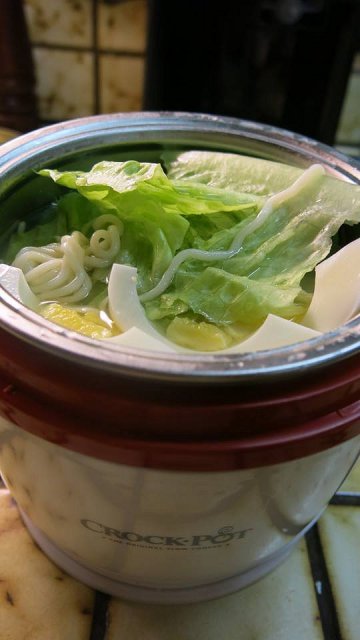 Plugged the unit in at work
and it was perfect in a couple of hours - slow and low.
The Romiane lettuce still had crunch.
This is before "cooking".
.


...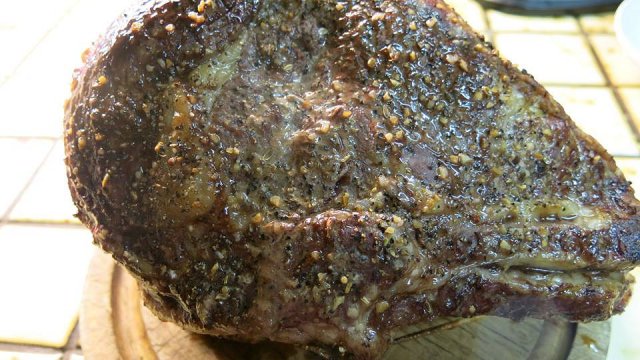 Prime rib roast in the Big Easy - with just Montreal Steak Spice.
.


...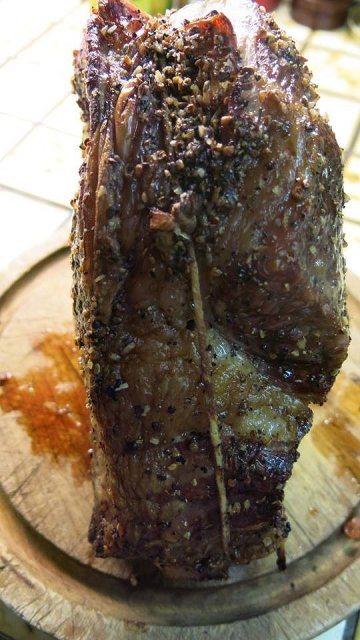 The profile.
The aroma was fabulous!
.


...


Couldn't really time the roast
as the propane tank ran out about 30 minutes into the cooking.
Cooking two chickens just before this roast didn't help. LOL!
Drove down to Walmart while the last flickers were still going in the Big Easy.
Picked up a second tank, which I have been planning to do all along.
.


....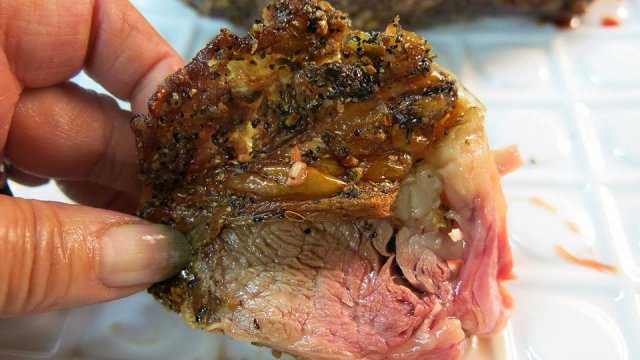 But, having an instant read thermometer is a good idea.
Pulled the roast at 135F.
Rested while I made the green peppercorn gravy with the drippings.
Food porn, would you say?
.


...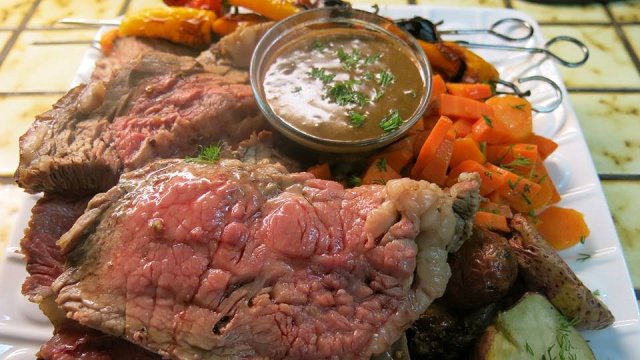 Oh yeah! Tender, juicy, lovely crust!
Also did skewers of mini-bell peppers and potatoes...
I think I've just about covered the major "normal" meat groups in the Big Easy!
Now what?!
.


...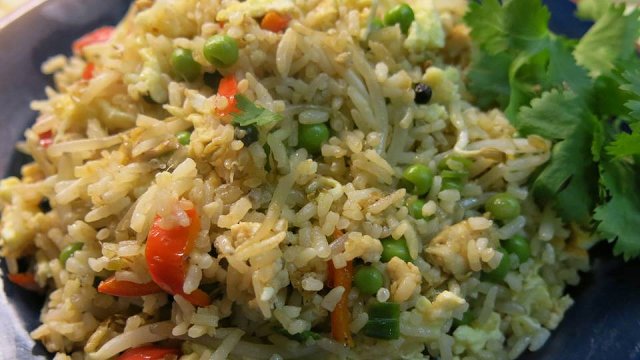 Chicken and Vegetable Fried Rice:
sweet bell peppers, green onion, fresh mushrooms,
ginger, peas, bean sprouts, egg, and cilanto
.


...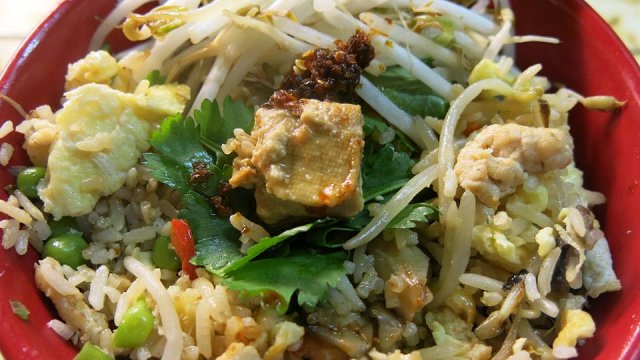 Chicken and Vegetable Fried Rice with Saigon Chili Oil and Fu Yu
(fermented tofu - think vegemite) as condiment.
Extra bean sprouts for my bowl.
This filled the tiny space left empty after a bowl of Hot 'n' Sour soup :-)
.


...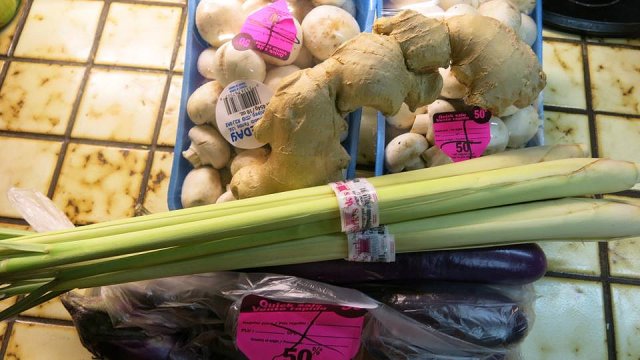 Fresh lemongrass and ginger; white mushrooms and long eggplant @50% off!
.


....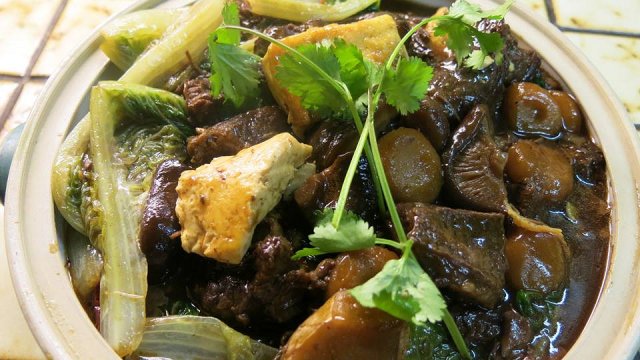 Chinese Beef Stew:
sweet, salty, spicy, velvety, crunch, with tofu,
wilted lettuce, shitaki mushrooms, waterchestnuts, ginger, garlic,
lemongrass, star anise, cloves, dark soy, dry sherry,
brown sugar, fresh green peppercorns...
perfect!
.


...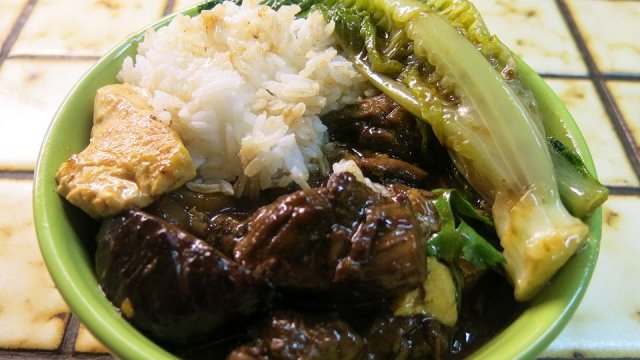 Chinese Beef Stew with Jasmine rice.
.


...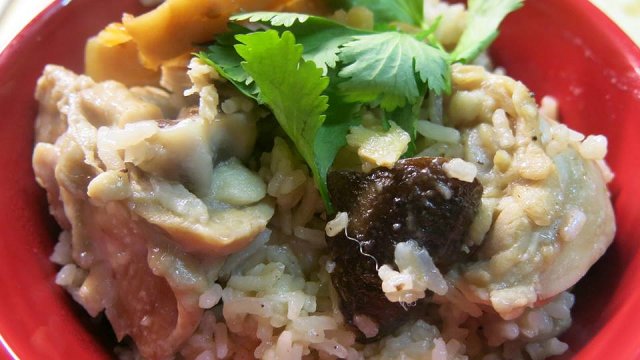 Claypot Chicken, Chinese Mushroom & Rice.
The crusty bottom layer is a favourite!
.


...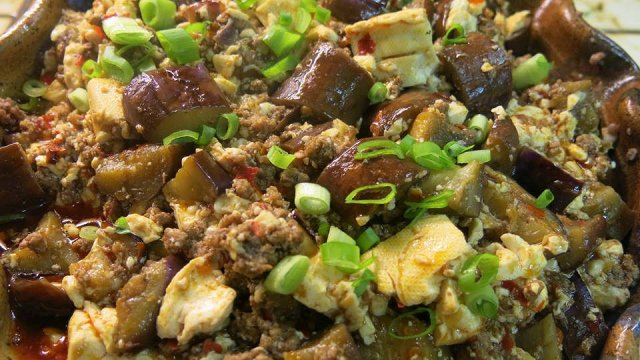 Mapo Tofu with Long Eggplant- spicy and silky.
.


...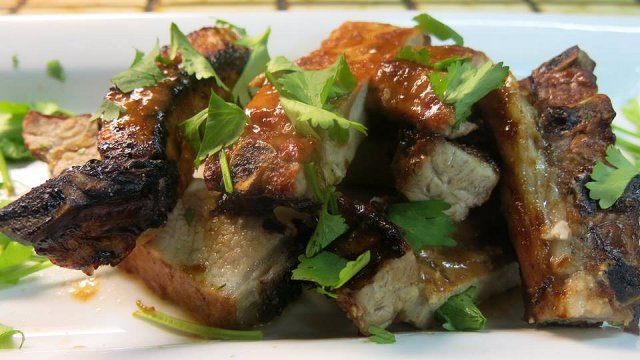 Country Cut Pork Ribs slathered with Bull's Eye Bold BBQ sauce
and cooked in The Big Easy for 45 minutes.
The slab was only about 1.5 inches thick.
Not as much charring as I would like,
but it was still very good, moist and JUST cooked.
No apple sauce but eaten with salsa, roasted cauliflower, kernel corn, and rice.
THIS is the Last Supper of October, folks!
..
.


..
INTRO AND CONTENTS
..