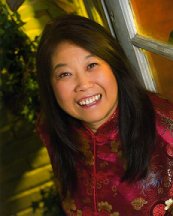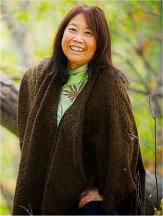 SUE-ON'S KITCHEN
NOVEMBER I: 2013
www.hillmanweb.com/soos/food/74.html
Also featured in my Facebook Album

.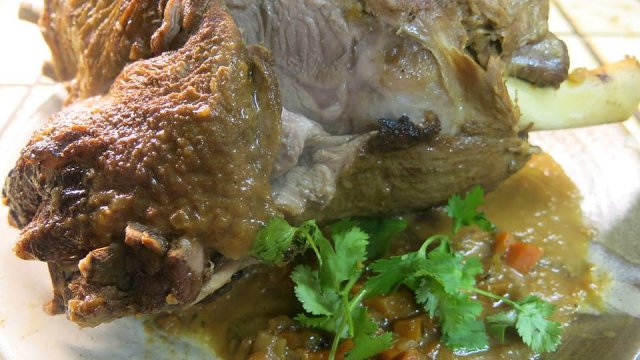 Braised Lamb Shoulder
in Middle Eastern spices, carrots, celery, onion, dark ale, and beef stock.

.


...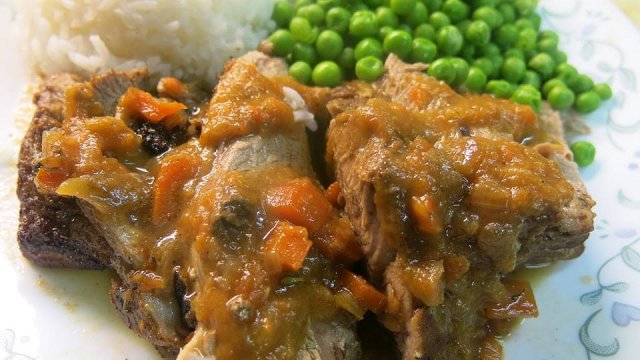 Plated Braised Lamb -
Sauce is diced vegetables cooked in the braising liquid,
then "blended" to thicken the liquid.
Eaten with peas and jasmine rice.
.


...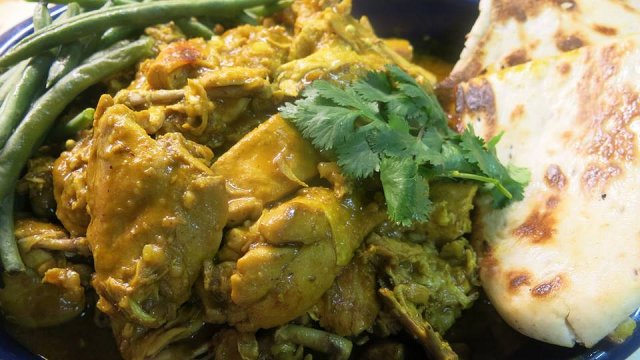 "Indian" Curry Chicken, green beans, and naan from The Big Easy!
.


....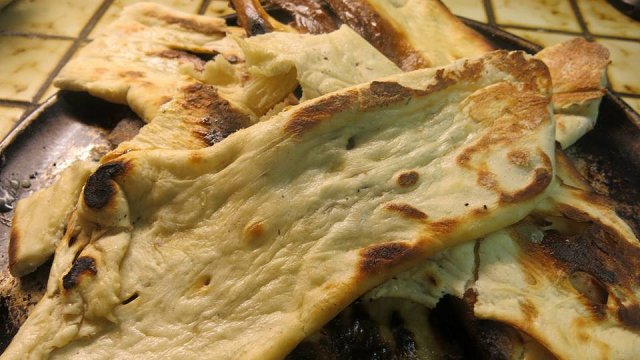 Naan from my Big Easy Oil-less Turkey Fryer...
Very light and easy to work with.
The mashed potatoes add that bit of chew yet light texture.
.


...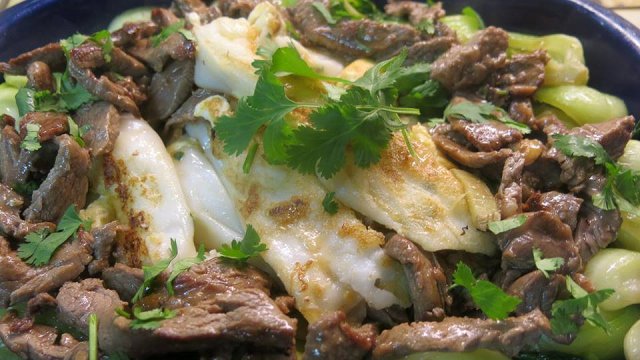 Rice rolls fried with beaten egg, stir-fried beef tenderloin and Shanghai bok choy. . .
...simple and yummy!
.


...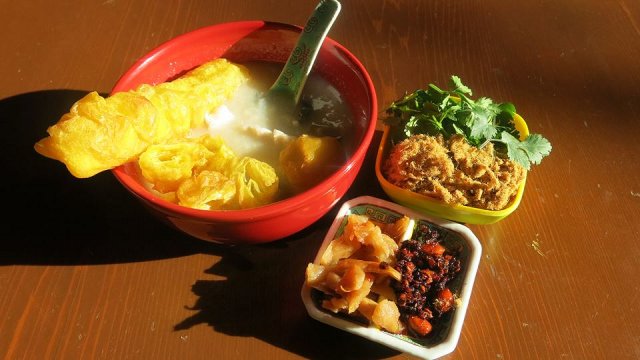 Congee for Brunch:
Chicken, 1000-year-old egg, pork floss, deep-fried Chinese donut,
chili radish, Old Mama chili sauce & peanuts, and cilantro!
.


....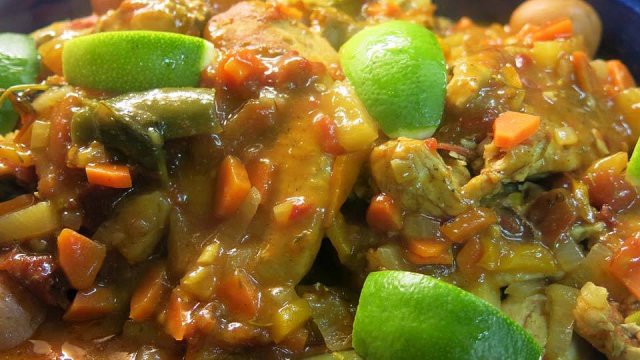 Guisado de Pollo:
Chicken and Potato Stew - Saveur July 16, 2012 issue.
Full-bodied flavours with chipotle in adobo sauce, cumin, thyme, onion,
sweet pepper, carrot, jalapeno pepper, potato, canned tomato, pineapple.
Recipe called for shredded chicken,
but I kept the skinless and boneless thighs and breasts whole.
.


...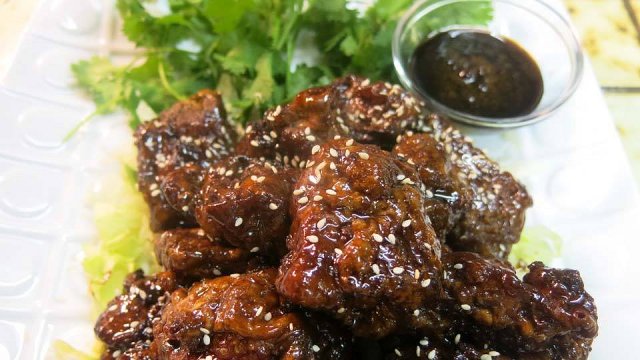 Memories of Singapore:
Coffee Flavoured Pork Ribs:
We were introduced to this deliciousness by our "little sister" Karen Lee
and our special friend Ang Lai Nguang.
The recipe I have is not quite as good but I think the company had a lot to do with that!
These ribs were marinated over night with flour, custard powder, egg,
sesame oil, oyster sauce, baking soda, deep fried,
then slathered with a delicious coffee flavoured sweet sticky sauce:
maltose, instant coddee ganules, sugar, worchestershire sauce, etc.
A bit of work but SO worth making :-)
---
The coating is really crispy and the meat is tender and juicy inside...
The sauce is not too sweet and has a really nice bit of coffee flavour.

.


...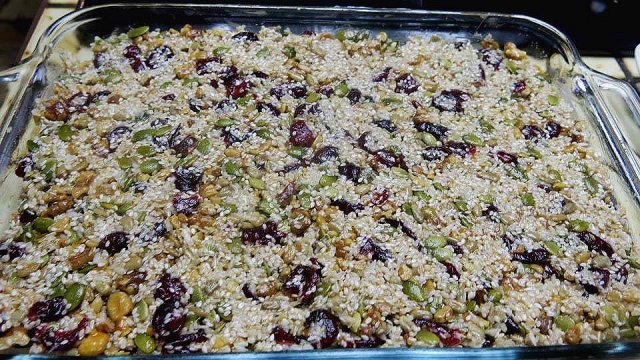 Birdseed Bar:
Sesame seeds, walnuts, sunflower seeds, pumpkin seeds,
toasted coconut, cranraisins, honey, butter, sugar = YUM!
Will be shipping out with the shortbread for our family cookie exchange :-)
.


...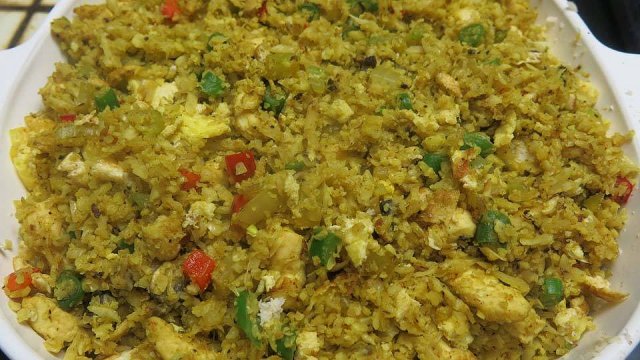 Mock Curry Chicken Fried Rice: No rice!
3/4 head of grated cauliflower, steamed in covered Corningware dish
in the microwave WITHOUT any water - 5 minutes.
Sauteed diced chicken breast in 1 tsp oil and hot wok.
Add diced vegetables and pan-fried egg.
DRY fry the steamed cauliflower for that "wok hai" aroma.
Stir everything together with curry powder.
Season with salt and a few drops of sesame oil.
This will keep in the fridge for a couple of lunches
- to be enjoyed with hot chili oil!
.


...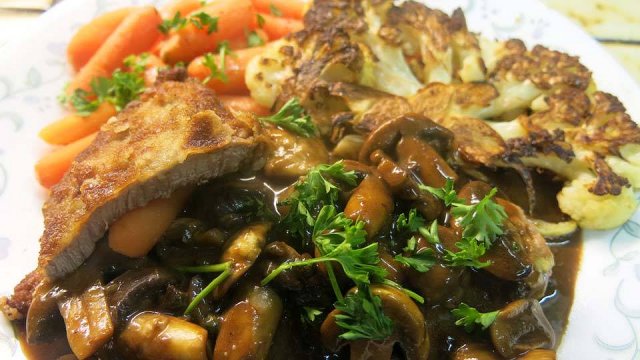 Breaded Veal Cutlet,
mushroom gravy, roasted cauliflower "steak" and steamed carrots.
.


....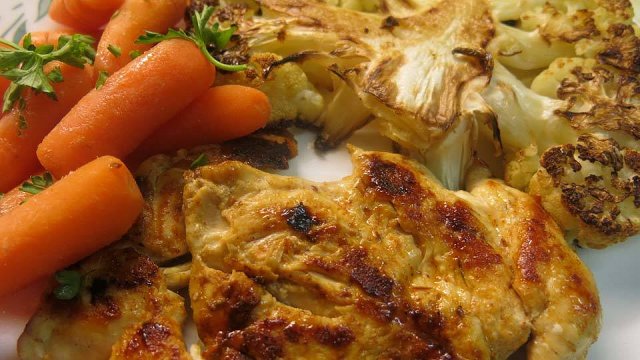 Pan-seared oliver oil and Cajun seasoning rub chicken breast,
roasted cauliflower "steak" and steamed carrots for moi ;-)
.


...
INTRO AND CONTENTS
..