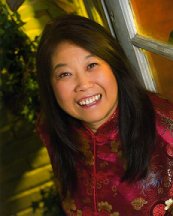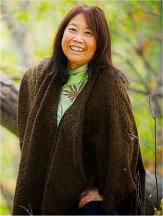 SUE-ON'S KITCHEN
DECEMBER I: 2013
www.hillmanweb.com/soos/food/76.html
Also featured in my Facebook Album

.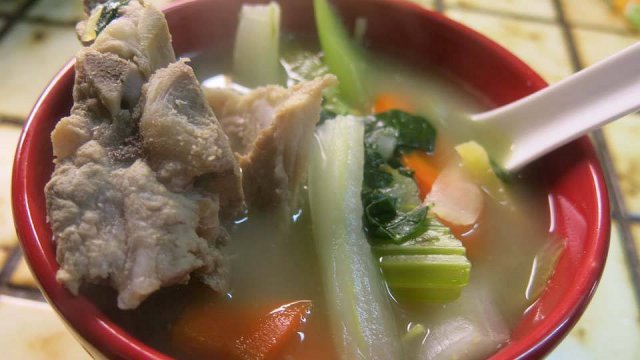 Vegetable Soup, Chinese style:
Pork rib bones for the stock, bok choy, celery, carrots, ginger.
Simple and yummy - great start for December.

.


...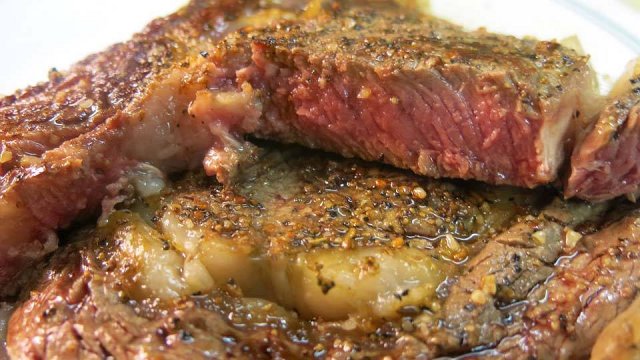 Pan seared rib steaks with Montreal Steak Spice.
.


...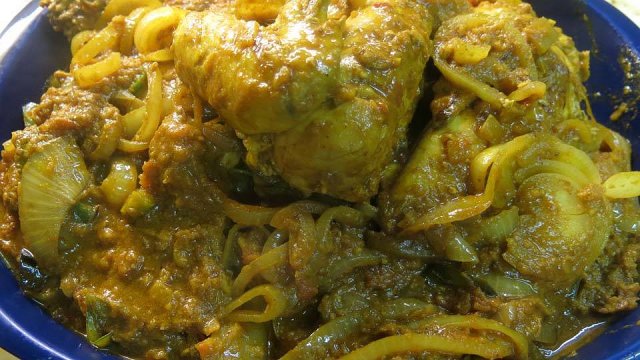 First time making Chicken Dopiaza -
Chicken and Onion Curry, Used one 3 lb chicken and
6 onions, cumin, coriander, tumuric, garam masala, chili, tomato paste,
plain yogurt, canned tomatoes, and I threw in fresh curry leaves.
The recipe called for serrano peppers, but all I had were jalapeno peppers.
Cilantro was added along with the peppers at the end.
A do-again recipe.
.


....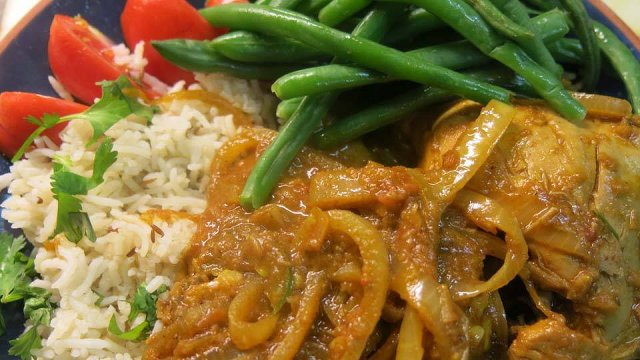 Chicken Dopiaza platted with basmati rice and green beans.
.


...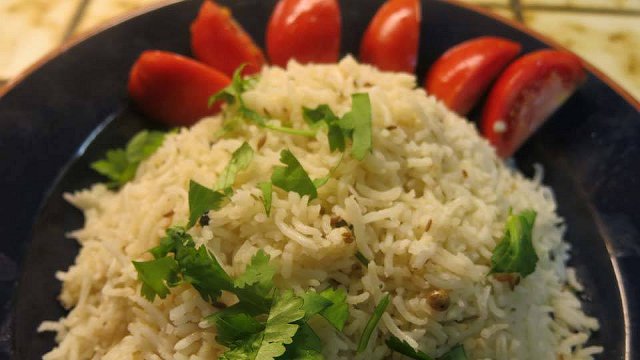 Basmati Rice with jeera (whole cumin seeds) and whole peppercorns.
.


...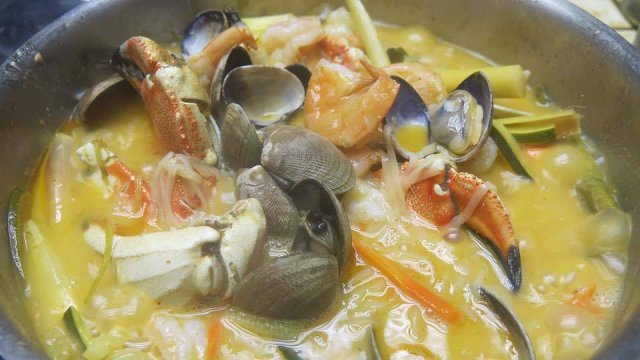 Inspired!
Adapted from Chef Michael Smith's Thai Curry Chicken and rice noodles.
I subbed the chicken with Jonah crab Claws, Manila clams and shrimp.
Here everything is bubbling happily, infusing everything with the aromatics.
.


...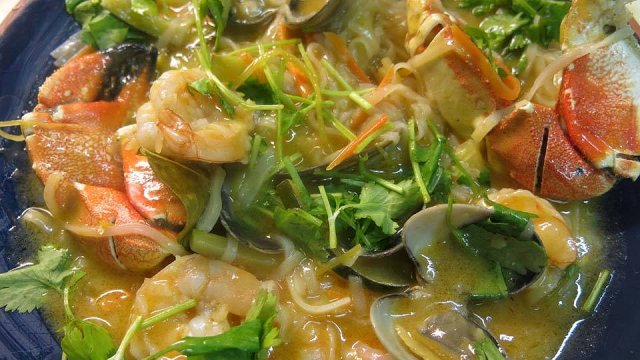 Thai Curry Seafood and Rice Noodles!
Lemongrass is often at Superstore.
If you can't get kaffir lime leaves, check the freezer at Living Delight.
I use Thai Kitchen coconut milk - cheapest at Walmart.
.


...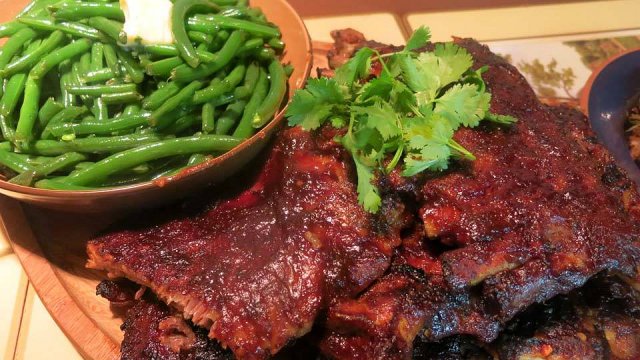 Ryan the Rib-Man's pork ribs!
Fall-off-the-bone, finger-licking delicious...
.


....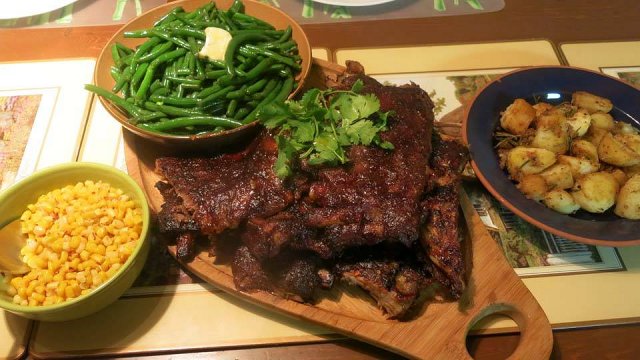 I added sauteed green beans, corn, and pan-fried potatoes
with Italian seasoning and fresh rosemary.
.


...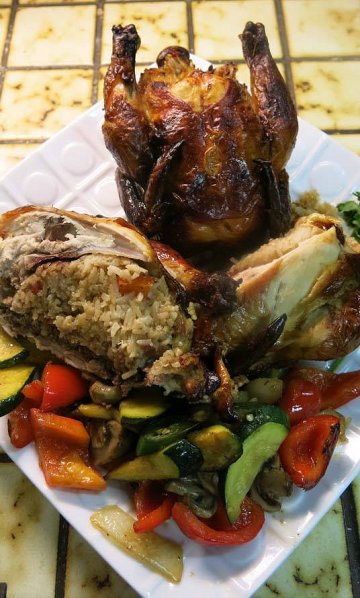 Honey glazed Cornish game hens stuffed with fried rice.
Side of mixed vegetables.
Oh... I DO miss using my Big Easy, but it is a bit too cold tonight :-(
---
I haven't made these for a long time.
I remember making 24 of these for one of Bill's surprise birthday parties.
He decided he wasn't feeling well so called into work (at Strathclair Collegiate) sick.
I had to glaze all those hens for the supper party that evening,
so I kept doing them four at a time, making him think that's what
WE were having for his supper with his parents.
I had the rest of the hens hidden all over the house once they were glazed.
Thank goodness I remembered how many I had prepared,
or they might still be some fossilized in the farm house. LOL!

.


...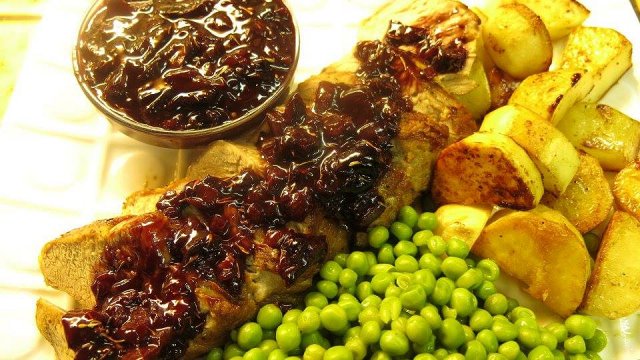 Pork Loin with Cherry Sauce:
I substituted pork loin for turkey.
That might have contributed to the "not a success" category ;-)
.


...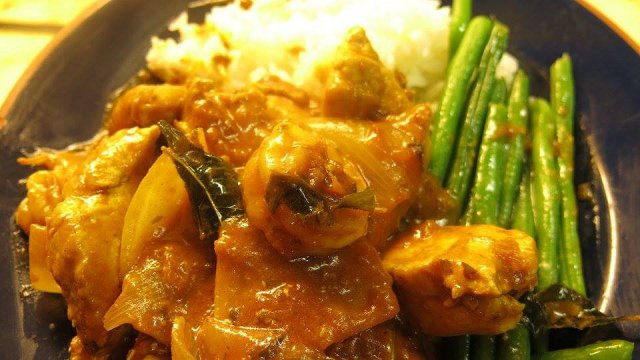 Butter Chicken with a couple of stray shrimp.
Love the fresh curry leaves I added to the Nana brand Butter Chicken sauce.
.


...
INTRO AND CONTENTS
..