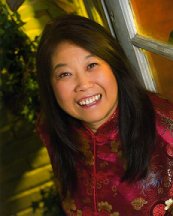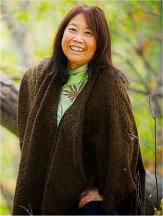 SUE-ON'S KITCHEN
DECEMBER II: 2013
www.hillmanweb.com/soos/food/77.html
Also featured in my Facebook Album

.....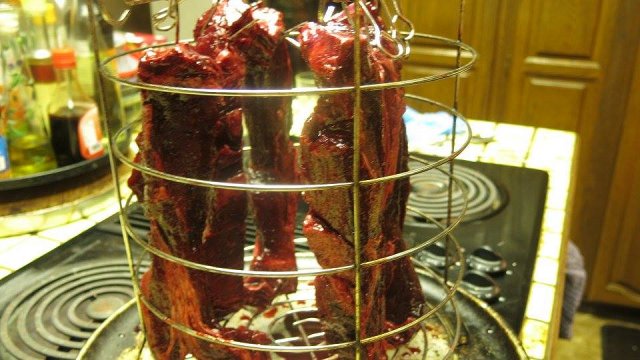 Strips of country style pork ribs marinated for 2 days, ready for the Big Easy!
December 18th in heavy snowfall ;-)

.


....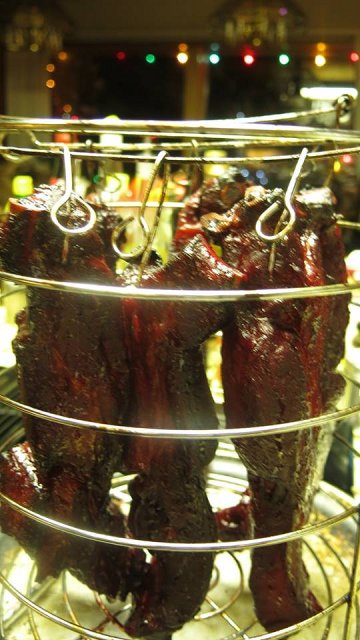 BBQ pork strips - 45 minutes - ready for Char Siu Baos!
These are what is labelled as country pork ribs.
It's a long piece of meat with a bit of a rib bone at one end.
The meat has a thin strip of fat along part of it - keeps it tender and juicy.
I dice it, stir-fry it with special BBQ sauce,
and use it to stuff Chinese buns that are steamed.
I suspended the meat in the wire basket and cooked them in the Big Easy.
No mess in the oven!
.


...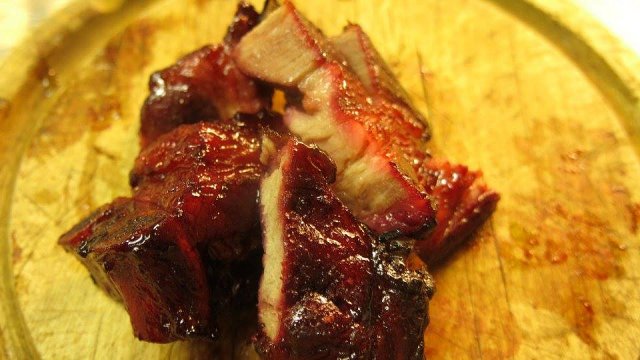 Sneaking a few slices of the BBQ pork...
.


...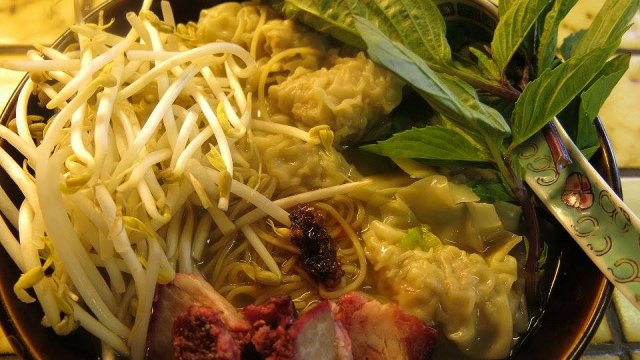 ...for the shrimp/pork wonton soup.
I added Thai basil and fresh beansprouts to mine.
.


...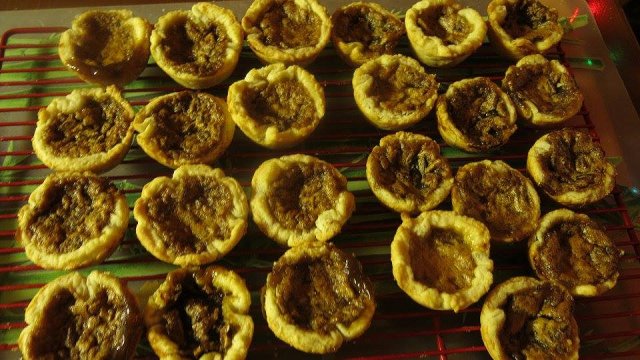 Two dozen butter tarts with nuts and raisin.
.


...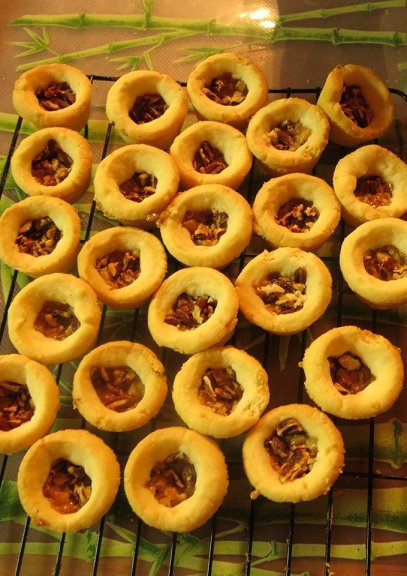 Shortbread tarts with toffee bits and pecans
.


....


A " casserole dish" by Kathy McDonald is perfect for ...
.


...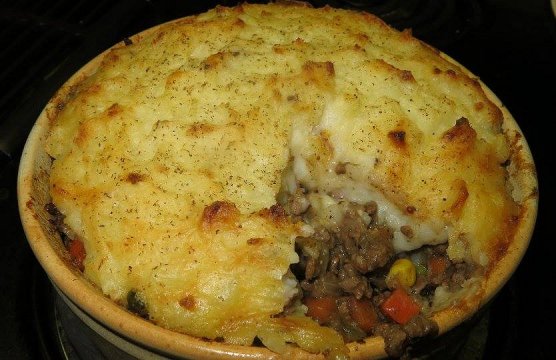 ...Shepherd's Pie for two with leftovers ;-)
.


.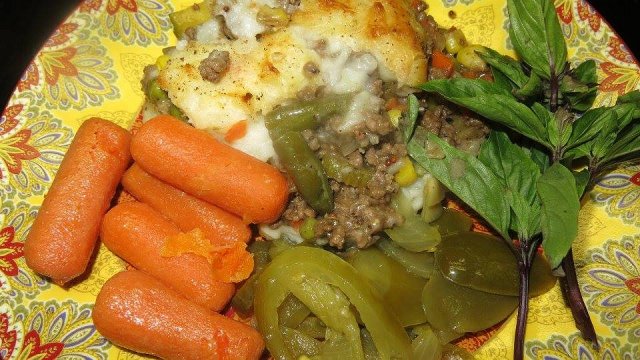 Shepherd's Pie plated with carrots, pickled jalapeno peppers and Thai basil.
.


...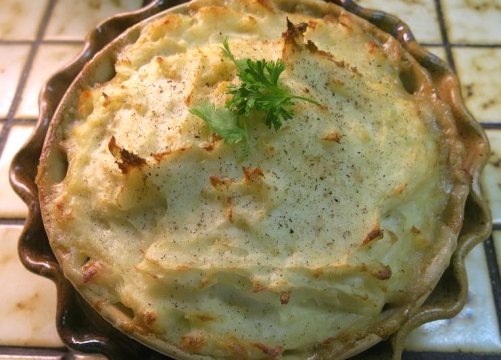 Shepherd's Pie with the wonderfully seasoned ground dark turkey meat
that our Ryan-Boy made with his Xmas meat grinder!
I made one in the small casserole dish.
Set the dish in a Kathy-made pie dish to catch any drips.
Potatoes were mash, whipped with butter and
some of the 35% cream that I didn't get to use up.
Delicious supper!
---
This wasn't leftover turkey... Ryan broke down another turkey;
used the white meat to simmer for hours with roasted vegetables
for the marinade to inject into the Big Easy turkey and the one done in the oven.
The marinade made "over-the-top" gravy.
The dark meat he ground up, added all kinds of herbs, seasoning,
and we had some as turkey burgers for Xmas Day breakie.
He forgot to take the rest home, so I used it up for this pie.
I will also have enough left for a second pie to go into the freezer.
The gravy from the Big Easy Turkey drippings was so incredible
that two of my nieces battled to take the leftovers home ;-)

.


...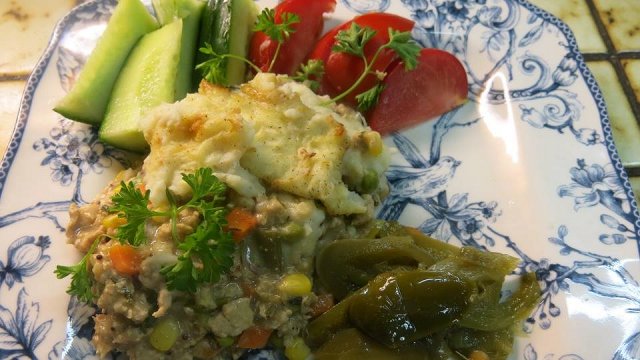 Turkey shepherd's pie plated on one of my NEW dinner plates
that match the dessert plates I found last year :-)
.


.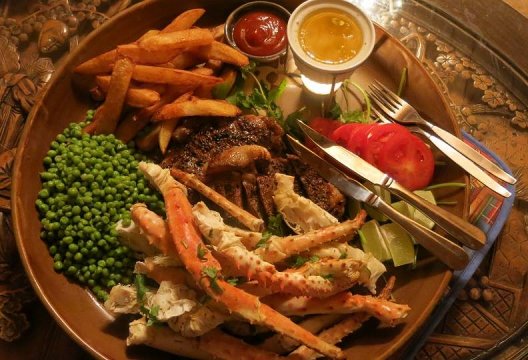 Alaskan King Crab, strip loin steak, homemade fries -
New Year's Eve supper for two!
.


...
INTRO AND CONTENTS
..