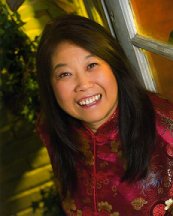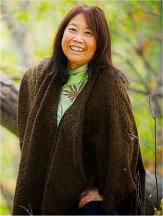 SUE-ON'S KITCHEN
January I: 2014
www.hillmanweb.com/soos/food/81.html
Also featured in my Facebook Album
click for larger images


.
.....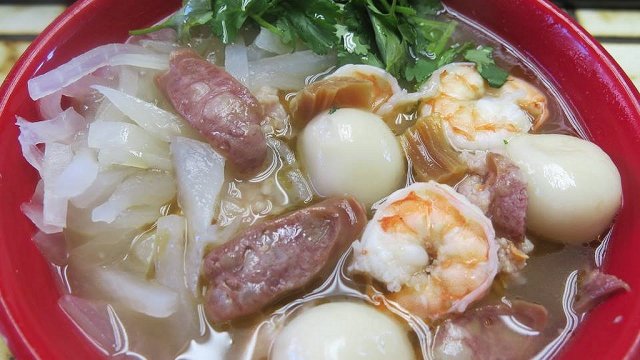 I'm so glad my Mom taught me how to make this dumpling soup -
a tradition for New Years.
I prefer this savory version, but most Chinese families will have the sweet version
with none of what is shown here, just the dumplings and maybe lotus nuts.
Mom used to make both - one for New Year's Eve, and one for New Years Day.
Bill's not one for these sticky, gooey balls of glutinous rice flour
as they can be tricky to "chew and swallow",
so he had wonton soup instead.
My favourite part is the julienned daikon (white radish).
.
.

.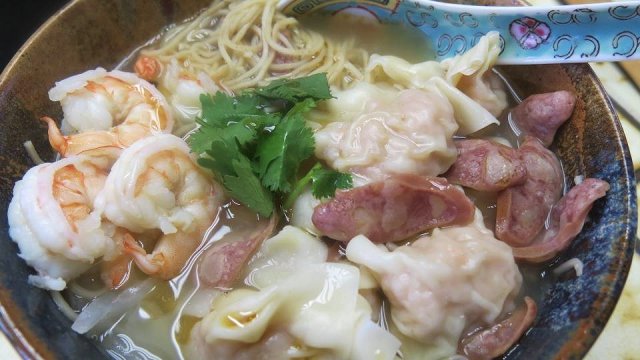 Bill's bowl of shrimp wonton soup with daikon, shrimp,
Chinese sausage, shrimp roe noodles, and cilantro.
.


.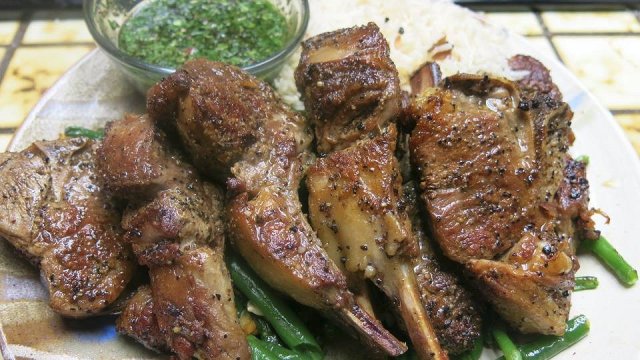 Grilled lamb chops seasoned with Montreal Steak Spice,
green beans almondine, basmati rice with whole cumin seeds,
cardamom, coconut flakes, and fresh mint sauce.
Licked dem bones clean!
.
.


..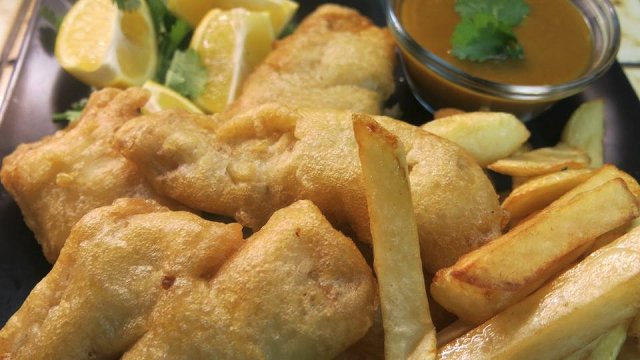 THESE were by far the crispiest fish batter I have ever made.
They stayed crispy even after 30 minutes.
Next time, I would make the batter thinner for an even lighter crust:
1 cup flour, 1.5 TSP baking POWDER, salt - chill in fridge.
Whisk in 1 cup beer and put into fridge to chill for 15 minutes.
Whisk in enough SODA water to make a batter.
Dredge fish in seasoned flour, dip into batter and deep fry.
Great with malt vinegar or squeeze of lemon.
Home made fries were dipped in curry sauce - reminded us of fish 'n' chips in Whitby, England.
I used a combination of rendered beef fat
(as I was told to by our friends in England) topped up with canola.
Lard will always produce the crispiest batter, just as it will make the flakiest pie pastry,
but beef fat gives the best flavour to deep fried foods ;-)
These will NOT be a frequent indulgence! LOL!
.
.


...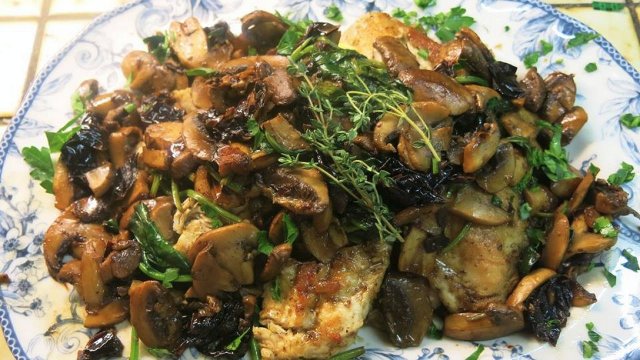 Chicken Marsala Florentine on one of my new platters.
This is a little different from the other recipe I used before... Chicken Marsala.
Thought I'd try something different. Had the chicken marsala in England and loved it.
Think I'll go back to the first recipe.
.
.


.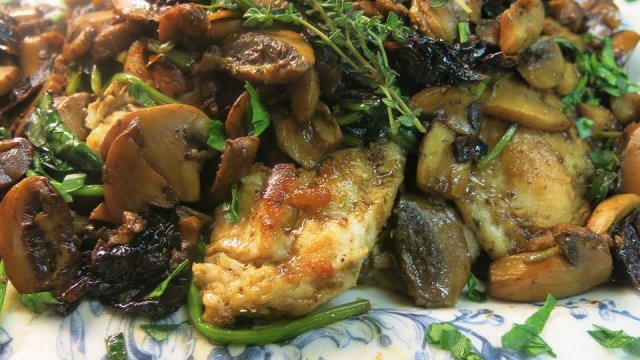 Chicken Marsala Florentine: Not a big fan of sun-dried tomatoes,
but the tang helped with the rich sauce.
(3/4 cup butter, 1 cup dry marsala wine)
.
.


...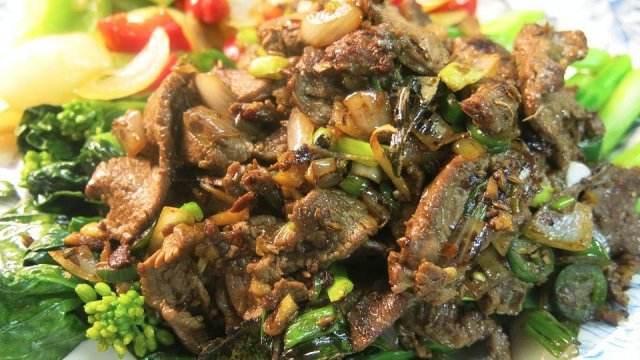 Dry Stir-fried Cumin Beef - Hakka style
as presented in The Hakka Cookbook - Danford Dragon Restaurant
Thinly sliced beef stir-fried in a hot wok and a little oil.
Chopped onion, ginger, garlic, hot peppers, cumin, red chili flakes fried separately until fragrant.
The beef is tossed into the veg mixture.
Add a splash of dark soya and thinly sliced green onions.
The recipe called for Asian chili sauce,
but the peppers gave enough heat, so I left it out.
This is the best version of dry cumin beef I've found.
Served with stir-fried bell peppers and blanched gai lan.
.


.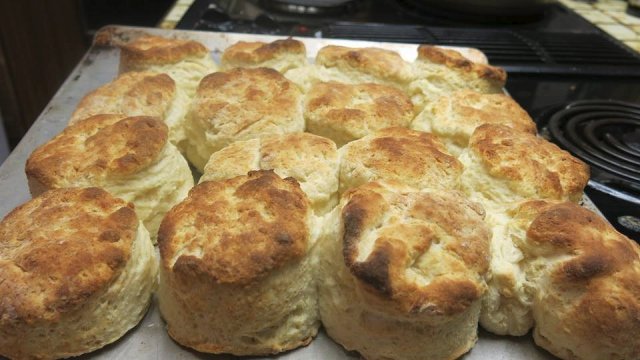 Had a whole litre of buttermilk left over from Xmas.
Our d-i-l Jen Funk is the only one who drinks the stuff and I forgot to remind her.
So, I made buttermilk biscuits: 4 dozen!
.
.


.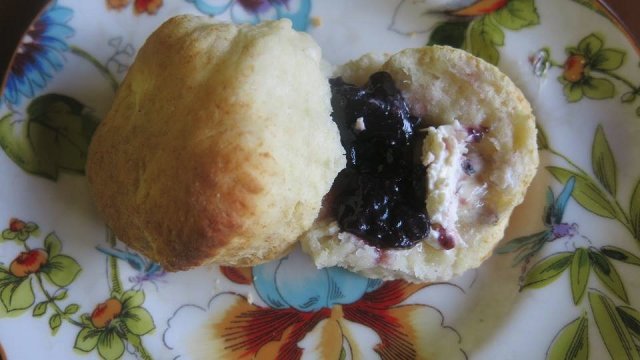 Enjoyed a fresh biscuit, split and smothered with mixed berry jelly and Devonshire Clotted Cream
- a wonderfully cozy comforting treat on a cold Sunday.
Haven't made biscuts for a long time, which is a good thing ;-)
In the past, they were like hockey pucks. LOL!
I wonder if I can freeze these as I plan on staying away from carbs for the next three weeks or so...
I actually use the space between the glass doors and the inside doors
at the front entrance as my extra "freezer".
Right now, there is baking, berries, soup, and now, biscuits!
.
.


.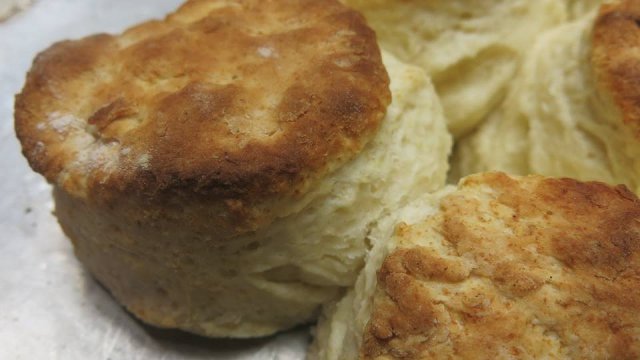 Pretty good height on these biscuits.
.
.


..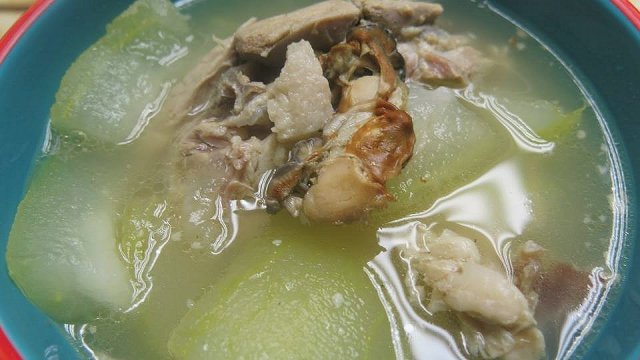 Chinese moo-gwa (melon) soup with pork bones and rehydrated oysters.
.


.


The first Big Easy chickens for 2014!
Bottom chicken seasoned with Chicken Rub by Szeged,
the same company that produces the Hungarian Hot Paprika.
The top chicken is stuffed with kaffir lime leaves - still my favourite way to season chicken.
.
.


.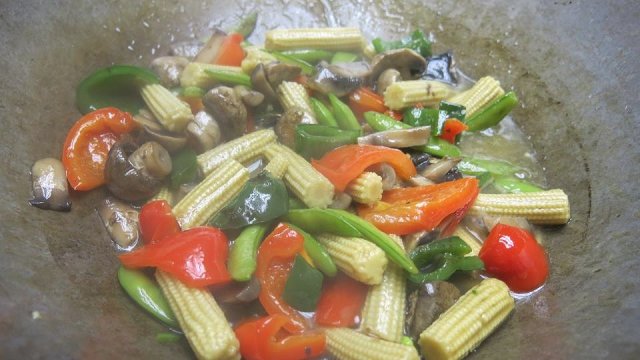 Stir-fried mixed vegetables to go with the BE chicken.
This is a great dish to go with anything!
.


.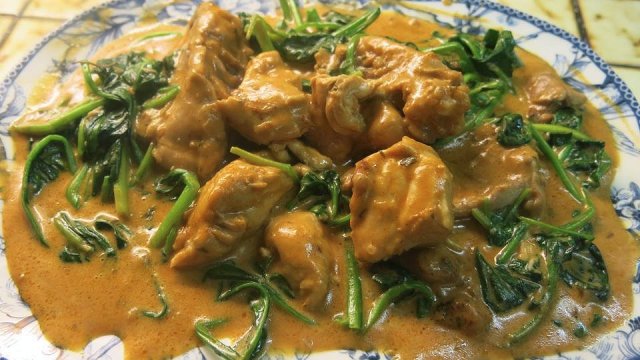 Butter Chicken with spinach thrown in.
.
.


.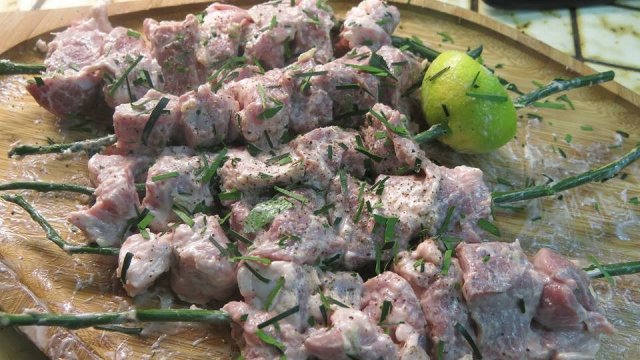 Pork shoulder marinated in coconut milk, lemon grass, Kaffir lime leaves.
Skewers were the stripped branches from the prunings that Greg Boguski gave me this week.
I've also used stalks of lemong rass as skewers or rosemary stems.
.
.

...
.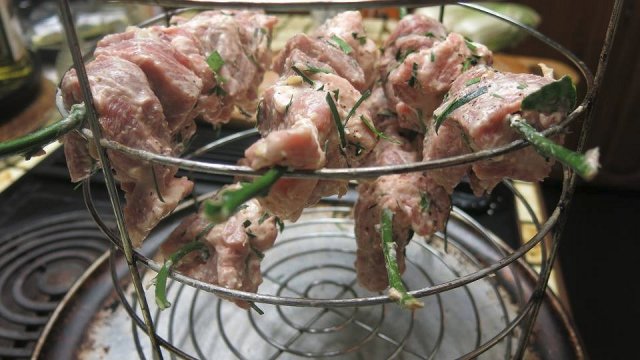 Skewers -- branches from Kaffir lime -- were staggered in the basket for the Big Easy.
.
.


.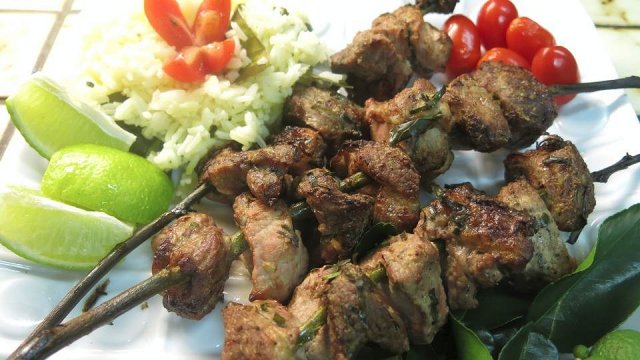 The finished product was very good - great flavour, especially on the charred fatty bits.
The flavour from the lime leaves came thru' .
The coconut milk basically worked as the "oil".
Rice was cooked with green cardamom seeds and torn kaffir lime leaves.
Turned out with sticky rice texture which went really well with the skewers.
A squeeze of lime was perfect on the pork.
.
.


...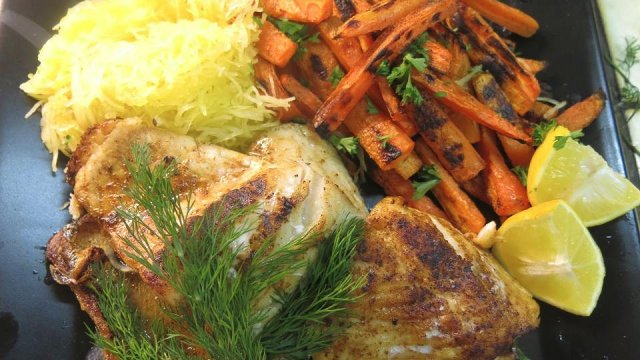 Pickerel seasoned with Cajun spice mix, pan seared and finished in a hot oven.
Beautiful crust!
Par-boiled carrot "fries" were dusted with ground cardamom and roasted at 450 with a bit of olive oil .
MIcrowaved spaghetti squash completed the platter:-)
Leftover pickerel will be eaten in a salad for today's lunch.
.
.


.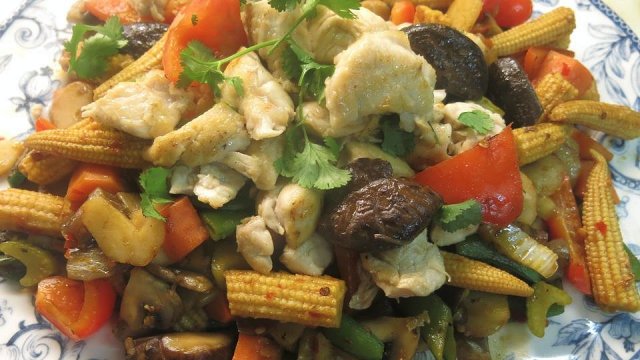 Kung Pao Vegetables and sauteed Chicken Fillet. Eaten with cauliflower rice.
.
.