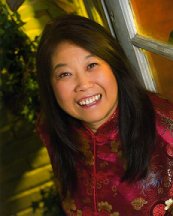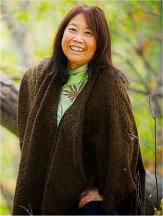 SUE-ON'S KITCHEN
January II: 2014
www.hillmanweb.com/soos/food/82.html
Also featured in my Facebook Album
click for larger images


..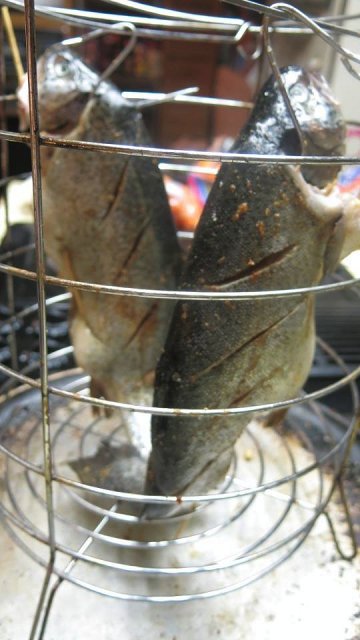 Rainbow trout rubbed with oil, seasoned with Cajun spices,
stuffed with Meyer lemon slices, parsley, and kaffir lime leaves.
.
.

.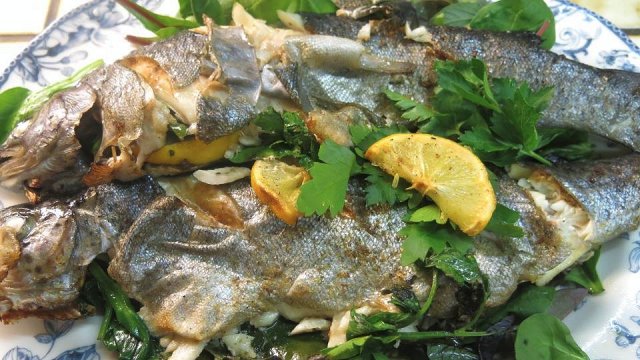 "Grilled" in the Big Easy for 25 minutes.
Not 100% successful hanging with hooks as the fish both fell off after they started to cook.
I removed them and laid them on the half moon racks and that worked fine.
Need a better system of hanging to get better "gill marks" on the skin ;-)
.
.

.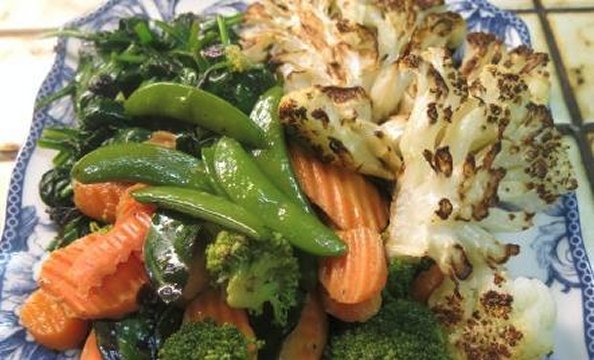 Sides to go with the rainbow trout.
At 11 o'clock position is some of the bag of baby greens that I picked up at Sobeys today:
spinach, bok choy, red and green chard.
Wilted down to very little but tasted great with a light squeeze of Meyer lemon.
These could also be used for salad.
.
.

..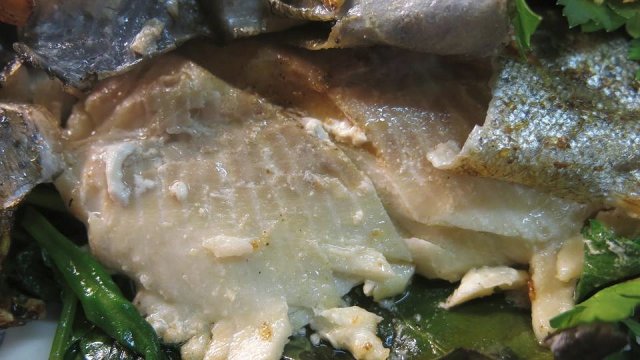 A juicy bite of rainbow trout cooked in the Big Easy.
.
.

.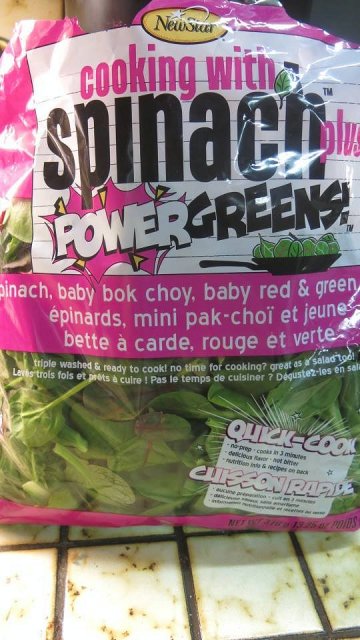 A new product at Sobeys?
These cook down to very little but great taste.
Think tender beet greens.
.
.

..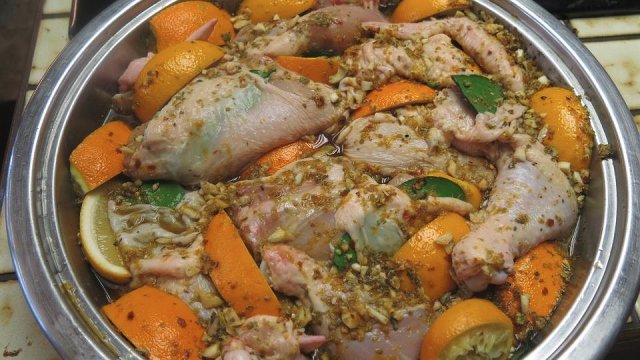 Citrus Marinated Roast Chicken from Fine Cooking
- prepped and left to marinate all day in the fridge:
at least 6 hours and up to 12 hours.
.
.

.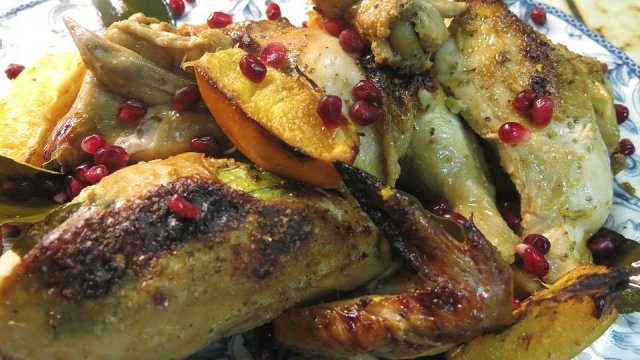 Cook for 15 minutes at 425 then lowered to 375 for 30 minutes.
Delicious smells!
I added kaffir limes and used Meyer lemons.
The juice was perfect as is - no need to thicken.
The pom seeds not only looked pretty, but I actually enjoyed them!
Really good dish from Fine Cooking
It's not via Big Easy, and nearly as good ;-)
It was too dark and I was too lazy to go out outside after the trip to the farm!
.
.

.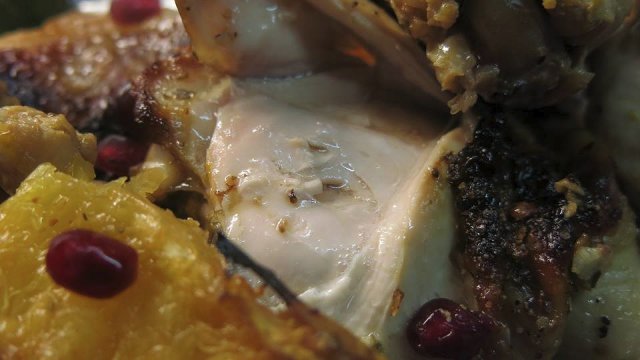 Chicken was juicy and tender, and the citrus flavour permeated...
I had removed most of the skin,
but the little pierces left on were yummmm... just a little bite ;-)
Eaten with ginger stir-fried bok choy.
Cooked the two chickens as with the recipe,
so there will be lots of leftovers for lunch and another supper!
.
.

..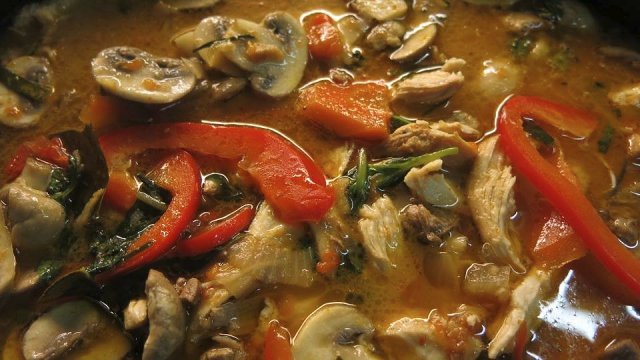 Slow-cooker Coconut Chicken Soup
- add baguette to sop up the broth at the end - what a meal!
I used a mature stewing chicken instead of boneless skinless thighs.
The dark meat is fine, but the breast is a bit drier but fine with broth.
CAUTION: Think twice before cooking this through the night!
The aroma will make you want to get out of bed to taste-test ;-)
On the other hand, it's ready for breakfast or lunch if you can't wait.
---
I added fresh bell pepper when I added the coconut milk and mushrooms.
The previous lot pretty much cooked down.
Just HAD to have a taste test as soon as I came home after a longggg day.
Soup was not kept hot but didn't matter.
The flavour is excellent!
The "mature stewing chicken breast meat" was just fine after soaking in the broth all day.
Once heated thru', the soup will taste even better, I just know it!
.
.

.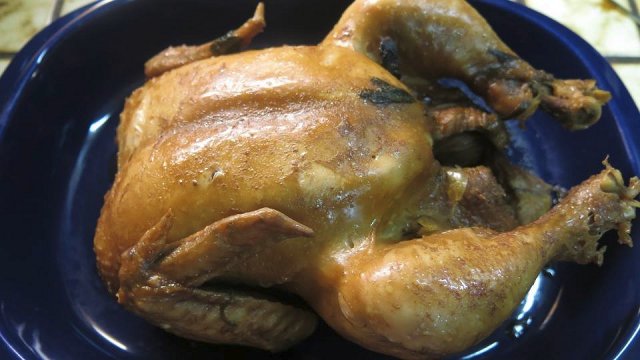 Chicken "braised" in master sauce:
soy sauce, aromatics (ginger scallions, white peppercorns, star anise, cilantro,
Chinese cooking wine, rock sugar).
This was cooked in the slow-cooker for 2 hours.
.
.

..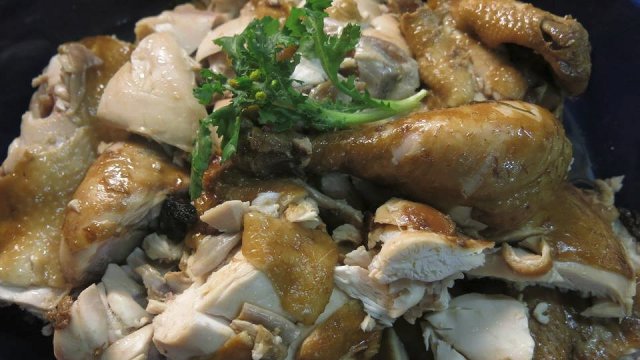 Chicken was tender, juicy, just the right amount of saltiness, and really flavourful.
This produced the "silky" chicken texture preferred by Chinese folks.
Mom would have been proud :-)
.
.

.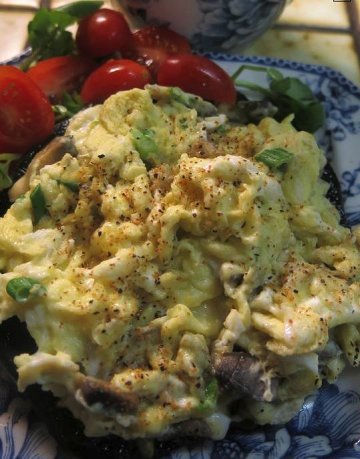 Scrambled eggs with green onions and mushroom stem on a grilled portobello mushroom.
Might have to call this a "scrambled egg salad" ... with the mushroom, watercress and tomato!
Sprinkled with "Slap Ya Mama" season to add a punch to my morning ;-)
.
.

.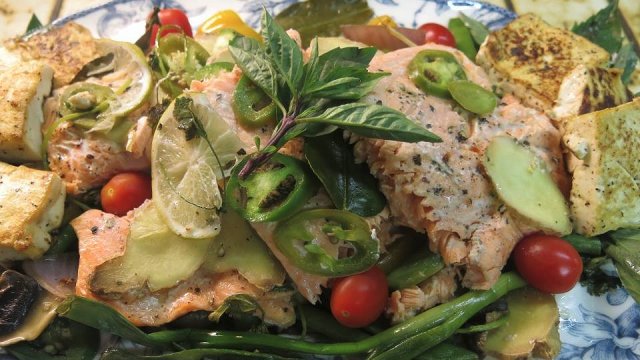 Lemongrass Baked Steel Head Trout - my preferred fish over salmo.
Fillet is sandwiched between layers of lemongrass, ginger, cilantro,
stalks of green onion, jalapeno peppers, Kaffir lime leaves,...
.
.

..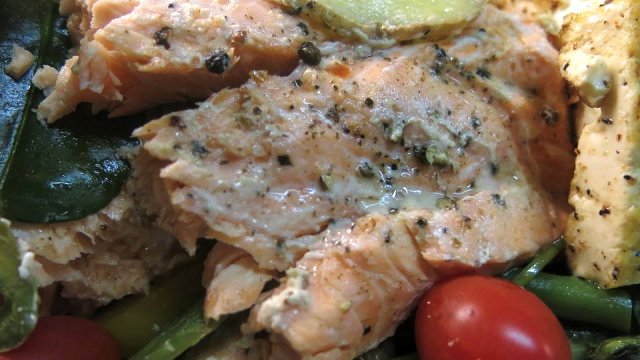 Juicy bite of Steelhead Trout, eaten with stir-fried-in-chicken-stock vegetables:
mushrooms, green beans, sugar snaps, bell peppers, red onion.
Firm tofu was drained and fried in a dry heavy non-stick pan... got a nice crust.
.
.

.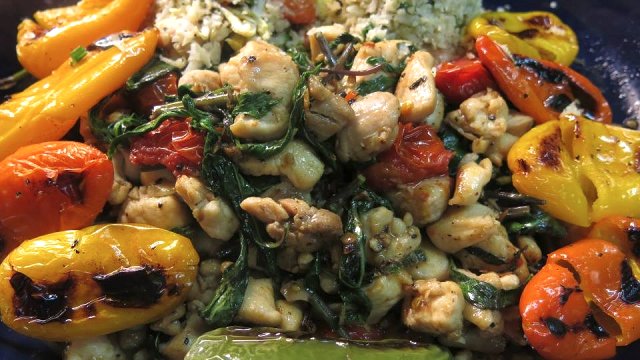 Thai Basil Chicken:
Diced chicken breast and thighs, stir-fried
with 4 chopped Thai chili peppers and chopped garlic.
Fish sauce and Thai basil leaves tossed in at the last minute.
Haven't made this in a while and still not sure if I REALLY enjoy this.
Broiled up some mini-bell peppers in the oven along with a few grape tomatoes I found in the fridge.
Microwaved some grated cauliflower earlier, so I made mock fried rice.
This dish might be better with real rice.
I had broiled a whole jalapeno pepper with the mini bells and wow!
IT was hot...
---
The dish calls for Holy Basil which is impossible to get here.
Thai or sweet basil were available but I don't know if it was as good as it could have been...
altho' I don't know what holy basil taste like...LOL!
At least it's healthy and the capisum boosts metabolism...
sure boosted me off the couch looking for yogurt to cool my mouth!
.
.

..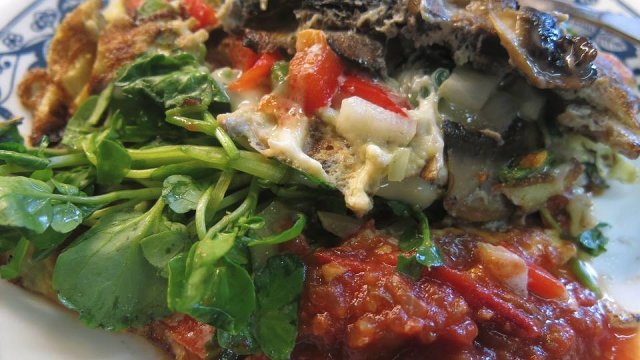 Omelet brunch for two:
1 whole egg and 4 egg whites, white mushrooms, portobello mushroom,
sweet bell pepper, jalapeno pepper, chopped onion and fat-free mozza. cheese slices.
The salsa is from our friend Shahedah, with whom we stayed in malaysia.
For mine, I stuffed fresh watercress between the folded omelet
- a whole bunch of different textures and a little bit of bite from the cress.
.
.

.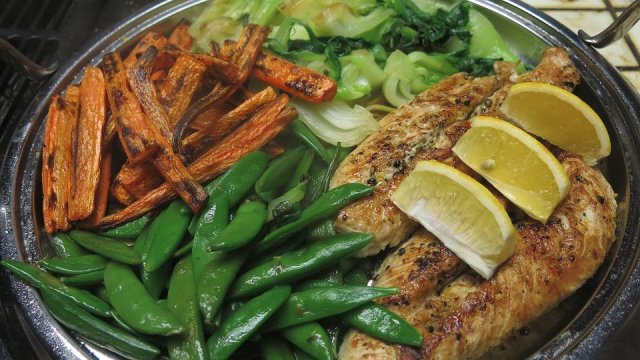 Turkey breast fillets seasoned with freshly ground black pepper and lemon zest.
Grilled then "steamed" in chicken stock for a couple of minutes.
Blanched sugar snaps and Shanghai bok choy added to the grill to sautee for the last 5 minutes.
Eaten with carrot fries.
This was cooked on the new "stainless surgical steel" grill
that I bought at The Green Spot: $50.00.
It made the perfect meal :-)
.
.

.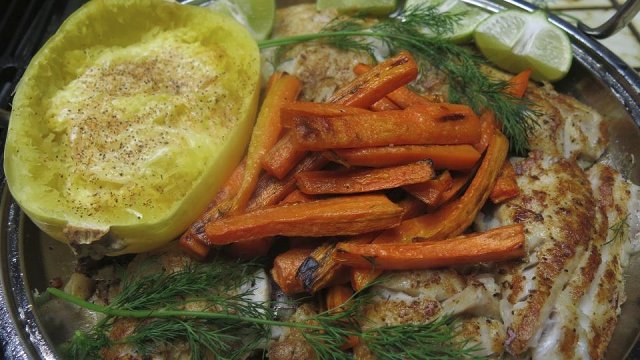 Blackened Red Snapper Fillets, carrot fries, and spaghetti squash topped with fat-free mozza cheese.
.
.

..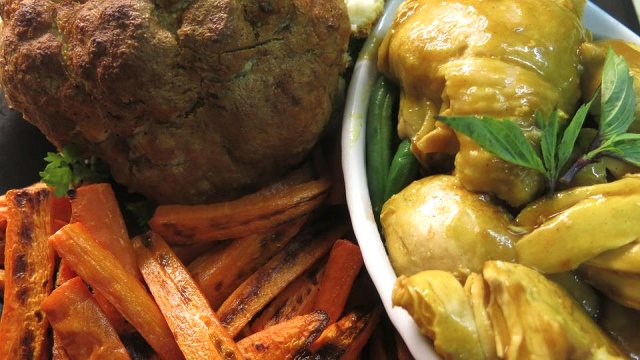 Spicy Roasted Whole-Head Cauliflower, Cheater-curry Chicken, Carrot fries.
The cauliflower recipe needs adjustments to the spices.
Marinade could be thinner so it would penetrate down into the head.
Other than the crust on top, it was otherwise bland.
.
.


.
INTRO AND CONTENTS
..


Copyright 2014
Sue-On Hillman
Bill and Sue-On Hillman Eclectic Studio