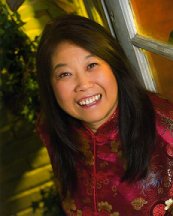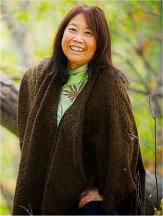 SUE-ON'S KITCHEN
February: 2014
www.hillmanweb.com/soos/food/83.html
Also featured in my Facebook Album
click for larger images


Visit our New Years Site: Year of the Horse
..

.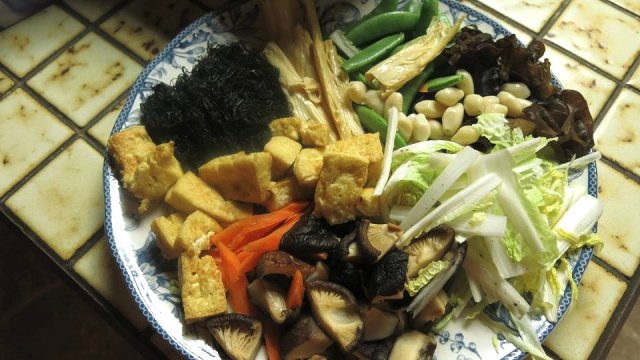 JAI - a vegetarian dish traditionally eaten on New Years Day.
I like it anytime of the year.
The ingredients from 12:00: snowpeas / sugar snaps (unity), woodear (longevity),
gingko nuts (silver), siu choy (hundred types of prosperity), Chinese mushrooms (opportunities),
carrots (red colour - good luck), tofu (gold), seamoss (exceeding prosperity),
bean curd stick (blessing the house), and not shown - mung bean thread (silver chain).
As you can tell, wealth and longevity to spend all that wealth plays a big part in the composition of this dish.
Gung Hai Fat Choy!
.
.

.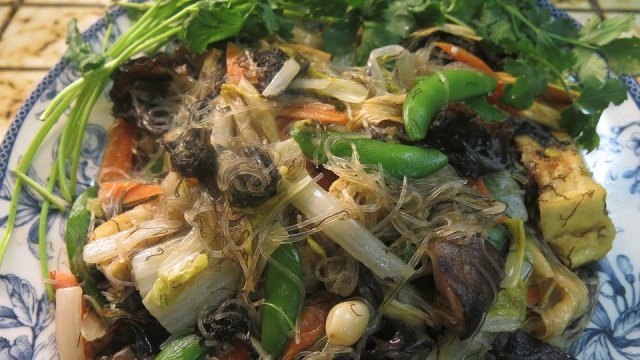 Some of the ingredients were parboiled (mushrooms, tofu sticks, siu choy, peas, carrots)
as they take longer to cook and develop flavour.
Once done, all the ingredients were added to a hot wok, one at a time until the last
- mung bean threads (called glass noodles because they are transparent).
I added oyster sauce and chicken stock to moisten as the noodles absorbed a lot to cook properly.
This is definitely a meal all in one.
If available, I sometimes add lotus root slices - adding another crunchy texture.
.
.

..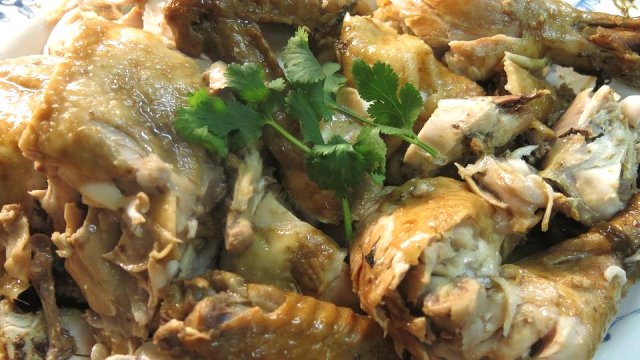 Chicken plays a major role in the CNY feasts.
Traditionally, a chicken with head and feet intact is required
as that symbolizes - prosperity, togetherness of the family, joy.
A chicken with its head, tail and feet symbolizes completeness.
Fish is also an important part of the feasts.
Again, it must be one with head and tail intact.
I braised a chicken in soy sauce instead of plain simmered or steamed.
.
.

.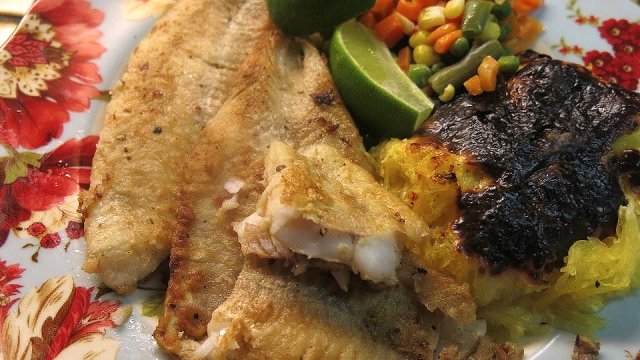 The BEST baby pickerel fillets ever!
Lightly dusted with seasoned flour (freshly ground salt and pepper)
and grilled on a lightly buttered pan.
The spaghetti squash was microwaved, shredded with a fork,
topped with grated reduced fat Parmesan cheese and a slice of fat-free mozz cheese.
They were forgotten a few too many minutes,
but the crust actually tasted better than it looked.
.
.

.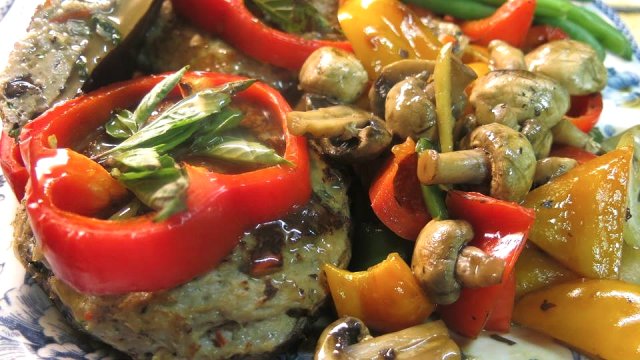 Portobello mushrooms stuffed with ground chicken, seared and finished up in the oven.
"Gravy" was reduced pan juice and a bit of chicken stock.
Breakfast Suggestion:
Try pan frying the mushrooms, then topping with a poach egg with runny yolk...
Makes for a very good breakfast!
.


..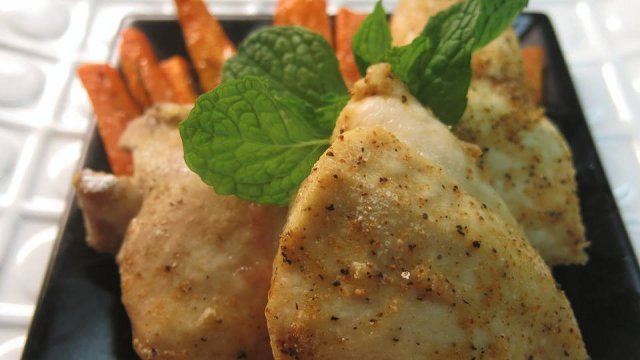 Oven baked "fried chicken".
It would have looked more like "fried chicken" if the skin and bone were left on the chicken.
Unfortunately, they were skinless and boneless.
However, they were very good - moist, tender, and mostly fat free!
Seasoned with a mix of cornstarch and Slap Ya Mama Cajun seasoning.
I might brush the pieces with some veg oil next time, then dredge with the cornstarch and seasoning.
I didn't use panko - my usual MO, because of the carbs.
A little bit of cornstarch counts for less... The cornstarrch gives it a nice bit of crunch.
.
.


.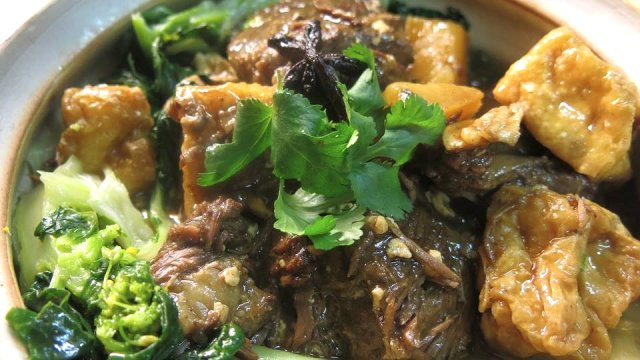 Braised Beef Short Ribs, Chinese style: star anise, cumin, ginger, garlic,
deep fried tofu, soy sauce, rice wine, daikon, and baby bok choy.
Very rich, aromatic and flavourful!
Perfect for a cold day :-)
..



..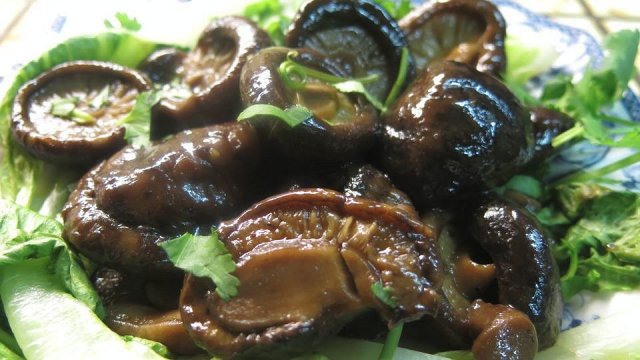 Chinese mushrooms sauteed then simmered in oyster sauce and chicken stock.
.
.


.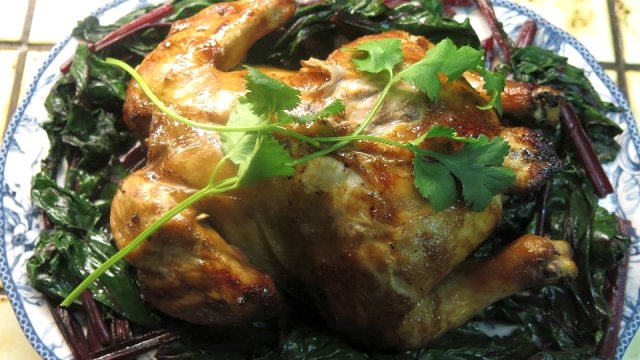 "Chinese" Roast Chicken.
With soy sauce, sesame oil, ginger, garlic, honey, dry mustard, honey in the marinade
I guess qualifies it as Chinese.
This was roasted in the oven, really juicy and good flavour.
Picked up beets, so I sauteed the beet greens and the stems for a side.
Bill had the beets ;-)
.
.


.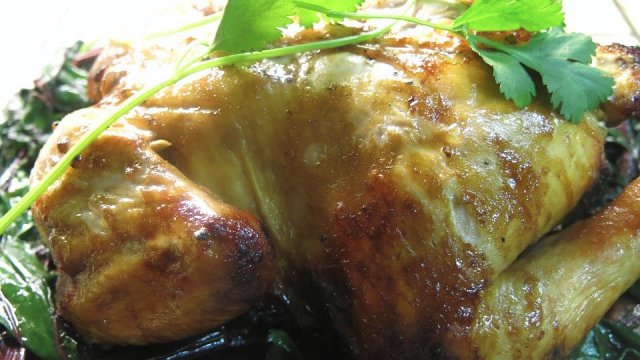 A closer look at my Chinese thigh - on the Chinese Roast Chicken, of course ;-)
.
.


..


Nothing says "I love you" better than a dinner that's good for the heart:
baked "fried chicken", lemon sauce made with fresh lemons,
steamed asparagus then sauteed in...gulp...bacon!
and whole grain dijon mustard.
The mustard neutralizes the bacon, right?
---
This was really good!
I do Brussel sprouts this way, but thought I'd try it with asparagus.
It worked!
The chicken is lightly dusted with cornstarch and salt, then roasted in a 450 oven.
The outside is crispy, all fat dripped off.
The chicken was tender and moist inside, perfect with the lemon sauce.
At Soo's, we made the sauce exactly the same way,
but the chicken breast was battered and deep fried.
This was much healthier and tasted just as good, only different.
.
.


.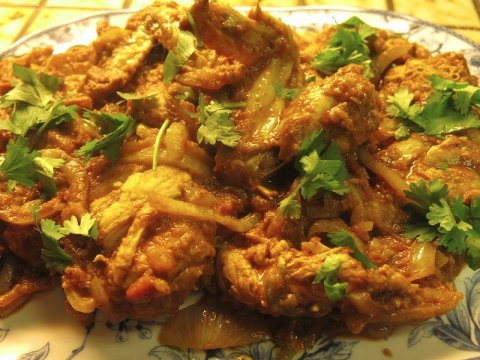 Haven't made this for a while, and last night seemed like a good time
to revisit Chicken and Onion Curry.
It was just as good as the first time!
.



.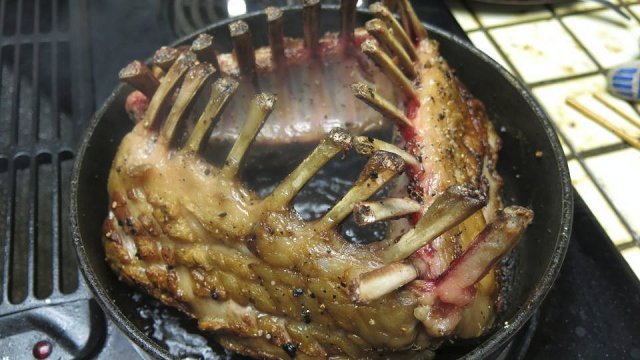 Daughter China is away to Washington, D.C. for a month-long course,
and Ryan was getting a bit lonely.
So, he and the granddoggies came out for a visit.
Racks of lamb - seared - a favourite protein for Ryan-Boy, so that's what we had for supper.
The racks were seasoned with Montreal steak spice then seared on top of stove.
---
If I were just roasting, I would marinate with dijon mustard, rosemary, garlic,
and put a layer of the mix without the wine on top before going into the oven.
That's when I do shoulder or saddle of lamb.
Racks are so tender and I dose it with fresh mint sauce as each bite goes into my mouth,
so, no marinade.
.
.


..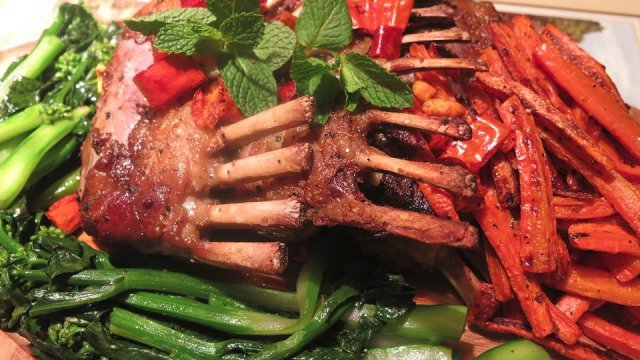 Racks were finished off in a 425F oven.
Plated with steamed gai lan and carrot fries.
The red chunks on top of the lamb are "Magic Chili".
It's deep-fried chili pepper seasoned with sesame oil, mixed with peanuts and sesame seeds.
Not much heat but the crunch makes it a wonderful snack
- if only they were NOT deep fried!
.
.


.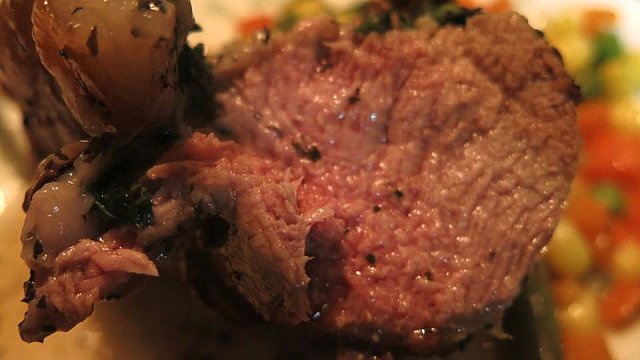 The lamb was perfect. Ryan's rack was more on the rare side.
.
.


..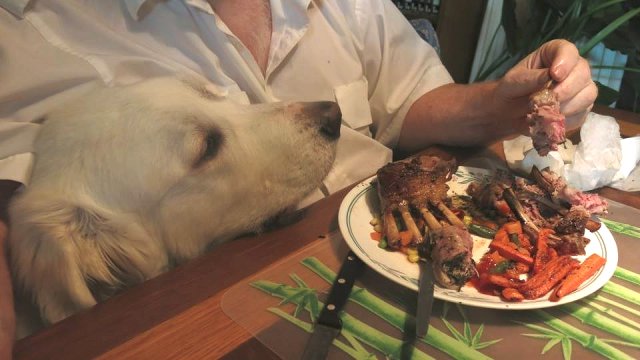 Oh Lily really wanted a bite... Please...
Yeah, she got some...
.
.