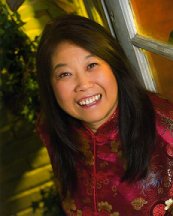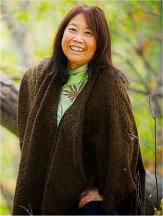 SUE-ON'S KITCHEN
March: 2014
www.hillmanweb.com/soos/food/84.html
Also featured in my Facebook Album
click for larger images
...


.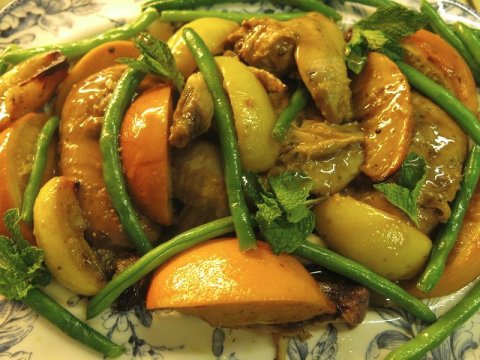 Citrus Marinated Chicken
- warm, citrusy, tropical - a culinary escape from this -49C windchill prairie weather!
Chicken pieces were marinated in lemons, oranges, their juices and zest,
soy sauce, garlic, honey, oregano, red pepper flakes overnight.
The whole casserole was baked in the oven for one hour.
The juice was reduced to concentrate the flavours.
Fresh mint was very nice with this.
.
.

..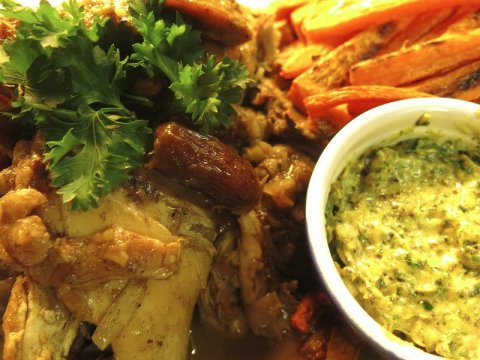 Moroccan Chicken and Dates Tagine,
carrot fries with spicy curry leaf - coconut mayo dip.
Kitchen smelled wonderful
- of cinnamon, cumin, paprika, fresh ginger, lemons, and orange blossom water.
The sauce was from the cooked down sauteed sweet onion, chicken stock, and dates
with just a spoonful of honey to balance out the lemon juice.
The dip is toasted unsweetened coconut flakes, brown mustard seed,
coriander, chili pepper, fresh curry leaves and mayo.
Great with sweet potato fries as well as a dip for raw vegetables.
.
.

.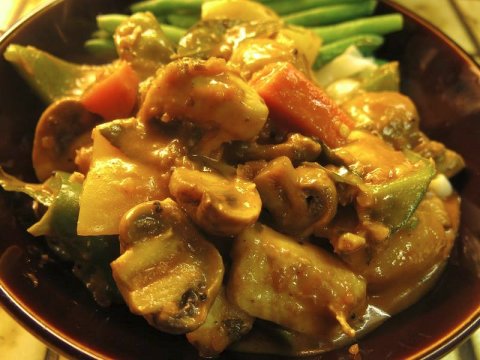 Not-your-usual-butter-chicken:
What started as Butter Chicken morphed into something else.
I got lazy and decided I wanted to cook everything in one pot.
So, after the chicken was partially cooked with fresh curry leaves and brown mustard seeds,
I added bell peppers, 2 Thai peppers, blanched mushrooms, snow peas, and carrots.
NANA'S Kitchen Butter Chicken sauce makes this dish SO easy.
I added a jar of this "paste", a little chicken stock, and a splash of cream.
A side of steamed green beans and a bed of shirataki tofu noodles made for a great supper.
My! I've been trying to warm March up with all these same colours for the last three meals!
Colourful and delicious - what more can I hope for:-)
..

..
Meen See Ribs:
Pork back ribs steamed with brown bean sauce, preserved chili radish slices.
Eaten with steamed ancient grains and sauteed baby bak choy.
.
.

.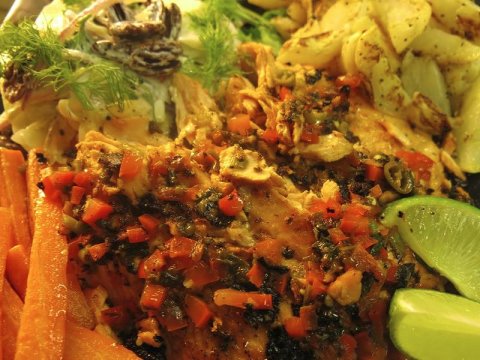 Steelhead Trout in Spicy Citrus Marinade
marinade: lemon juice, lime juice, honey, red bell pepper,
Thai chili pepper, chopped cilantro, green onion, coconut cream, salt, pepper
for a couple of hours -- then pan seared 2 minutes on each side --
silky, juicy morsels of Omega 3...
A nice change up from my usual lemongrass Thai style.
The leftover marinade was reduced and ladled over the trout.
It was spicy, tangy, light coconut aroma.
Sides: fennel-apple-red onion-pecan salad with mayo, carrot fries and turnip fries.
..
.

..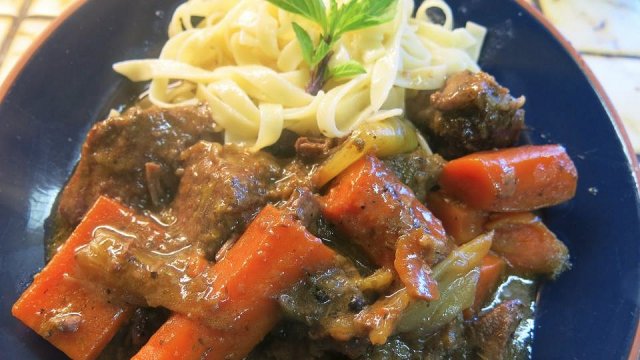 Beef Stew with Tagliatelle
- comfort food while I was down with the flu and bronchitis.
.
.

.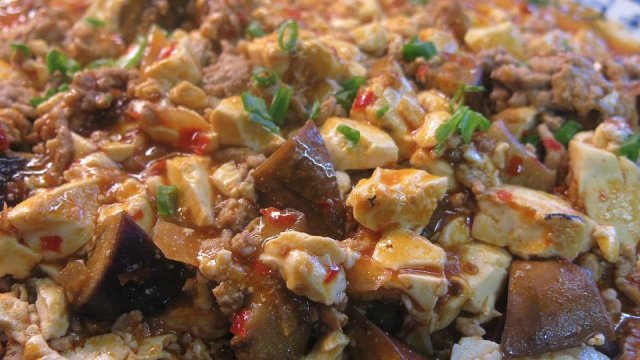 Mapo Tofu with ground pork and eggplant
..
.

.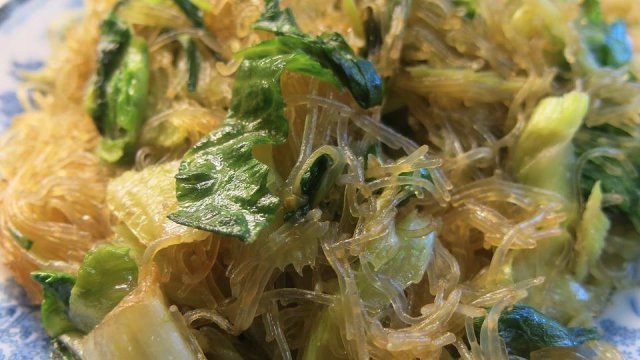 Fun see (mung bean noodles) with wilted lettuce
.
.

..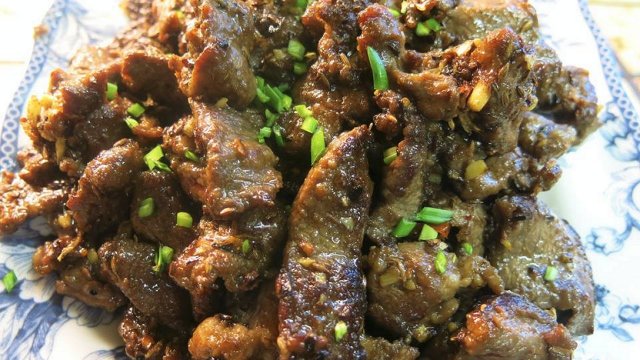 Cumin Beef
.
.

.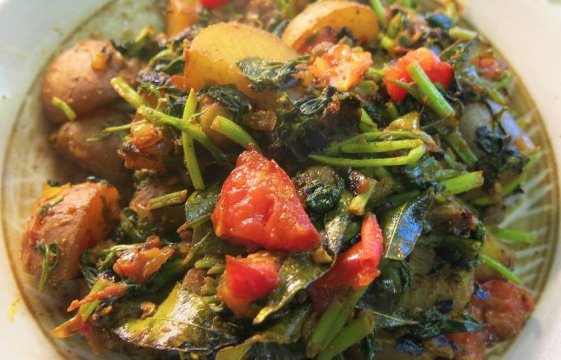 Aloo Methi:
Have been so curious seeing fresh fenugreek / methi at the supermarket.
Got some information from folks on facebook,
so I decided to try the recipe with potato and spices.
I also added fresh curry leaves which I love.
The fenugreek had to be salted to remove some of the bitterness.
I was hoping it was more of a "green" like spinach, etc, but it was good.
Maybe next time I will use more of this herb.
One bundle may not have been enough for the contrast in texture.
..

..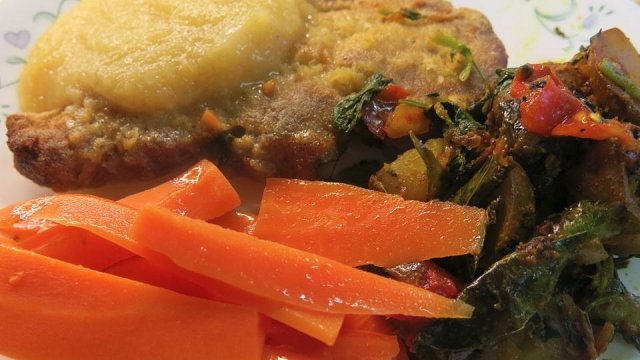 The aloo methi worked well with the pork cutlet / tonkatsu,
apple sauce, and steamed buttered carrots.
.
.

.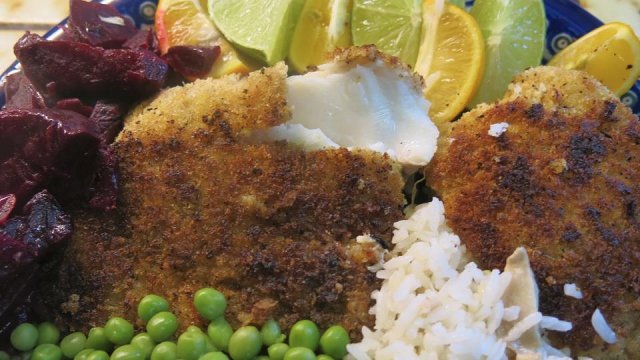 Just for the "halibut" : )
This was half the fillet purchased at Sobeys.
Coated with panko crumbs seasoned with parsley, black pepper, salt,
seared in the pan , flipped, and into a 425F oven for 10 minutes.
Amazing - well worth the price!
Sides:
peas, beets, jasmine rice, lemon and lime wedges.
A very enjoyable supper.
.
.

.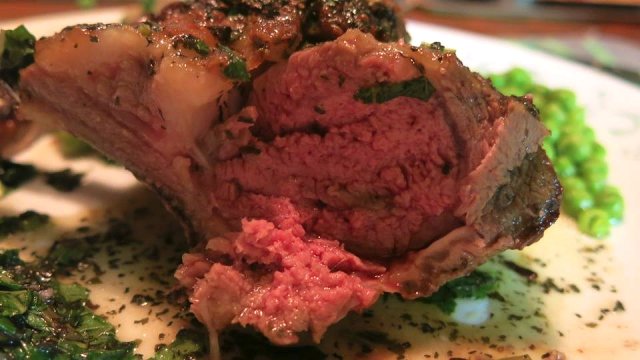 Rack of lamb - done to perfection - eaten with fresh mint sauce...
.
.

.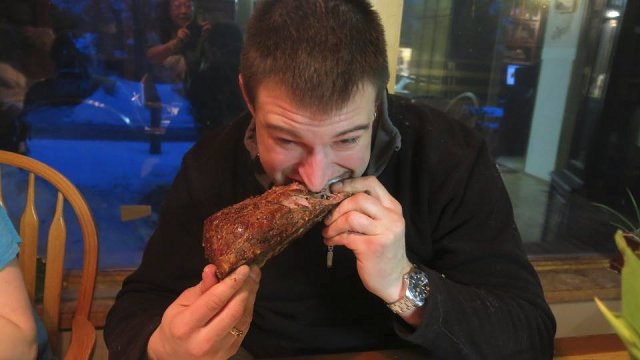 Ryan definitely enjoying his whole loin of lamb!
He likes it "still bleating" : )
.
.

.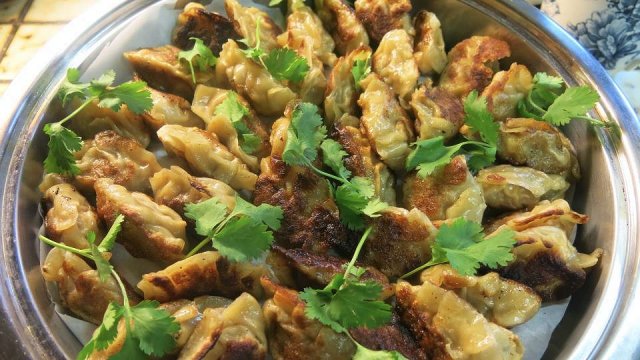 Some of the potstickers I made for
the Brandon University Multicultural Food Fair today, March 26th.
..

..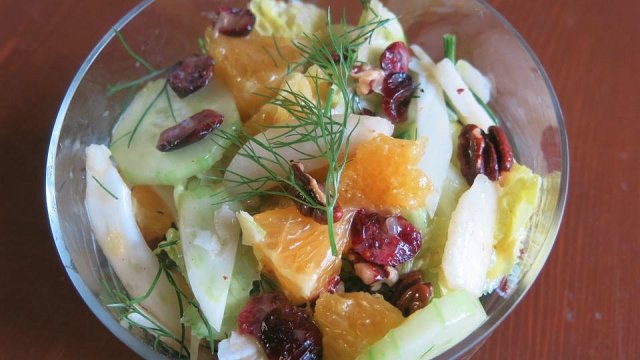 Fennel Dessert Salad
Fennel, Asian pear, orange segments, cucumber, dried cranberries,
roasted pecans salad with mango chipotle salad dressing.
Bill ate his entree of roast beef and green peppercorn gravy, carrot fries and asparagus
THEN ate the salad for dessert ;-)
.
.

Copyright 2014
Sue-On Hillman
Bill and Sue-On Hillman Eclectic Studio